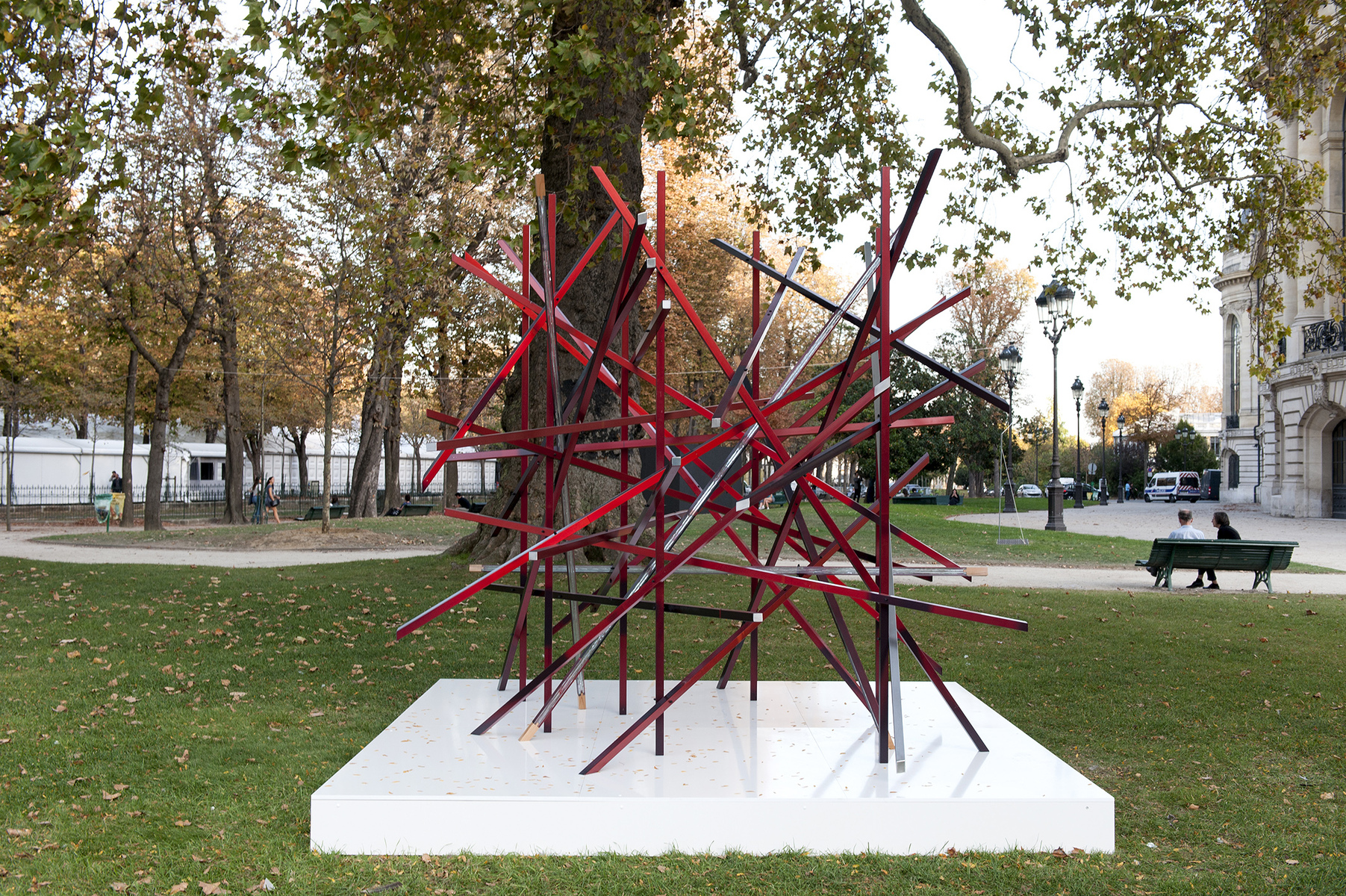 AxIonométrie #2 Inactinique
, 2018
Print on glass, wood and steel
250 x 250cm
98.43 x 98.43 in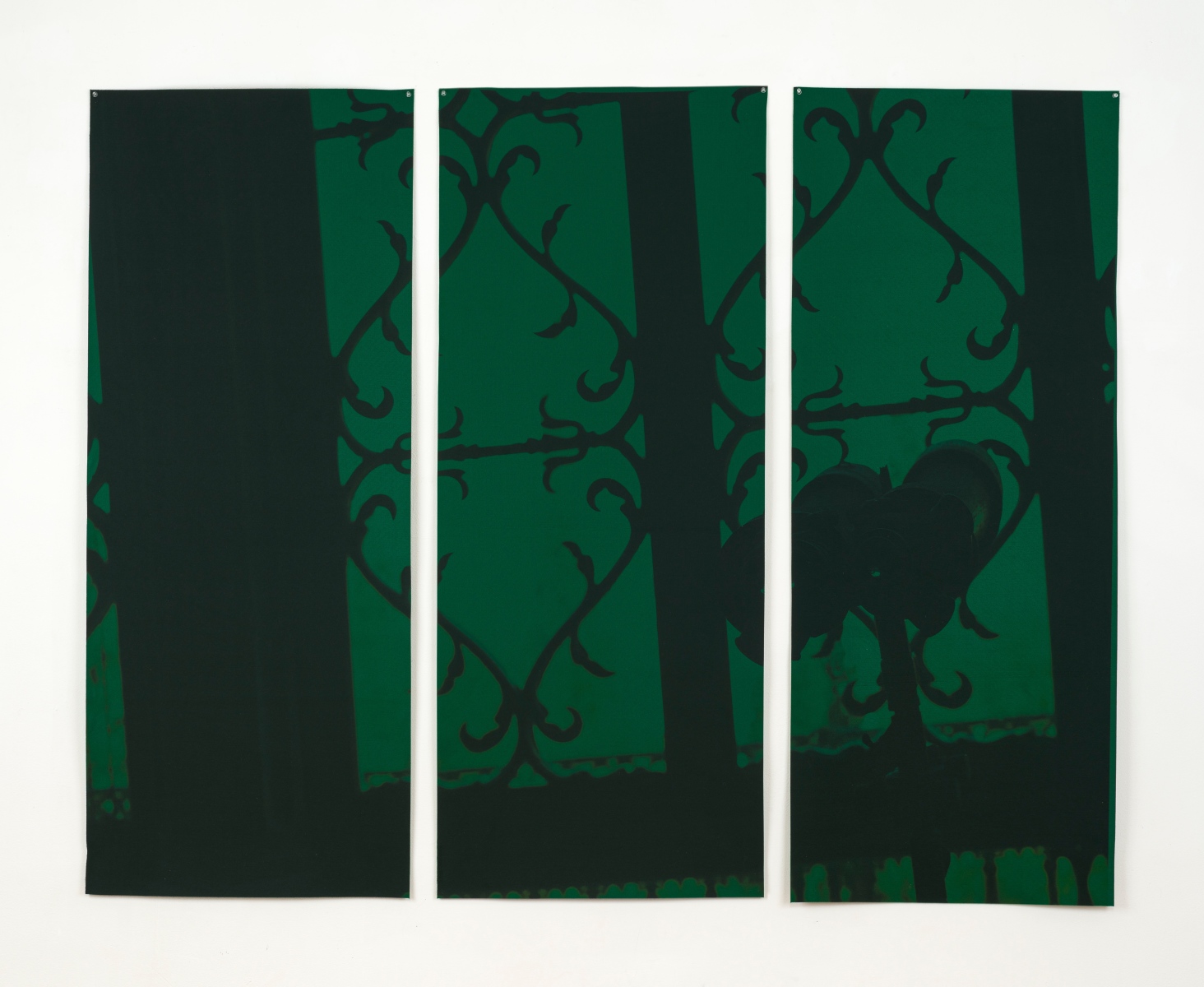 Feutre #2 (Vert) E.A
, 2019
Photographic print on felt
153 x 191cm
60.24 x 75.20 in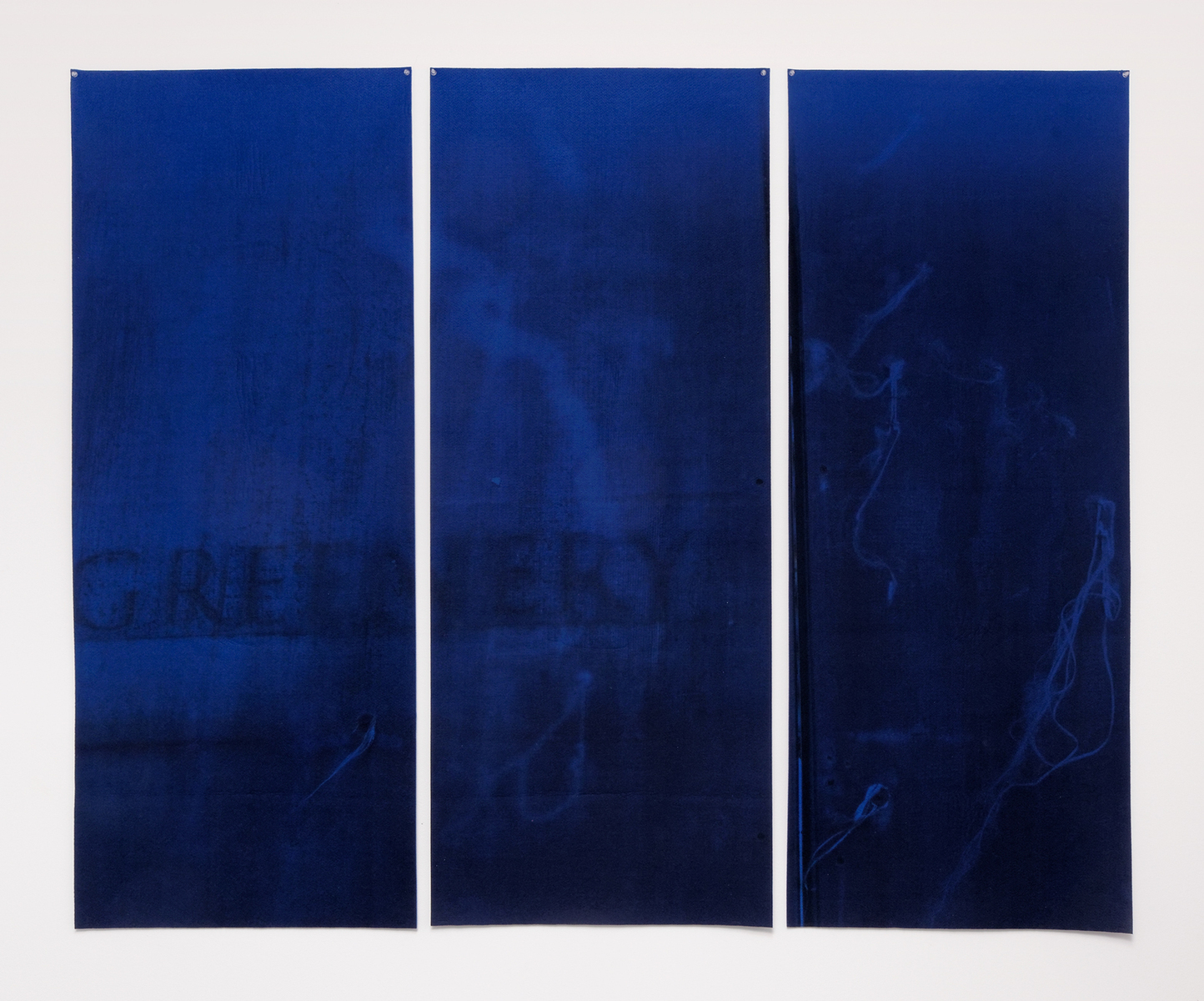 Feutre #3 (Bleu - Greenery) EA
, 2017
Photographic print on felt
153 x 191cm
60.24 x 75.20 in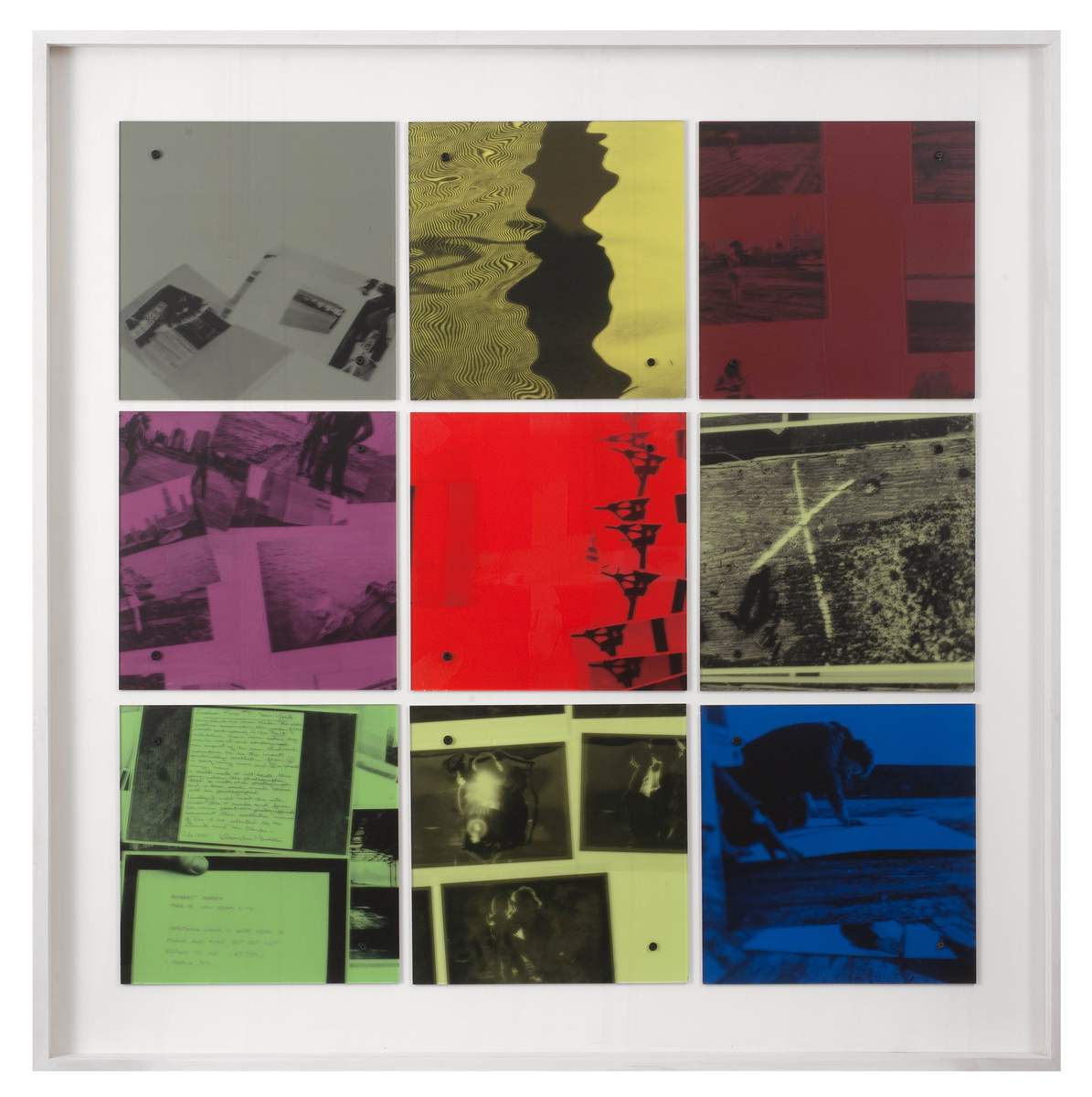 Heritage S&K, Pier 18
, 2018
Lambda print on glass
112.5 x 112.5cm
44.29 x 44.29 in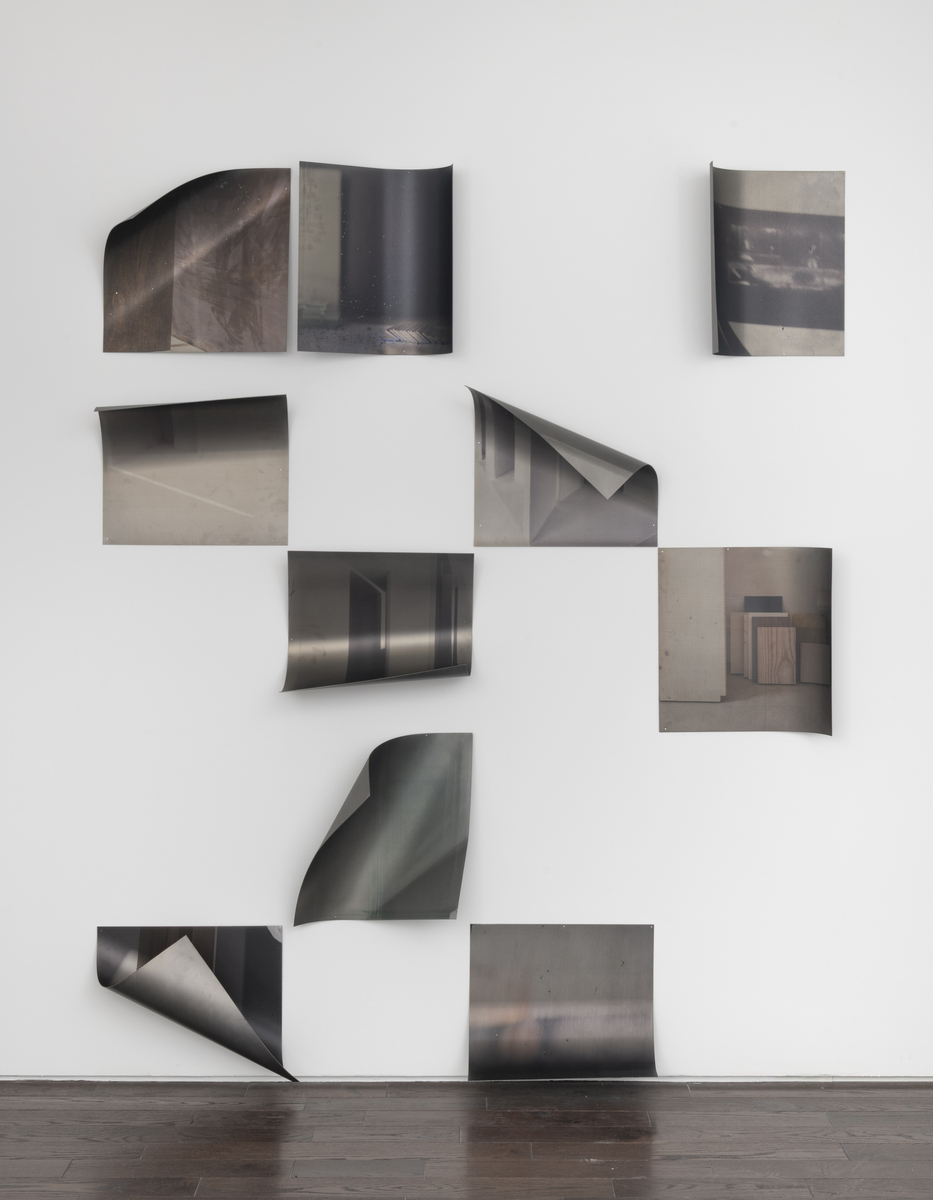 Chambre 104 (House IV)
, 2018
Print on sheet metal
241.3 x 193.04cm
95.00 x 76.00 in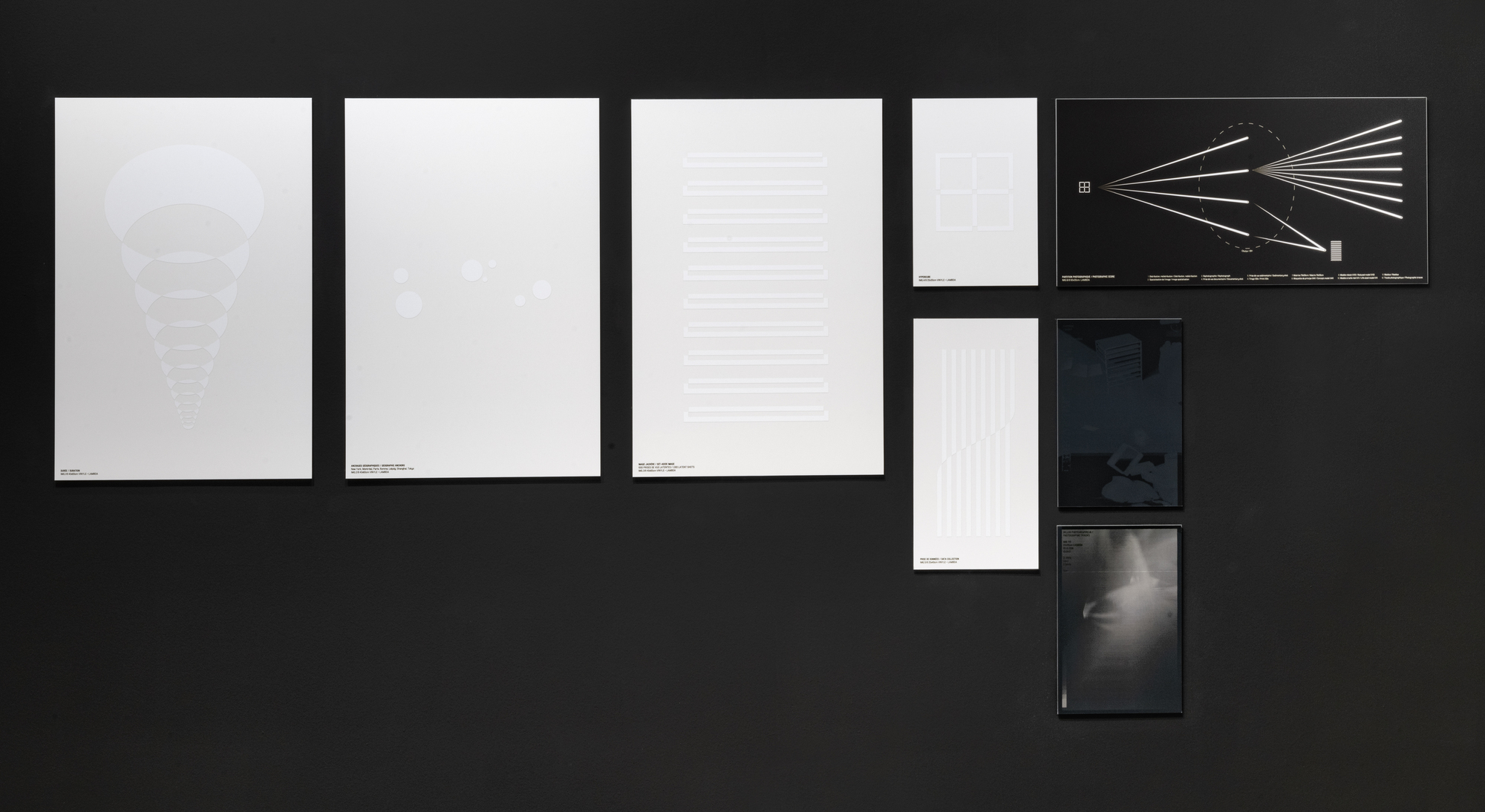 Process
, 2018
Analog print, vinyl
100 x 220cm
39.37 x 86.61 in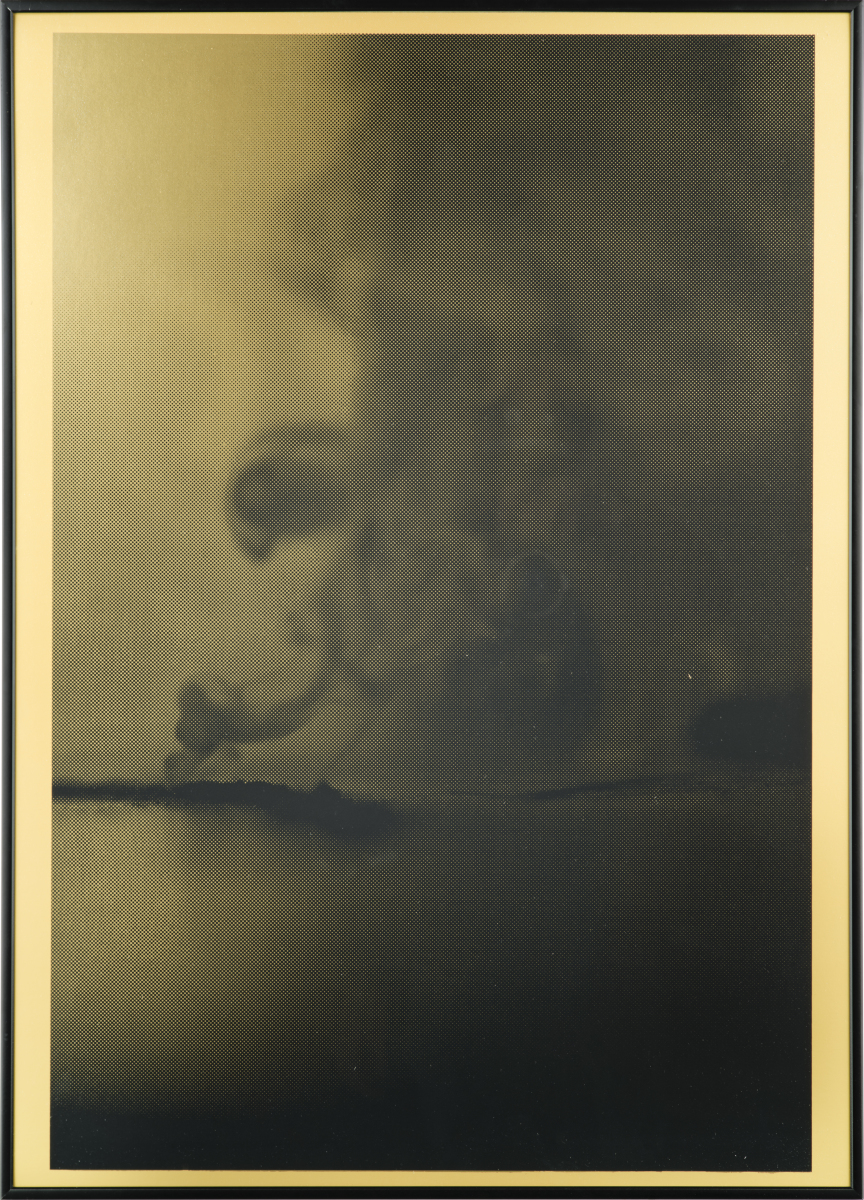 Fumée sans feu 5/30
, 2022
Silkscreen
70 x 50cm
27.56 x 19.69 in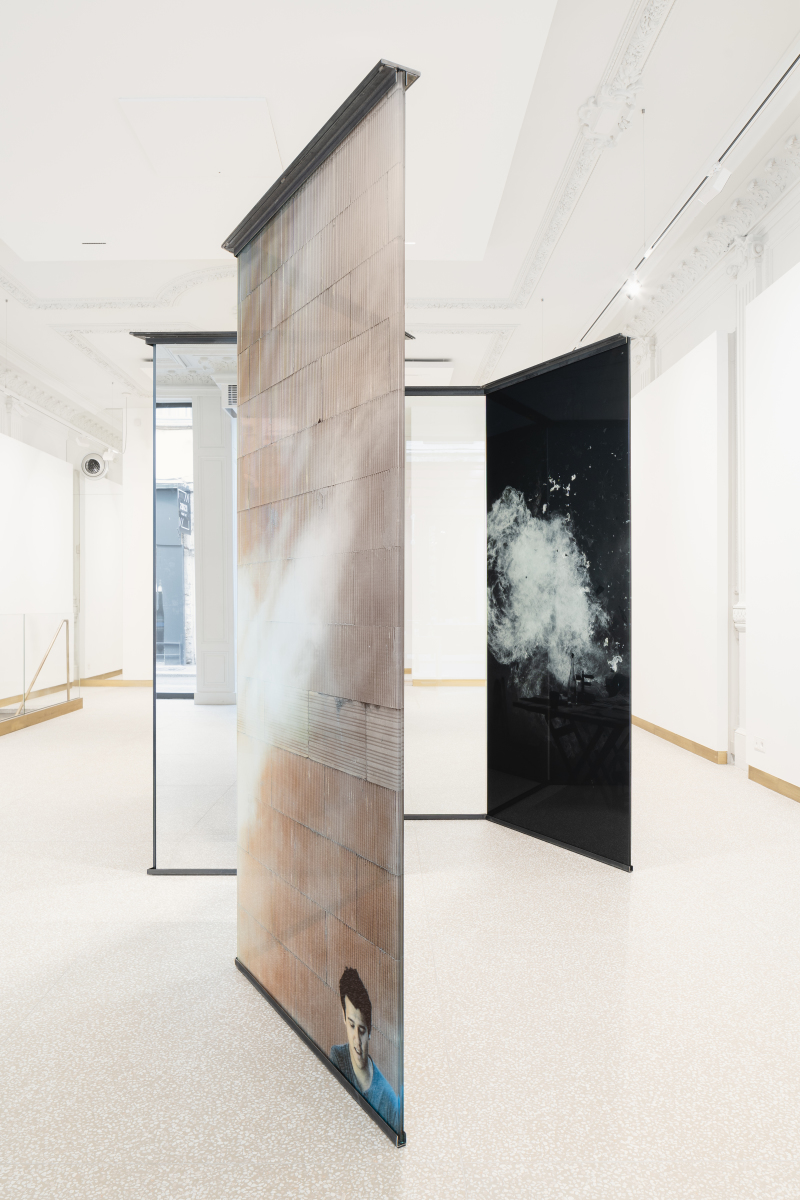 27 mars
, 2022
photographic print on glass
237 x 342cm
93.31 x 134.65 in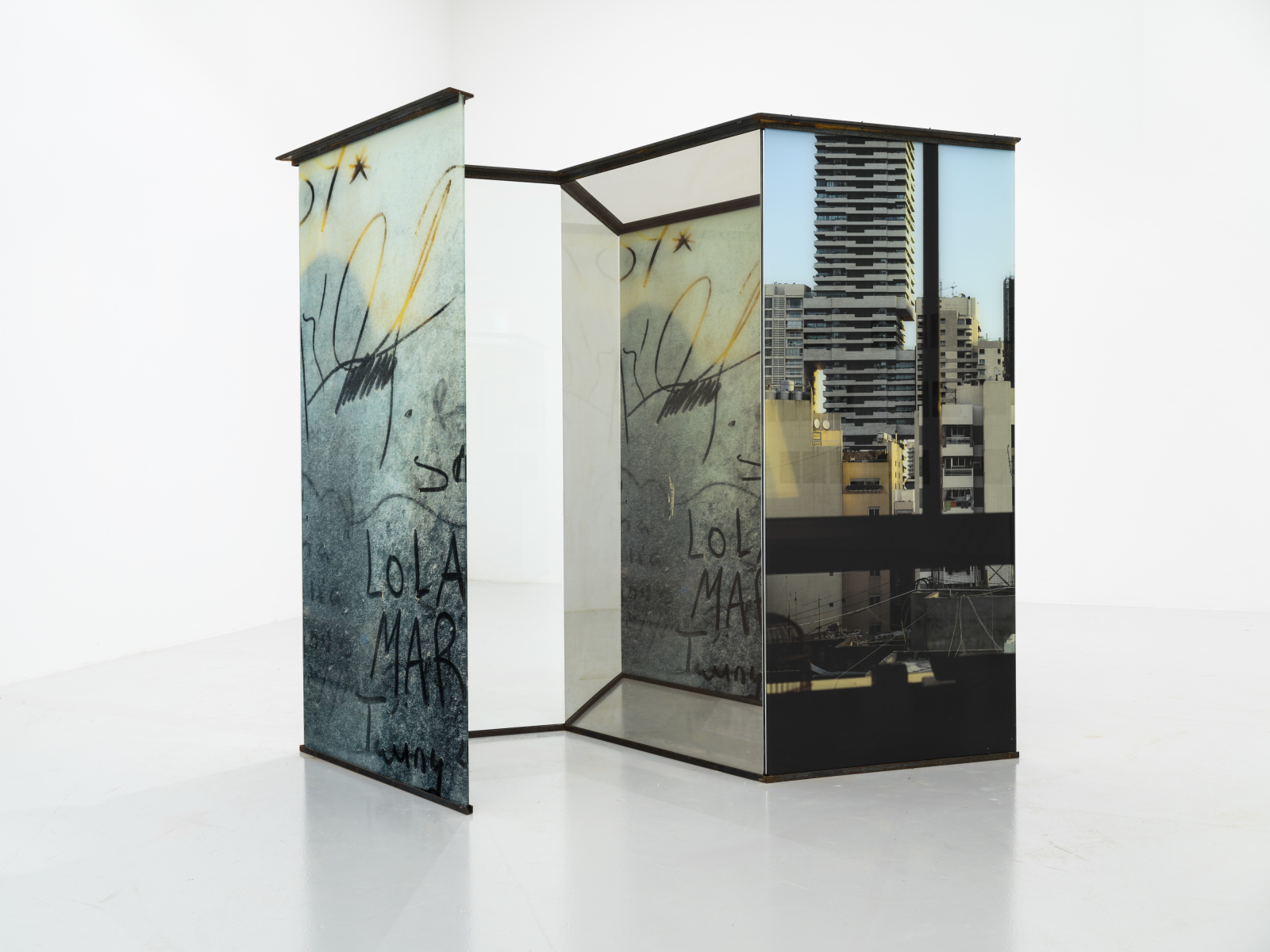 24 février
, 2022
photographic print on glass
235 x 104cm
92.52 x 40.94 in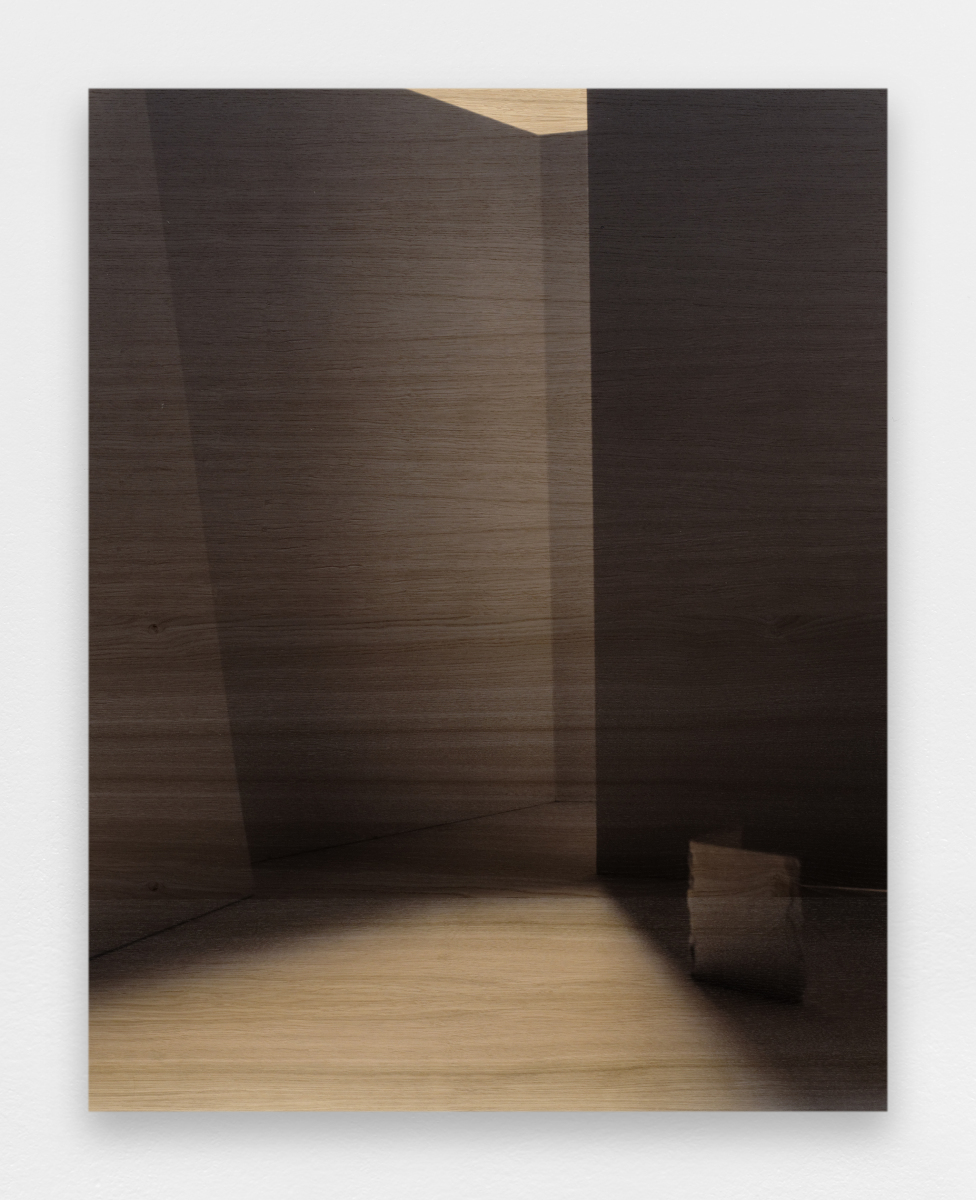 Paris #2 EA
, 2022
Print on wood
122 x 95cm
48.03 x 37.40 in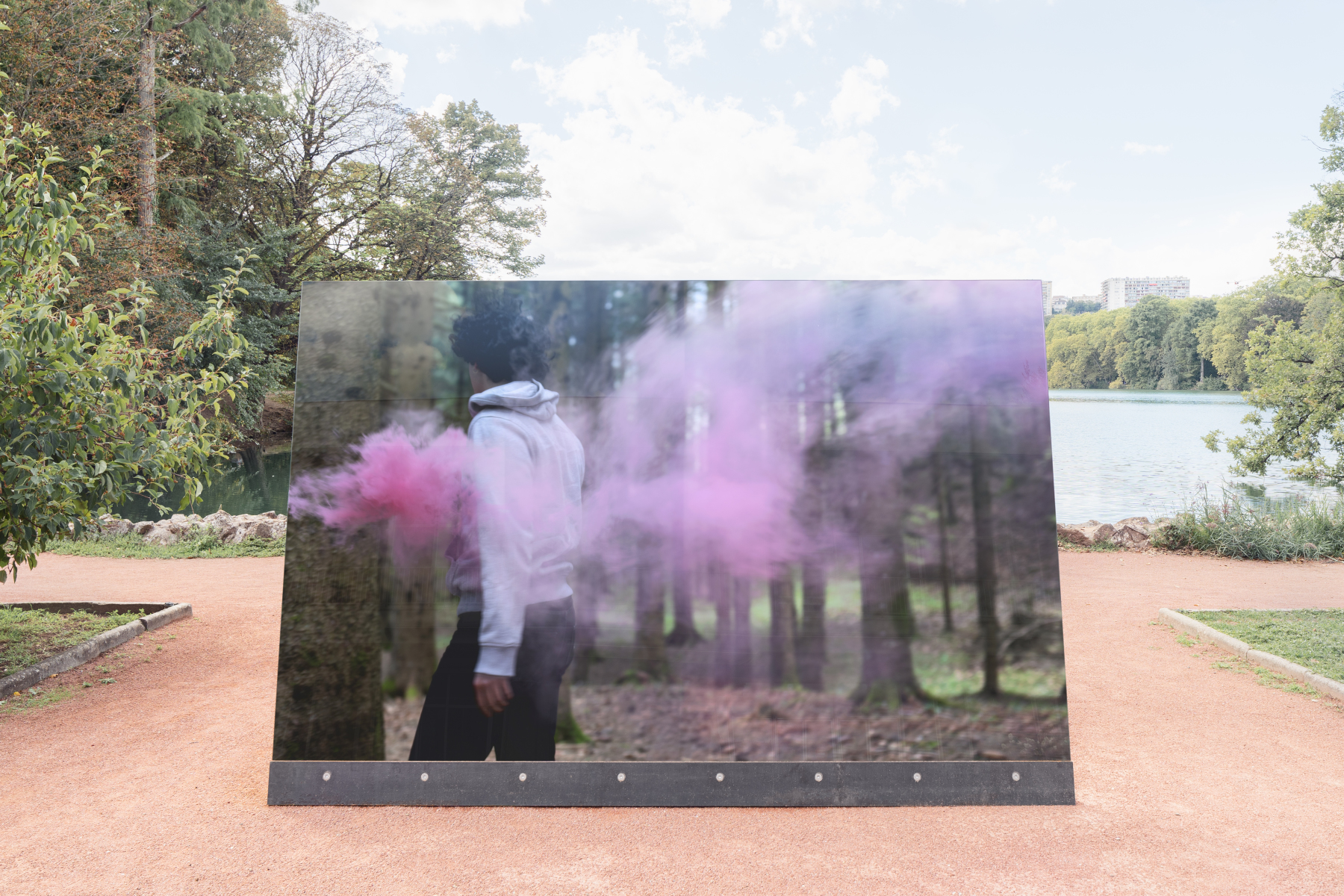 Minuit chez Roland [31 décembre]
, 2022
C-print, glass, steel sheet
180 x 270cm
70.87 x 106.30 in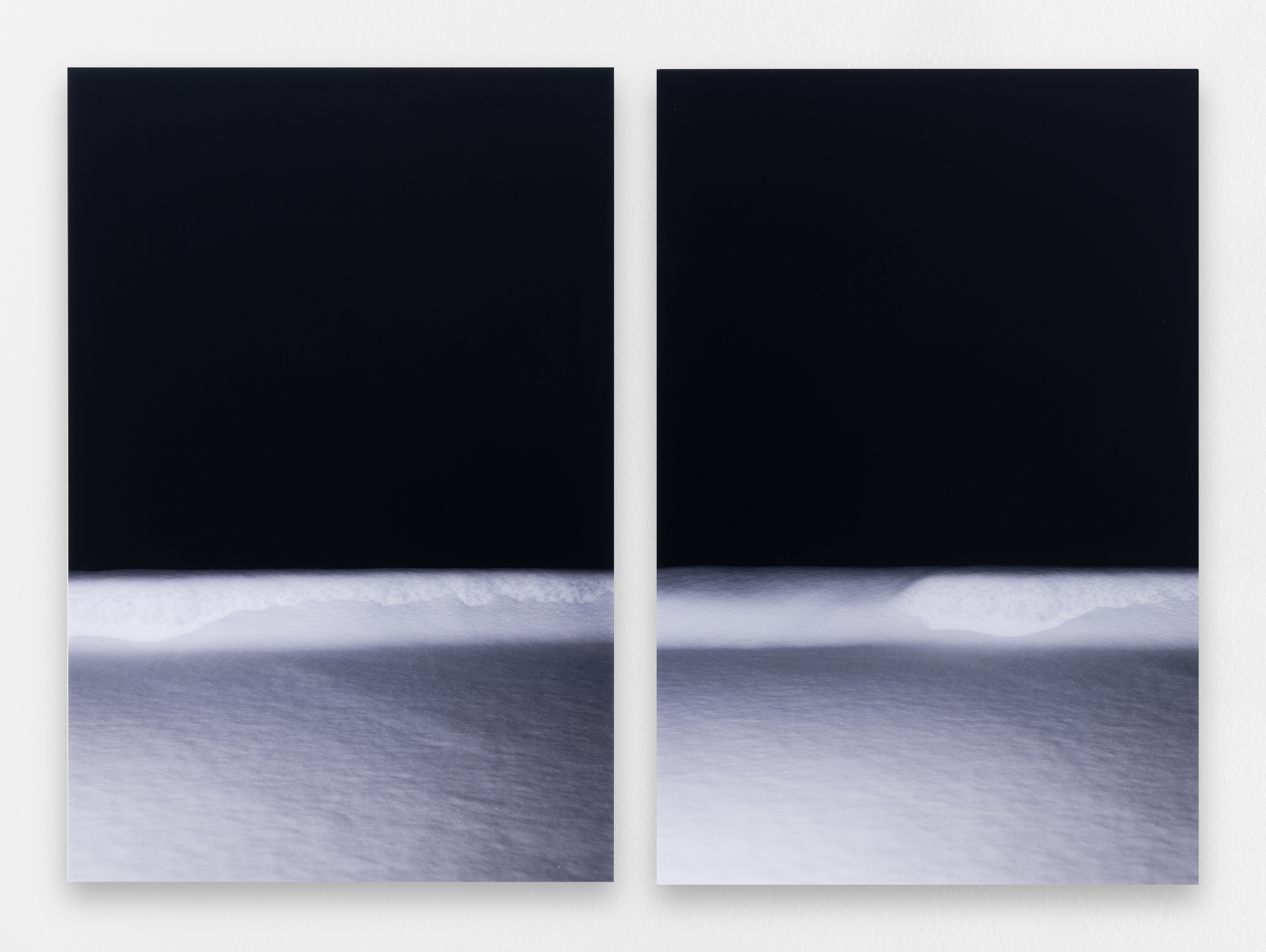 1300 alt. [Romme]
, 2021
Lambda print glued on Dibond under mat Diasec
120 x 167cm
47.24 x 65.75 in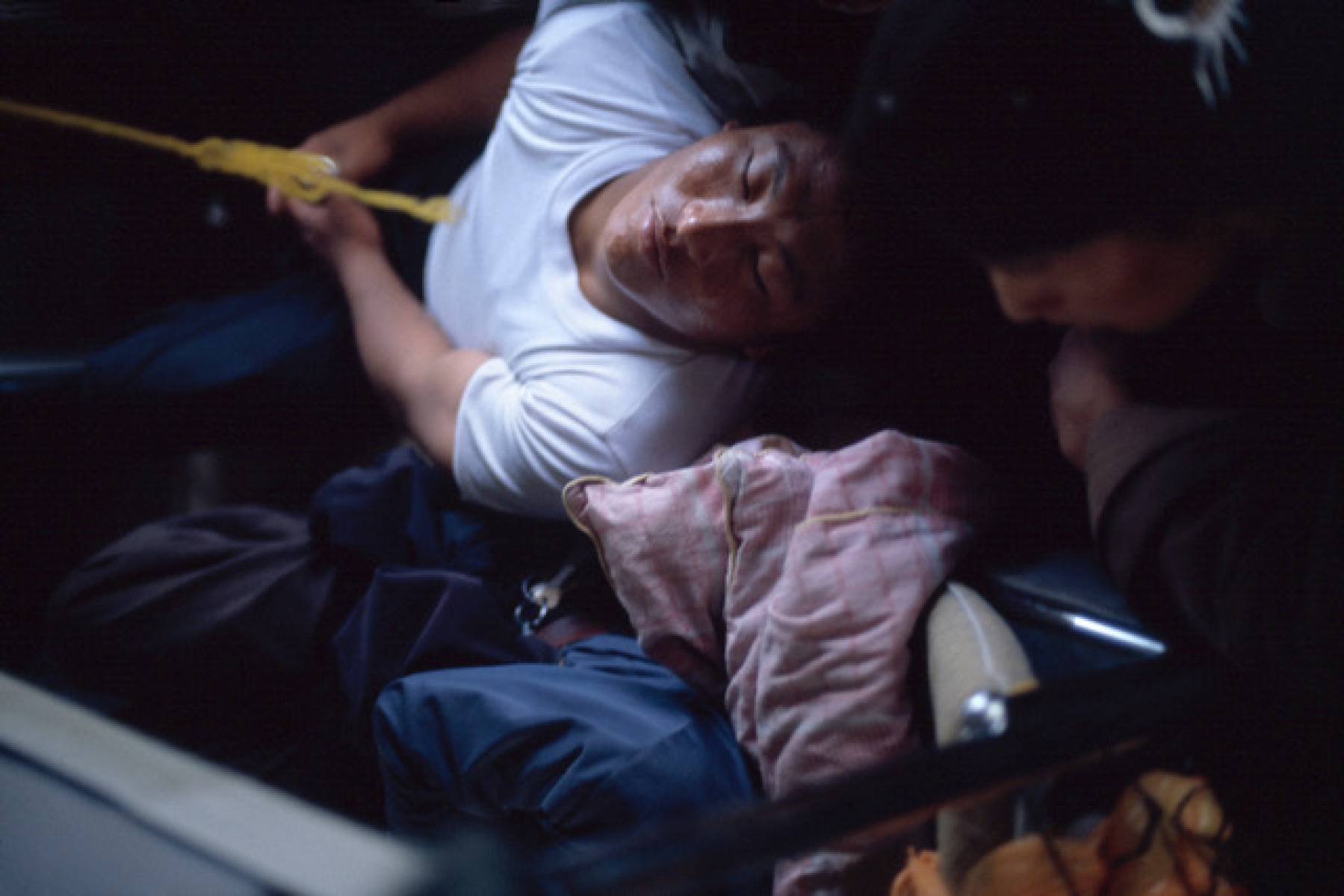 Prise de vue latente 09
, 2020
Inkjet print on baryta paper
42 x 60cm
16.54 x 23.62 in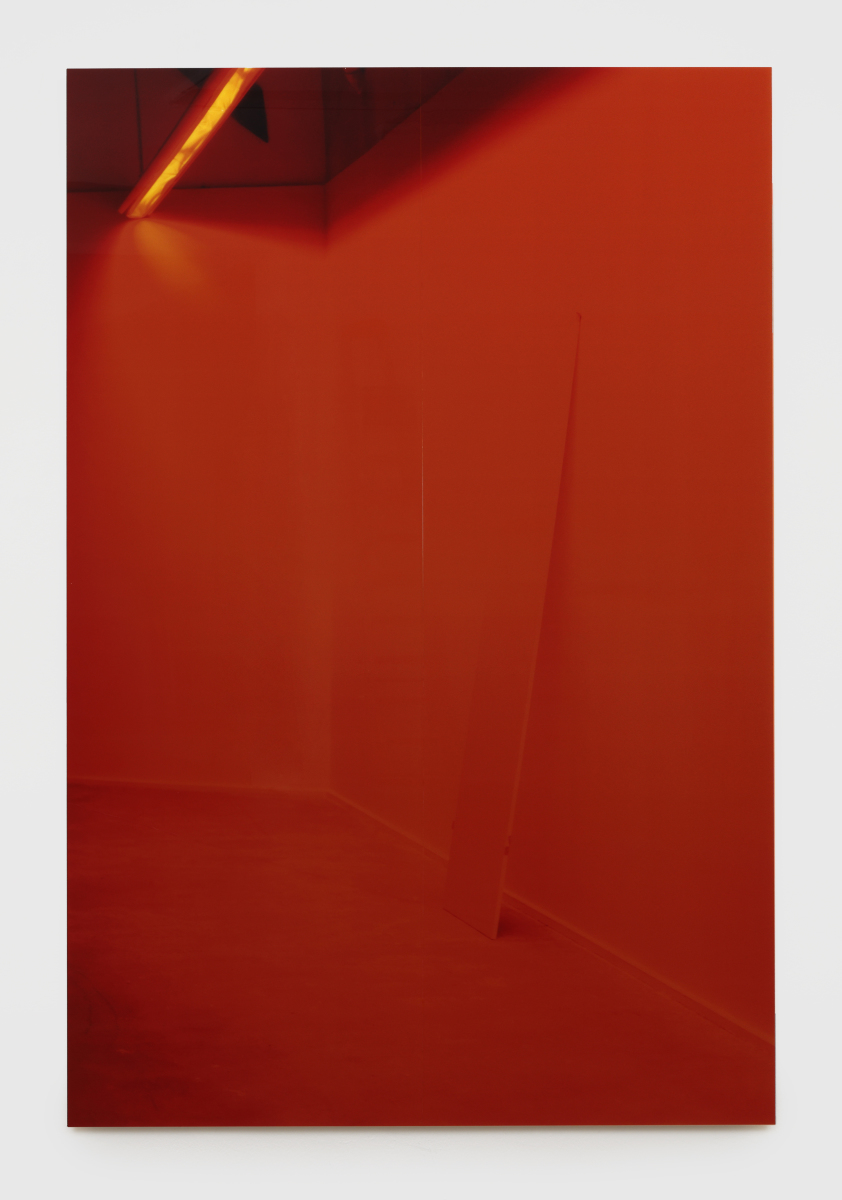 Inactinique EA
, 2020
Lambda print mounted on Dibond under glossy Diasec
210 x 140cm
82.68 x 55.12 in
Explosion #1 EA
, 2014
Printed on 4 blue back leys, satin ink
400 x 400cm
157.48 x 157.48 in
Born in 1980 in Lyon, France
Lives and works between Paris, Romme, France and Geneva, Switzerland
   Education
2006   Beaux Arts de Lyon, France
   Awards & Grants

2019   ADAGP Aide à l'édition, Exagraphie, monographie, éd.ExposerPublier, France
2017   Artiste invitée, Byblos Bank awards, Beyrouth, Lebanon
2016   Nominée au prix Découverte des Amis du Palais de Tokyo, Paris, France
              Aide individuelle à l'installation, Drac Auvergne-Rhône-Alpes, France
2015   Nominée au prix AICA, Palais de Tokyo, Paris, France
2006   Prix Pézieux, Ville de Lyon, France
2004   Prix Charles Dufraine, Ville de Lyon, France
   Residencies
2020   Villa Kujoyama, Institut Français, Kyoto, Japan
2018   Institut Français & Gallery 44 Center for Contemporary Photography, Toronto,
           Canada
2017   CNEAI and Seine Saint-Denis, In Situe, Pantin, Saine Saint-Denis, France
2015   Résidence Art & Industrie, Villa du Parc, ApiMontage, Annemasse, France
2013   Résidence Solvay, Gorzow, Poland
           Orange-Rouge, Paris, France 
2012   Cité internationale des Arts, Paris, France
           Round The Corner, Lisbone, Portugal
2011   Vingt ans, enssib, Lyon, France
2013   Résidence Solvay, Gorzow, Poland
           Orange-Rouge, Paris, France
2011   Molysabata, Les Sablons, France
           L.I.A, Leipzig International Art Programme, Leipzig, Germany
           Pilotenkueche Artist Residency, Leipzig, Germany
2010   Exposition universelle, Shanghai, China
           Tokyo Wonder Site, Tokyo, Japan
2009   Observatoire astronomique, Angtafasta, Chile
2008   Atelier, ADERA, Lyon, France
2008   3bisF, Aix-en-provence, France
           Ambassade de France, Tokyo, Japan
2007   Aide individuelle à la création, Ministère de la Culture - DRAC Rhône-Alpes, France
2005   Université Concordia, Montreal, Canada
   Public collections
Musée national d'art moderne - Centre Georges Pompidou, Paris, France
FRAC Occitanie, Montpellier, France
FRAC Normandie, Rouen, France
Centre National des Arts Plastiques, Paris, France
Musée de l'Elysée, Lausanne, Suisse 
Conceiving photography as a score is different from conceiving a work as a score, which is also different from conceiving an exhibition as a score. Since the early 2000s, and more specifically in her work, artist and photographer Aurélie Pétrel has been mixing these three modes of investigation of the word "score", exploring the full spectrum of potentialities of the photographic process, of visual material alterations ("77 experimentations", 2017, CPIF Pontault Combault), as well as its cyclical enactment as a sense-making matrix ("Polygone" cycle, 2001-2016, Tokyo). The artist herself calls her work "photographic scores", since her photographs, taken in six cities chosen for their architectural qualities, are at the foundation of her research and works. They are the original latent shots waiting to be revealed, moved, hybridized, and transferred on various media from sculpture to architecture, and even theatrical installations, in collaboration with stage director Vincent Roumagnac. More recently, these latent shots were revealed through their translation into data ("Hexagone", 2018, Lausanne), or, paradoxically, their near-disappearance as a result of processes ("Altérations-Réactivations", 2014), transportation and redistribution ("Axionométrie 2 inactinique", Fiac-Projects –Paris, 2018)… Drawing on the formal tools and intellectual processes of artists and researchers in the field of linguistics and philosophy, Aurélie Pétrel, who recently reactivated the archives of deconstructivist architect Peter Eisenman (Track 3, (2019) Toronto), combines a unique plastic and conceptual approach through a programmatic series of situations in which the exhibition framework is constantly modulating the interpretative possibility of her scores, latent photographs, and forms waiting to be reactivated. 
Since 2012, Aurélie Petrel has been the head of the photographic department of HEAD, Geneva. Her work has been exhibited in France and abroad (Tokyo, Montréal, New York, Leipzig...)
Texts by Michelle Debat – on the occasion of the conference entitled "Photographie en acte(s)" INHA – Paris, March 8 – 25, 2019
Solo shows at Ceysson Gallery
Aurélie Pétrel, Lyon
September 15 - October 22, 2022
Aurélie Pétrel, Paris
June 05 - July 24, 2021
Aurélie Pétrel, Saint-Etienne
October 24 - December 14, 2019
Aurélie Pétrel, New York
December 12, 2018 - January 26, 2019
Aurélie Pétrel, Paris
September 09 - October 14, 2017
Group shows at Ceysson Gallery
Sculpture parc, Panéry, Pouzilhac
July 09 - September 30, 2022
At Jean Prouvé, Offsite
July 15 - July 18, 2021
At Jean Prouvé, Offsite
July 26 - July 28, 2020
Spring Saint-Étienne, Saint-Etienne
June 12 - July 25, 2020
Spring Paris, Paris
May 18 - July 23, 2020
Solo Shows
2022
La Banque, with Roumagnac, curated by Léa Bismuth, Béthune, France
Midnight at Roland's [December 31], Ceysson & Bénétière, Lyon, France


2021
PVL, curated by Étienne Hatt, Ceysson & Bénétière, Paris, France
2020
Art Brussels 2020, Galerie Ceysson & Bénétière, Brussels, Belgium
de l'Ekumen, with Roumagnac (Duo), Galerie Valeria Cetraro, Paris, France
2019
Tracks/Repeat, curated by Alexandre Quoi, Ceysson & Bénétière, Saint-Etienne, France.
Drift, CAC Halle des bouchers, Vienne, France
2018
Tracks, curated by Alexandre Quoi, Ceysson & Bénétière, New York, United States
Hexagone 18, Musée de l'Élysée, Lausanne, Switzerland
Track 3, Gallery 44, Centre for Contemporary Photography, Toronto, Canada
Collectionner, le désir inachevé, Musée des Beaux-Arts d'Angers, Angers, France
2017
Cycle 2, figures photographiques, Ceysson & Bénétière, Paris, France
135, 125 iso, 24x36, M6, 35, Supports et formats variables, CPIF and the Centre Georges Pompidou, Pontault-Combault, France
FMAC, regard sur la collection d'images en mouvement, FMAC, Geneva, Switzerland
Carte blanche, as part of Printemps de l'art contemporain de Marseille, Atelier Ni, Marseille, France
Procuration #1. Aurélie Pétrel : Photographiquement slightly slipping on a banana skin, extrait de 90 vidéos de la collection du FMAC, Médiathèque, Geneva, Switzerland
Tokyo, Les Limbes, Saint-Étienne, France
50mm24.36mm92%, Musée de l'horlogerie et du décolletage, Cluses, France
2016
Seuils de Visibilité, CNAEI, Chatoux, France
Simulation, Galerie Domus and ENSSIB, Lyon, France
2015
Partition, Galerie Houg, Paris, France
Storeage - PortsFrancs, Geneva, Switzerland
Art Genève, Gowen Contemporary, Geneva, Switzerland
2014
Dix-neuf Chevrons, L'Angle, La Roche sur Foron, France
Partition, Galerie Houg, Lyon, France
Partitions, Centre d'art de Clamart sur l'invitation de Madeleine Mathé, Paris, France
2013
Images, Gowen Contemporary, Geneva, Switzerland
Soubresauts, Mémoire de l'enssib : acte 3, ENSSIB, Lyon, France
2012
Deux fois la ville, Grand Lyon, Lyon, France
Round The Corner, At Dawn galerie, Lisbon, Portugal
2011
Polygone, Galerie Houg, Lyon, France
Ricochets, ECNU University, Shanghai, China
2009
Rappel, Le Flac, www.le ac.fr, France
Répétition, Super Window Project / Muzz Program Space, Kyoto, Japan
Ricochets, ENS-Science et ENS-LSH, en Résonance avec la Biennale d'Art Contemporain, Lyon, France
Tombé du ciel, 3bisF, Aix-en-provence, France
2007
Garden party, Hôpital Saint-Joseph - Saint-Luc, en résonance avec la Biennale d'Art Contemporain, Lyon, France
Group Shows
2022
Manifesto of fragility, 16th Lyon Biennial of Contemporary Art, curator: Sam Bardaouil and Till Fellrath, Usine Fagor, Parc LPA-République, Parc de la Tête d'Or, Lyon
2021
Biennale Internationale de Saint-Paul de Vence, directrice artistique : Catherine Issert, Saint-Paul de Vence, France
L'Art Dans Les Chapelles, Chapelle Saint- Fiacre, Pontivy, France
Viva Villa, Collection Lambert, Avignon, France
de L'Ekumen, Pétrel - Roumagnac (duo), Galerie Valeria Cetraro, Paris, France
Deux scénarios pour Une collection, Frac Normandie, Rouen, France
2020
Printemps, Galerie Ceysson & Bénétière, Paris, France
Printemps, Galerie Ceysson & Bénétière, Saint-Étienne, France
La Photographie à l'épreuve de l'abstraction, Frac Normandie Rouen, Le Micro-Onde et le Centre Photographique d'Île-de-France, France
Maison Jean Prouvé, Galerie Ceysson & Bénétière Hors les murs, Beauvallon, France
L'échappée belle, Le grand Café, centre d'art contemporain, Saint-Nazaire, France
2019
Image située, L'Onde, Vélizy-Villacoublay, France
Osmoscosmos, Centre de la Photographie Genève, Geneva, Switzerland
Some of Us – an overview on the French Art Scene, Kunstwerk Carlshütte, Büdelsdorf, Germany
Relevés II, Favorinos d'Arles, Galerie Quatre, Arles, France
Procédez !, Galerie Arena, ENSP, Arles, France
ArtVilnius'19, Ceysson & Bénétière, Vilnius, Lithuania
Art Brussels, Ceysson & Bénétière, Brussels, Belgium
2018
Blue Hour, Gowen contemporary, Geneva, Switzerland
La cité d'images, Centre de la photographie contemporain, Lyon, France
Un espace de faible densité, Espace Arts Plastiques, Vénissieux, France
WeS.A.N.K Paris, workshop session, invitated by Emmanuelle Chiappone-Piriou and Vincent Roumagnac, on the occasion of the exhibition Au loin une île, Mains d'Oeuvres, Saint-Ouen, France
d'Asterion, Pétrel / Roumagnac (duo), Galerie Valeria Cetraro, Paris, France
Assemblage #14 Spotlight, Julio Artist-run Space, Paris, France
weniger ist mehr - less is more, Galerie du Crous de Paris, Paris, France
Art Brussels, Ceysson & Bénétière, Brussells, Belgium
Artissima, Ceysson & Bénétière, Torino, Italy
FIAC Projects, Ceysson & Bénétière, Petit Palais, Paris, France
2017
SoixanteDixSept Experiment, CPIF et le Centre Georges Pompidou, Pontault-Combault, France
House of Dust, Fonderie Darling, Montreal, Canada
5889, curated by Sylvie Boulanger, Nicolas Giraud, Aurélie Pétrel and Fabien Vallos, Galerie Arena, École Nationale Supérieure de la Photographie de Arles, France
House of Dust by Alison Knowles, curated by Sylvie Boulanger, Maud Jacquin and Sébastien Pluot, CNEAI Centre d'art, Pantin, Paris, France
Summer Night Wishes, Elizabeth Street Garden, New York, United States
Face à l'Aura : une méditation photographique, curated by Léa Bismuth, Valeria Escougnou-Cetraro and Edouard Escougnou Cetraro, Centre d'art Image/Imatge, Orthez, France
2016
Art&Industrie, Villa du Parc, Annemasse, France
Faire Surface, exhibition in partnership with l'École Nationale Supérieure de la Photographie d'Arles, curated by Alexandre Quoi, Agnès B, Paris, France
Quelque Chose est en train de se passer, proposed by Mélanie Perrier from Cie2minimum compagnie, performed residences, Situation de proximité, La Maison des Arts, Malakoff, France
Espèces d'images, group show, B.A.C. Le commun, Geneva, Switzerland

Le temps de l'audace et de l'engagement - de leur temps (5), Institut d'Art Contemporain en collaboration avec l'ADIAF, Villeurbanne, France
2015
I propose that we take a walk together, Galerie Houg, Paris, France
Dispositifs, with Marina Gadonneix, Caen, France
Relief(s), création et collaboration, Frac Centre, Orléans, France
On se tromperait de croire que les bois n'ont pas des yeux, La Halle, Pont en Royan, France
Partition, invitation à Anne Jarrigeon and Julie Kieffer, Vivarium, Rennes, France
2014
Au-delà de l'image, Galerie See Studio, Paris, France
Impressio, Atelier Rouart, Paris, France
A/R Passagen, Werkschauhalle, Leipzig, Germany
When shall we three meet again, In thunder, lightning, or in rain?, Centre d'art, Vénissieux, France
On se tromperait de croire que les bois n'ont pas des yeux, La Halle, Pont-en-Royan, France
Les ateliers Vivarium, Rennes, France
Aleph # Mai 2014, Gowen Contemporary, Geneva, Switzerland
Solvay, Lyon, France
Orange-rouge, Khiasma, Paris, France
On se tromperait de croire que les bois n'ont pas des yeux, Echos, Brussels, Belgium
2013
CrossOver, Fotomuseum, Winterthur, Switzerland
False-fake, Centre de la photographie, Geneva, Switzerland
Géométrie variable, SWP, Château les Crayères, Reims, France
BKRM, cité internationale des Arts, Paris, France
Reset, Zodiak Helsinki, Center for New Dance, Helsinki, Finland
Variable Geometry, Art Brussels, SWP, Brussels, Belgium
Le grand ensemble, HPL, La Comédie de Saint-Etienne, Saint-Etienne, France
Mia Fair, represented by la Bloo gallery (Rome), Milano, Italy
Lille Art Fair « Espace YIA », represented by la Galerie Houg, Lille, France
2012
Hiroshima Art Document, Former bank, Hiroshima, Japan
Quatre photographes, Bloo gallery, Rome, Italy
ART-O-RAMA, represented by Super Window Project (Kyoto), Marseille, France
Danse espace deux, invited by Christian Gattinoni, Espace 1789, Saint-Ouen, Paris, France
Images en résidence, Le bleu du Ciel, Lyon, France
Close range, Westpol, Leipzig, Germany
Tendanze del la fotogra a contemporanea Vol 1, Bloo galerie, Rome, Italy
Là où il pleuvine, L'atelier, Saulieu, France
2011
Reboot #5, nous voulons des maquettes!, invited by Elie During, Palais de Tokyo, Paris, France
Absolut, Pilotenkueche - Spinnerei, Leipzig, Germany
Image-machine, Galerie Maxence Malbois, Paris, France
In situ, L.I.A - Spinnerei, Leipzig, Germany
2010
Trans-imagem, Galerie Virigilio, Sao Paolo, Brazil
Art + Guest, Olivier Houg Galerie, Paris, France
Estampe, Délégation parisienne du Grand Lyon, Paris, France
Groupe show, TWS, Tokyo, Japan
Menu C, Institut franco-japonais de Tokyo, Japan
Panorama, Biennale d'Art contemporain, Bourges, France
Picturing city, Musée Xuhui, Shanghai, China
Regards croisés, Exposition universelle, Shanghai, China
2009
All saints, Hôpital Saint-Joseph - Saint-Luc, Lyon, France
Les légumes verts - Menu A et B, ENS-Science et ENS de, Lyon, France
Loop Art Fair, Olivier Houg Galerie, Barcelona, Spain
Passages - La Capitainerie - Focus de la Biennale de d'Art Contemporain de Lyon, ECHOS, Lyon, France
No man's land, Super Window Project / Ambassade de France, Tokyo, Japan
Le vide n'a pas de porte de sortie, Creative Union, Hiroshima, Japan
RDV 2008, Musée d'art contemporain, Lyon, France
2008
Exposition de Noël, Le Magasin - Ancien Musée de peinture, Grenoble, France
Géométrie Variable, BTP du Rhône, Lyon, France
2007
Les enfants du Sabbat 8, Creux de l'enfer, Thiers, France
2006
Exposition, Château des Adhémar, Montélimar, France
Multipolaire, Halle 14 de la Spinnerei, Leipzig, Germany
Travaux en cours, Musée d'Art moderne, Saint-Etienne, France
2005
2ème édition de eu_stuart.si, Famulstuart, Ljubljana, Slovenia
Selected Bibliography
2021 
Exagraphie (Monographie) edited by ExposerPublier and distributed by Les Presses du Réel, Paris, France
Essai sur l'image latente, Fabien Vallos, Édition Mix
2018
Aurélie Pétrel, 12052018-SVOLTA-7235, 2018, in Fabien Vallos (dir.), SVOLTA, texts and commentaries, Paris, Éditions Mix
2017
Aurélie Pétrel, L'image élevée au cube, text by Malek Abbou
2016
Au de là de l'image (II), galerie Escougnou-Cetraro, Paris, France
2015
Aurélie Pétrel text by Frédéric Bonnet, Le journal des arts n°443
Au de là de l'image (I), galerie SeeStudio, Paris, France
Le monde 11 septembre, text by Philipe Dagen
Partition Photographique Vol1., Léna Araguas éditions, Paris, France,
Introducing, text by Audrey Illouz, Artpress, March
Cartes mémoires, ExposerPublier, Paris, France
Aurélie Pétrel, text by Etienne Hatt, Artpress, January
2014
Initiales n° 04 - Initiales M.V. (Monte Verità), éditions les presses du réel, Paris, France
2013
Tous urbains n°04, éditions puf, Paris, France
Pré-édition Reset, Kaiserin éditions, 500 exemplaires
L'amorce du lieu, Les éditions du détail, 300 exemplaires
At Dawn, Les presses du vide, Paris, France
Hiroshima Art Document 2012, Yukiko Ito, Japan
2012
Tours et détours en bibliothèque, Les presses de l'ENSSIB, Lyon, France
Images en résidence, 205 éditions, with the support of Bleu du ciel and de Molysabata
Aurélie Pétrel, Art Magazine n°63, March
2011
Regards croisés, Shanghai 2010, Édition ENSBA Lyon, with the support of Région Rhône-Alpes, France
Polygone, texts by Malek Abbou, Marie de Brugerolle and Sylvie Lagnier, 205 éditions with the support of Galerie Houg
2010
No man's land, text by Baron Osuna, exhibition catalogue, French Embassy, Tokyo, Japan
Les légumes verts, text by Philippe Adam livre d'artiste, Édition Le bleu du ciel
Panorama, catalogue de l'exposition, 5ème Biennale d'art contemporain de Bourges, France
Préparatifs, livre d'artiste, Édition ENBA Lyon, France
Shanghai, text by Sylvie Lagnier, ZéroQuatre n°7
2009
Des images, de la lumière, text by Baron Osuna, published on www.leac.fr
2008
2013, Édition Ville de Lyon, France
2007
Aurélie Pétrel, texts by Marie de Brugerolle Édition E, ENBA Lyon, France
En 1799, l'entrée était déjà là, livre d'artistes, text by Grégory Bétend
Édition ENBA Lyon, France
2006
Collection Mes pas à faire, texts by Marie de Brugerolle and Nicolas Garait, Clermont Communauté, Le Creux de l'enfer
Multipolaire, HGGB, Leipzig, Germany
Les enfants du Sabbat 8, text : Comme un voile transparent posé sur les yeux de Nicolas Garait, catalogue de l'exposition, Le Creux de l'Enfer, coéditions ENBA Lyon, ESA Semaine 45.06 et Semaine n°2, Analogues, Maison d'édition pour l'Art contemporain, Château des Adhémar, Montélimar, France
2005
Chorégraphie, affiche 100 ex., collection Ne pas jeter sur la voie publique, Édition ENBA Lyon, France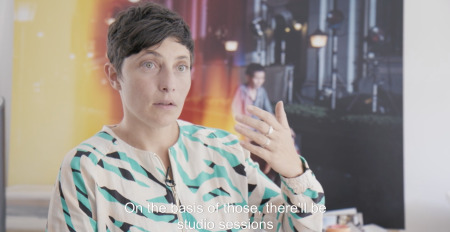 Aurélie Pétrel Portrait
September 01, 2021