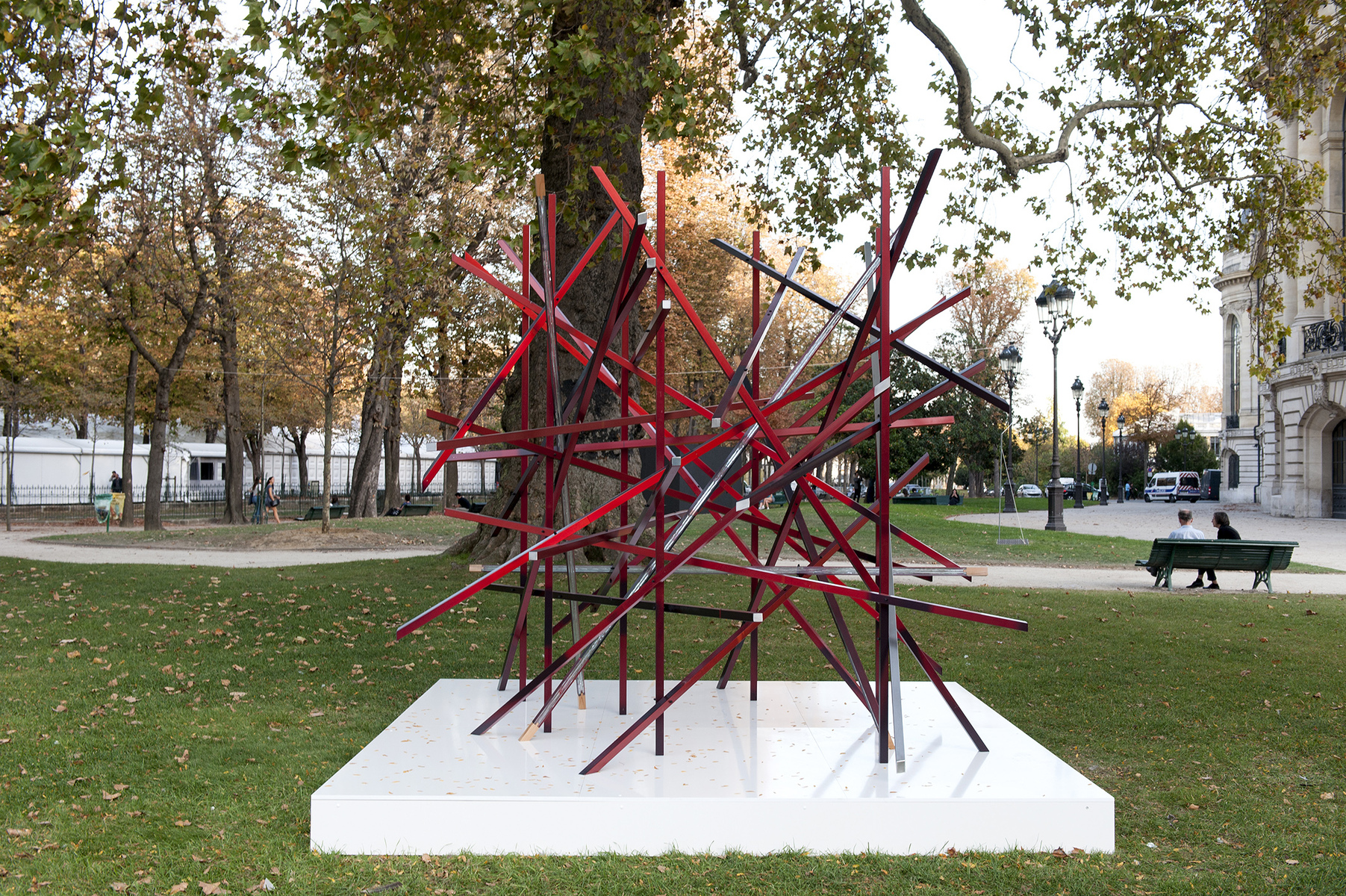 AxIonométrie #2 Inactinique
, 2018
Print on glass, wood and steel
250 x 250cm
98.43 x 98.43 in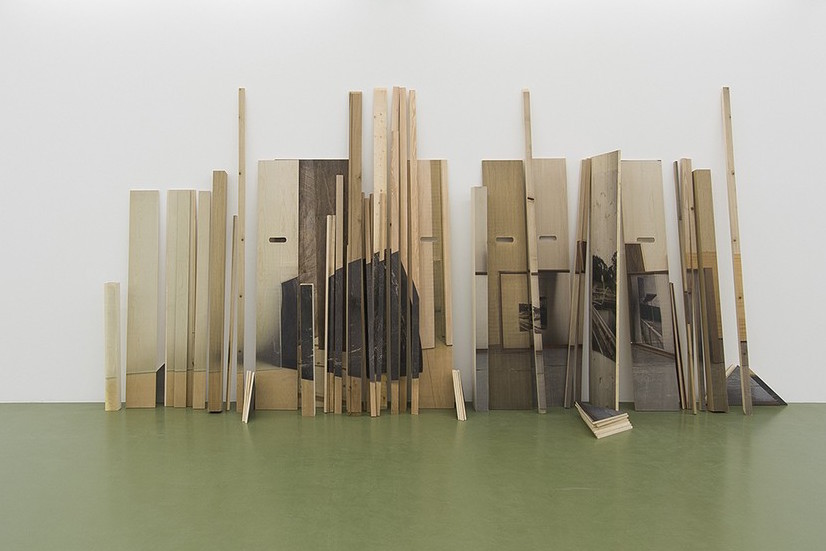 Partition: Fukushima #2
, 2015
Direct print on differents type of wood, seventy-five elements, variable form and dimensions
260 x 398cm
102.36 x 156.69 in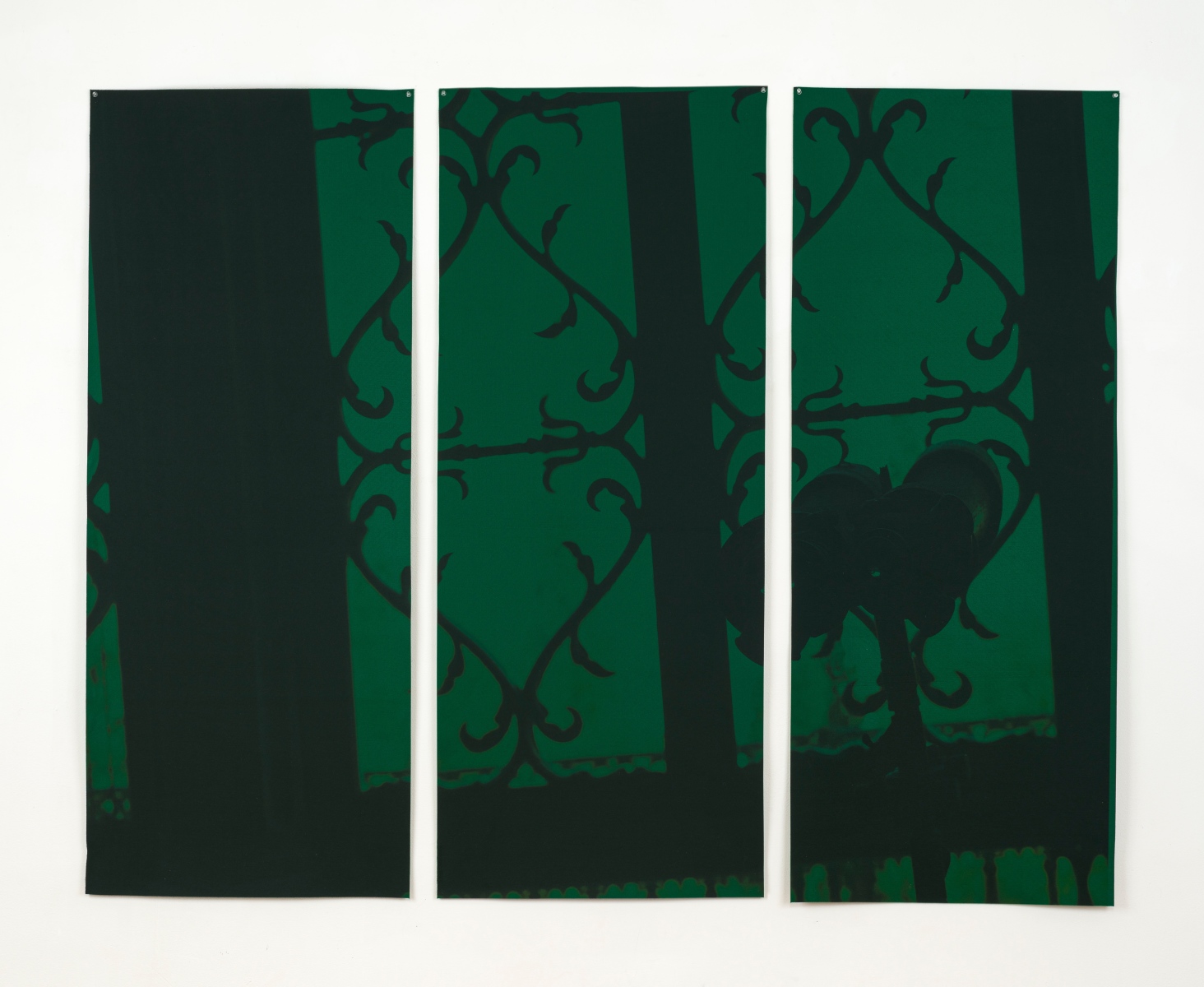 Feutre #2 (Vert) E.A
, 2019
Photographic print on felt
153 x 191cm
60.24 x 75.20 in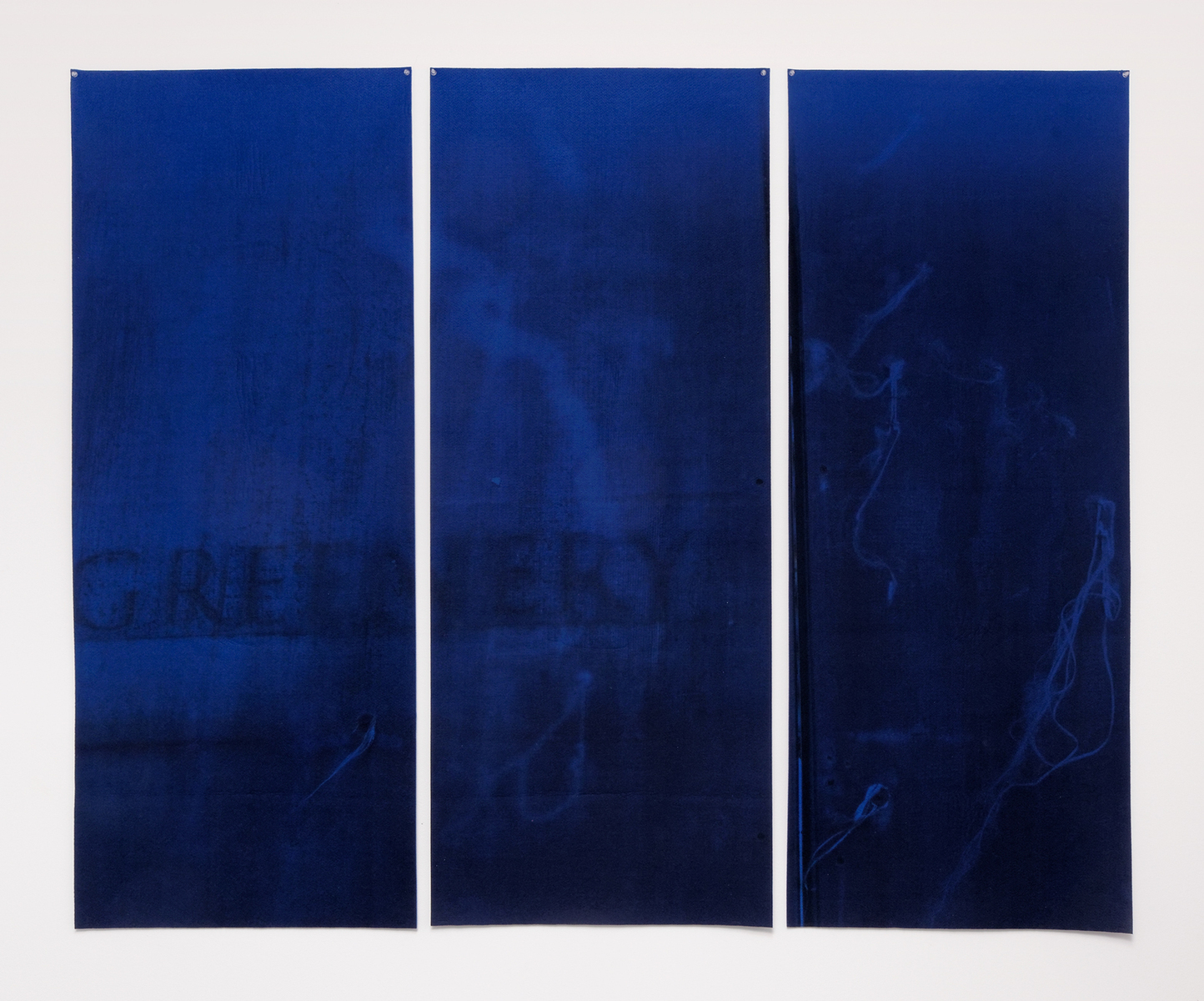 Feutre #3 (Bleu - Greenery)
, 2017
Photographic print on felt A.P
153 x 191cm
60.24 x 75.20 in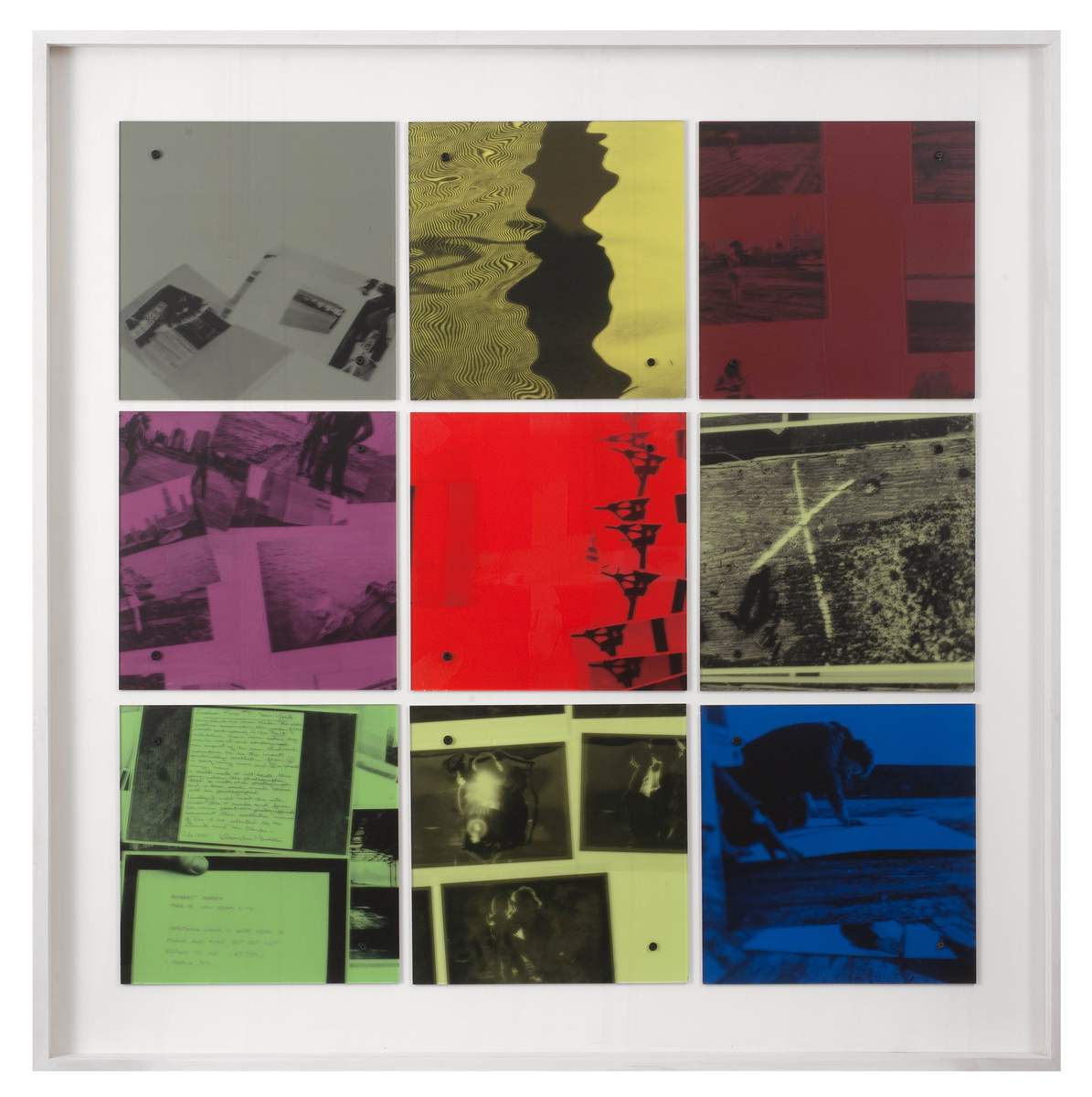 Heritage S&K, Pier 18
, 2018
Lambda print on glass
112.5 x 112.5cm
44.29 x 44.29 in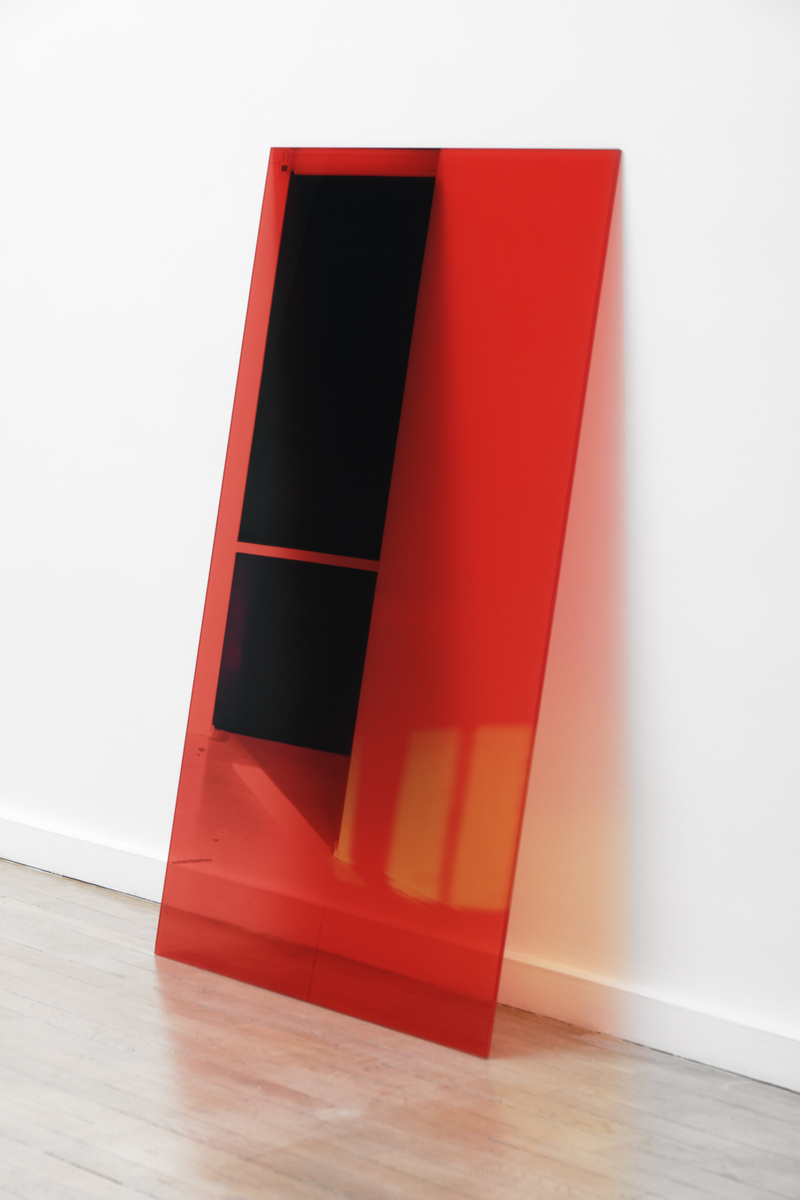 Inactinique
, 2018
C-print, polyester film and Evasafe of Bridgestone, extra-clear glass 6
140 x 90cm
55.12 x 35.43 in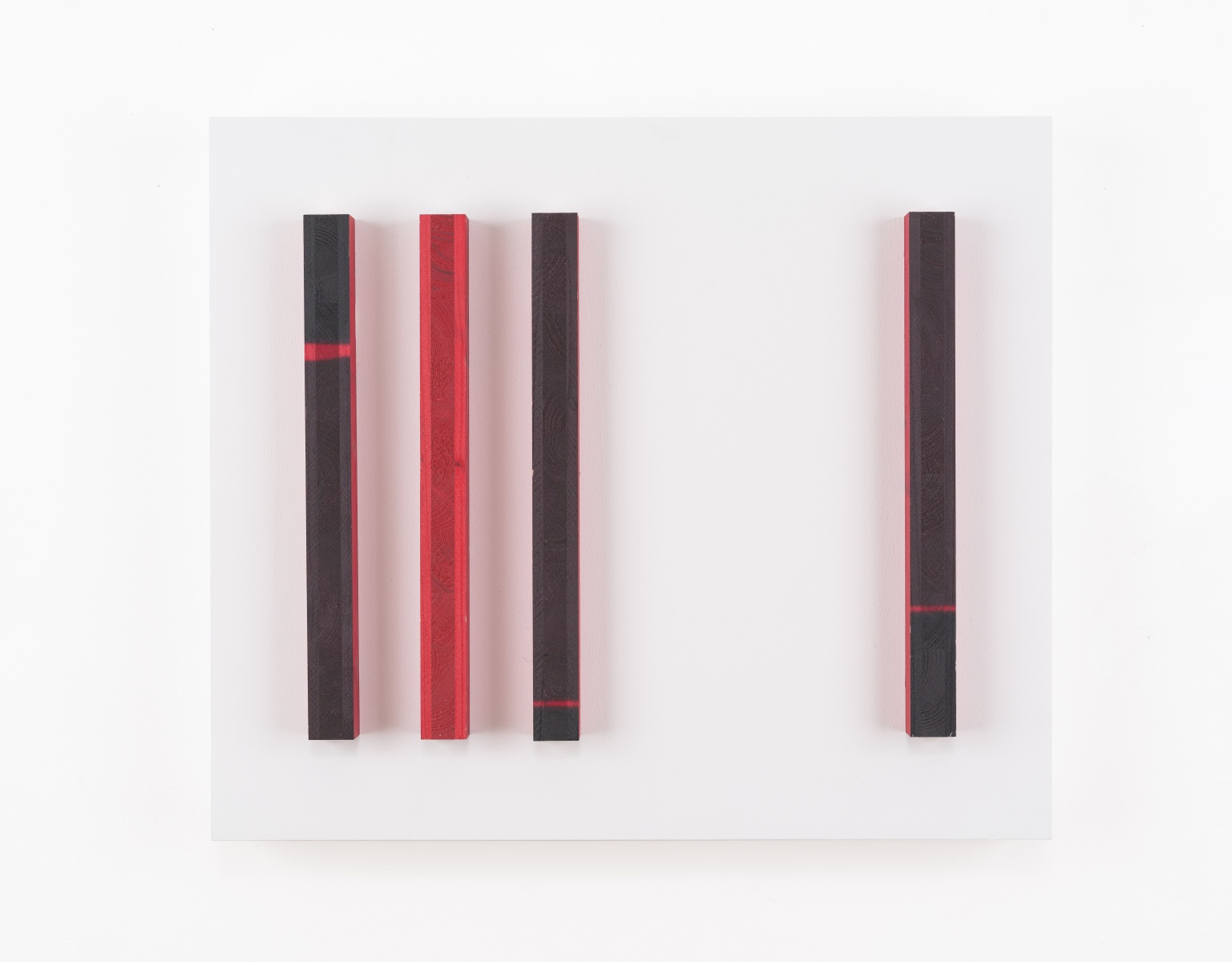 Fréquences #4
, 2019
Print on wood
55.9 x 65cm
22.01 x 25.59 in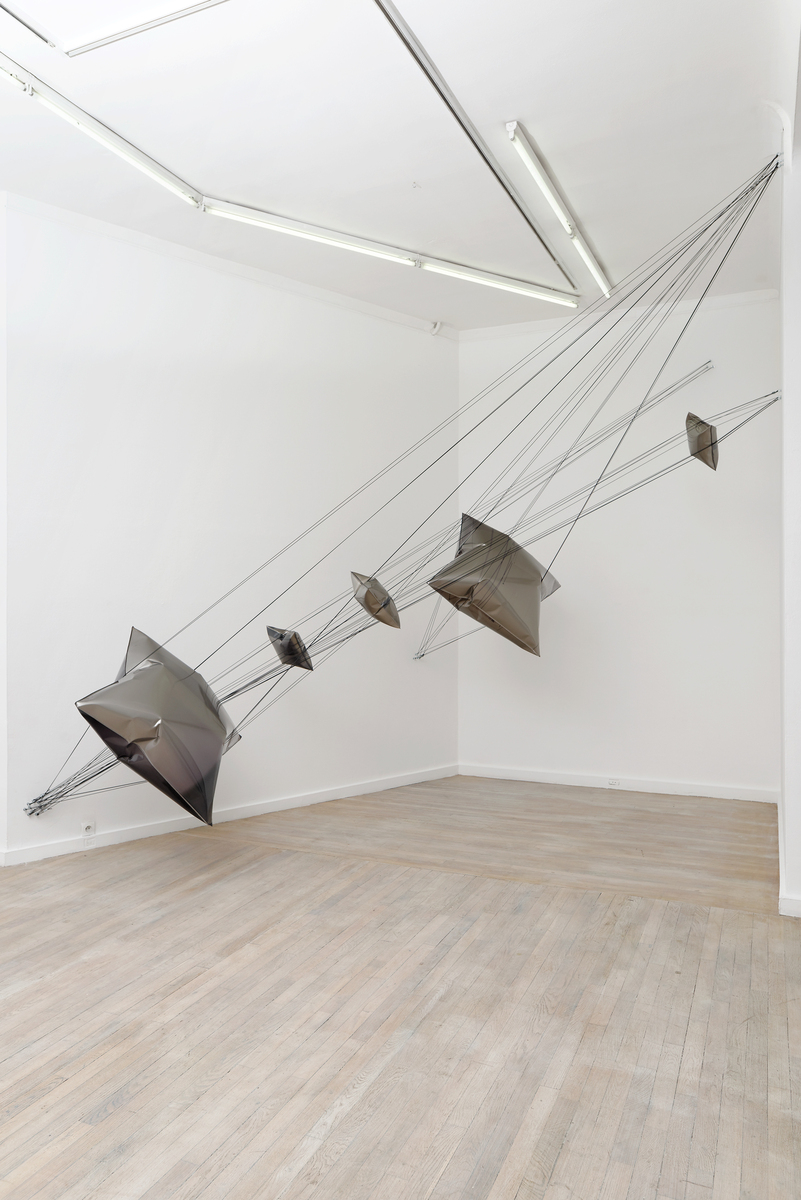 Paradoxe
, 2017
Mixed media
400 x 400cm
157.48 x 157.48 in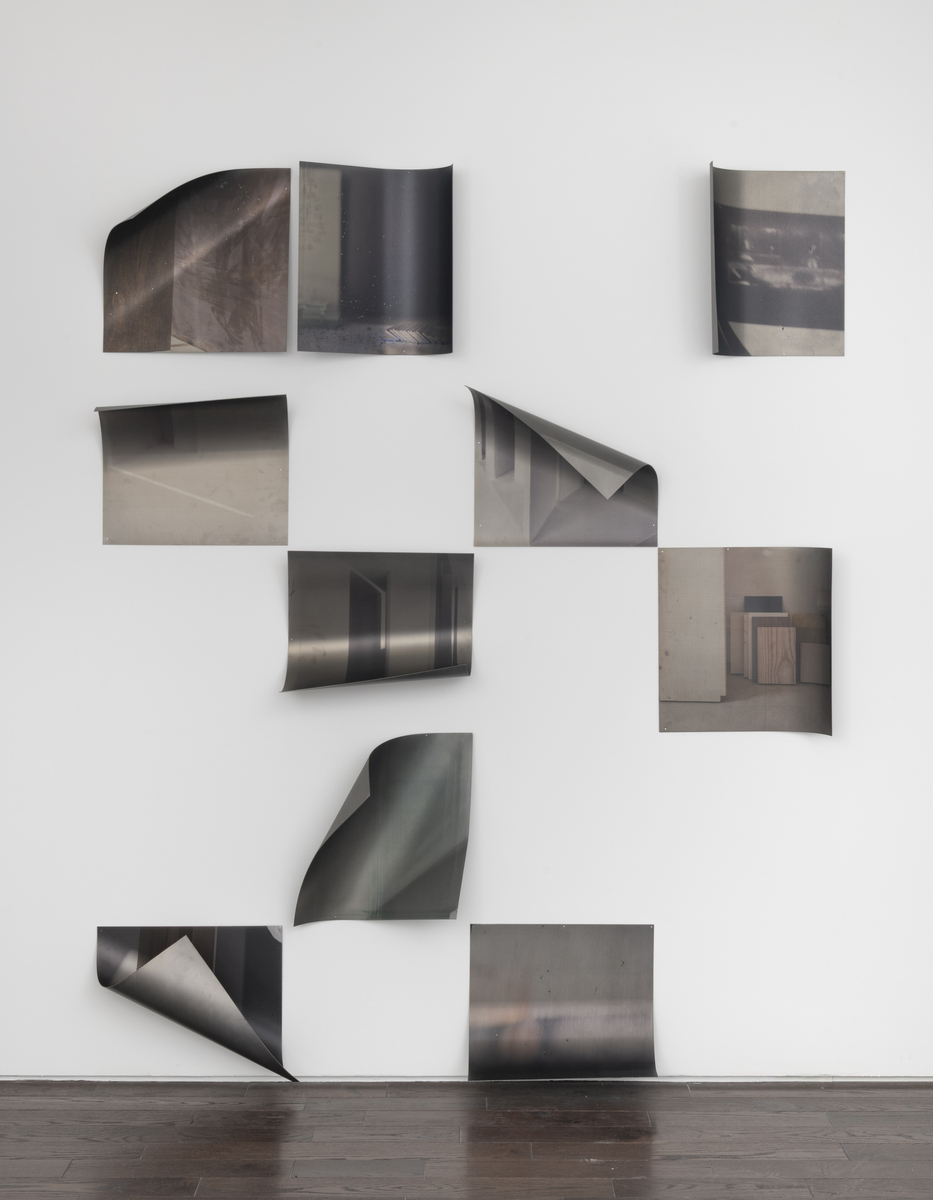 Chambre 104 (House IV)
, 2018
Print on sheet metal
241.3 x 193.04cm
95.00 x 76.00 in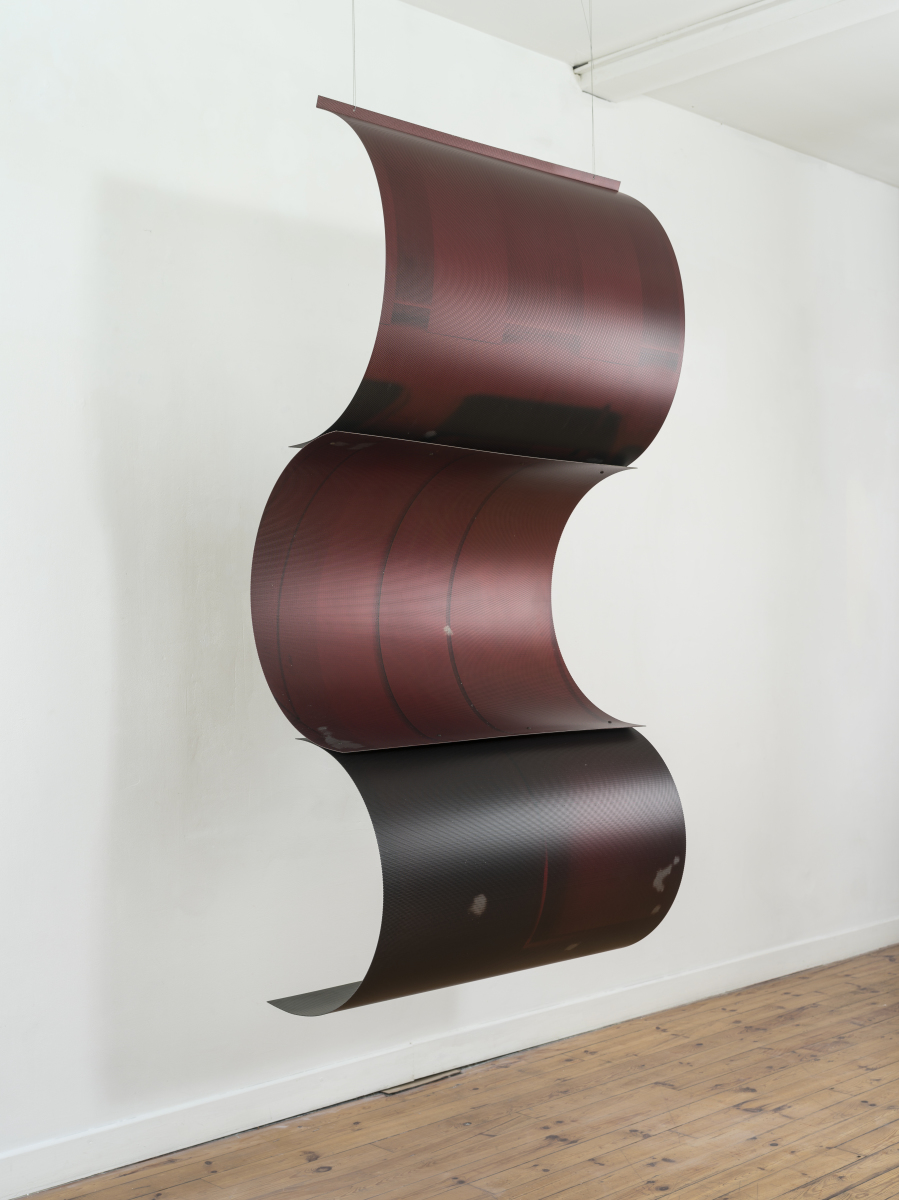 Inactiniques
, 2019
Print on inoxydable steel sheets
193 x 98cm
75.98 x 38.58 in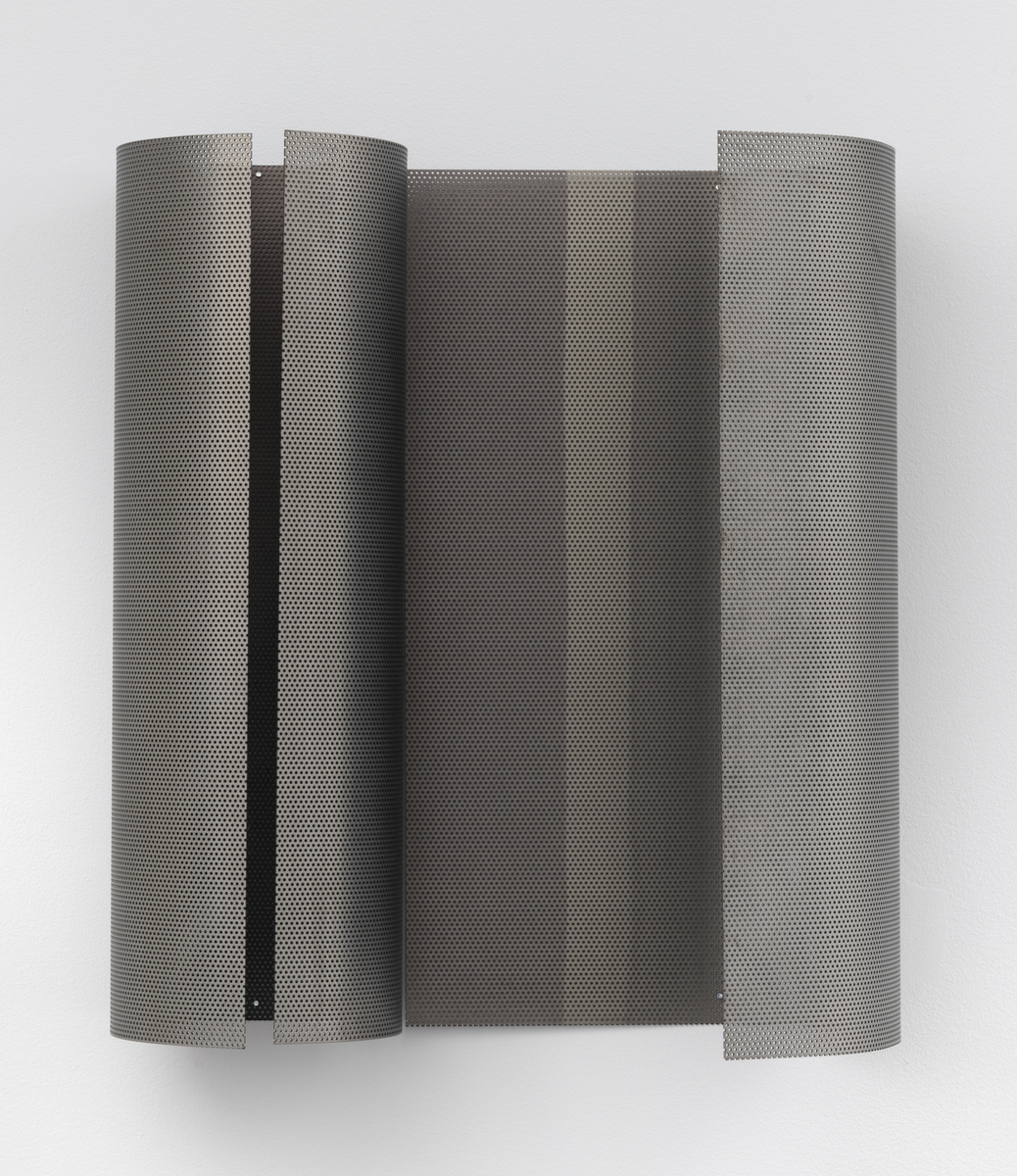 Tear down (House III)
, 2018
Direct print on sheet metal
49 x 46cm
19.29 x 18.11 in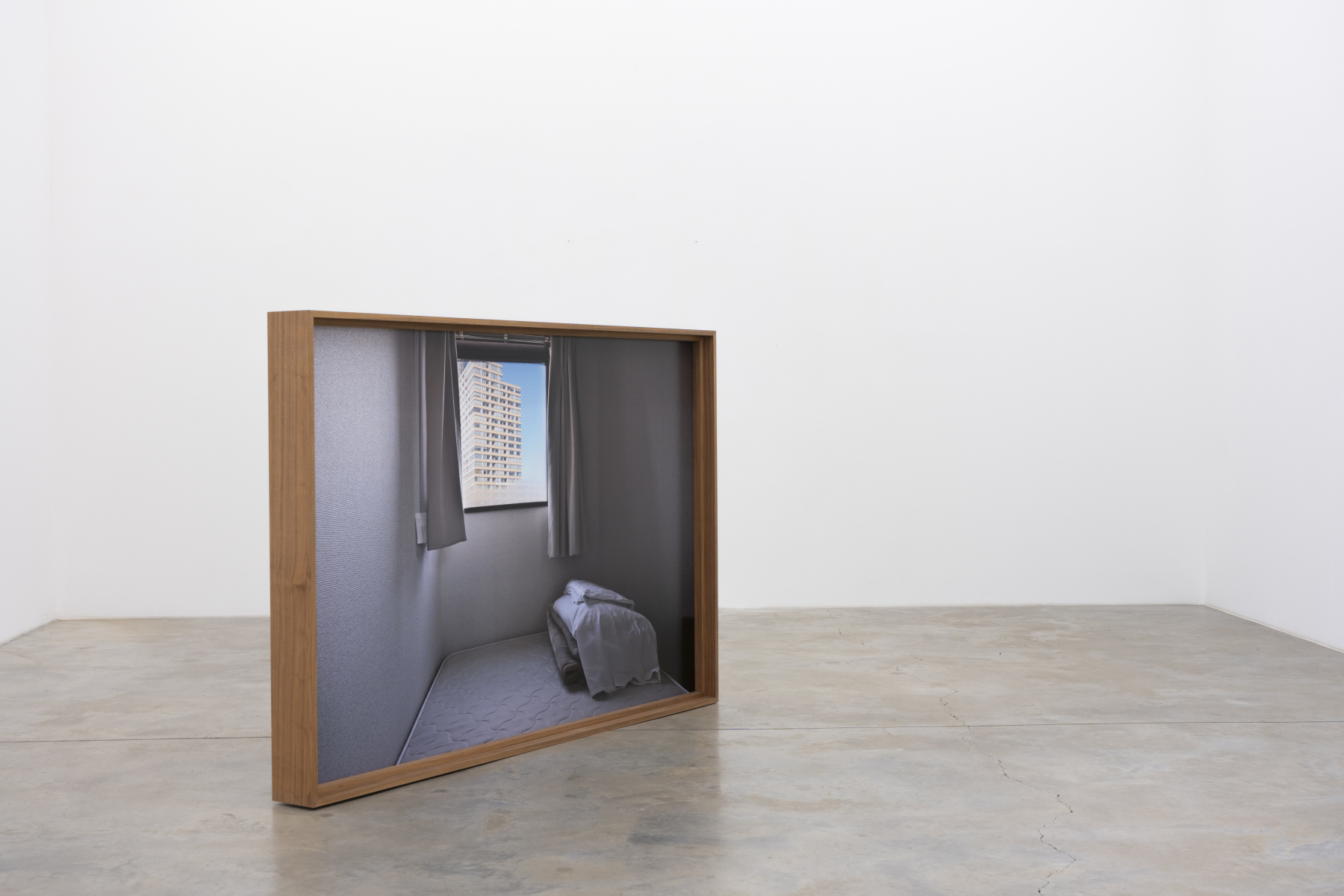 Chambre à Tokyo
, 2011
Two blue back prints, laminated on Dibond recto/verso, Edition AP 1/2
140 x 210cm
55.12 x 82.68 in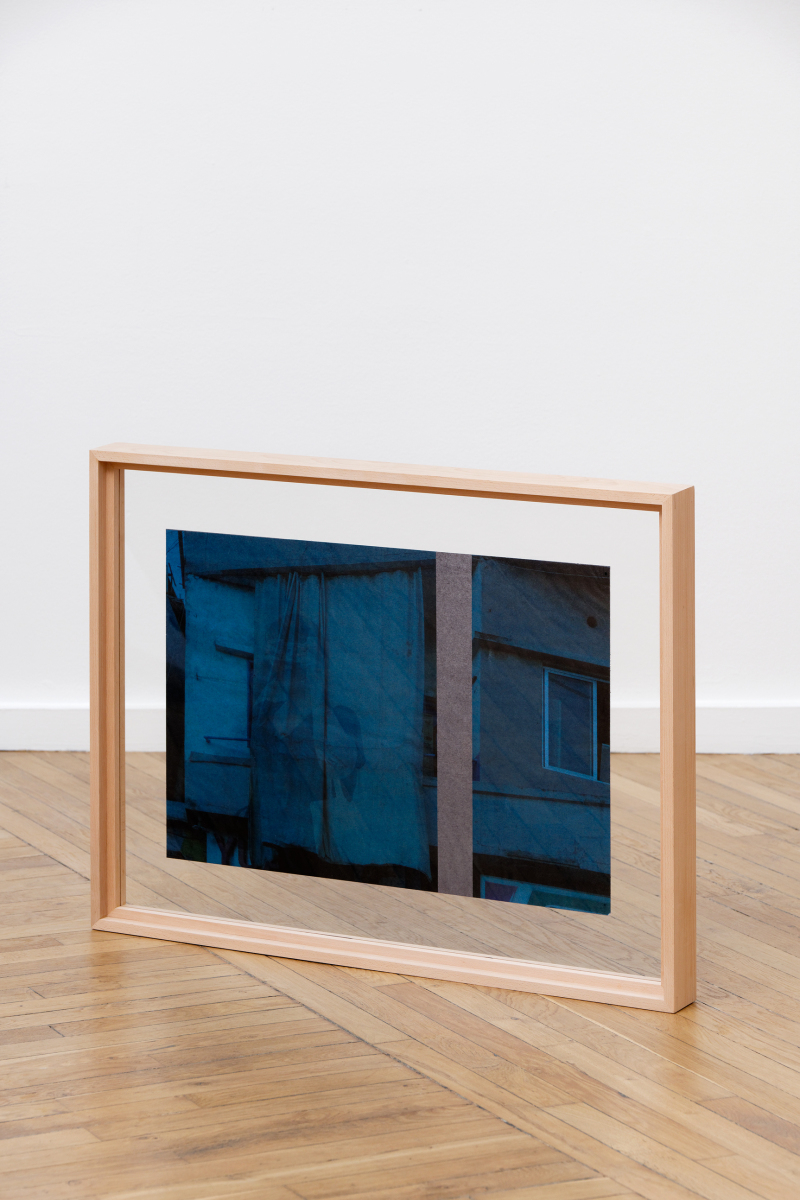 Approche 11
, 2017
Direct print on silk paper
50 x 75cm
19.69 x 29.53 in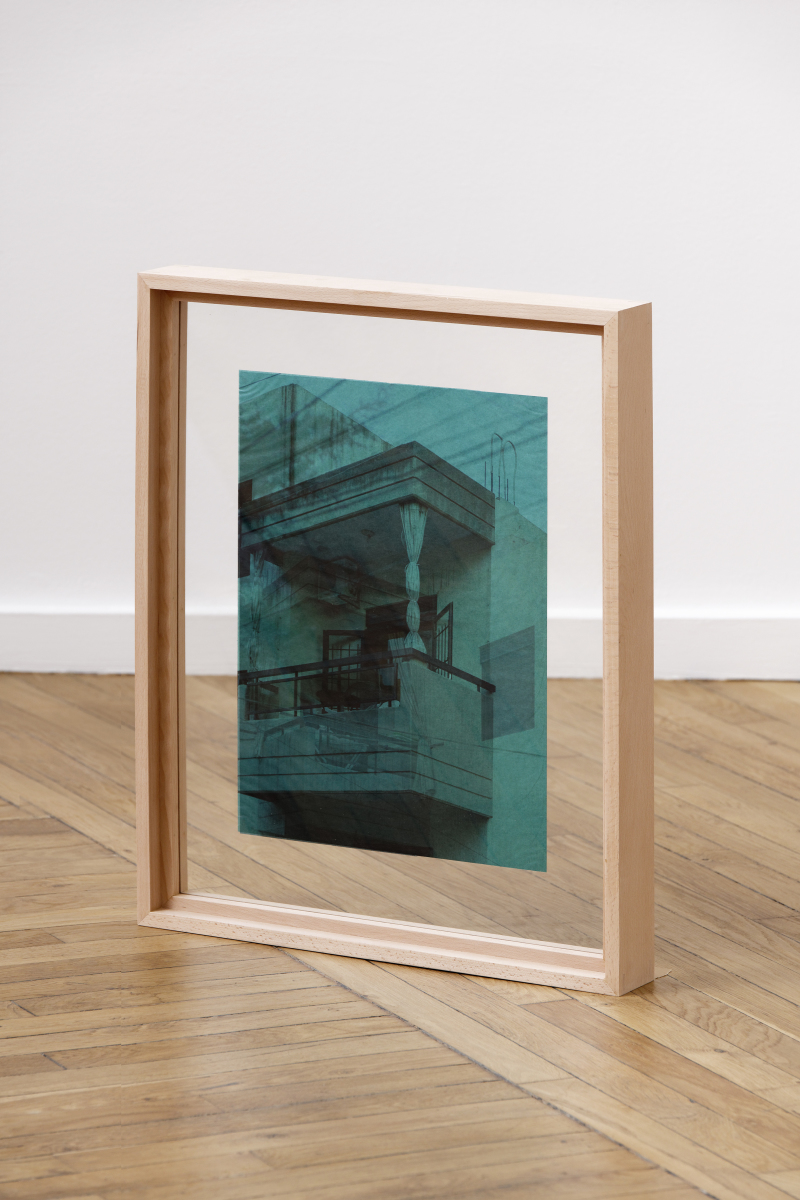 Approche 07
, 2017
Direct print on silk paper
50 x 37cm
19.69 x 14.57 in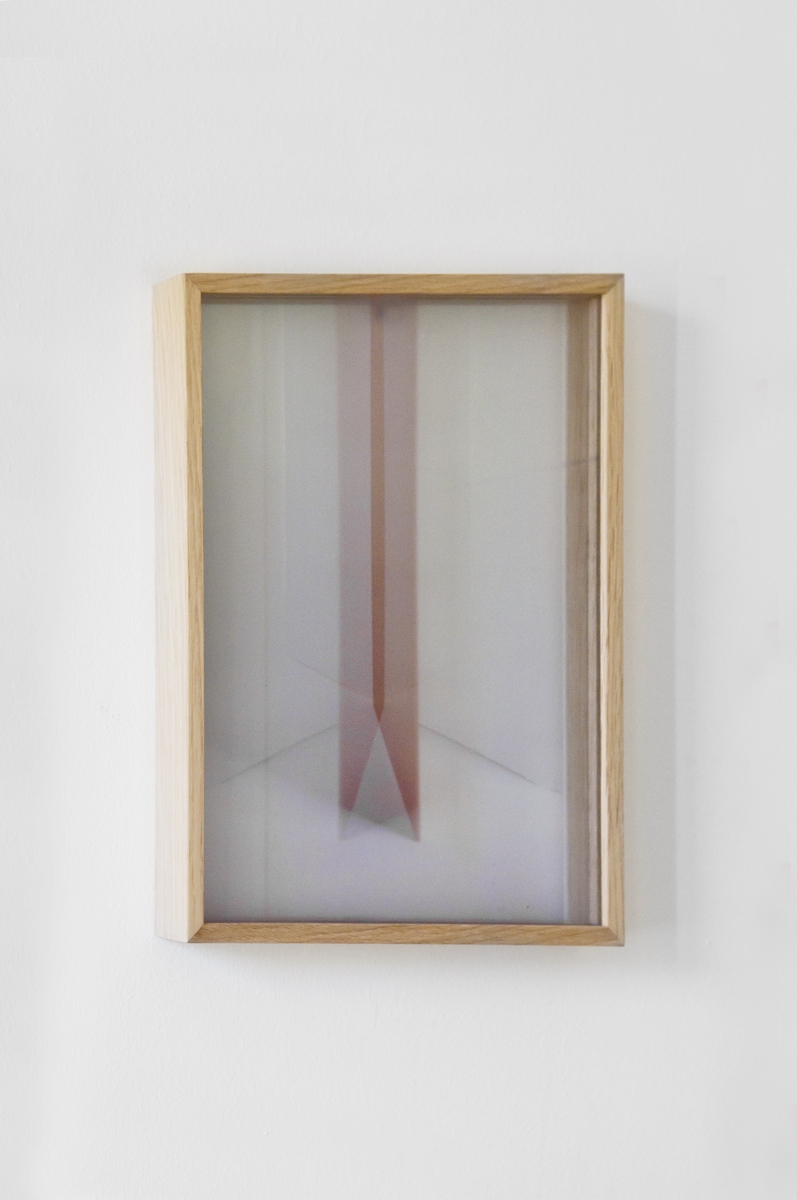 Variation #7
, 2011
Print on glass
26 x 19cm
10.24 x 7.48 in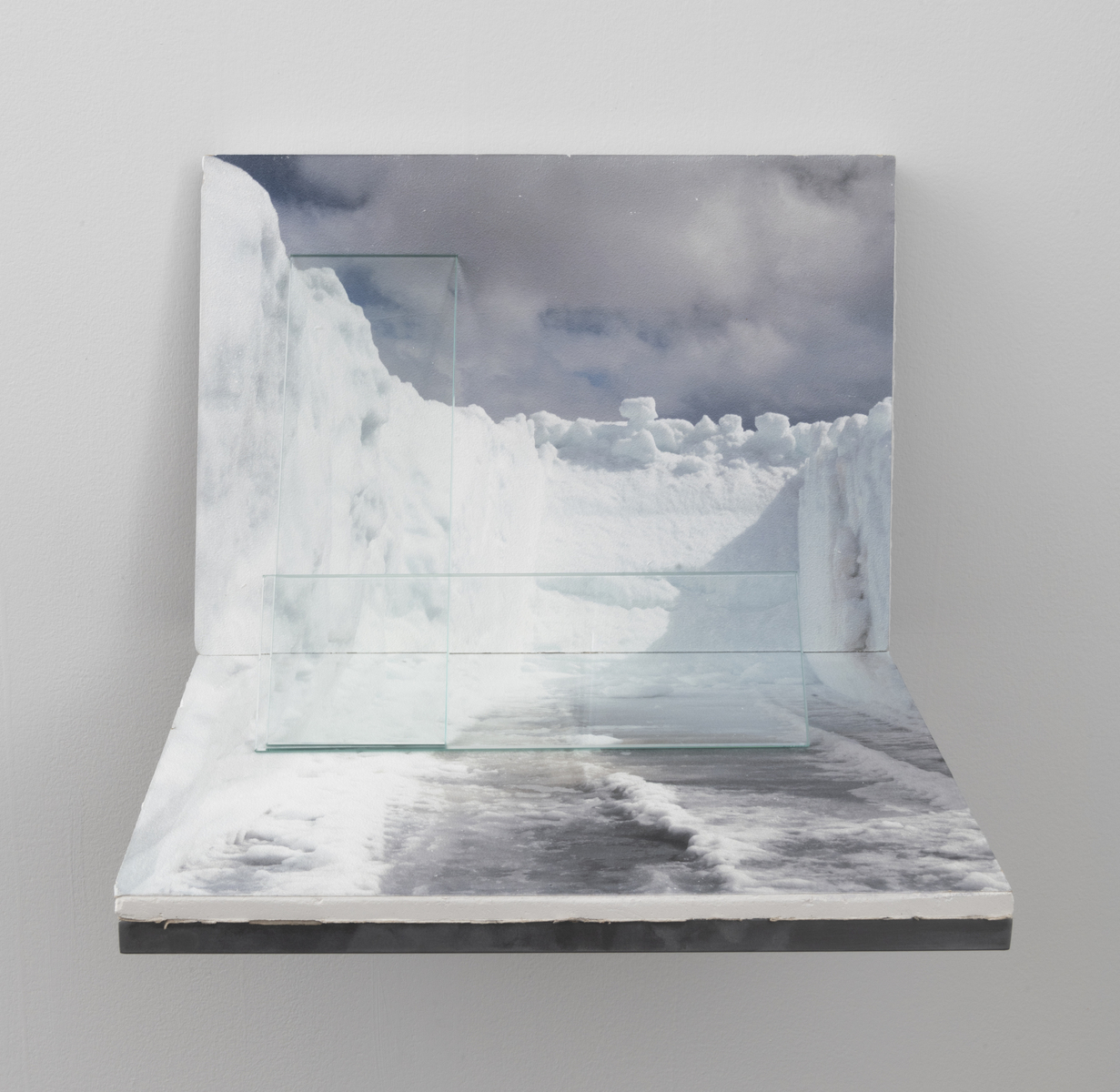 Blanc
, 2017
Print on plaster
45 x 50cm
17.72 x 19.69 in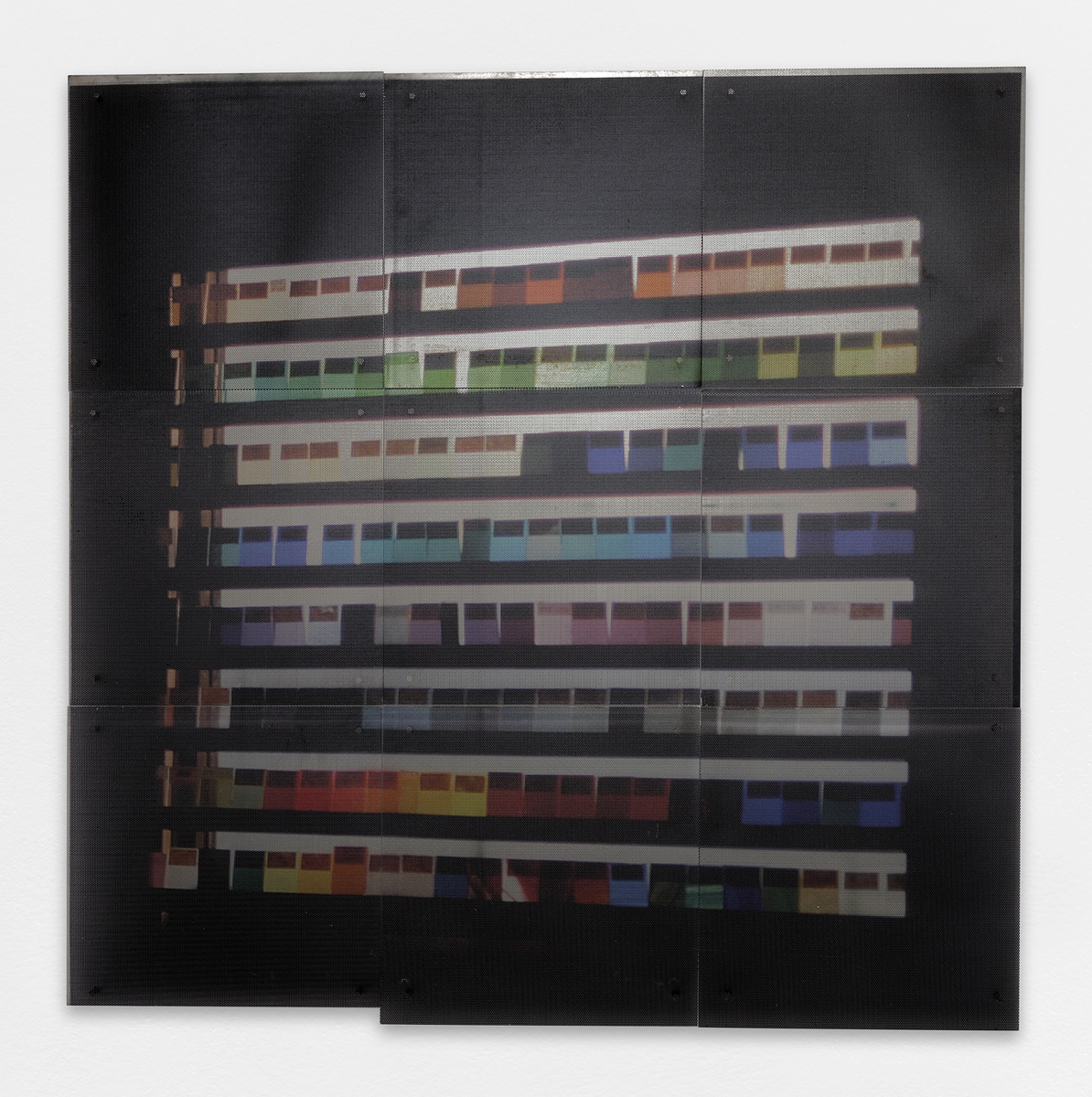 Chapitre 1 14h39 extrait (étude) #2
, 2017
Printing on perforated metal sheet
113 x 113cm
44.49 x 44.49 in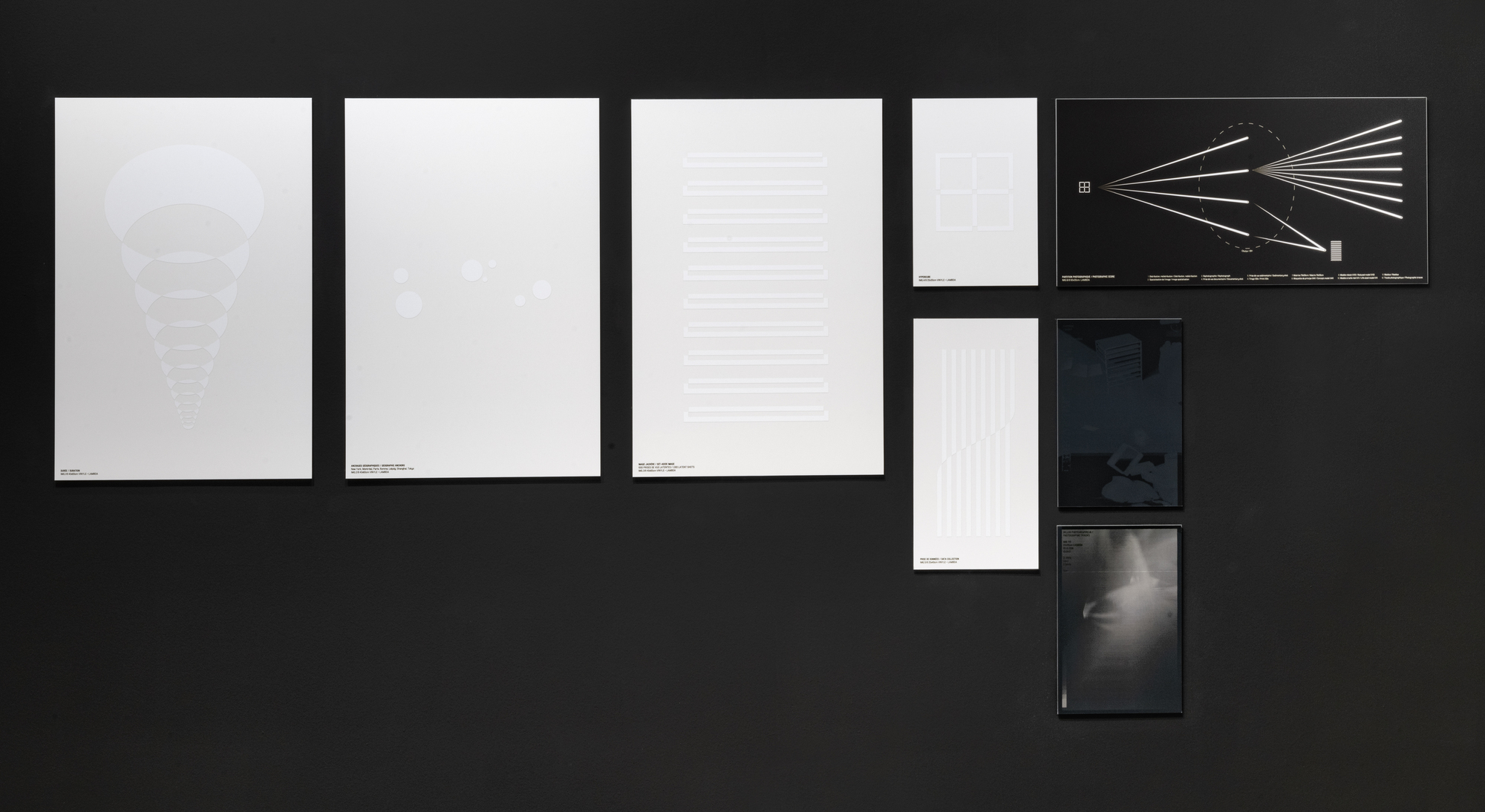 Process
, 2018
Analog print, vinyl
100 x 220cm
39.37 x 86.61 in
Born in 1980 in Lyon, France
Lives and works between Paris, Romme, France and Geneva, Switzerland
   Education
2006   Beaux Arts de Lyon, France
   Awards & Grants

2019   ADAGP Aide à l'édition, Exagraphie, monographie, éd.ExposerPublier, France
2017   Artiste invitée, Byblos Bank awards, Beyrouth, Lebanon
2016   Nominée au prix Découverte des Amis du Palais de Tokyo, Paris, France
              Aide individuelle à l'installation, Drac Auvergne-Rhône-Alpes, France
2015   Nominée au prix AICA, Palais de Tokyo, Paris, France
2006   Prix Pézieux, Ville de Lyon, France
2004   Prix Charles Dufraine, Ville de Lyon, France
   Residencies
2020   Villa Kujoyama, Institut Français, Kyoto, Japan
2018   Institut Français & Gallery 44 Center for Contemporary Photography, Toronto,
           Canada
2017   CNEAI and Seine Saint-Denis, In Situe, Pantin, Saine Saint-Denis, France
2015   Résidence Art & Industrie, Villa du Parc, ApiMontage, Annemasse, France
2013   Résidence Solvay, Gorzow, Poland
           Orange-Rouge, Paris, France 
2012   Cité internationale des Arts, Paris, France
           Round The Corner, Lisbone, Portugal
2011   Vingt ans, enssib, Lyon, France
2013   Résidence Solvay, Gorzow, Poland
           Orange-Rouge, Paris, France
2011   Molysabata, Les Sablons, France
           L.I.A, Leipzig International Art Programme, Leipzig, Germany
           Pilotenkueche Artist Residency, Leipzig, Germany
2010   Exposition universelle, Shanghai, China
           Tokyo Wonder Site, Tokyo, Japan
2009   Observatoire astronomique, Angtafasta, Chile
2008   Atelier, ADERA, Lyon, France
2008   3bisF, Aix-en-provence, France
           Ambassade de France, Tokyo, Japan
2007   Aide individuelle à la création, Ministère de la Culture - DRAC Rhône-Alpes, France
2005   Université Concordia, Montreal, Canada
   Public collections
Musée national d'art moderne - Centre Georges Pompidou, Paris, France
FRAC Occitanie, Montpellier, France
FRAC Normandie, Rouen, France
Centre National des Arts Plastiques, Paris, France
Musée de l'Elysée, Lausanne, Suisse 
Aurélie Pétrel's research is divided in two phases and revolves around several geographical reference points – the cities of Shanghai, Tokyo, Paris, Leipzig, Montreal, New York and the village of Romme in the Alps – which require long-term shooting campaigns around specific themes and contexts. During the first phase, photography is used as a common tool to capture gestures and situations, a space-time measurement tool. Once the shots are collected, the artist engages in a long selection process to build photographic series printed on baryta paper in standardized format. Kept in a storage cabinet, the artist calls them "latent images," using a technical term that refers to images prior to their chemical revelation. 

During the second phase, the stock of untreated photographs is activated according to "photographic partitions." This phrase, coined by Aurélie Pétrel to describe her process, draws on music and choreography to suggest how the source image is – like a note – re-played and reinterpreted during production and exhibition. She favors duration and impermanence in contrast to the instantaneity and fixity usually associated with the photographic medium. Her volatile and almost performative images therefore undergo a series of activation, transfer and alteration processes. This creative diversity emerges through the body of multifaceted works gathered in this exhibition. They demonstrate the variety of mediums and processes used to transfer and manipulate images, from print on paper to glass, wood, metal and plaster. 

Under the influence of the dual culture of analog and digital photography, Aurélie Petrel's generation has developed a growing interest for a multidisciplinary approach, opening onto fruitful hybridizations. Architecture as well as sculpture and installation inspire her treatment of image volume and their integration in structures that interact with the environment. We could call it "extended photography" to use an expression forged by artist and theorist Peter Weibel to designate the experimental practices of the 1970s. Following in the footsteps of the analytical spirit that led to a deep rethinking of the photographic norms, Aurélie Pétrel's approach is resolutely post-conceptual: she however does not confine herself to a self-reflexive process; neither does she aim at a self-sufficient formal language. On the contrary, beyond the eyes, her work engage the very body of the viewer in a phenomenological experience in the strictest etymology of the term, that is, the study of what appears. 

Between plays on scale and enlargement, transparency and opacity, reflection and parallax, mise en abyme and compression, cutting and fragmentation, the artist's wide range of effects impacts perceptive phenomena up to the dissolution of representation. This is indeed the conclusion to be drawn from this exhibition, as well as the real common thread of Petrel's photographic investigation: the need to consider photography as abstraction. 


Alexandre Quoi, November 2018. 
Aurélie Pétrel continues her artistic activity while assuming her role as lecturer and in charge of the photography pool and at the Haute École d'art et de design in Geneva where she has worked since 2012. She is also co-director of the CIPGP - Collège International de Photographie du grand Paris since 2018. 
Solo shows at Ceysson Gallery
Aurélie Pétrel, Paris
June 05 - July 24, 2021
Aurélie Pétrel, Saint-Etienne
October 24 - December 14, 2019
Aurélie Pétrel, New York
December 12, 2018 - January 26, 2019
Aurélie Pétrel, Paris
September 09 - October 14, 2017
Group shows at Ceysson Gallery
At Jean Prouvé, Offsite
July 26 - July 28, 2020
Spring Saint-Étienne, Saint-Etienne
June 12 - July 25, 2020
Spring Paris, Paris
May 18 - July 23, 2020
Solo Shows
2021
La Banque, with Roumagnac, commissaire d'exposition : Léa Bismuth, Béthune, France
PVL, curated by Étienne Hatt, Ceysson & Bénétière, Paris, France
2020
Art Brussels 2020, Galerie Ceysson & Bénétière, Brussels, Belgium
de l'Ekumen, avec Roumagnac, Galerie Valeria Cetraro, Paris, France
2019
Tracks/Repeat, curated by Alexandre Quoi, Ceysson & Bénétière, Saint-Etienne, France.
Drift, CAC Halle des bouchers, Vienne, France
2018
Tracks, curated by Alexandre Quoi, Ceysson & Bénétière, New York, United States
Hexagone 18, Musée de l'Élysée, Lausanne, Switzerland
Track 3, Gallery 44, Centre for Contemporary Photography, Toronto, Canada
Collectionner, le désir inachevé, Musée des Beaux-Arts d'Angers, France
2017
Cycle 2, figures photographiques, Ceysson & Bénétière, Paris, France
135, 125 iso, 24x36, M6, 35, Supports et formats variables, CPIF and the Centre Georges Pompidou, Pontault-Combault, France
FMAC, regard sur la collection d'images en mouvement, FMAC, Geneva, Switzerland
Carte blanche, as part of Printemps de l'art contemporain de Marseille, Atelier Ni, Marseille, France
Procuration #1. Aurélie Pétrel : Photographiquement slightly slipping on a banana skin, extrait de 90 vidéos de la collection du FMAC, Médiathèque, Geneva, Switzerland
Tokyo, Les Limbes, Saint-Étienne, France
50mm24.36mm92%, Musée de l'horlogerie et du décolletage, Cluses, France
2016
Seuils de Visibilité, CNAEI, Chatoux, France
Simulation, Galerie Domus et ENSSIB, Lyon, France
2015
Partition, Galerie Houg, Paris, France
Storeage - PortsFrancs, Geneva, Switzerland
Art Genève, Gowen Contemporary, Geneva, Switzerland
2014
Dix-neuf Chevrons, L'Angle, La Roche sur Foron, France
Partition, Galerie Houg, Lyon, France
Partitions, Centre d'art de Clamart sur l'invitation de Madeleine Mathé, Paris, France
2013
Images, Gowen Contemporary, Geneva, Switzerland

Soubresauts, Mémoire de l'enssib : acte 3, ENSSIB, Lyon, France
2012
Deux fois la ville, Grand Lyon, Lyon, France
Round The Corner, At Dawn galerie, Lisbon, Portugal
2011
Polygone, Galerie Houg, Lyon, France
Ricochets, ECNU University, Shanghai, China
2009
Rappel, Le Flac, www.le ac.fr, France
Répétition, Super Window Project / Muzz Program Space, Kyoto, Japan
Ricochets, ENS-Science et ENS-LSH, en Résonance avec la Biennale d'Art Contemporain, Lyon, France
Tombé du ciel, 3bisF, Aix-en-provence, France
2007
Garden party, Hôpital Saint-Joseph - Saint-Luc, en résonance avec la Biennale d'Art Contemporain, Lyon, France
Group Shows
2020
Printemps, Galerie Ceysson & Bénétière, Paris, France
Printemps, Galerie Ceysson & Bénétière, Saint-Étienne, France
La Photographie à l'épreuve de l'abstraction, Frac Normandie Rouen, Le Micro-Onde et le Centre Photographique d'Île-de-France, France
Maison Jean Prouvé, Galerie Ceysson & Bénétière Hors les murs, Beauvallon, France
L'échappée belle, Le grand Café, centre d'art contemporain, Saint-Nazaire, France
2019
Image située, L'Onde, Vélizy-Villacoublay, France
Osmoscosmos, Centre de la Photographie Genève, Geneva, Switzerland
Some of Us – an overview on the French Art Scene, Kunstwerk Carlshütte, Büdelsdorf, Germany
Relevés II, Favorinos d'Arles, Galerie Quatre, Arles, France
Procédez !, Galerie Arena, ENSP, Arles, France
ArtVilnius'19, Ceysson & Bénétière, Vilnius, Lithuania
Art Brussels, Ceysson & Bénétière, Brussels, Belgium
2018
Blue Hour, Gowen contemporary, Geneva, Switzerland
La cité d'images, Centre de la photographie contemporain, Lyon, France
Un espace de faible densité, Espace Arts Plastiques, Vénissieux, France
WeS.A.N.K Paris, workshop session, invitated by Emmanuelle Chiappone-Piriou and Vincent Roumagnac, on the occasion of the exhibition Au loin une île, Mains d'Oeuvres, Saint-Ouen, France
d'Asterion, Pétrel / Roumagnac (duo), Galerie Valeria Cetraro, Paris, France
Assemblage #14 Spotlight, Julio Artist-run Space, Paris, France
weniger ist mehr - less is more, Galerie du Crous de Paris, Paris, France
Art Brussels, Ceysson & Bénétière, Brussells, Belgium
Artissima, Ceysson & Bénétière, Torino, Italy
FIAC Projects, Ceysson & Bénétière, Petit Palais, Paris, France
2017
SoixanteDixSept Experiment, CPIF et le Centre Georges Pompidou, Pontault-Combault, France
House of Dust, Fonderie Darling, Montreal, Canada
5889, curated by Sylvie Boulanger, Nicolas Giraud, Aurélie Pétrel and Fabien Vallos, Galerie Arena, École Nationale Supérieure de la Photographie de Arles, France
House of Dust by Alison Knowles, curated by Sylvie Boulanger, Maud Jacquin and Sébastien Pluot, CNEAI Centre d'art, Pantin, Paris, France
Summer Night Wishes, Elizabeth Street Garden, New York, USA
Face à l'Aura : une méditation photographique, curated by Léa Bismuth, Valeria Escougnou-Cetraro and Edouard Escougnou Cetraro, Centre d'art Image/Imatge, Orthez, France
2016
Art&Industrie, Villa du Parc, Annemasse, France
Faire Surface, exhibition in partnership with l'École Nationale Supérieure de la Photographie d'Arles, curated by Alexandre Quoi, Agnès B, Paris, France
Quelque Chose est en train de se passer, proposer by Mélanie Perrier de la compagnie Cie2minimum, Résidences performées - Situation de proximité, La Maison des Arts, Malakoff, France
Invitation à participer Water Events, une installation de Yoko Ono, à l'occasion de son exposition rétrospective Lumière de l'aube, MAC de Lyon, Lyon, France
Espèces d'images, group show, B.A.C. Le commun, Geneva, Switzerland
Le temps de l'audace et de l'engagement - de leur temps (5), Institut d'Art Contemporain en collaboration avec l'ADIAF, Villeurbanne, France
2015
I propose that we take a walk together, Galerie Houg, Paris, France
Dispositifs, avec Marina Gadonneix, Caen, France
Relief(s), création et collaboration, Frac Centre, Orléans, France
On se tromperait de croire que les bois n'ont pas des yeux, La Halle, Pont en Royan, France
Partition, invitation à Anne Jarrigeon and Julie Kieffer, Vivarium, Rennes, France
2014
Au-delà de l'image, Galerie See Studio, Paris, France
Impressio, Atelier Rouart, Paris, France
A/R Passagen, Werkschauhalle, Leipzig, Germany
When shall we three meet again, In thunder, lightning, or in rain?, Centre d'art, Vénissieux, France
On se tromperait de croire que les bois n'ont pas des yeux, La Halle, Pont-en-Royan, France
Les ateliers Vivarium, Rennes, France
Aleph # Mai 2014, Gowen Contemporary, Geneva, Switzerland
Solvay, Lyon, France
Orange-rouge, Khiasma, Paris, France
On se tromperait de croire que les bois n'ont pas des yeux, Echos, Brussels, Belgium
2013
CrossOver, Fotomuseum, Winterthur, Switzerland
False-fake, Centre de la photographie, Geneva, Switzerland
Géométrie variable, SWP, Château les Crayères, Reims, France
BKRM, cité internationale des Arts, Paris, France
Reset, Zodiak Helsinki, Center for New Dance, Helsinki, Finland
Variable Geometry, Art Brussels, SWP, Brussels, Belgium
Le grand ensemble, HPL, La Comédie de Saint-Etienne, Saint-Etienne, France
Mia Fair, représente by la Bloo gallery (Rome), Milano, Italy
Lille Art Fair « Espace YIA », represented by la Galerie Houg, Lille, France
2012
Hiroshima Art Document, Former bank, Hiroshima, Japan
Quatre photographes, Bloo gallery, Rome, Italy
ART-O-RAMA, represented by Super Window Project (Kyoto), Marseille, France
Danse espace deux, invited by Christian Gattinoni, Espace 1789, Saint-Ouen, Paris, France
Images en résidence, Le bleu du Ciel, Lyon, France
Close range, Westpol, Leipzig, Germany
Tendanze del la fotogra a contemporanea Vol 1, Bloo galerie, Rome, Italy
Là où il pleuvine, L'atelier, Saulieu, France
2011
Reboot #5, nous voulons des maquettes!, invited by Elie During, Palais de Tokyo, Paris, France
Absolut, Pilotenkueche - Spinnerei, Leipzig, Germany
Image-machine, Galerie Maxence Malbois, Paris, France
In situ, L.I.A - Spinnerei, Leipzig, Germany
2010
Trans-imagem, Galerie Virigilio, Sao Paolo, Brazil
Art + Guest, Olivier Houg Galerie, Paris, France
Estampe, Délégation parisienne du Grand Lyon, Paris, France
Groupe show, TWS, Tokyo, Japan
Menu C, Institut franco-japonais de Tokyo, Japan
Panorama, Biennale d'Art contemporain, Bourges, France
Picturing city, Musée Xuhui, Shanghai, China
Regards croisés, Exposition universelle, Shanghai, China
2009
All saints, Hôpital Saint-Joseph - Saint-Luc, Lyon, France
Les légumes verts - Menu A et B, ENS-Science et ENS de, Lyon, France
Loop Art Fair, Galerie Olivier Houg Galerie, Barcelona, Spain
Passages - La Capitainerie - Focus de la Biennale de d'Art Contemporain de Lyon, ECHOS, Lyon, France
No man's land, Super Window Project / Ambassade de France, Tokyo, Japan
Le vide n'a pas de porte de sortie, Creative Union, Hiroshima, Japan
RDV 2008, Musée d'art contemporain, Lyon, France
2008
Exposition de Noël, Le Magasin - Ancien Musée de peinture, Grenoble, France
Géométrie Variable, BTP du Rhône, Lyon, France
2007
Les enfants du Sabbat 8, Creux de l'enfer, Thiers, France
2006
Exposition, Château des Adhémar, Montélimar, France
Multipolaire, Halle 14 de la Spinnerei, Leipzig, Germany
Travaux en cours, Musée d'Art moderne, Saint-Etienne, France
2005
2ème édition de eu_stuart.si, Famulstuart, Ljubljana, Slovenia
Selected Bibliography
2021
Monographie, published by ExposerPublier and distributed by Les Presses du Réel, Paris, France
2018
Aurélie Pétrel, 12052018-SVOLTA-7235, 2018, in Fabien Vallos (dir.), SVOLTA, texts and commentaries, Paris, Éditions Mix, September 2018
2017
Aurélie Pétrel, L'image élevée au cube, text by Malek Abbou
2016
Au de là de l'image (II), galerie Escougnou-Cetraro, Paris, France
2015
Aurélie Pétrel text by Frédéric Bonnet, Le journal des arts n°443
Au de là de l'image (I), galerie SeeStudio, Paris, France
Le monde 11 septembre, text by Philipe Dagen
Partition Photographique Vol1., Léna Araguas éditions, Paris, France,
Introducing, text by Audrey Illouz, Artpress, March
Cartes mémoires,, Exposer Publier éditions, Paris, France
Aurélie Pétrel, text by Etienne Hatt, Artpress, January
2014
Initiales n° 04 - Initiales M.V. (Monte Verità), éditions les presses du réel, Paris, France
2013
Tous urbains n°04, éditions puf, Paris, France
Pré-édition Reset, Kaiserin éditions, 500 exemplaires
L'amorce du lieu, Les éditions du détail, 300 exemplaires
At Dawn, Les presses du vide, Paris, France
Hiroshima Art Document 2012, Yukiko Ito, Japan
2012
Tours et détours en bibliothèque, Les presses de l'ENSSIB, Lyon, France
Images en résidence, 205 éditions, with the support of Bleu du ciel and de Molysabata
Aurélie PétrelArt Magazine n°63, March
2011
Regards croisés, Shanghai 2010, Édition ENSBA Lyon, with the support of Région Rhône-Alpes, France
Polygone, texts by Malek Abbou, Marie de Brugerolle and Sylvie Lagnier, 205 éditions with the support of Galerie Houg
2010
No man's land, text by Baron Osuna, exhibition catalogue, French Embassy, Tokyo, Japan
Les légumes verts, text by Philippe Adam livre d'artiste, Édition Le bleu du ciel
Panorama, catalogue de l'exposition, 5ème Biennale d'art contemporain de Bourges, France
Préparatifs, livre d'artiste, Édition ENBA Lyon, France
Shanghai, texte de Sylvie Lagnier, ZéroQuatre n°7
2009
Des images, de la lumière, text by Baron Osuna, published on www.leac.fr
2008
2013, Édition Ville de Lyon, France
2007
Aurélie Pétrel, texts by Marie de Brugerolle Édition E, ENBA Lyon, France
En 1799, l'entrée était déjà là, livre d'artistes, text by Grégory Bétend
Édition ENBA Lyon, France
2006
Collection Mes pas à faire, texts by Marie de Brugerolle and Nicolas Garait, Clermont Communauté, Le Creux de l'enfer
Multipolaire, catalogue de l'exposition, HGGB, Leipzig, Germany
Les enfants du Sabbat 8, text : Comme un voile transparent posé sur les yeux de Nicolas Garait, catalogue de l'exposition, Le Creux de l'Enfer, coéditions ENBA Lyon, ESA Semaine 45.06 et Semaine n°2, Analogues, Maison d'édition pour l'Art contemporain, Château des Adhémar, Montélimar, France
2005
Chorégraphie, af che 100 ex., collection Ne pas jeter sur la voie publique, Édition ENBA Lyon, France