1976/053
, 1976
Acrylic on canvas
340 x 600cm
133.86 x 236.22 in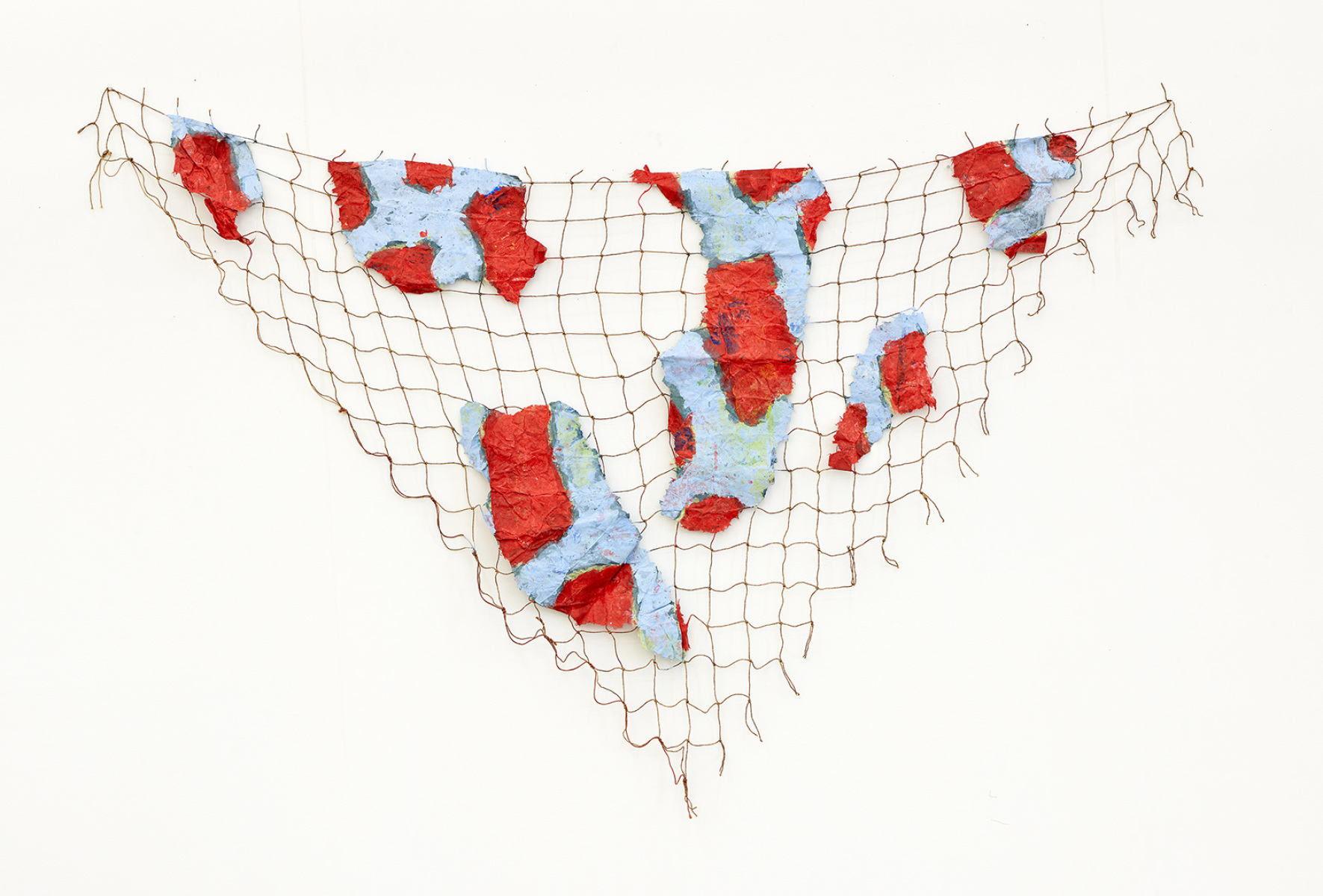 1984/F065
, 1984
Acrylic, vilene, net
152 x 300cm
59.84 x 118.11 in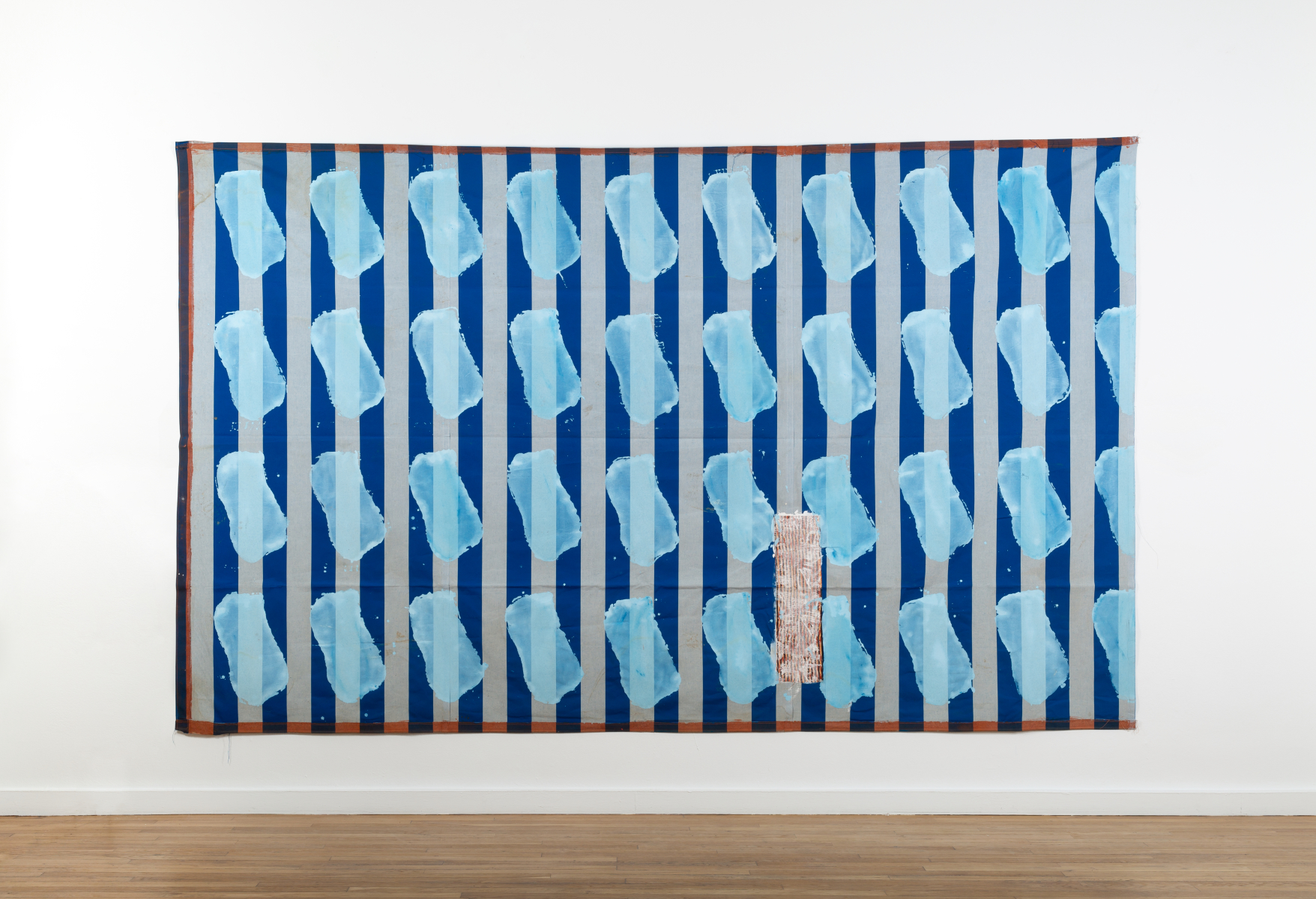 2011/213
, 2011
Acrylic on canvas
203 x 330cm
79.92 x 129.92 in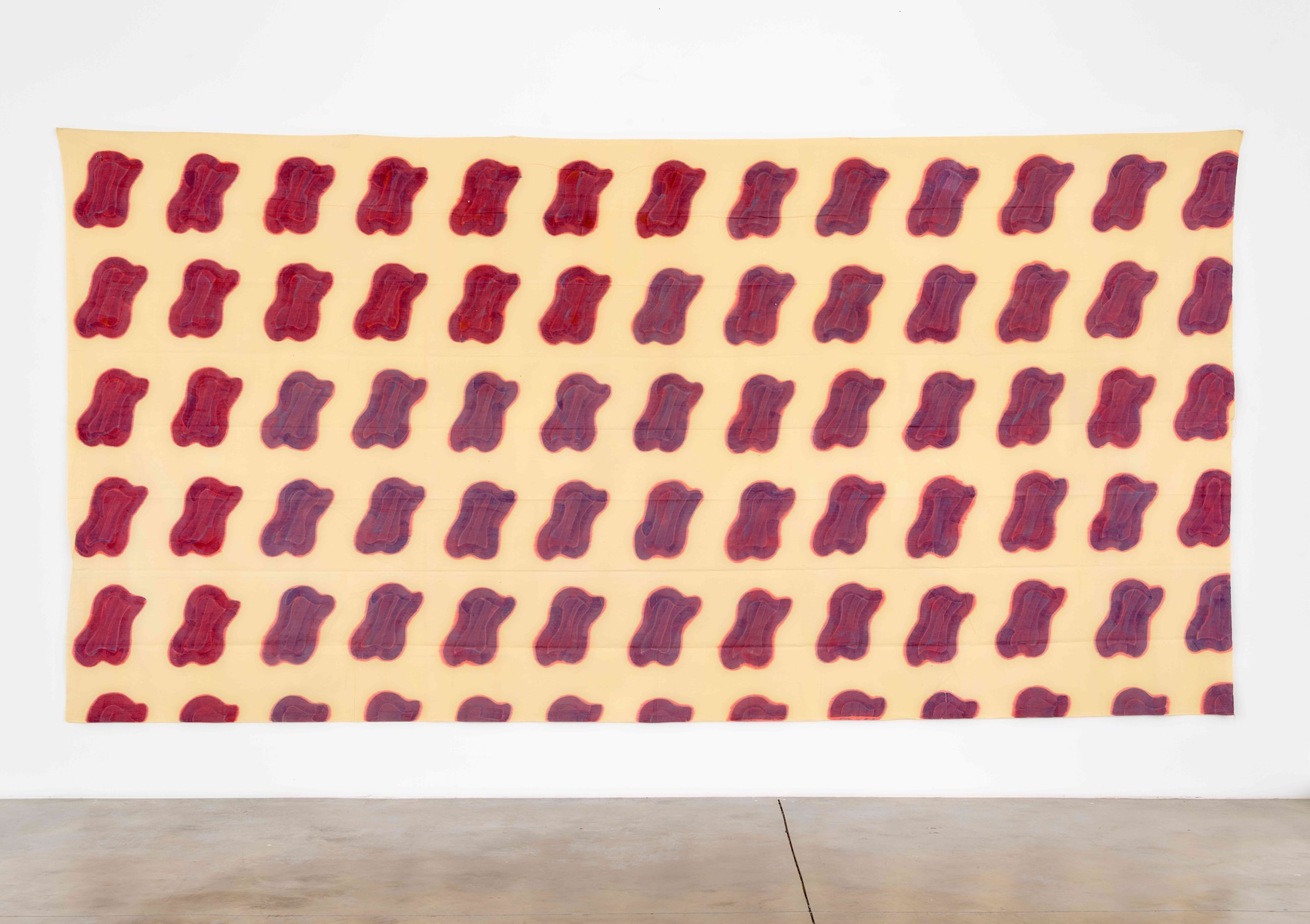 1972/007
, 1972
Dye on fabric
260 x 515cm
102.36 x 202.76 in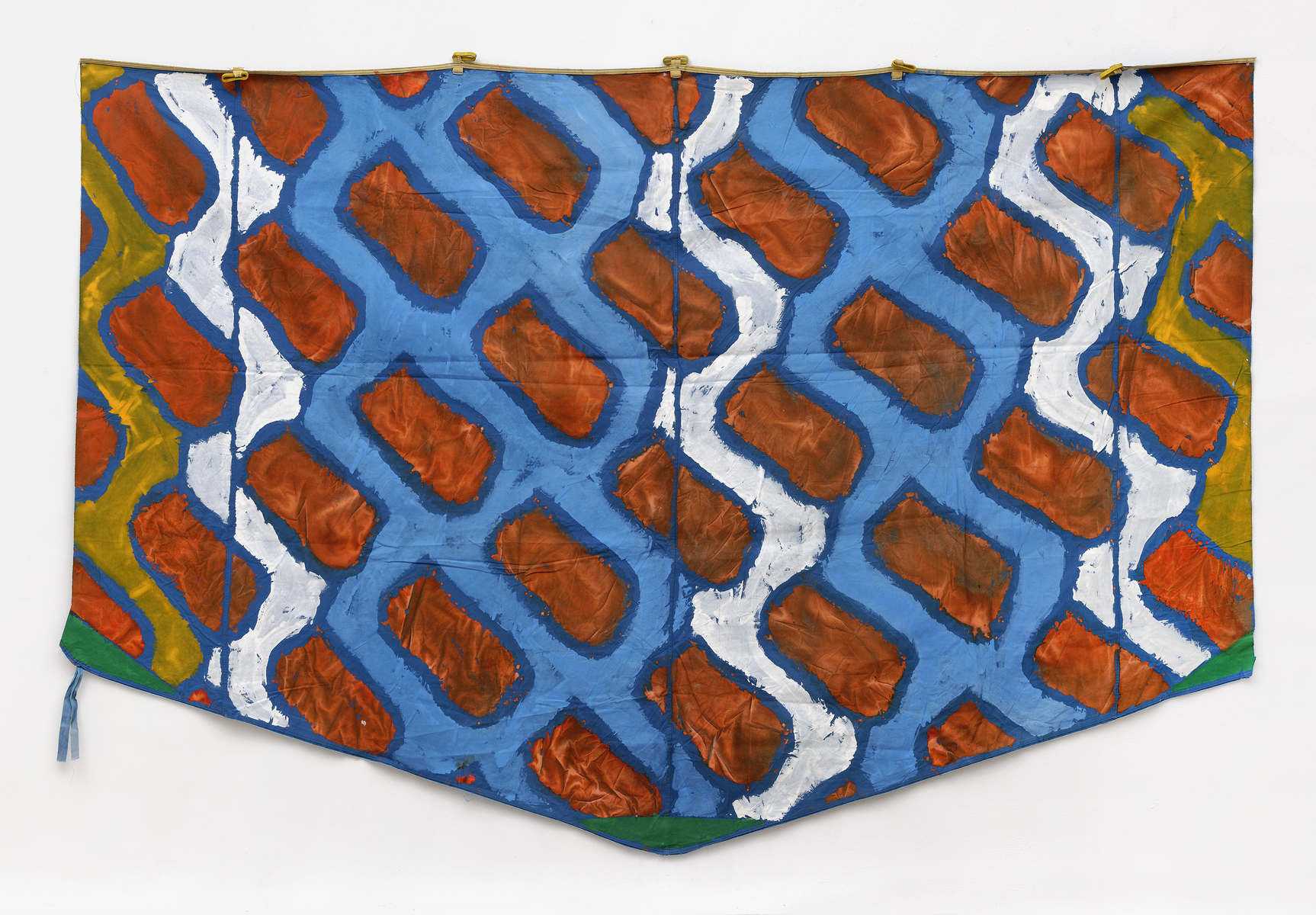 2002/167
, 2002
Acrylic on tent material
195 x 290cm
76.77 x 114.17 in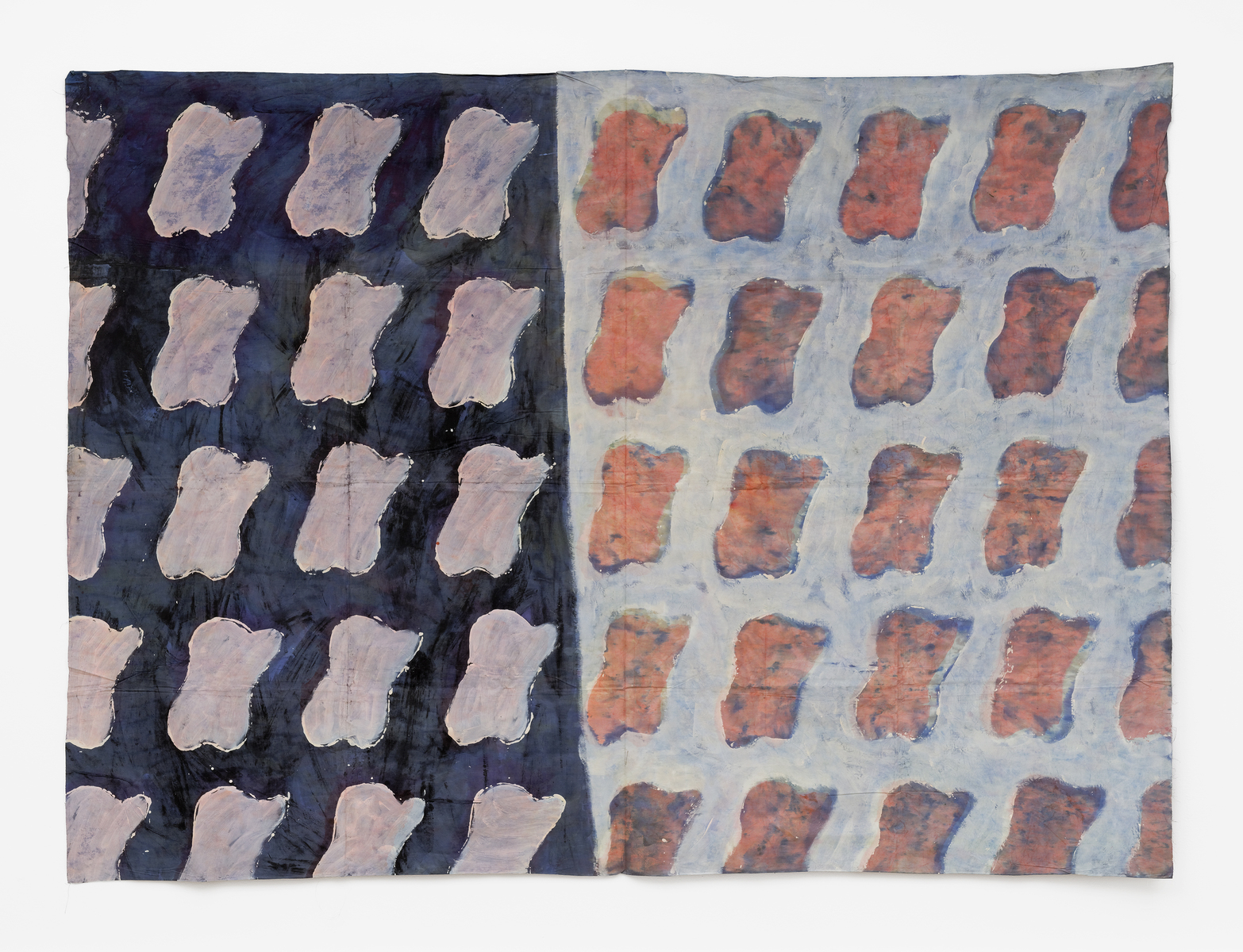 1975/062
, 1975
Dye on Fabric
205 x 278cm
80.71 x 109.45 in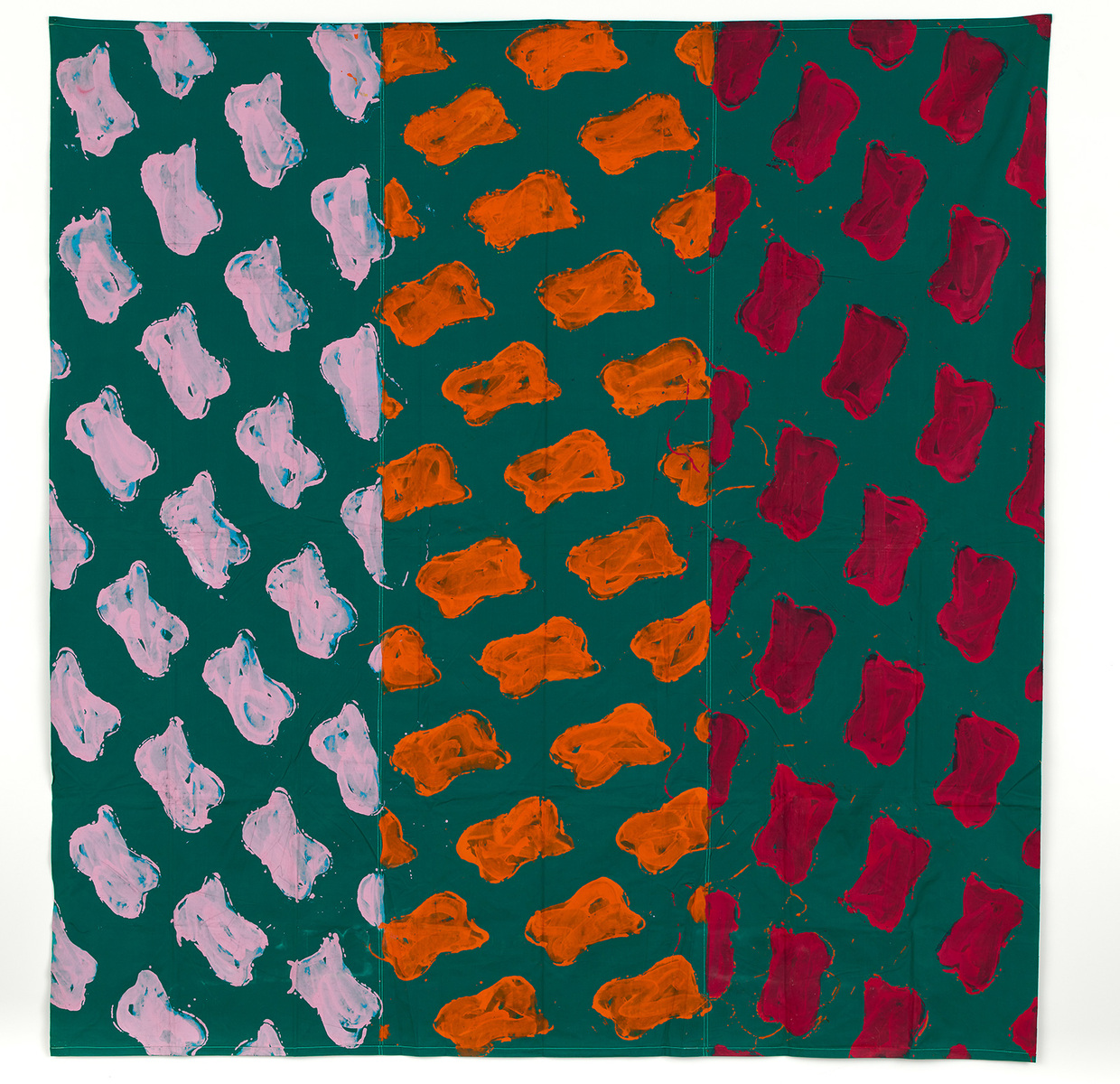 1982/011
, 1982
Acrylic on trapaulin
348 x 330cm
137.01 x 129.92 in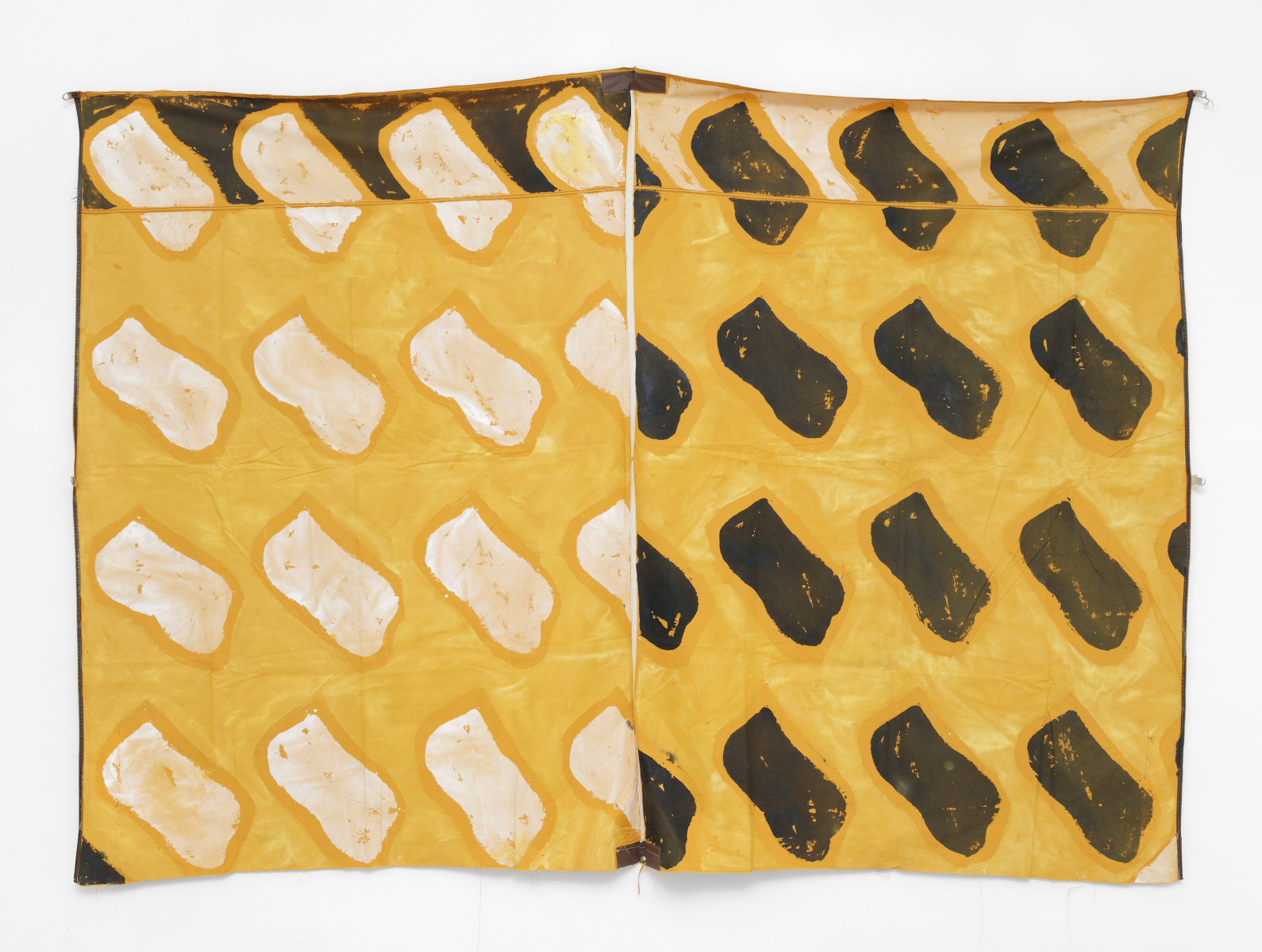 2003/040
, 2003
Acrylic on tent fragment
174 x 279cm
68.50 x 109.84 in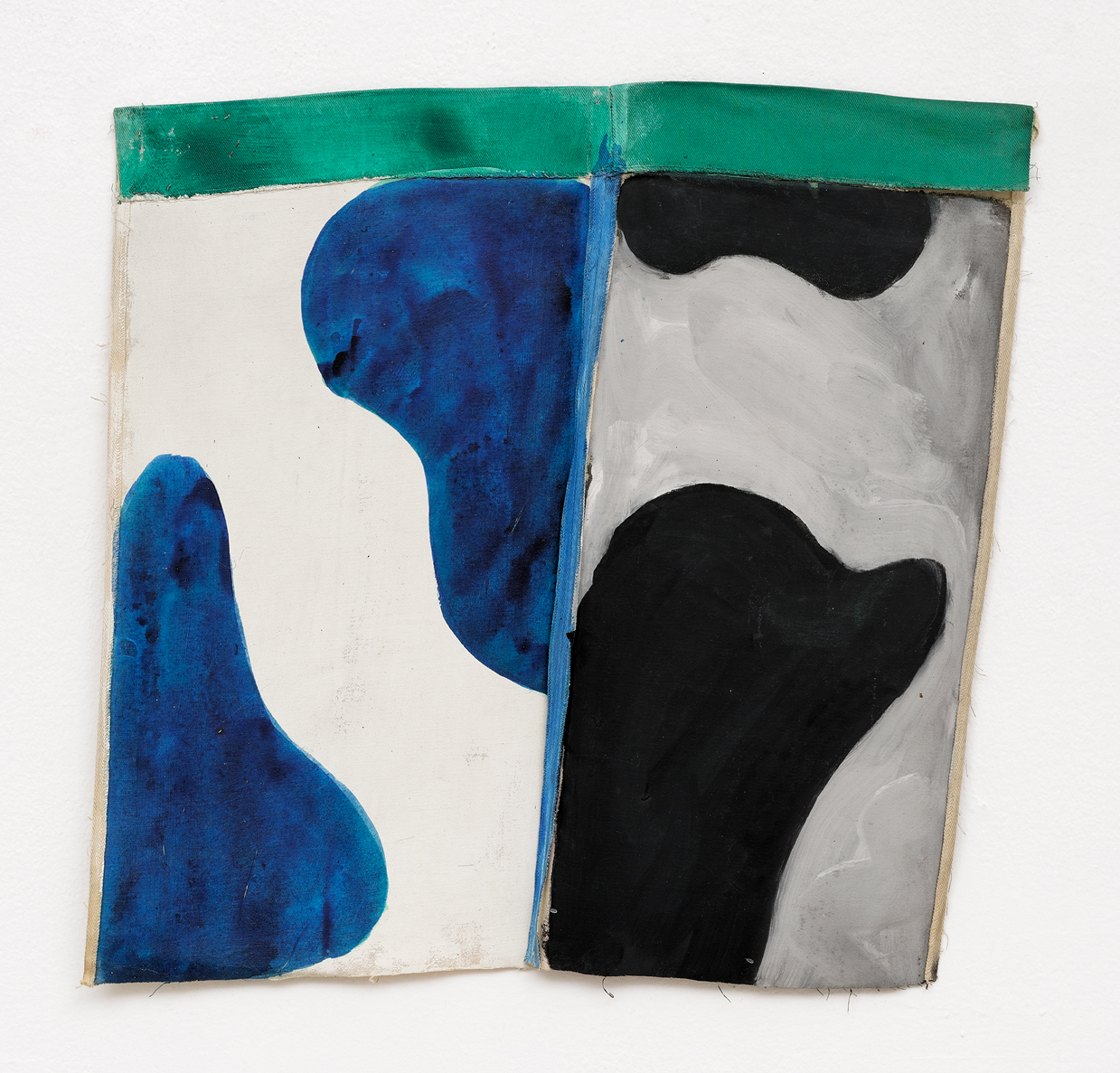 1978/045
, 1978
Acrylic on trouser bottom
53 x 55cm
20.87 x 21.65 in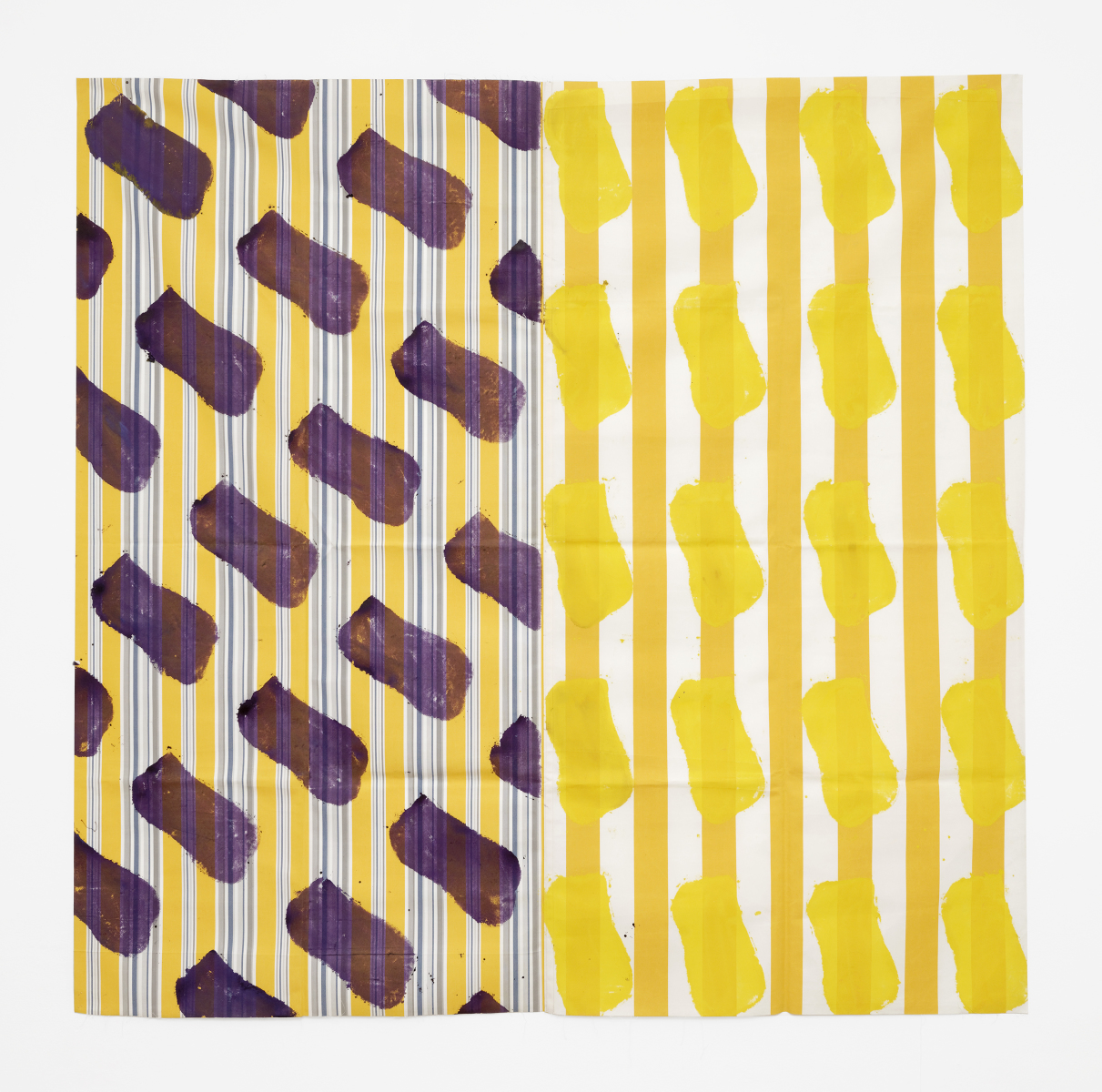 2001/004
, 2001
Acrylic on tarpaulin
235 x 239cm
92.52 x 94.09 in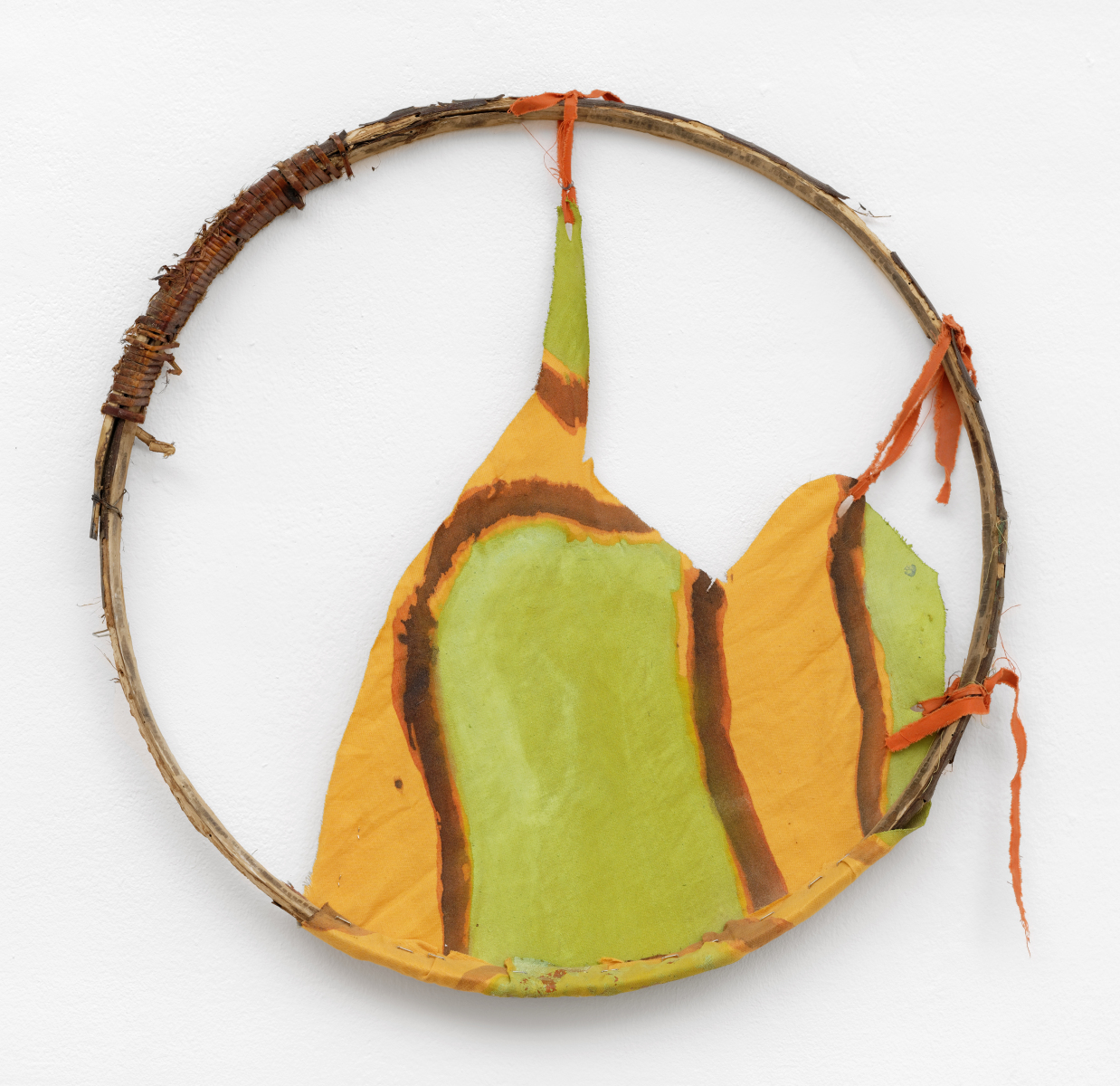 2005/CE003
, 2005
Acrylic on fabric and wooden hoop
60 x 60cm
23.62 x 23.62 in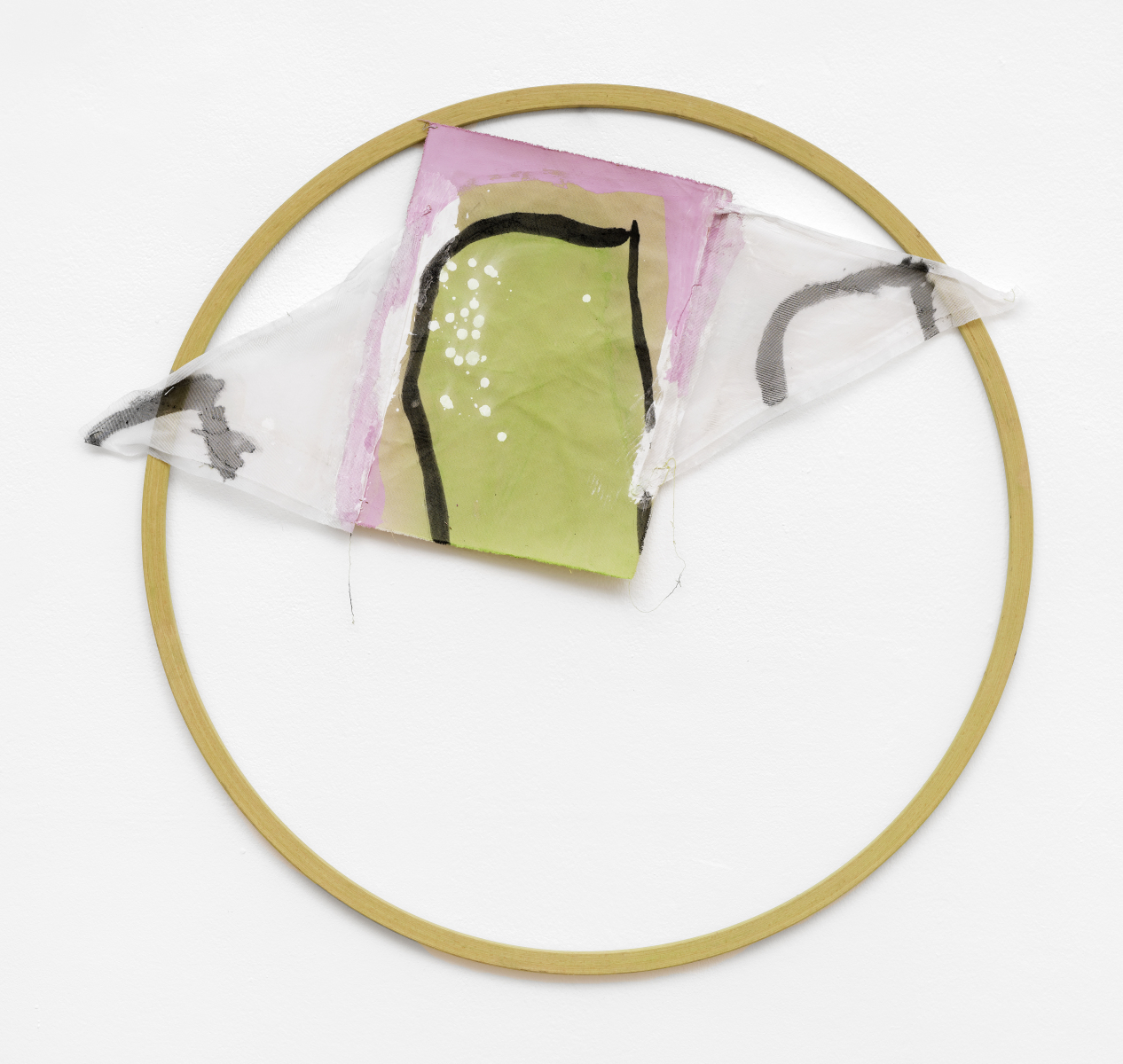 2012/CE036
, 2012
Acrylic on fabric and wooden hoop
80 x 80cm
31.50 x 31.50 in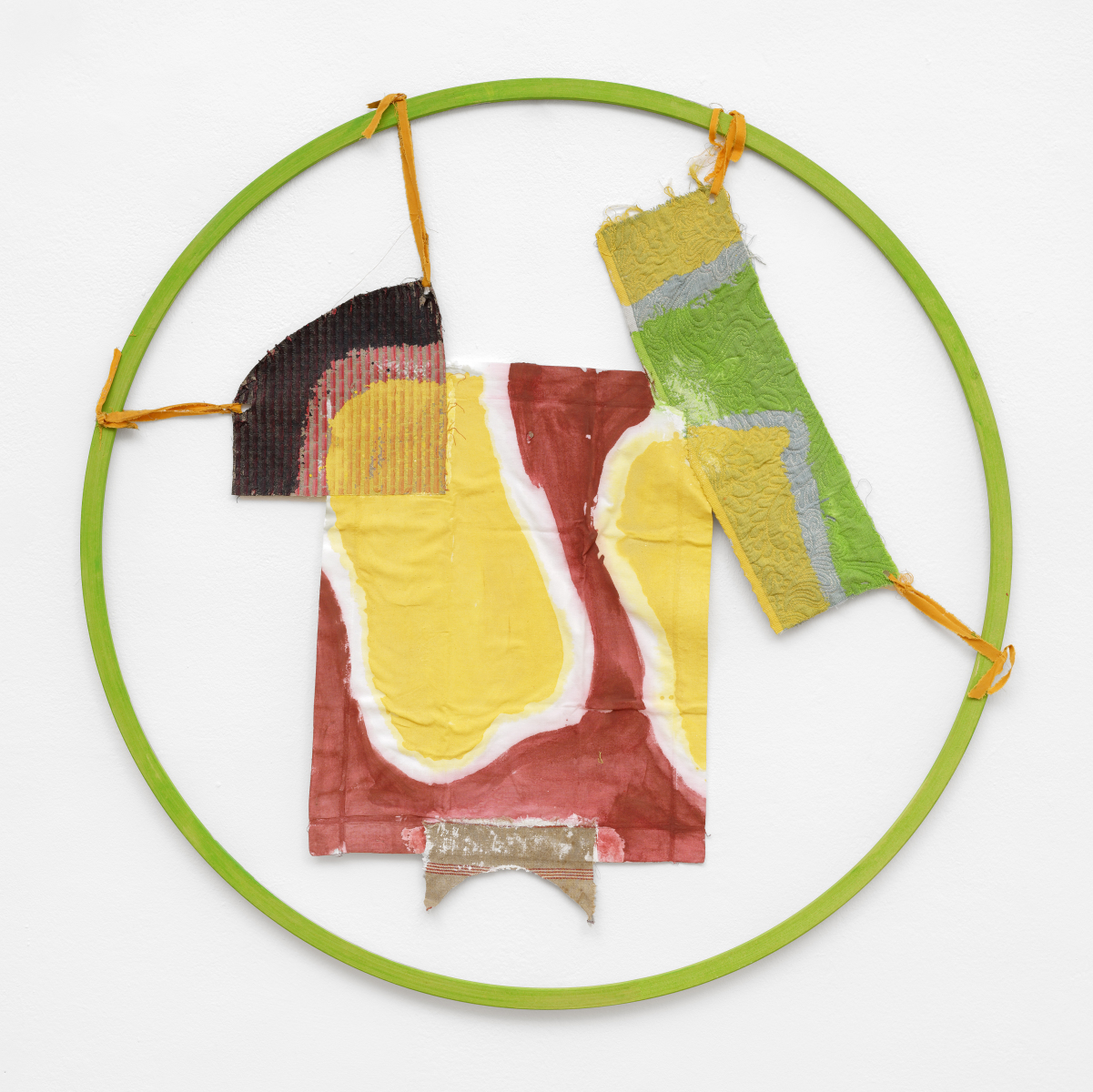 2011/CE032
, 2011
Acrylic on fabric and wooden hoop
90 x 90cm
35.43 x 35.43 in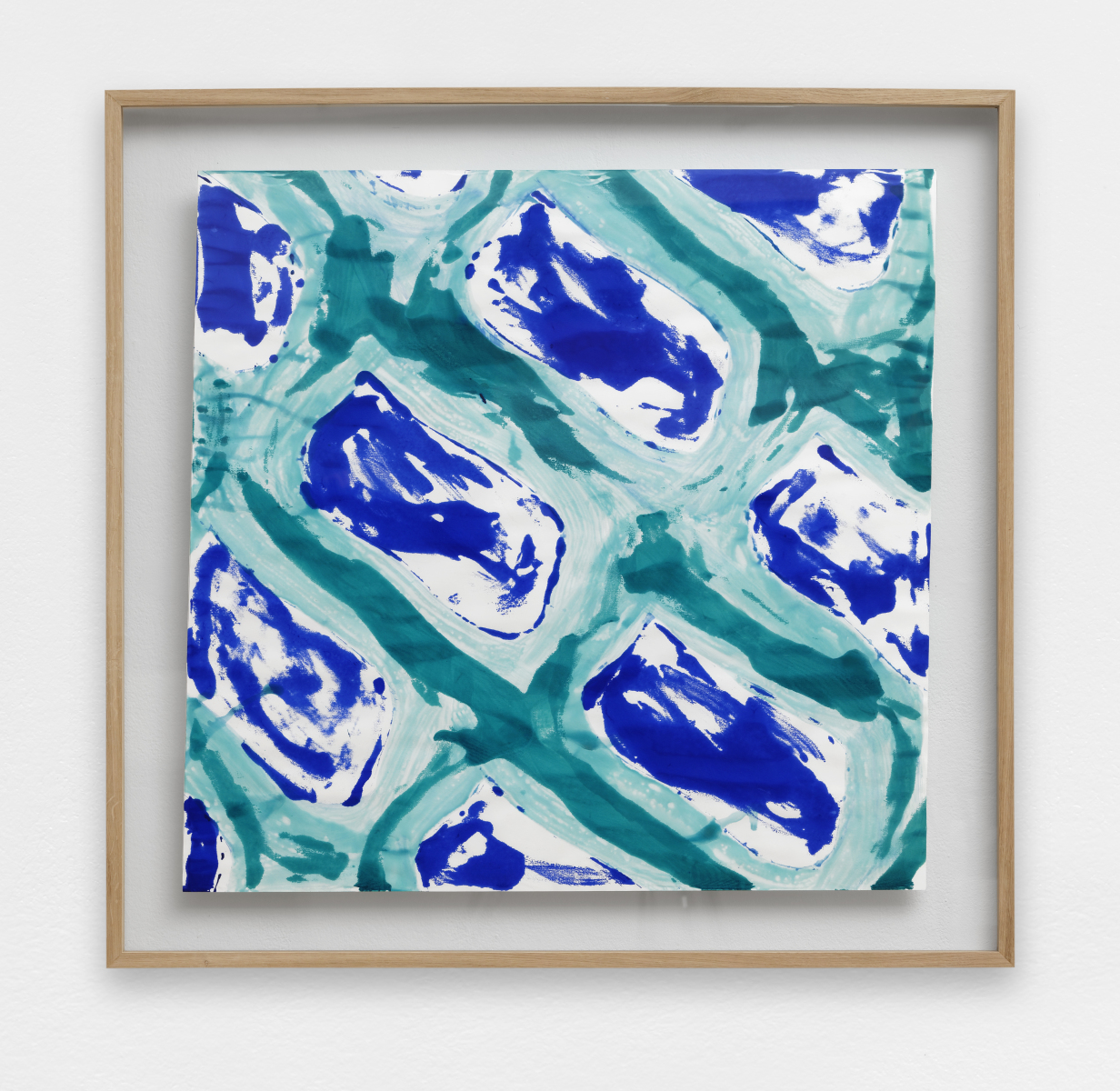 2011/PP075
, 2011
Acrylic on paper
91.3 x 94.3cm
35.94 x 37.13 in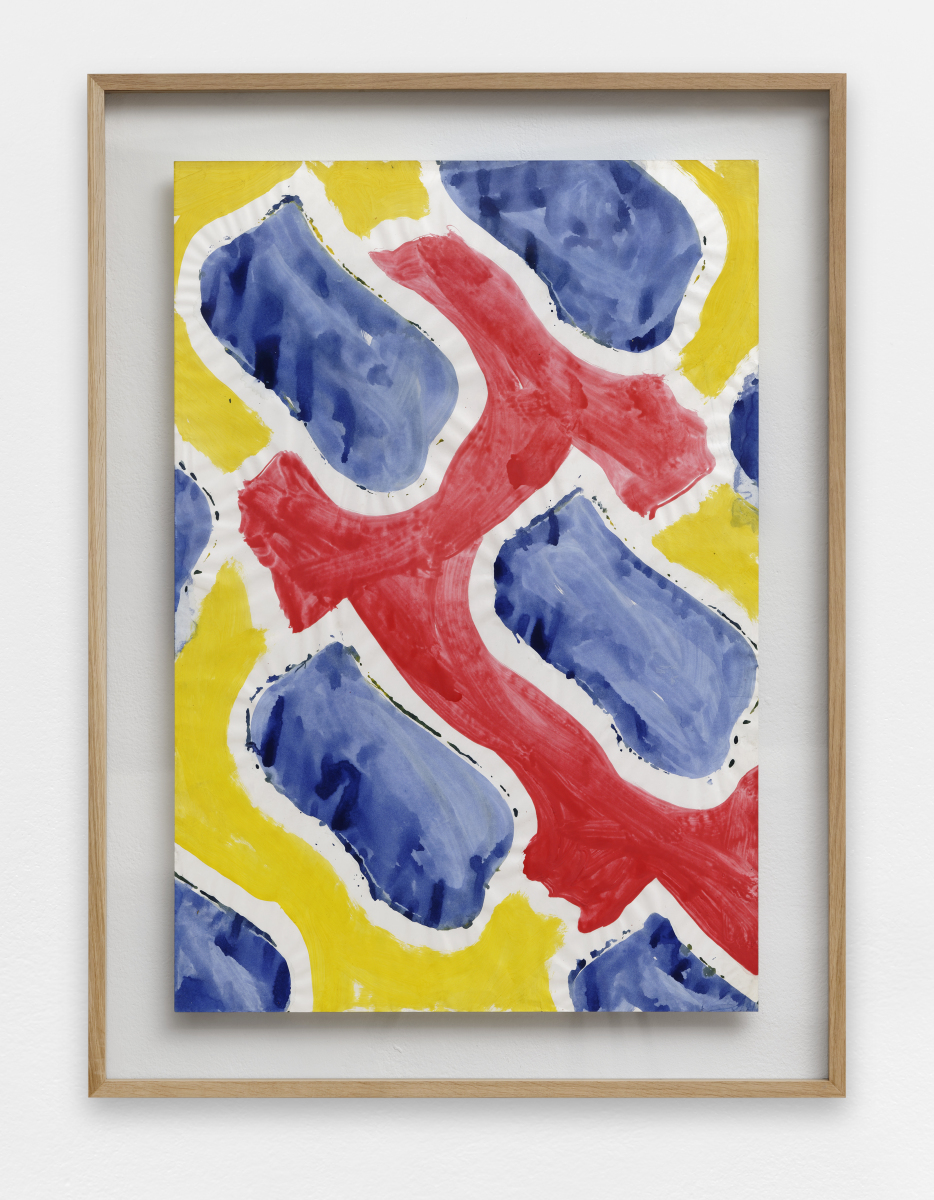 1998/PP003
, 1998
Acrylic on paperpaper
101.5 x 70cm
39.96 x 27.56 in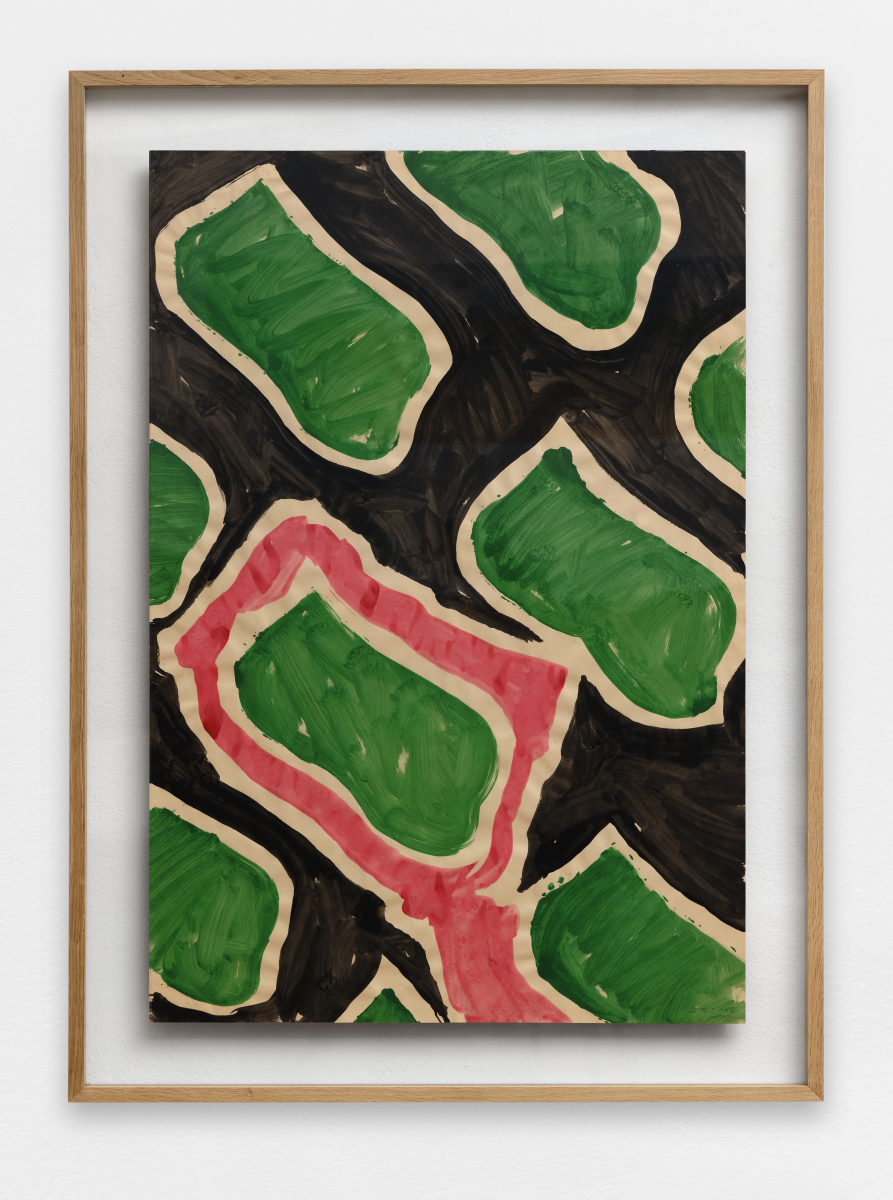 1998/PP002
, 1998
Acrylic on paper
109.3 x 74.5cm
43.03 x 29.33 in
Born in 1936, in Nîmes, France.
Lives and works in Nîmes, France.

Education

1955-59     Montpellier Fine Arts School, France

1962-63     Paris Fine Arts School, France

Awards

2007     Prix de peinture de la Fondation Simon et Cino del Duca, Institut de France

2011     Chevalier de la légion d'honneur

Presentation

Claude Viallat studied at the Ecole des Beaux-Arts de Montpellier from 1955 to 1959, then at the École des Beaux-Arts in Paris in 1962-63, in Raymond Legueult's workshop. In 1966, he adopts a process based on fingerprints, which shall enter into a critical radical of the lyrical abstraction and geometric (in technique called All-over). A neutral form is repeated on a free canvas without frame determining the composition of the work. In 1970, he was a founding member of Supports / Surfaces.

In addition to the growing success of its exhibitions in France (at the Pompidou Center in 1982) and abroad (Venice Biennale in 1988), he devoted himself to his work as a teacher in the art schools following: Nice, Limoges, Marseille, Nimes (where he was director for many years), then Paris at the École Nationale Supérieure des Beaux-Arts de Paris.

Claude Viallat has been a contentious defender of modernism since 1964, when he began working with the idea repeated pattern to refuse the idea of subject. Since then he has eschewed stretchers or frames. This repeated shape has become Viallat's trademark and signature and figures on all kinds of surfaces, from rugs, tents, curtains and other loose fabrics, endlessly repeating itself, yet always creating something new.
From 1966, the year he invented forms, up until today, one main characteristic distinguishes Claude Viallat's work: its complete freedom from aesthetic commitment. The 1970's offer Claude Viallat the possibility to develop his formal vocabulary further. Going beyond the systematization of his Supports/Surfaces years, the artist returns to innovative textures and materials. Tracing shapes, he uses strategies to distort them, superposing up to five canvases before painting them: it is the "bad painting" period. This brief moment in his career opened up on years of blossoming and deepening of his artistic researches.

These years demonstrate a real variety in his construction of forms. The latters are no longer solely flat, like in the works of the "Surface" years, but sometimes made of a myriad of kaleidoscopic colors. Unprimed canvases are used as blank space and forms, the key thread running through this decade, are delimited by colors. While keeping the systematization of his formal vocabulary, Viallat progressively frees himself from his monochromatic practice. The forms, painted on different panels, also throw the composition in new directions and enliven the patterns. The typical Supports/Surfaces grid progressively disappears. It is also a very productive period during which he pays several tributes to Matisse and Manet. These creations are probably among his most touching and accomplished.

Claude Viallat's work questions the practice of painting putting colors on a flawless surface by applying colors on a material surface, which existence itself interferes with colours. Using dirty and worn-out canvases makes it harder to achieve "a beautiful painting". The artist gives value to the underlying and preexisting color and tries to enhance it through his work. Vlieseline, tondi, doors, diptychs, and open canvases are some of the supports on which he playfully goes around or fills up forms with vivid and bright colors. Viallat dances with the canvas blank space to create unique vibrations and wave-like effects.
Solo shows at Ceysson Gallery
Claude Viallat, Wandhaff
February 13 - March 20, 2021
Claude Viallat, Paris
May 24 - June 23, 2018
Claude Viallat, New York
May 06 - July 15, 2017
Claude Viallat, Offsite
July 23 - July 24, 2016
Claude Viallat, Paris
March 31 - May 28, 2016
Claude Viallat, Geneva
May 28 - August 02, 2015
Claude Viallat, Luxembourg
May 01 - May 10, 2014
Claude Viallat, Saint-Étienne
September 29, 2011 - January 31, 2012
Claude Viallat, Luxembourg
March 03 - May 01, 2010
Claude Viallat, Luxembourg
June 12 - July 27, 2008
Group shows at Ceysson Gallery
The Spaces In Between, New York
September 09 - November 07, 2020
At Jean Prouvé, Offsite
July 26 - July 28, 2020
Spring Paris, Paris
May 18 - July 23, 2020
Guerre(s), Paris
December 18, 2019 - February 01, 2020
Le grand détournement , Paris
June 27 - August 03, 2019
Tribute to Vicky Rémy, Offsite
July 13 - July 14, 2019
Unfurled: Supports/Surfaces 1966-1976, Offsite
February 01 - April 21, 2019
Joe Fyfe - Claude Viallat, Saint-Étienne
December 21, 2018 - February 23, 2019
Jacques Lepage. Dossier Supports/Surfaces, Paris
December 19, 2018 - January 26, 2019
10 YEARS in Luxembourg, Wandhaff
June 02 - August 04, 2018
Inflatable tear, New York
January 23 - February 24, 2018
Animals : intimates works, Paris
December 15, 2016 - February 04, 2017
Sculptures, Matters, Materials, Textures..., Offsite
September 10 - October 16, 2016
Messagier - Viallat, Wandhaff
March 12 - May 21, 2016
Claude Viallat, Luxembourg
June 20 - September 20, 2013
Olivier Mosset - Claude Viallat, Geneva
March 15 - April 28, 2012
Group show, Geneva
February 04 - March 10, 2012
Bagarre Générale - 5 Ans, Saint-Étienne
March 24 - May 15, 2011
Thema 4 : Abstraction(s), Luxembourg
December 06, 2009 - January 11, 2010
Thema 01 / object  / sculpture, Luxembourg
January 22 - March 02, 2009
SUPPORTS / SURFACES, Saint-Étienne
May 30 - August 30, 2008
Upcoming shows
February 13 - March 20, 2021
In all directions
, Ceysson & Bénétière, Wandhaff, Luxembourg

Solo Shows

2019
Viallat Sérigraphie, Centre Culturel Bérenger de Frédol, Cairove-les-Marguelone, France
Malereien, Kajetan Gallery, Berlin, Germany
Claude Viallat, Libérer la couleur, Venet Foundation, Le Muy, France
Re-commencer, La halle des Bouchers, Vienna, France

2018
El horizonte del color, curated by Nicolas Martin Ferreira, Casa Blanca - Hotel Hilton - Papaya Planet, Panama City, Panama
Objets, Cerceaux, Filets, Ceysson & Bénétière, Paris, France
Art Basel Unlimited, Galerie Daniel Templon, Basel, Switzerland
Inside and Outside, HdM Gallery, Beijing, China

2017
Sans titre, FIAC Hors les Murs, Galerie Ceyson & Bénétière, Jardin des Tuileries, Paris, France
Major works 1967 - 2017 , Ceysson & Bénétière, New York, USA
La peinture à perte de vue, curated by Nicolas Martin Ferreira, Casa França - Brasil, Rio de Janeiro, Brasil
Toiles, Objets, Filets, L'aspirateur, Narbonne, France
in situ, Palais des archevêques, Narbonne, France
FIAC Hors les Murs, Jardin des Tuileries, Paris, France

2016
Cerceaux, Objets, Filets..., Galerie Bernard Ceysson, Paris, France
Années 80, Galerie Daniel Templon, Paris, France
Peindre sans retenue : Jean Messagier - Claude Viallat, Galerie Bernard Ceysson, Wandhaff, Luxembourg
Claude Viallat, Hommages à..., Palais Synodal, Sens, France
Claude Viallat chez Jean Prouvé, Beauvallon, France

2015
Galerie Bernard Ceysson, Geneva, Switzerland
Galerie Andres Thalmman, Art Fair at Punta del Este, Uruguay
Galerie Bea Ba, Marseille, France

2014
Oeuvres récentes, Galerie Daniel Templon, Paris, France
Claude Viallat, Der Stoff der Malerei, Ludwig Museum, Koblenz, Germany
La Simplicité évidente, Galerie Fumagalli, Milan, Italy
Rétrospective, Claude Viallat, Musée Fabre, Montpellier, France
Claude Viallat, Der Stoff der Malerei, Kunsthalle Rostock, Rostock, Germany
Château de Ratilly, Ratilly, France
Claude Viallat, Foundation of Contemporary Art, Bratislava, Slovakia
Galerie Daniel Templon, Brussels, Belgium
Claude Viallat Villa Tamaris, la Seyne sur Mer, France

2013
Als marges de la pintura, National Gallery, Andorra
Galerie Delacroix, Tangier, Morocco
Galerie Petits Papiers, Brussels, Belgium
Galerie Quadrige, Paris, France
300 Peintures 1979 - 1995, Fragments d'une oeuvre initiée en 1966, Rue de Hanovre, Curated by Bernard Ceysson, Paris, France
Centre d'art contemporain de la Matmut, Saint-Pierre-de-Varengeville, France
Hommage à Matisse, Galerie Catherine Issert, Saint Paul de Vence, France
Hommage à Clabaud, Galerie Bernard Ceysson, Luxembourg
Arsenal, Museum of Soissons, France
Claude Viallat, Tauromachies, Aubais, France
Claude Viallat, Galerie Andresthalmann, Zurich, Switzerland
Claude Viallat, Der Stoff der Malerei, Grounds for painting, Situation Kunst, Bochum, Germany

2012
Galerie Oniris, Rennes, France
Galerie Pannetier, Nîmes, France
Peintures et objets, Museum of Louviers, France
Claude Viallat, Peintures, cerceaux & Toros, Musée de l'hospice Saint-Roch, Issoudun, France
Claude Viallat aux marges de la peinture, Museum of Touquet-Paris-Plage, Le Touquet, France
Galerie Virgile Legrand, Paris, France
Galerie Quadri, Brussels, Belgium

2011
Feuille à Feuille, exhibition of illustrated books, Château de Villeneuve, Vence, France
Galerie Jacques Girard, Toulouse, France
Galerie Hélène Trintignan, Montpellier, France
Galleria Plurima, Udine, Italy
Inauguration ceremony for the stained glass windows, Nevers Cathedral, France
Galerie Pome Turbil, Lyon, France
Musée de Ferrières, France
Maison des arts, Bages, France
Musée Faure, Aix les Bains, France
Arènes d'Arles, Arles, France
Frost Art Museum, Miami, USA
Galerie Bernard Ceysson, Saint-Étienne, France
Pure Surface, Galerie Antonella Cattani, Bolzano, Italy
Espace Villeglié, Saint Gratien, France
Galerie Matisse, Casablanca, Morocco
Centre d'art, Enghien les Bains, France
Claude Viallat aquarelles récentes, Galerie Quadri Ben Durant, Brussels, Belgium
Claude Viallat, Recent Works, Hélène Lamarque Gallery, Miami, USA

2010
Centre culturel de Damas, Syria
Oeuvres récentes et objets, Galerie Bernard Ceysson, Luxembourg
Galerie Jean Greset, Besançon, France
From point to point, Nîmes, France
Château de Florac, Lozère, France
Féria du riz, with Paco Ibañez, Arles, France
La Verrière, Fondation d'entreprise Hermès, Brussels, Belgium

2009
Raboutages, Galerie Daniel Templon, Paris
Galerie Bernard Ceysson, Luxembourg
Musée National du Mali - Quartiers d'Orange, Bamako, Mali
Toiles, objets, cordes et filets Galerie Fumagalli, Milan, Italy
Galerie Oniris, Rennes, France
Musée des Beaux-Arts, Brest, France
Centre La Passerelle, Brest, France
Galerie Matisse, Marrakesh, Morocco
Artothèque de Miramas, France
Galerie Annie Lagier, L'Isle-sur-la-Sorgues, France
Hiyake galerie, Grimaud, France
Collège Pierre Mendès France, Saint André, France
Galerie Thérèse Roussel, Perpignan, France

2008
Claude Viallat Galerie Catherine Issert, Saint-Paul de Vence , France
Fondation Zapettini, Milan, Italy
L'ivresse absolu, Fondation Salomon, Annecy, France
Galerie Thérèse Roussel, Perpignan, France
Claude Viallat annonce la couleur !, Maison Carré - Arènes - Mur Foster Carré d'Art - Museum of Fine Art, Nîmes, France
Galerie Bernard Ceysson, Luxembourg
Espace Riquet, Béziers, France
Musée de Gajac, Villeneuve-sur-Lot, France
Keumsan Gallery, Tokyo, Japan
Claude Viallat - Papier, Gallery Itsutsuji, Tokyo, Japan
Claude Viallat, Peinture, Gallery Itsutsuji, Tokyo, Japan
Galerie C. Issert, Nice, France
Recto-Verso, Hall de la gare de Nîmes, France
Galerie des accumulations, FRAC Bretagne, Rennes, France
Centre hospItalyr de Cornouaille, Quimper, France

2007
Maison des arts, Malakoff, France
Claude Viallat, Estampes, Espace del arte, Château de Grèzes, France
Musée municipal de Saint-Gaudens, France
Galerie Hélène Trintignan, Montpellier, France
Claude Viallat en Ré, Galerie Kahn, Ars en Ré, France
Claude Viallat, Peinture / Peintures, Chapelle du Carmel, Chalon-sur-Saône, France
Le Radar, Bayeux, France
Comptoir international du livre d'artiste, Marseille, France
Galerie Oniris, Rennes, France
Claude Viallat, GIANTS, Airport of Butzweilerhof, Cologne, Germany
La haute note jaune, Fondation Van Gogh, Arles, France
Tauromachies, Beaucaire, France
Librairie-galerie Passe-Temps, Eymoutiers, France
Les toiles postales, Musée de La Poste, Paris, France
12e Rencontres d'Art contemporain, Villa saint Cyr, Bourg-la-Reine, France
Hôpital Bicêtre, Kremlin-Bicêtre, France

2006
Tentes militaires, Galerie Daniel Templon, Paris
Claude Viallat - 1966-1975, Galerie Jean Fournier, France
RECTO-VERSO - FABRIK culture, Wittersdorf, France
Galerie Athanor, Marseille, France
Claude Viallat, oeuvres récentes et Tauromachies, Crypte Sainte Eugénie, Biarritz, France
Galerie Bernard Ceysson, Saint Etienne, France
Galerie Estiarte, Madrid, Spain
Centre européen d'actions artistiques contemporaines, CEAAC, Strasbourg, France
Université de Sophia Antipolis, Nice, France
Sacs postaux, Galerie Philippe Pannetier, France
Recto Verso, Galerie Fabrick Culture, Wittersdorf, France
Centre André Malraux, Colmar, France
Henri Matisse, accomplir un grand voyage, Claude Viallat, looking at Matisse, Château de Villeneuve, Vence, France
Centre d'Art de l'Yonne, Auxerre, France
Pont du Gard, Remoulins, France
Hiyake Galerie, Grimaud, France
Claude Viallat, Park Ryu Sook Gallery, Séoul, South Korea

2005
Galleria d'arte Marchetti, Roma, Italy
Claude Viallat, oeuvres récentes, Galerie Oniris, Rennes, France
Claude Viallat, Hommage(s) à Matisse, Musée Matisse, Le Cateau Cambrésis, France
Galerie Hélène Trintignan, Montpellier, France
Théâtre du Hangar, Montpellier, France
Galerie Pom Jacques, Thonon-les-Bains, France
Les Arts murartothèque, Pessac, France
Peintures récentes et objets, Centre d'Art méditerranéen, Toulon, France
E.S.P.A.C.E. Peiresc, Toulon, France
Eglise Saint Augustin, Bergamo, Italy
Galerie Philippe Kang, Séoul, South Korea
Médiathèque Benjamin-Rabier, La Roche-sur-Yon, France
Musée d'art Roger-Quilliot, Clermont Ferrand, France
Maison Gueffier, La Roche-sur-Yon, France
Galerie Acentmètresducentredumonde, Perpignan, France
Galleria Plurima, Udine, Italy

2004
Portes et fenêtres, Galerie Daniel Templon, Paris, France
Galerie Jacques Girard, Toulouse, France
Objets, Galerie d'art contemporain de l'Université de Toulouse, Le Mirail, Toulouse, France
Museo del Chopo, Mexico City, Mexico
Hôtel Beury, Centre d'art et de littérature, L'Échelle, France
Claude Viallat, travelling exhibition, Museo del Chopo, Mexico, Jardin Borda, Cuernava, Museo metropolitano, Monterrey, Merida, Mexico
Egyptian Institute of Athens, Athens, Greece
Maison des arts, Bédarieux, France
Espace Jean Legendre, Théâtre de Compiègne, France
Galerie Thérèse Roussel, mediathèque Perpignan, France
Claude Viallat et le livre Perpignan, France
Galerie d'Art contemporain, Auvers-sur-Oise, France
L'Atelier, galerie Eric Seydoux, Paris, France

2003
Galerie Pannetier, Nîmes, France
Galerie Annie Lagier, L'Isle-sur-la-Sorgue, France
Galleria Fumagalli, Bergamo, Italy
Portes, Le Vallon du Villaret, Bagnols-les-Bains, France
Cordes et filets, Musée Pierre-André Benoit, Alès, France
La galerie frontière, Armentières, France
Art Vailhan, Vailhan, France
Nationale 20, Autoroute A.20, Que s'est-il passé ?, « Nationale 20 », Musée de Cahors Henri-Martin, France
Château Haut-Gléon, Villesèque-des-Corbières, France
Galerie Léa Grdt, Luxembourg
Claude Viallat without frame, Jendela, Esplanade Mall, Singapore
Claude Viallat- Hommage à Chabaud, Musée Chabaud, Graveson, France
Atelier Éric Seydoux, Paris, France

2002
Cheim & Read Gallery, New York, USA
Galerie Catherine Issert, Saint-Paul de Vence, France
Espace Gustave Fayet, Serignan, France
Claude Viallat, Tauromachies, Espace Van Gogh, Arles, France
Galerie Estiarte, Madrid, Spain
L'art dans les chapelles, Morbihan, France
Galerie Oniris, Rennes, France
Musée d'Art moderne de Céret, Céret, France
Galleria Plurima, Udine, Italy
Galleria Fumagalli, Bergamo, Italy
Chapelle des Capucins, Aigues Mortes, France

2001
Galerie Charlotte Moser, Geneva, Switzerland
Galerie Oniris, Rennes, France
Galerie Athanor, Marseille, France
Museum Henri Martin, Cahors, France
National Gallery of Bosnia & Herzegovina, Sarajevo, Bosnia
Chapelle des Capucins, Aigues-Mortes, France
Galerie Hélène Trintignan, Montpellier, France
Marseille et après..., Galerie de la Vieille Charité, Marseille, France
Galerie Éric Linard, La Garde-Adhémar, France
Museum of MuBe, Sao Paulo, Brazil
Fundação cultural de Curitiba, Brazil
Imperial Palace, Rio de Janeiro, Brazil
Galerie Philippe Pannetier, Nîmes, France
Galerie Épreuve d'Artiste, Lille, France

2000
Objets, Galerie Daniel Templon, Paris
Claude Viallat, oeuvres sur papiers (1968-1990), musée d'Art moderne de Saint-Étienne, Saint-Étienne, France
Festival de la Garonne, Toulouse, France
Claude Viallat, Oeuvres récentes, Galerie Dortindeguey, Arles, France
Une oeuvre - Claude Viallat, Château de Villeneuve, Fondation Emile Hugues, Vence, France
Claude Viallat, Estampes, Châtellerault, France
Claude Viallat, oeuvres sur papier 1999, Galleria Peccolo, Livorno, Italy
Claude Viallat, sélection d'oeuvres récentes, Galerie Georges Verney-Carron, Villeurbanne, France
Claude Viallat dans les collections du Musée d'Art Moderne de Saint-Étienne, IUFM, Lyon, France
Nouvelles peintures sur tissus Bucol, Galerie Le Rectangle, Lyon, France
Galerie des Sept Collines, Vienne, France

1999
Claude Viallat, Peintures récentes, Galerie Oniris, Rennes, France
Claude Viallat, Galleria Plumira, Udine, Italy
French Institute, Galerie 121, Casablanca, Morocco
Claude Viallat, Répétitions, Shangai - Art Museum, Chengdu, Kunming City Museum, Kunming, Heping Museum, China
Ryhmus, Farben, Raum, St. Petri Kirche, Lübeck, Germany
Itsutsuji Gallery, Tokyo, Japan
Won Gallery, Seoul, South Korea
French Institute, Galerie Bab Kebir, Rabat, Morocco

1998
Galerie Lea Gredt, Luxembourg
Galerie Daniel Templon, Paris, France
Galerie Phoebus, Rotterdam, The Netherlands
Claude Viallat, la période de Nice 1964-1967, Fondation Emile Hugues, Vence, France
L'Échelle, Hôtel Beury, Epernay, France
Galerie des Beaux-Arts, Cherbourg, France
Claude Viallat : Bannières et filets, French Institute of Florence et Fiesole Musei, Italy
Galerie Confluence, Nîmes, France
Claude Viallat, Acquisitions 1985-1998, Arthotèque du Limousin, Limoges, France
Viallat, œuvres récentes, Galerie Le Sphinx, La Villedieu-du-Temple, France
Galerie Akhnaton, Cairo, Egypt
Course libre, Contemporary Art Center, Le Cailar, France

1997
Hall du Palais des Congrès, Paris, France
Galerie Yahia, Tunis, Tunisia
Galerie Athanor, Marseille, France
Galerie Plurima, Udine, Italy
Musée de la Mine, Salle des Pendus, Saint-Étienne, France
Temple de Caussade, Caussade, France
Claude Viallat, Oeuvres récentes 1990-1996, Pavillon du musée Fabre, Montpellier, France
Claude Viallat. Espaces limitrophes, Musée de l'Hôtel - Dieu, Mantes la Jolie, France
Claude Viallat, toiles récentes, Maison Coccoz, Saint Tropez, France
Galerie Orenga de Gaffory, Patrimonio, France
Musée Savoisien, Chambéry, France
Courses libres, Dessins de Claude Viallat, Contemporary Art Center, Le Cailar, France
Obalne Gallery, Piran, Slovakia

1996
Claude Viallat, Objets 1974-1996, Ecole Nationale Supérieure des Beaux-Arts de Paris, France
Musée de la Cour d'or, Metz, France
Claude Viallat, 1986-1996, anciens couvents des Cordeliers, Châteauroux, France
Groupe d'art contemporain, Annonay, France
Galerie Gastaud, Clermont-Ferrand, France
Musée-Château d'Annecy, France

1995
Galerie Jean Fournier, Paris, France
Museum moderner Kunst Stiftung, Ludwig, Vienna, Austria
Arthotèque de Nantes, France
Galerie Adolf & Christiane von Ribbentrop, Eltville am Rhein, Germany
Musée municipal de La Charité-sur-Loire, France
Espace Lawrence Durell, Musée de Sommières, France
French Institute, Tel Aviv, Israel

1994
Département culturel, Périgueux, France
Galerie Athanor, Marseille, France
Galerie Hélène Trintignan, Montpellier, France
Claude Viallat : Objets 1973-1993, Galerie Itsutsuji, Tokyo, Japan
Won Gallery, Seoul, South Korea
Musée Victor Charreton, Bourgoin-Jallieu, France
Fine art academy, Beirut, Lebanon
Galerie Espace Ecureuil, Toulouse, France
Galerie art & Essai, Université de Rennes, France
Galerie Oniris, Rennes, France
Galerie du Cloître, Rennes, France
École régionale des Beaux-Arts, Rennes, France
Galerie Thérèse Roussel, Perpignan, France
Musée municipal de Clamecy, France

1993
Galerie Jean Fournier, Paris, France
Rideaux pour le Musée de Céret, Musée d'art moderne de Céret, Céret, France
Atelier Cantoisel, Joigny, France
Galerie municipale, Millas, France
Espace Fortant de France, Sète, France
École régionale des Beaux-Arts, Le Mans, France
Centre d'initiatives artistiques de l'Université de Toulous-Le Mirail, Toulouse, France
Galerie Larock-Granoff, Paris, France

1992
Galerie Itsutsuji, Tokyo, Japan
Seville Expo '92, Universal Exposition of Seville, Seville, Spain
National Museum of Fine Art, Ankara - Museum of Fine Art of the University Mimar, Sinan, Istanbul, Turkey
Sagacho Exhibit Space, Tokyo, Japan
Galerie Colt, Nice, France
Château d'Arsac, Margaux, France
Musée d'Art contemporain de Montbéliard, Montbéliard, France
Galleria Plurima, Udine, Italy
Artefact Gallery, Tel Aviv, Israel
The Bedouin Culture Museum, Kibbutz Lahav, Beer Sheva, Israel
Galerie Appart, Saint-Étienne, France

1991
MMCA Macedonian Museum of Contemporary Art, Thessaloniki, Institut français, Athens, Greece
Wentzel Gallery, Cologne, Germany
Papiers, National Museum of Modern Art - Georges Pompidou Center, Paris, France
Galerie Christine Debras & Yves Bical, Brussels, Belgium
Pavillon Orangerie, musée de l'Évêché, centre culturel Jean Gagnant, Limoges, France
Pinacothèque, Athens, Greece
French Institute of Athens, Athens, Greece
Thessaloniki Port warehouse, Athens, Greece
Workshop Famagusta Gate, Nicosia, Cyprus
Galerie Jean Fournier, Paris, France
Arte Fiera, Cultural Association Franco-Italian of Bologna, Bologna, Italy
Sup. Hors Sur Face, Regional Center for Pedagogical Documentation, Poitiers, France
Galerie Athanor, Marseille, France
Galerie Oniris, Rennes, France

1990
Galerie Jean Fournier, Paris, France
Galerie Athanor, Marseille, France
Galerie Oniris, Rennes, France
Won Gallery, Séoul, South Korea
Hyundai Gallery, Séoul, South Korea
French cultural center, Séoul, South Korea
Galerie Marthe Carreton, Nîmes, France
Galeria Cadaqués, Cadaqués, Spain
Galerie Athisma, Lyon, France
Église de Notre-Dame-des-Sablons, Aigues-Mortes, France
École Supérieure d'Art, Annecy, France

1989
20 ans de travail en Catalogne, musée d'Art moderne Céret, Château de Collioure, France
Oudayas Museum, Rabat, Morocco
École européenne supérieure d'art de Bretagne, Quimper, France
Rencontres d'art contemporain, Clermont-Ferrand, France
Papiers de Claude Viallat, Galerie Thérèse Roussel, Perpignan, France
Les Filets de Claude Viallat dans Vienne, Etendards 3, Vienne, France
Kamakura Gallery, Tokyo, Japan
Wentzel Gallery, Cologne, Germany
Le Rafour, Condrieu, France
Convention center, Perpignan, France

1988
Galerie Jean Fournier, Paris, France
Pavillon français, 43ème biennale de Venise, Venice, Italy
Won Gallery, Séoul, South Korea
Casino Venier, Venice, Italy
Wentzel Gallery, Cologne, Germany
French Institute, Cologne, Germany
Carré d'art, musée d'Art contemporain, Nîmes, France
Cultural center, Cairo, Egypt

1987
Sara Hildén taidemuseo, Tampere, Finland
Mücsarnok, Budapest, Hungary
Pulchri Studio, The Hague, The Netherlands

1986
Claude Viallat, peintures récentes, Galerie municipale d'exposition, Saint-Priest, France
Galerie Jean Fournier, Paris, France
Sur papier, Claude Viallat, centre culturel d'Annonay, France
Galerie Athanor, Marseille, France
Musée d'archéologie, Cavaillon, France
Toros/Affiches Féria 1986, Galerie des Arènes, Nîmes, France
Galerie Jacques Girard, Toulouse, France
Kamakura Gallery, Tokyo, Japan

1985
Filets, Galerie Jean Fournier, Paris, France
Claude Viallat, Oeuvres récentes, Galerie Zôgraphia, Bordeaux, France
Claude Viallat, Objets, Galerie Athanor, Marseille, France
École Nationale Supérieure d'Art, Limoges, France

1984
Galerie Jean Fournier, Paris, France
Chapelle de la Salamandre, Nîmes, France
French Institute, Valencia, Spain
French Institute of Scotland, Edimbourg, United Kingdom
Galerie Jean Fournier, Paris, France
Caia de Ahorros, Valencia, Spain
Musée d'Art et de l'industrie, Saint-Étienne, France

1983
Kunsthalle Düsseldorf, Düsseldorf, Germany
Wentzel Gallery, Cologne, Germany
Won Gallery - Hankuk Gallery, Seoul, South Korea
Galerie des Ponchettes, musée de Nice, Nice, France
Fondation Joan Miro, Barcelona, Spain
Kamakura Gallery, Tokyo, Japan

1982
Centre national d'art et de culture Georges Pompidou, Paris, France
Léo Castelli Gallery, New York, USA
Kamakura Gallery, Tokyo, Japan
Galerie Athanor, Marseille, France
Wentzel Gallery, Cologne, Germany
Rétrospective, Fine art Museum, Montreal, Canada

1981
Part I, Galerie Kamakura, Tokyo, Japan
Part II, Galerie Kamakura, Tokyo, Japan
Ace Canada Gallery, Vancouver, Canada
Les Viallat de Jacques Lepage, Galerie l'Atelier, Nice, France
Ace Gallery, Venice, Los Angeles, USA

1980
Autres travaux de 1979, Galerie Jean Fournier, Paris, France
CAPC, Entrepôt Lainé, Bordeaux, France
Neue Galerie, Aix-la-Chapelle, Germany

1979
Wentzel Gallery, Hambourg, Germany

1978
Arta Gallery, Geneva, Switzerland
Maison de la culture, Orléans, France
Galerie Vega-Manette Repriels, Plainevaux, Belgium
Oeuvres nouvelles, Abbaye de Sénanque, Gordes, France
Galerie Athanor, Marseille, France
Claude Viallat - Traces, musée d'Art et d'Histoire, Chambéry, France

1977
Les Peilles, Galerie Jean Fournier, Paris, France
Galerie Sanguine, Collioure, France

1976
Galerie A 16, Galerie Le Flux, Perpignan, France
Claude Viallat 1973-1975, Galerie Pierre Matisse, New York, USA
Fine Art Palace, Brussels, Belgium
Van der Heydt-Museum, Wuppertal, Germany
Galerie Daniel Templon, Milan, Italy
Galerie CM, Saint-Etienne, France

1975
Galerie Jean Fournier, Paris, France
Galerie Athanor, Marseille, France
12x1 Brussels 1975, Europalia 75, Fine Art Palace, Brussels, Belgium

1974
Galerie Delta, Brussels, Belgium
Galerie Malabar & Cunégonde, Nice, France
Musée d'Art et d'Industrie, Saint-Étienne, France
Maison de la culture, Rennes, France

1973
Galerie Daniel Templon, Milan, Italy
Galerie Jean Fournier, Paris, France

1971
Dis Pa Ri Tion Mul Ti Ple, Galerie Jean Fournier, Paris

1968
Echantillon pour un mur, musée d'Art moderne de Céret, Céret, France
Galerie Jean Fournier, Paris, France

1966
Galerie A, Nice, France

Group Shows

2020
Printemps , Galerie Ceysson & Bénétière, Paris, France

2019
Unfurled: Supports/ Surfaces 1966-1976, curated by Wallace Whitney, MOCAD, Detroit, USA
Vingt-quatre heures de la vie d'une femme, Musée d'art contemporain, Saint-Etienne, France
Réserves sans réserve N°9, Galerie Eric Linard, La Garde Adhémar, France
Un autre œil d'Apollinaire à aujourd'hui, LAAC Dunkerque, France
Good Design, Johyun Gallery, Busan, South Korea
Supports/Surfaces, Tsinghua Art Museum, Beijing, China Pattern, décoration et crime, Le Consortium, Dijon, France
Retrouver l'économie radicale des gestes simples, Le mouvement Supports/Surfaces et ses proches, TAM, Tsinghua University Art Museumn Pékin, China
Back To Simple Radical Gestures - The Supports/Surfaces Movement: Within And Around, Tsinghua University Art Museum, Beijing, China
Twenty-four Hours In The Life Of A Woman, Musée d'art moderne et contemporain Saint-Etienne Métropole, Saint-priest-en-jarez, France
Pierre Buraglio: Incontri, Galerie Jean Fournier, Paris, France
Collection. La composante Peintures, Frac Bretagne, Rennes, France

2018
Pablo Picasso & la Donation Albers-Honegger: Picasso à tous les étages !, EAC, Espace de l'Art Concret, Mouans-Sartoux, France
Modern Art Revisited: from the collection of Fukuoka Art, Hiroshima City Museum of Contemporary Art, Hiroshima, Japan
Images en lutte, curated by Éric de Chassey and Philippe Artières, Beaux-Arts, Paris, France
Pizza is god, NRW Forum, Dusseldorf, Germany
School of Nice from Pop Art to happenings, with the collaboration of the MAMAC - Nice, City Hall, Hong Kong
La Méditerranée et l'art moderne, Mohammed VI museum, Rabat, Morocco
Do something To It, Do something Else To It, Philip Martin Gallery, Los Angeles, USA
Inflatable tear, Ceysson & Bénétière, New York, États-Unis
10 years, Ceysson & Bénétière, Luxembourg
Supports/suffaces et après..., Galerie Clémence Boisanté, Montpellier, France
Do Something To It. Do Something Else To It., Philip Martin Gallery, Los Angeles, USA

2017
Supports/Surfaces, Cherry & Martin gallery, Los Angeles, USA
École(s) de Nice 1947 - 1967, curated by Hélène Guénin, MAMAC, Nice, France
The Surface of the East coast, curated by Marie Maertens, Le 109, Nice, France
Supports/Surfaces : les origines 1966-1970, Carré d'Art, Nîmes, France
Based on a true story, Galerie Derouillon, Paris, France

2016
Animaux : œuvres intimes, Galerie Bernard Ceysson, Paris, France
Sculptures, Matières, Matériaux, Textures..., Hors les murs, Galerie Bernard Ceysson, Luxembourg

2014
Brafa, Galerie Petits Papiers, Brussels, Belgium
Supports/Surfaces - curated by Wallace Whitney, Reed College, Portland, USA
Supports/Surfaces, 356 Mission Road, Los Angeles, USA
Supports/Surfaces is alive and well, Cherry & Martin Gallery, Los Angeles, USA
Supports/Surfaces, CANADA Gallery, New York, USA
Phares, Pompidou Center, Metz, France
L'esquisse, Hotel Campredon L'Isle sur La Sorgues, France
Préfiguration, centre d'Art contemporain, Vienne, France
Autour de Claude Viallat, Galerie Artset, Limoges, France
Sculpture du Sud, Villa d'Atris, L'Isle sur la Sorgues, France
FIAC Hors les Murs, Jardin des Plantes, Paris, France
Original Multiple, Galerie Altoe, Wittersdorf, France
Les Chambres hantées de Gilbert Lascault, Issoudun Museum, France
In Situ, Abbey Serrabone, France
Couleurs contemporaines, collection du conseil général du Var, centre d'Art de Chateauvert, France
Les Mains Inverses, Galerie du Théâtre, Privas Combe d'Arc, France

2013
François Avril & Claude Viallat, Galerie Les Petits Papiers, Brussels, Belgium
Supports/Surfaces, sélection d'œuvres historiques et d'œuvres récentes, Galerie Bernard Ceysson, ArtBrussels, Belgium
Surprise, surprise, Galerie Jean Greset, Besançon, France
Nice 2013, Un été pour Matisse, MAMAC, Nice, France
Parallèles, Hommage à Piet Moget, Lieu d'Art Contemporain, Sigean, France
Un regard sur la collection du Musée d'Art contemporain, école des Beaux-Arts de Nîmes, Nîmes, France
Supports/Surfaces, et après..., Abbaye de Beaulieu en Rouergue, centre d'Art contemporain, Beaulieu en Rouergue, France
FIAC 2013, Galerie Bernard Ceysson, Grand Palais, Paris, France
Presque noire et blanche, Galerie Jean Fournier, Paris, France
Vincent Cunillière - Duos d'Ateliers, Musée Paul Valéry, Sète, France
12, Galerie Catherine Houard, Paris, France

2012
L'atelier Rue du Bac, Galerie Jean Fournier, Paris, France
Mes moires au Mirail, université de Toulouse II - Le Mirail, Toulouse, France
Robinson ou la force des choses, MAMAC, Nice, France
Parcours croisés, Galerie Le Troisième Oeil, Bordeaux, France
Piero Crommelinck, graveur, de Picasso à Alechinsky, Galerie Catherine Houard, Art Paris, France
Figures du voile, La Fabrique, Université de Toulouse-Le Mirail, France
Claude Viallat - Olivier Mosset, Galerie Bernard Ceysson, Geneva, Switzerland
Supports/Surfaces, Galerie Bernard Ceysson, ArtParis, Grand Palais, Paris, France
ArtBrussels, Galerie Bernard Ceysson, Brussels, Belgium
Estate 2012, Galleria Plurima, Udine, Italy
Extra Large, Grimaldi Forum, Monaco,
FIAC 2012, Galerie Bernard Ceysson, Grand Palais, Paris, France
Aufbruch, Museum im Kulturspeicher, Würzburg, Germany
Le geste et la couleur, École d'art Gérard Jacot, Belfort, France
Exposition de groupe, Galerie Éric Linard, La Garde-Adhémar, France
Salah Stétié et les peintres, Museum Paul Valéry, Sète, France
Match Box, Galerie Thérèse Roussel, Perpignan, France

2011
Daniel Dezeuze, Patrick Saytour, Claude Viallat, Site du Pont du Gard, France
Tour de France / Florida : Contemporary Artists from France in Florida's Private Collection, The Patricia & Phillip Frost Art Museum, Miami, USA
Toreador, Chapelle Sainte Anne, Arles, France
Abstraits lyriques & construits, Galerie Quadri Ben Durant, Brussels, Belgium
Galerie Catherine Issert, Saint Paul de Vence, France
La couleur en avant, MAMAC, Nice, France
La peinture autrement, Musée Marc Chagal, Musée national Fernand Léger, Nice, France
Attualità Analitiche, Cavana Galleria, La Spezia, Italy
De Man Ray à Pistoletto, Chronique d'une collection en mouvement, Fondation Emile Hugues, Vence, France

2010
FIAC 2010, Galerie Bernard Ceysson, Grand Palais, Paris, France
Vé la Coupe fête ses 10 ans, Association Vé la Coupe, Montpellier, France
La presenza della pittura, gli anni Settenta, Galerie Artestudio, Milan, Italy
Violet de Bayeux, une couleur, des artistes contemporains, Le Radar, Bayeux, France
Le Gard vu par les peintre, Médiathèque, Calvisson, France
Claude Viallat - David Wolle, Galerie Bernard Ceysson, Luxembourg
Encre et papiers, Galerie des Lycées, FRAC de Picardie, Amiens, France
Pittura e Pittura, Palazzo Robellini, Acqui Terme, Italy
Feu à volonté, ArtParis, galerie Sonia Zannettacci, Paris, France
ArtParis 2010, Galerie Bernard Ceysson, Paris, France
Préfiguration de la Fundacio Stämpfli, Fundacio Stämpfli, Sitges, Spain
On emménage au Château de La Roche-Guyon, La Roche Guyon, France
Regards croisés, Galerie Inside Out, Saint-Rémy-de-Provence, France
Estampes contemporaines, Hôtel des Consuls, Éditions Bervillé, Uzès, France
Toreador, Hôtel-Imperator-Concorde, Nîmes, France

2009
Les autoportraits, Galerie Hélène Trintignan, Montpellier, France
La Bouvine dans tous états, Chapelle des Capucins, Aigues Mortes, France
Ils ont regardé Matisse, Musée Matisse, Le Cateau-Cambresis, France
ArtParis 2009, Galerie Bernard Ceysson, Grand Palais, Paris, France
Vous avez dit « Abstrait » ?, galerie Le Domaine Perdu, Meyrals, France
Toreador, Espace Jean-Jaurès, Vauvert, France
Nothing is permanent, La Centrale électrique, Brussels, Belgium
Pas nécessaire et pourtant indispensable 1979-2009 : 30 ans d'art contemporain, Meymac, France
Galerie Jean Fournier, Paris, France
Art Elysées 2009, Galerie Bernard Ceysson, Paris, France
Phase zéro / 96 propositions spatiales, Galerie Serge Aboukrat et Observatoire de l'Espace du CNES, Paris, France
Sur le fil, Musée des Arts Modestes, Sète, France
Coaraze 1969-2009, Salle des Cadrans solaires, Coaraze, France
Maison Folie Wazemmes, Lille, France
Sur le fil, Pop Galerie M. Saumades, France

2008
ARTénim Grenoble, Grenoble, France
Perpignan et la fièvre de Mai 68, couvent des Minimes, Perpignan, France
RUPTURES ET HERITAGES (les années 70) musée d'Art moderne, Brussels, Belgium
Parfum d'été, Galerie Charlotte Moser, Geneva, Switzerland
ArtParis, galerie Bernard Ceysson, Paris, France
Signe Ecriture Signe, Musée d´Art Moderne et Contemporain, Liège, Belgium
Supports/Surfaces, Galerie Bernard Ceysson, Luxembourg
Continuum, Collection Frac Basse-Normandie, musée des Beaux-Arts de Saint-Lô, Saint-Lô, France
+ de réalité, Galerie de l´Erban, Nantes, France
L'ivresse de l'Absolu, Fondation pour l'art contemporain Salomon, Alex, France
The Story Goes On, Contemporary Artists in the Wake of Van Gogh, MODEM Center for Modern and Contemporary Arts, Debrecen, Hungary
Galerie Esca, Milhaud, France
Mon art à moi ! Regards d'enfants sur l'art contemporain, Centre culturel André-Malraux, Le Bourget, France
Carte Blanche à Jean Villevieille, École d'arts plastiques, Châtellerault, France
Les années Supports/Surfaces, galerie Bernard Ceysson, Paris, France
Une grosse caisse dans un orchestre symphonique, Centre d'art contemporain, Saint-Restitut, France
Meurice, Viallat, Maison des arts de Carcès, France
Fundacion Rafael Boti, Cordoba, Spain
Une terre, des hommes, une passion, Mauguio, France
Mail-Art 2008 [à demain], Le Sélect, Paris, France
Recollection, Galerie Claire Gastaud, Clermont-Ferrand, France

2007
Le Moment Supports/Surfaces, Galerie Bernard Ceysson, Saint-Éienne, France
Singuliers et Pluriels, Galerie Catherine Putman, Paris, France
Couleurs, École d'arts plastiques, Châtellerault, France
Le souffle à la surface, Institut catholique de Paris, Paris, France
Art Protects, Yvon Lambert, Paris, France
La collection de l'Hôtel des Arts du Conseil général du Var, Maison Waldberg, Seillans, France
Couleur, couleurs, Johnson & Johnson, Issy-les-Moulineaux, France
Art Cologne, Galerie Fumagalli, Bergame, Italy
Dessins et œuvres sur papier, galerie Athanor, Marseille, France
De Passage, remparts sud, Aigues-Mortes, France
Galleria Civica d'Arte Moderna, Spoleto, Italy
Mieux vaut l'art que jamais, Centre d'art contemporain Boris-Bojnev, Forcalquier, France
Enrico Castellani, Pino Pinelli, Claude Viallat, Galerie Plurima, Udine, Italy
La couleur toujours recommencée, Hommage à Jean Fournier, Musée Fabre, Montpellier, France
Rencontres, Carte blanche à Dominique Aris, Galerie Frédéric Moisan, Paris, France

2006
Petits formats, galerie Oniris, Rennes, France
Bang ! Bang ! Trafic d'armes de Saint-Étienne à Sète, Musée d'Art et d'Industrie de Saint-Étienne, France
Dessins, Galerie Catherine Issert, Saint-Paul de Vence, France
Parenthèse .1, À cent mètres du centre du monde, Centre d'art contemporain Perpignan, France
Peintures / Painting, Martin-Gropius-Bau, Berlin, Germany
Artparis, Galerie Oniris, Paris, France
Les 4 saisons de l'Art, Château d'Aubais, Aubais, France
Affinités, CEAAC Strasbourg, France
20 ans de canal 55, Fouquet's, Paris, France
Duos d'ateliers, foyer des campagnes de Poussan, France
Entrée libre, Galerie Frontières, Lille, France
La peinture en principe, Centre d'Art de l'Yonne, Tanlay, France
Moi et les autres, Galerie Catherine Issert, Saint-Paul de Vence, France
Gallery Collection, around the western contemporary prints, Art-U room, Tokyo, Japan
Collection de la Société Générale Abstractions, Musée de la Chartreuse, Douai, France
Présentation de peintures de 1980 à 1990, Galerie Jean Fournier, Paris, France
La couleur dans la collection de l'Hôtel des Arts, Fondation Miotte Pignans, France
Le noir est une couleur, Fondation Marguerite et Aimé Maeght, Saint-Paul de Vence, France
Jardins publics/Jardins privés, Jardins du Château de Castries, Castries, France
Don Quichotte, Espace Encan, La Rochelle, France
Vu écrit par Antoine Graziani, Galerie Annie Lagier, L'Isle-sur-la-Sorgue, France
Le Cailar 19 ans, comme une collection !, Cercle d'art contemporain du Cailar, France
Un toit, une œuvre, Artothèque-sud de Nîmes, Nîmes, France
Bagarre générale, Galerie Bernard Ceysson, Saint-Étienne, France
Mosaïques, Art contemporain, Pont-Sainte-Marie, France
Krings,Ernst galerie, Cologne, Germany
1re exposition d'Art(s) Singulier(s), Maison de pays, Espace Ducros, Grignan, France
Dessins, Galerie Catherine Issert, Saint-Paul de Vence, France
Reserve sans réserve n°2, Eric Linard Galerie, La Garde Adhémar, France
40 peintures de petit format, Galerie Jean Fournier, Paris, France

2005
La tauromachie, Espace Gainville, Aulnay-sous-Bois, France
Traviol'expo, Galerie Vieille du Temple, Paris, France
Le verbe et l'image le récit d'une passion, Château de Villeneuve, Fondation Émile Hugues, Vence, France
Visioni 20 artisti a Sant'Agostino, Chapelle Saint-Augustin, Bergame, Italy
Collection les Abattoirs - Toulouse, Les Abattoirs, Toulouse, France
L'art se montre à Montrouge, Les salons d'art contemporain de Montrouge, Paris, France
4 artisti supports/surfaces ieri et oggi, Fondatione Zappettini, Milan, Italy
Les adieux à l'art de Jean Le Gac, Galerie nationale de la tapisserie de Beauvais, France
Questions/peinture, ancien collège des jésuites, Reims, France
Les feuilles secrètes de Monsieur B., Les Sertines, Ligny-en-Brionnais, France
Autour de Cervantès, Artenim, galerie Yves Faurie, Nîmes, France
Collection Automne / Hiver, CAPC Musée d'Art contemporain Bordeaux, France
Gioielli in gioco, Galerie Plurima, Udine, Italy
40 artistes du XXIe siècle - la collection imaginaire d'un amateur d'art, galerie Guillaume, Paris, France
Le souffle à la surface, Musées de Sens, Sens, France
La passion du nouveau, Museum of Modern Art, Saint-Étienne, France
Présentation de peintures de 1970 à 1980, Galerie Jean Fournier, Paris
The Collection XII, MuHKA Museum voor Hedendaagse Kunst Antwerpen, Anvers, Belgium
Réouverture du LAAC, Lieu d'Art et Action Contemporaine de Dunkerque, Dunkerque, France
Présentation de peintures de 1960 à 1970, Galerie Jean Fournier, Paris, France
Les apparences sont souvent trompeuses, CAPC, Bordeaux, France

2004
AAVV - 30, Galleria Fumagalli, Bergamo, Italy
Christian Prigent : Ils affinent notre vision, Centre d'art et de littérature, Hôtel Beury, l'Échelle, France
lls sont tous là en Languedoc-Roussillon, Espace d'art contemporain Gustave-Fayet, Sérignan, France
Attraversare Genova. Percorsi e linguaggi internazionali del contemporaneo, Villa Croce Museo d'Arte Contemporanea, Genoa, Italy
La création contemporaine à la Manufacture nationale de Sèvres, Maison René-Char, Hôtel Donadeï de Campredon, L'Isle-sur-la-Sorgue, France
Morocco-France Expériences croisées à Marrakech, Musée de Marrakech, Marrakesh, Morocco
La main qui dessinait toute seule, Galerie Magda Danysz, Paris, France
Objets Pensés, Galerie Charlotte Moser, Geneva, Switzerland
Prismes, Château de Villeneuve, Vence, France
Daniel Dezeuze - Claude Viallat, Galerie Baronian-Francey, Brussels, Belgium
Quelle aubaine!, Aubais, France

2003
Seconda Mostra, Plurima 1973-2003, Galerie Plurima, Udine, Italy
Pierre Buraglio - Claude Viallat, Galerie Athanor, Marseille, France
Couleurs Vision ,Association À vol d'oiseau du cercle, La Baule, France
Art Paillargues, Espace Charles-de-Gaulle Arpaillargues, France
Escashop, Galerie Esca, Milhaud, France
Travaux publics 1978-2003, Nationale 20, Que s'est-il passé?, Musée de Cahors Henri-Martin, France
Geschenkte Kunst, Ludwig Museum im Deutschherrenhaus, Koblenz, Germany
Simple Marks, Cheim & Read, New York, USA
Peintures actuelles 2, FRAC Bretagne, Espace François-Mitterrand, Guingamp, France
Galerie Léa Gredt, Luxembourg
Un jardin secret - Collection Monique Dorsel et Emile Lanc, Centre de la Gravure et de l'Image imprimée, La Louvière, France
Autour de Supports/Surfaces, Musée de Valence, France

2002
Prescient then and now: The Resonance of Support/Surface, Dorsky gallery, Long Island City, États-Unis
Signes du temps, Pontivy, FRAC Bretagne, France
Six toros, six artistes, Musée d'Art moderne de Céret, France
L'art dans les chapelles, Plumélian, France
Giorgio Griffa - Claude Viallat, Galerie Plurima, Udine, Italy
51 artistes édités par Éric Linard, Espace Saint-Louis, Avignon, France
Contemporanea Due, Galerie Plurima, Udine, Italy
Galerie Jean Fournier, Paris, France
Château de Villeneuve, Vence, France
IXe Biennale d'Art Contemporanea, Paraxo 2002, Centre Culturel Paraxo, Comune di Andora, Italy

2001
37 artistes avec Michel Butor, Musée Savoisien, France
Avatars du papier, Galerie Jean Fournier, Paris, France
De la passion à la résurrection. Buraglio, Dezeuze, Matisse, Nemours, Robinotvitch, Reynaudn Sarkis Soulages, Viallat, Château de Villeneuve, Vence, France
Figure Astratte, Palazzo Rospigliosi, Rome, Italy
Claude Viallat, Jean-Michel Meurice, Galerie Itsutsuji, Tokyo, Japan
Contemporary Art Center, Saumur, France
L'Esprit Supports/Surfaces, Museum of History, Shanxi, China
Art Contemporary Center, Bouvet-Ladubay, Saumur, France
Claude Viallat - Philippe Favier, Galerie des sept collines, France
Vacances bleues, Marseille, France

2000
25 ans, Echange de vues, Galerie Catherine Issert, Saint-Paul de Vence, France
Le Musée du XXe siècle de Michel Ragon, Hôtel du département de la Vendée, France
Les années Supports/Surfaces dans les collections du Centre Georges Pompidou, Museum of contemporary art, Tokyo, Japan
Nice movements : contemporary French art, Hong Kong Museum of Art, Hong Kong
Buraglio, Dezeuze, Viallat, Galerie Athanor, Marseille, France
Nice : du Nouveau Réalisme à Supports/Surfaces : arte contemporanea Francesca, Museum of art, Macau, China
Supports/Surfaces, Centro cultural Banco do Brasil, Rio de Janeiro, Brazil
1er rendez-vous de Cardet, Cardet, France

1999
Gli anni di Supports / Surfaces nelle collezioni del Centre Georges Pompidou, Palazzo delle Esposizioni, Rome, Italy
L'envers du décor, FRAC - Rhône-Alpes, IAC, Villeurbanne, France
Supports/Surfaces, Maison de la culture, Namur, Belgium
États des lieux, Musée de Châteauroux, France
French Institute, Tangier, Morocco
Galerie Athanor, Marseille, France
Supports/Surfaces, Galerie Gimpel, Londres, United Kingdom
Galerie Catherine Issert, Saint Paul de Vence, France
Petites mémoires pour demain, Musée Ingres, Montauban, France
Musée des Beaux-Arts de Pau, Pau, France
Musée d'Art moderne de Lille Métropole, Villeneuve d'Ascq, France
Le soglie della pittura Francia-Italia 1968/1998, Centre des expositions, Perugia, Italy
Accrochage de printemps, Galerie Athanor, Marseille, France
Galerie Jacques Girard, Toulouse, France
Le feu aux poudres, Galerie de la Marine, Nice, France
Galerie de l'École d'art, Quimper, France
La librairie Castella accueille les artistes de la galerie Jacques Girard, Librairie Castella, Toulouse, France
Art contemporain/Art africain, Galerie Athanor, Marseille, France

1998
Arte Fina Bologna, Galerie Plurima, Bologna, Italy
Le Bel Age - Supports/Surfaces, musée d'Art moderne de Céret, Céret, France
An tunnel, Galerie d'art contemporain, Luxembourg
Parcours d'artistes 1998, Brussels, Belgium
Les années Supports/Surfaces dans les collections du Centre Georges Pompidou, Musée national du Jeu de Paume, Paris, France
Galerie Athanor, Marseille, France
22 artistes avec M. Butor, Médiathèque Louis-Aragon, Le Mans, France
Duport, Fauchier, Reynier, Viallat : Aux sources florentines, French Institute of Florence and Fiesole, Italy
Fabien Carbon / Claude Viallat. Travaux récents, Espace Hérault, Paris, France
L'art dégénéré, Galerie municipale, Aix-en-Provence, France
Supports/Surfaces, Galerie Charlotte Moser, Geneva, Switzerland
Nouvelle histoire, FRAC - Languedoc-Roussilon, Montpellier, France

1997
Yves Michaud, 25 ans de collection d'Art Contemporain en dépôt au Musée de Céret, musée d'Art moderne de Céret, Céret, France
FDAC Val-de-Marne Acquisitions 1996, Hôtel du Département, Créteil, France
L'empreinte, Centre national d'art et de culture Georges Pompidou, Paris, France
Les formes de la couleur, Carré d'Art, Museum of contemporary art, Nîmes, France
Galerie Athanor, Marseille, France
La collection du MNAM, Centre national d'art et de culture Georges Pompidou, Museum of Contemporary Art, Tokyo, Japan
Commandes publiques, Grande Bibliothèque François Mitterand, Paris, France
Ont ils du métier, Galerie Denise Renée, Paris, France
Toiles récentes, Salle Jean Despas, Saint-Tropez, France
Marcel Saint-Pierre, Claude Viallat, Jean-Luc Parant, Galerie de l'Œil, Montreuil, France

1996
Stanze pour la peinture, Casino Luxembourg, Forum d'art contemporain, Luxembourg
Grabado Francés, MADC Museo de Arte y Diseño Contemporáneo, San José, Costa Rica
Des artistes des mouvements, Museo Nacional de Artes Visuales, Montevideo, Uruguay
Acquisitions récentes du Musée d'art et d'histoire, Casino Luxembourg, Forum d'art contemporain, Luxembourg
La dimension du corps 1920-1980, un choix des collections du MNAM, Centre national d'art et de culture Georges Pompidou, National Museum of Modern Art, Tokyo, Japan
Saint-Étienne / Vence. Du musée au château. Exposition 1 : Supports/Surfaces, Château de Villeneuve,Fondation Émile Hugues, Villeneuve, France
Midi Pile, 41e Salon de Montrouge, Hôtel de ville de Montrouge, Paris, France
Antoine Grumbach : le laboratoire de l'imaginaire, Centre national d'art et de culture Georges Pompidou, Paris, France
La collection Daniel Cordier, réfectoire des Jacobins, Toulouse, France
L'Amour de l'Art, Artothèque, Nantes, France
Petits et grands papiers d'art contemporain. Autour de la collection de Charles-Eric Siméoni, Musée Ziem, Martigues, France
Art contre l'Apartheid, Pretoria, South Africa
Chicago Contemporary and Modern Art Fair, Booth of Marvan Hoss Gallery, Chicago, USA

1995
Au rendez-vous des amis, coll. A. L'H., MAMCO, Geneva, Switzerland
Dons 1989-1994, Musée d´art contemporain de Montréal, Montreal, Canada
Présence française, Palais des communautés, Brussels, Belgium
Évolutions 1966-1995. Cane-Dezeuze-Viallat, Musée de la Chartreuse, Douai, France
9 juillet, Musée de Cambrai, Espace La Maison, Douai, France
Être dans les petits papiers de..., galerie de l'Arthotèque, Nîmes, France
Méditerranée-Art, en association avec la revue Particule, Galerie Vecchio, Cannes, France
Festival Picasso, Musée des Jacobins, Toulouse, France
Aficion, Espace Montjoie, Saint-Denis, France
Que Viva Abril, Festa do d'Avante, Amora, Seixal, Portugal
Pour Arcat Sida, American Center, Paris, France
Des artistes des mouvements : Les Nouveaux-réalistes, AFAA, Paris, France
Œuvres graphiques, Espace La maison, Douai, France
La féria de Nîmes s'affiche à Orly-Ouest, Aéroport d'Orly-Ouest, France

1994
Création contemporaine en Languedoc-Roussillon, Pavillon du musée Fabre, Montpellier, France
Art contemporain en France, Itsutsuji, Tokyo, Japan
Supports/Surfaces exhibition : Hot wind of contemporary French art in Paris and Southern France around 1970's, The Museum of Fine Art, Gifu, Japan
6 artistes/1 exposition,Villa du Parc, Annemasse, France
FDAC Val-de-Marne. Acquisitions 94, Hôtel du Département, Créteil, France
Claude Viallat, Jean-Jacques Cecarelli, Galerie Athanor, Marseille, France
Question de Formes, Musée de Clamecy, France
Atelier Contoisel, Musée de La Charité-sur-Loire, France
Blue another spirit, Wanki Museum, Séoul, South Korea
Art français 1970-1993, Galleria d'Arte Moderna, Bologne, Italy
Portugal, Exposition internationale d'arts plastiques, Fête de l'Humanité, Paris, France
L'art contemporain des artistes français d'aujourd'hui, City Art Museum, Séoul, South Korea
Nos années 80, Espace Mira Phalaina, Montreuil, France

1993
Supports/Surfaces, Museum of Modern Art, Saitama, Japan
Hoara Museum of Art, Kurashiki, Japan
Museum of Art & History, Ashiya, Japan
Municipal Museum of Art, Kitakyūshū, Japan
The Museum of Fine Art, Gifu, Japan
Hommage à Michel Vaché, Galerie Alessandro Vivas, Paris, France
Ils ont cité Matisse, Galerie de France, Paris, France
Collection pour une région, CAPC, Bordeaux, France
FDAC Val-de-Marne, Hôtel du Département, Créteil, France
Art contemporain en France, Galerie Itsutsuji, Tokyo, Japan
Méditerranée, Jeux de lumières, Musée de l'Éphèbe, Le Cap d'Agde, France
Haptisch, la caresse de l'œil, Musée des Sables-d'Olonne, Sables-d'Olonne, France
Zentrum Paris - La peinture en France depuis 1960, Künsterlerhaus, Klagenfurt, Austria
Claude Viallat / Pierre Buraglio : thèmes et variations, Musée Matisse, Nice, France
Schirm : Objecte aus Handwerk, Mode und Kunst, Deutsches Klingenmuseum, Solingen, Germany
Art contemporain en France : une situation 1980-1993, Sofia Museum, Sofia, Bulgaria

1992
La donation Vicky Rémy : I : la rigueur et la rupture Une idée de l'art pendant les années 70, musée d'Art moderne, Saint-Étienne, France
Supports/Surfaces, Museum of Art, Tel Aviv, Israel
Aspects de l'art moderne en France après 1945, Museum der Bildenden Künste, Leipzig - Westfalisches Landesmuseum, Münster, Ludwig Museum im Deutscherrenhaus, Cologne, Germany
Les années Supports-Surfaces, Galerie Trintignan, Montpellier, France
Manifeste, Centre national d'art et de culture Georges Pompidou, Paris, France
Le geste et l'idée, Musée d'Art moderne, Toulouse, France
Parcours contemporain, Galerie Sprovieri, Rome, Italy
L'art actif - Art works, École nationale supérieure des Beaux-Arts, Paris, France
Joe Ben Junior-Claude Viallat : l'empreinte du sable, Musée de l'Éphèbe, Cap d'Agde, France
Collection 1986-1991, une ambition, FRAC Languedoc-Roussillon, Montpellier, France
Athanor depuis 20 ans, Galerie Athanor, Marseille, France
Le tondo aujourd'hui, Centre culturel de l'Yonne, Abbaye de Saint-Germain, Auxerre, France

1991
Supports/Surfaces, musée d'Art moderne de Saint-Étienne, Saint-Étienne, France
Too French, Contemporary French Art, Museum of Art, Hong Kong, China - Hara museum of contemporary art, Tokyo, Japan
Au Sud, Galerie Athanor, Marseille, France
Objets trouvés d'artistes, Galerie du Jour, Paris, France
Aspects de l'art contemporain, Espace des arts, Chalon-sur-Saône, France
Summer Show, Colt Gallery, Nice, France
Œuvres sur papier, Galerie Interface, Nîmes, France
FIAC 91, Galerie Le Chanjour, Paris, France
Colores de la Vida, Centro cultural de la Villa, Palais Wallenstein, Madrid, Prague, Spain, Czech Republic

1990
Portrait d'une collection d'art contemporain, Palais des Beaux Arts de Charleroi, Brussels, Belgium
Le bel âge : Supports/Surfaces, Château de Chambord, France
Konkrete Utopien in Kunst und Gesellschaft, Kunsthalle, Düsseldorf, Germany
Couleurs de la vie. Cent artistes témoignent pour l'homme, Bibliothèque nationale, Paris, France
La guerre de Troie n'aura pas lieu, Château d'Oiron, France
Collection sans collectionneurs, CDC galerie de l'ancienne Poste, Calais, France
L'art contemporain, une collection particulière, Ponsard-Vienne College, France
Aktuelle Kunst Europas Sammlung Centre Georges Pompidou, Deichtorhallen, Hambourg, Germany
Galerie Nicole Dortindeguey, Anduze, Gard, France
The 1970's. Part 1, Denise Cadé Gallery, New York, USA
L'expérience de la couleur en France après 1945, Galerie de l'École d'art, Marseille, France
Les abstractions autours des années 70/80, MAMAC, Nice, France
Seoul Art Festival, National Museum of contemporary art, Séoul, South Korea
Papiers, Dessins, Sculptures, Galerie Athanor, Marseille, France
Sup. Hors Sur Face, CRDP, Poitiers, France

1989
L'art en France, un siècle d'inventions (du Fauvisme aux années 80), Pouchkine Museum, Moscou - Hermitage Museum, Saint Petersbourg, Russia
Féria du dessin, galerie Esca, Milhaud, France
Liberté - Liberté, Espace Belleville, Paris, France
TXT 10 ans Muro Torto, centre d'Art contemporain, Brussels, Belgium
Liaisons et ruptures, FRAC Midi Pyrénées, Toulouse, France
Exposition inaugurale du musée temporaire, Fondation Daniel Templon, Fréjus, France
Liberté & Égalité, Museum Folkwang & Obère Galerie, Essen, Germany
Acquisitions 1985-1989, FRAC Auvergne, Clermont Ferrand, France
Donation Daniel Cordier - Le regard d'un amateur, Centre national d'art et de culture Georges Pompidou, Paris, France
Cosm'os, galerie Interface, France
Claude Viallat & Michael Steiner, Wentzel Gallery, Cologne, Germany
Collection, Grande Arche de La Défense, Paris, France

1988
Une image de la peinture contemporaine française, centre culturel français, Belgrade, Yugoslavia
Trajectoire Italy-France, Espace Vendôme, Paris-La Défense, France
Art français au XXe siècle : 1970 - 1987, National museum of contemporary art, Séoul, South Korea
Supports/Surfaces, FRAC Limousin, Hôtel de ville d'Ussel, France
Papers, Sollertis, Toulouse, France
Un temps pour deux, Maison de la culture, La Rochelle, France
Ludmila Jivkova, Palais national de la Culture, Sofia, Bulgaria
Museum of Lasi, Bucarest, Romania
Els amics de l'Alfons, Sala Parpallo, Valencia, Spain

1987
Titus Carmel / Viallat, Mucsarnok 87, Budapest, Hungary
L'époque - la mode - la morale - la passion,, Centre national d'art et de culture Georges Pompidou Paris, France
1968 - 1986, Fondation du Château de Jau, Cases-de-Pène, France
En 1990, 30 ans de peinture derrière soi, Salle Balène, Figeac, France
Quai des grands Cargos, Musée du Commerce et des Transports, Fort-de-France, Martinique, France
Signes abstraits dans la peinture française du XXe siècle, National Gallery, Rabat, Morocco
Espace d'art, Baillargues, France
Petits formats, Alinéa, Espace d'art contemporain, Nancy, France

1986
Collections du FRAC, Chapelle du Grand Couvent, Cavaillon, France
31e Salon d'art contemporain de Montrouge, France
Contacts/Contrasts, Tademuseo, Porin, Finland
La fin des années 60 : d'une contestation l'autre, Centre d'art contemporain de l'abbaye de Saint-André, Meymac, France
Les 10 ans de l'ELAC, Octobre des Arts, ELAC, Lyon, France
L'art de notre temps, Collection pour la fondation Daniel Templon, Palais des Festival, Cannes, France
Inauguration du FRAC PACA, Marseille, France
Savoir au présent, Le Kremlin-Bicêtre, Paris, France
Collections du FRAC PACA, Saint-Martin du Méjan, Arles, France

1985
De peintres et de livres, Chapelle de la tour d'Auvergne, Quimper, France
In Situ, Galerie Athanor, Marseille, France
Six peintres contemporains en France, Seoul Gallery, Seoul, South Korea
Art français 1960-1980, Contemporary art gallery, Zagreb, Croatia
Estimes, Festival d'arts plastiques du Lot, Figeac, France
Colour since Matisse : French painting in the 20th century, Edinburgh, United Kingdom
Fine art museum of Nantes, France
Musée d'Art moderne Louisana, Humlebaek, Denmark
Palais des Beaux Arts, Brussels, Belgium

1984
29e Salon d'art contemporain de Montrouge, France
The international Survey of recent painting ans sculpture, The Museum of Modern Art - MoMA, New York, USA
Légendes, CAPC, Bordeaux, France
Sur invitation, Musée des Arts Décoratifs, Paris, France
Peinture en France, biennale de Venise, Venice, Italy
L'autre Musée, Brussels, Belgium
La peinture contemporaine de 1960 à nos jours, Siège de la CEDT, Paris, France
Galerie d'Art moderne, Bologna, Italy

1983
Galerie de Varenne, Paris, France
Bonjour Monsieur Manet, Centre national d'art et de culture Georges Pompidou, Paris, France
Noeuds & ligatures, National Foundation of Graphic & Plastic Art, Paris, France
17ème Biennale, São Paulo, Brazil
Centre culturel communal, Aubagne, France
Tendances de la peinture abstraite contemporaine, Centre culturel de la Villedieu, Élancourt, France
Village n°1, Brussels, Belgium
Vingt ans de peinture en France, Mayence, Tübingen, Berlin, Dresde, Germany
Vingt ans de peinture en France, Bologna, Italy
Empreinte-Geste-Surface, réfectoire des Jacobins, Toulouse, France
Formes variantes, deux générations d'artistes français 1951-1983, Helsinki, Malmö, Finland, Sweden
Aspects de la peinture contemporaine 1945-1983, Andorra

1982
Choix pour aujourd'hui. Regard sur 4 ans d'acquisitions d'art contemporain, Centre national d'art et de culture Georges Pompidou, Paris, France
The subject of painting, Museum of Modern Art, Oxford - Arnolfini, Bristol - Cartwright Hall, Bradford, United Kingdom
Muro Torto, Centre d'animation culturel de l'Université de Toulouse-Le Mirail, France
Kunst Forming, Bergen, Norway
17e Salon d'art contemporain de Montrouge, Paris, France
Statements, Leading contemporary artists from France, Léo Castelli Gallery, New York, USA
12 contemporary French Artists, Albright-Knox Art Gallery, Buffalo, USA

1981
37 aktuelle Konstnarer frän Frankike, Liljevalchs Konsthal, Stockholm, Sweden
Du cubismes à nos jours : collection, Musée Cantini, Marseille, France
Blickfelder 81, Malerei in Frankreich heute, Kunsthalle, Bielefeld, Germany
Mannheimer Kunstverein, Mannheim, Germany
Panorama de l'art français, Museum Moderner Kunst, Palais Liechtenstein, Vienna, Austria
Futurs corps passés 12345 6 7 8PE intres, Musée Fabre, Montpellier, France
For a new art, Toyama now'81, The museum of Modern Art, Toyama, Japan
Baroques 81, les débordements d'une avant-garde internationale, ARC - Musée d'art moderne de la Ville de Paris, Paris, France
Hommage à Picasso, Galerie Breteau, Paris, France
Chacallis, Charloven, Grand, Jaccard, Viallat, Galerie Athanor, Marseille, France
100 oeuvres nouvelles, 1977-1981, Centre national d'art et de culture Georges Pompidou, Paris, France
Galerie Engström, Stockholm, Sweden

1980
Peinture, Fédération du Parti communiste français, Montpellier, France
Die neuen wilden, Neue Galerie - Sammlung Ludwig, Aachen, Germany
100 artistes contre le racisme, Square des innocents, Paris, France
Année du patrimoine, Échirolles, France
Peinture contemporaine : plaisir interdit, Office municipal socioculturel, Gardanne, France
Esperienza a Bordeaux, Chiesa San Lorenzo, Biennale de Venise, Venice, Italy
25e Salon d'art contemporain de Montrouge, Paris, France
Cantini 80, Musée Cantini, Galeries de la Charité, Marseille, France
Arte e storia dell'arte in Francia : 1980, Palazzo Reale-Teatro del Falcone, Genoa, Italy
Kunst i Dag 1, Ordrupgaardsamlingen, Copenhagen, Denmark
Après le classicisme, Museum of Modern Art, Saint Etienne, France
Communications - Art - Régions - Situations. Provence-Côte d'Azur, Maison des beaux-arts André-Malraux ; Maison de la culture, Créteil, France
Beograd'80, Exposition internationale des arts plastiques, Musée d'Art moderne, Beograd, Yugoslavia
Neue Tendenzen der Malerei in Frankreich, Neue Galerie am Landesmuseum, Künstlerhaus, Graz, Austria

1979
Ateliers d'aujourd'hui. Oeuvres contemporaines des collections nationales, Accrochage II, Centre national d'art et de culture Georges Pompidou, Paris, France
French Art 1979 : an English Selection, Serpentine Gallery, London, United Kingdom
Salon d'art contemporain de Montrouge, Paris, France
Le tondo de Monet à nos jours, Musée de l'abbaye Sainte-Croix, les Sables-d'Olonne, France
Pittura-Ambiente, Palazzo Reale, Milan, Italy
Pintura de uèi en Occitânia d'Estiù, Université Occitane d'été, Nîmes, France
Tendance de l'art en France : 1968-1979, ARC, musée d'Art moderne de la ville de Paris, Paris, France
Artist from France in Covent Garden, Warehouse Gallery, London, United Kingdom
Université Toulouse-Le Mirail, Toulouse, France

1978
Hantaï-Viallat. Travaux récents, Galerie Vega Manette Repriels, Plainevaux, Belgium
Henri Matisse en de Hedendaagse Franse Kunst, SMAK Stedelijk Museum voor Actuele Kunst, Gand, Belgium
Musée d'Art et de l'Industrie, Saint-Étienne, France
D'hier à demain, un aspect de l'art actuel, Galerie de la Marine, Nice, France
Arman, Ben, Pagès, Viallat, Galerie CM, Saint-Étienne, France
Nationale 20, Musée de Cahors, Auzole, France
Impact III, musée d'Art et de l'Industrie, Saint-Étienne, France
Espaces/Nature, CAPC, Entrepôt Lainé, Bordeaux, France
Henri Matisse en de Hedendaagse Franse Kunst, Museum Van Hedendaagse Kunst & Gravensteen, Gand, Belgium
Panorama de Arte Francesca de 1960 à 1975, Fundação Calouste Gulbenkian, Lisbon, Portugal
Paris Biennal 59-73, The Seibu Museum of Art, Tokyo, Japan
D'hier à demain, un aspect de l'art actuel, Galerie de la Marine, Direction des Musées de Nice, Nice, France
L'art moderne dans les musées de province, Galeries nationales du Grand Palais, Paris, France

1977
À propos de Nice, National Museum of Modern Art - Pompidou Center, Paris, France
3 villes-3 collections : Grenoble, Marsei
2017
Claude Viallat, dessins, texts by Philippe Piguet and Pierre Manuel, Modernes - Ceysson Éditions

2014
Claude Viallat, Écrits, Ceysson Editions d'Art and L'Âge Moderne, 2014
Bernard Ceysson, "Notes sur la collection"
Pierre Manuel, "Préface"
Claude Viallat, "Textes théoriques de 1969 à 1979 et de 1980 à 2012"
Viallat, Une rétrospective, Somogy Editions d'Art with the support of the Musée Fabre and the city of Montpellier, 2014
Michel Hilaire, "Claude Viallat, une rétrospective"
Michel Hilaire, "Claude Viallat, une vie pour la peinture"
Raphael Rubinstein, "Claude Viallat. Un panorama"
Yves Michaud, "Claude Viallat, dimensions d'une oeuvre"
Marie Lozon de Cantelmi, "Ornement et détournement"
Marcelin Pleynet, "Viallat encore une fois ou l'originalité singulière de la répétition"
Claude Viallat, catalogue for the exhibitions Situation Kunst (füt Max Imdahl) at Kunstsammlungen der Ruhr-Universität Bochum, at Ludwig Museum Koblenz and at Kunsthalle Rostock, 2014

2013
Claude Viallat, Ceysson Editions d'Art with the support of Matmut and the Musée Arsenal de la ville de Soissons, 2013
Daniel Havis et Patrick Day, "Préfaces"
Pierre Manuel, "Formes et Figures"
James Sacré, "Affaires de formes, 21 poèmes"
Claire Viallat-Patonnier, "Biographie années 2000-2012"

2012
Le Psychiatre et le Torero, Ceysson Editions d'Art, 2011
Essai de Michel Steyaert accompagné des illustrations de Philippe Favier et Claude Viallat

2008
Viallat Claude, Ceysson Editions d'Art with the support of the Musée de Gajac, 2008
Bernard Ceysson, "À l'infini, dans la couleur, la forme ..."

2007
Claude Viallat, Giants, exhibition catalogue published by the Krings-Ernst Gallery, 2007
Bernard Ceysson, "Giants"
Pierre Wat, "Claude Viallat ... Sehen"
Claude Viallat, La Haute note jaune, Ceysson Editions d'Art with the support of the Fondation Vincent van Gogh de la ville d'Arles, 2007
Claire Viallat-Patonnier, "D'un jaune à l'autre"
Yolande Clergue, "La haute note jaune de Vincent van Gogh"
Yolande Clergue, "La haute note jaune de Claude Viallat"
Yolande Clergue, "Claude Viallat"
Claude Viallat, "Fragments où il est question de la couleur"

2006
Claude Viallat, Un Bel été, Ceysson Editions d'Art, 2006
Alain Montcouquiol, "Suerte"
Pierre Imhasly, "Claude Viallat ou la monstrueuse richesse d'une frugalité stoïque"
Jaques Maigne, "Un seul poème"

2005
Claude Viallat, Ceysson Editions d'Art with the support of the Musée d'art Roger-Quilliot and the FRAC Auvergne, 2005
Pierre Wat, "Voir Viallat"
François-René Martin, "La main et la méditation"
Catherine Lawless, "Entretiens"
Claude Viallat, "Écrits"

2003
Lundi Noir de juillet, C.Q.F.I. Editions, 2003
Text by Jacky Simeon and visuals by Claude Viallat

Collective Books

2014
Supports/Surfaces in english, Ceysson Editions d'Art, 2014

2012
Robinson, ou la force des choses Daniel Dezeuze, Patrick Saytour, Claude Viallat, Ceysson Editions d'Art
Gilbert Perlein, "Entretien avec Claude Viallat suivit du Catalogue des oeuvres"
Bernard Ceysson, "Peindre ou le chantier du réel"

2011
Dezeuze, Saytour, Viallat, Ceysson Editions d'Art, exhibition catalogue, 2011
Déborah Laks, "Dezeuze, Saytour, Viallat : Le dépassement par l'oeuvre"

2011
Le Moment Supports/Surfaces, Ceysson Editions d'Art, 2010
Claude Viallat, Cerceaux, Filets, Objets
June 19, 2018
Claude Viallat FIAC Hors les murs 2017
November 23, 2017
Claude Viallat :major works 1967-2017
May 24, 2017
Animaux : oeuvres intimes
December 22, 2016
FIAC 2016
October 18, 2016
Sculptures, Matters, Materials, Textures... Foetz, Luxembourg
September 10, 2016