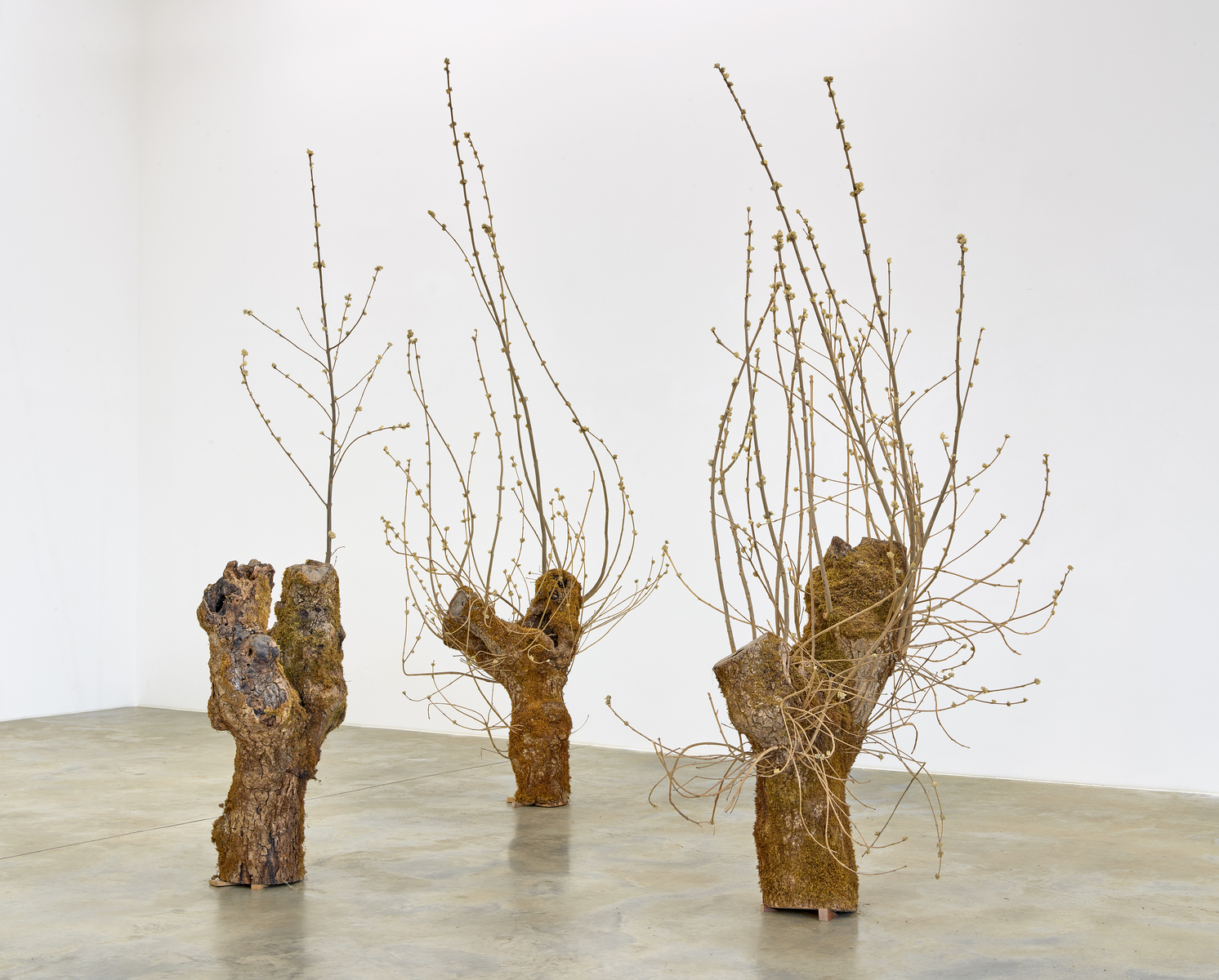 Printemps
, 2015
3 Ash trees and dead skin
310 x 290cm
122.05 x 114.17 in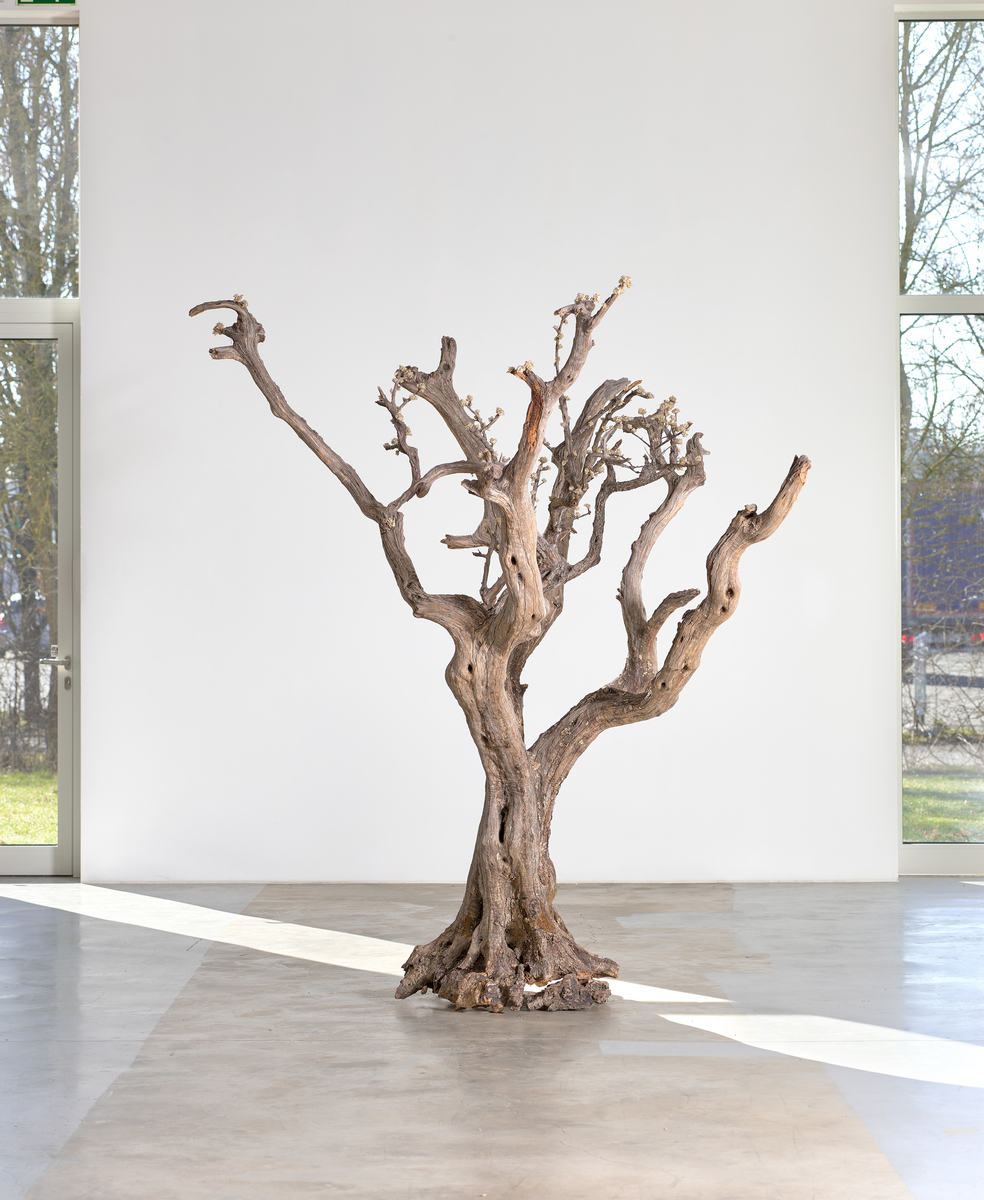 Printemps
, 2016
Olive tree and dead skin
266 x 220cm
104.72 x 86.61 in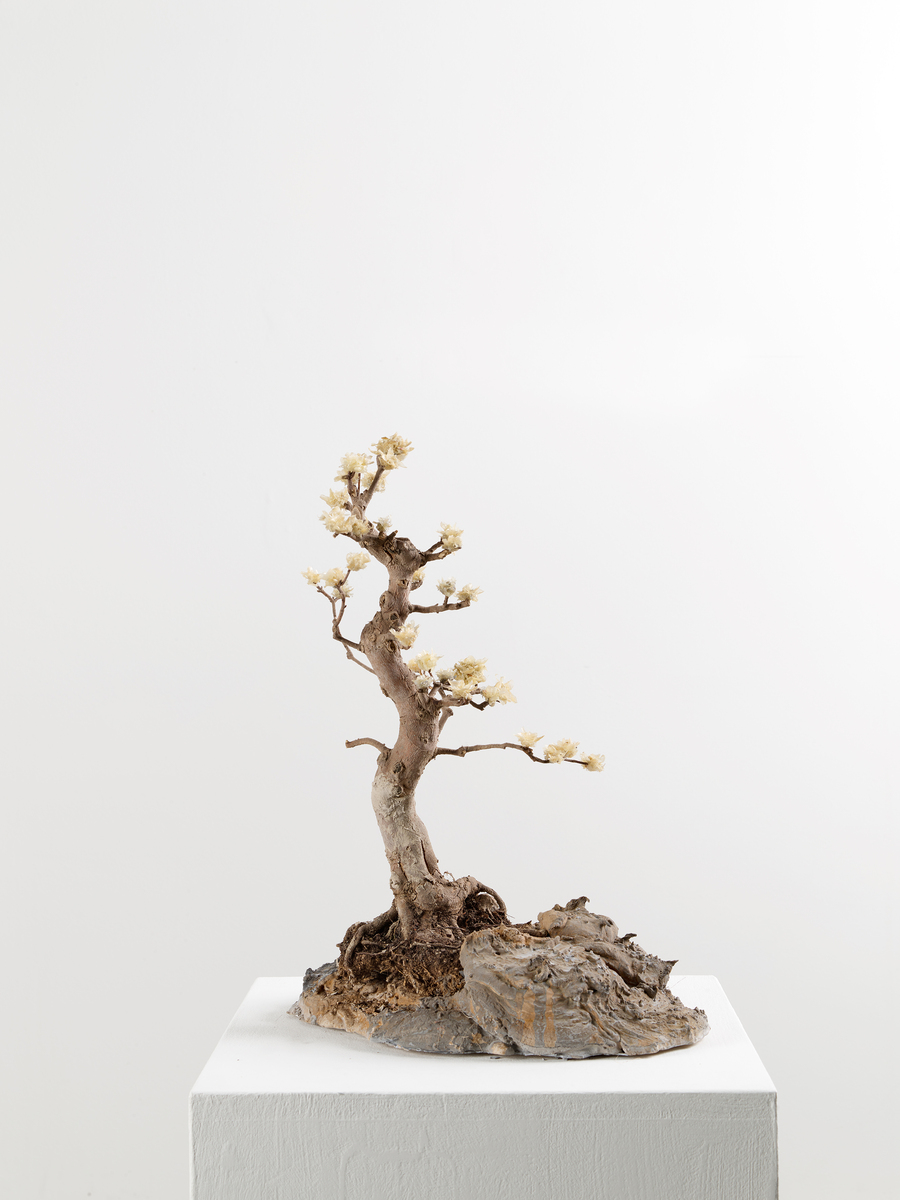 Ile #2
, 2019
Cement, bonsai, nail and dead skin
48 x 35cm
18.90 x 13.78 in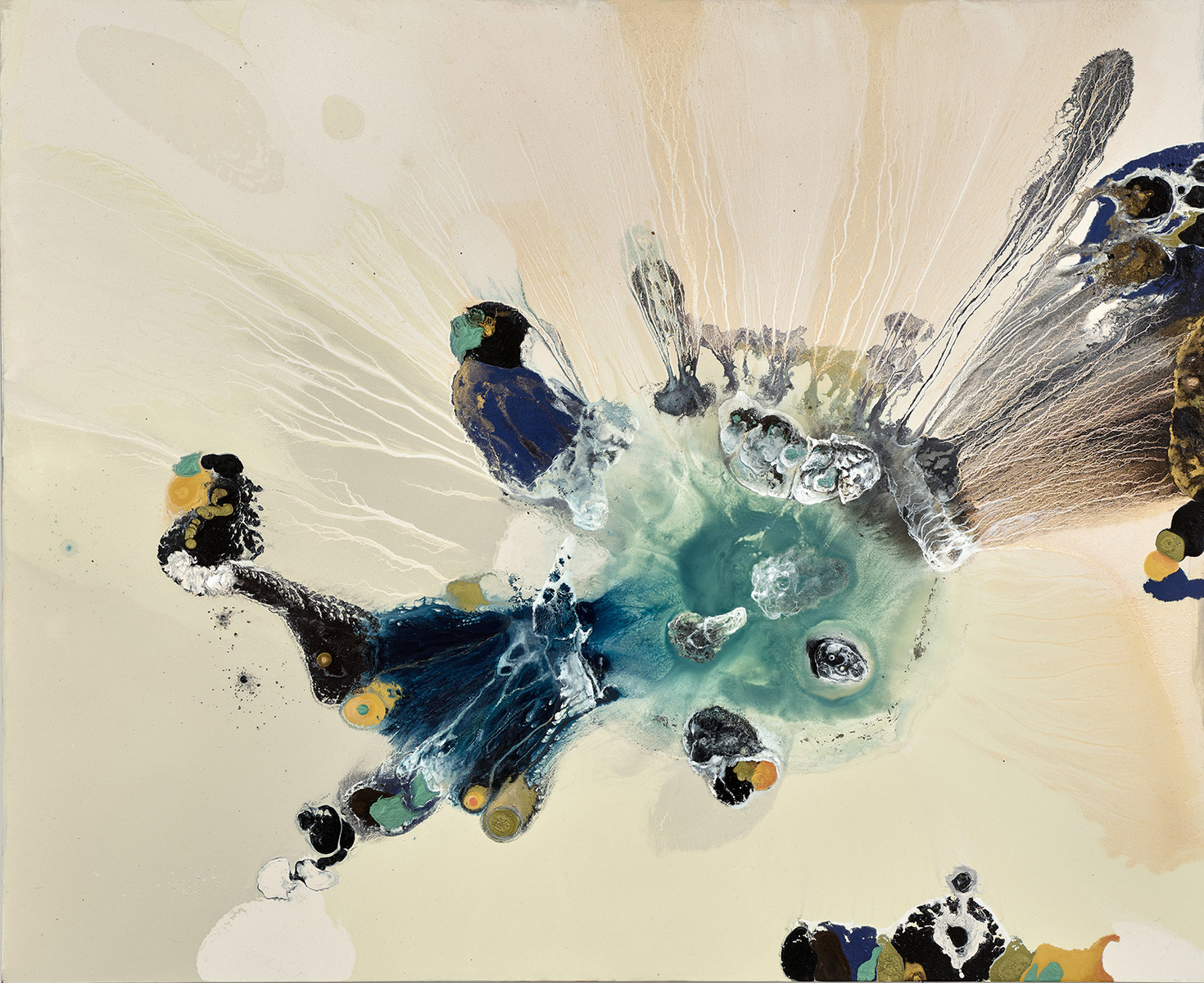 Plage de chat noir
, 2017
Oil on canvas
130 x 160cm
51.18 x 62.99 in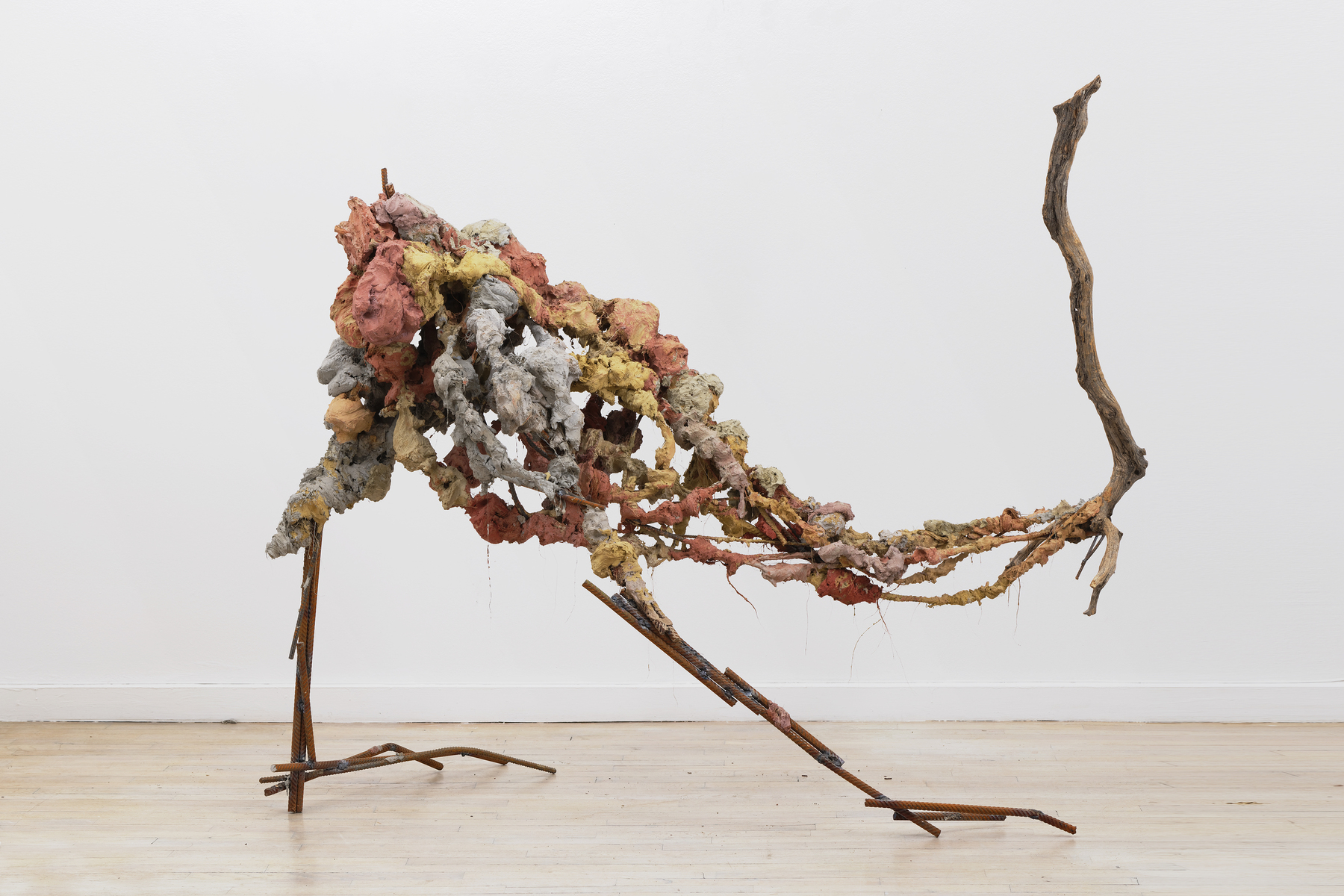 Émeu
, 2018
Metallic structure, spicy concrete, pigment and vegetal fibre
155 x 186cm
61.02 x 73.23 in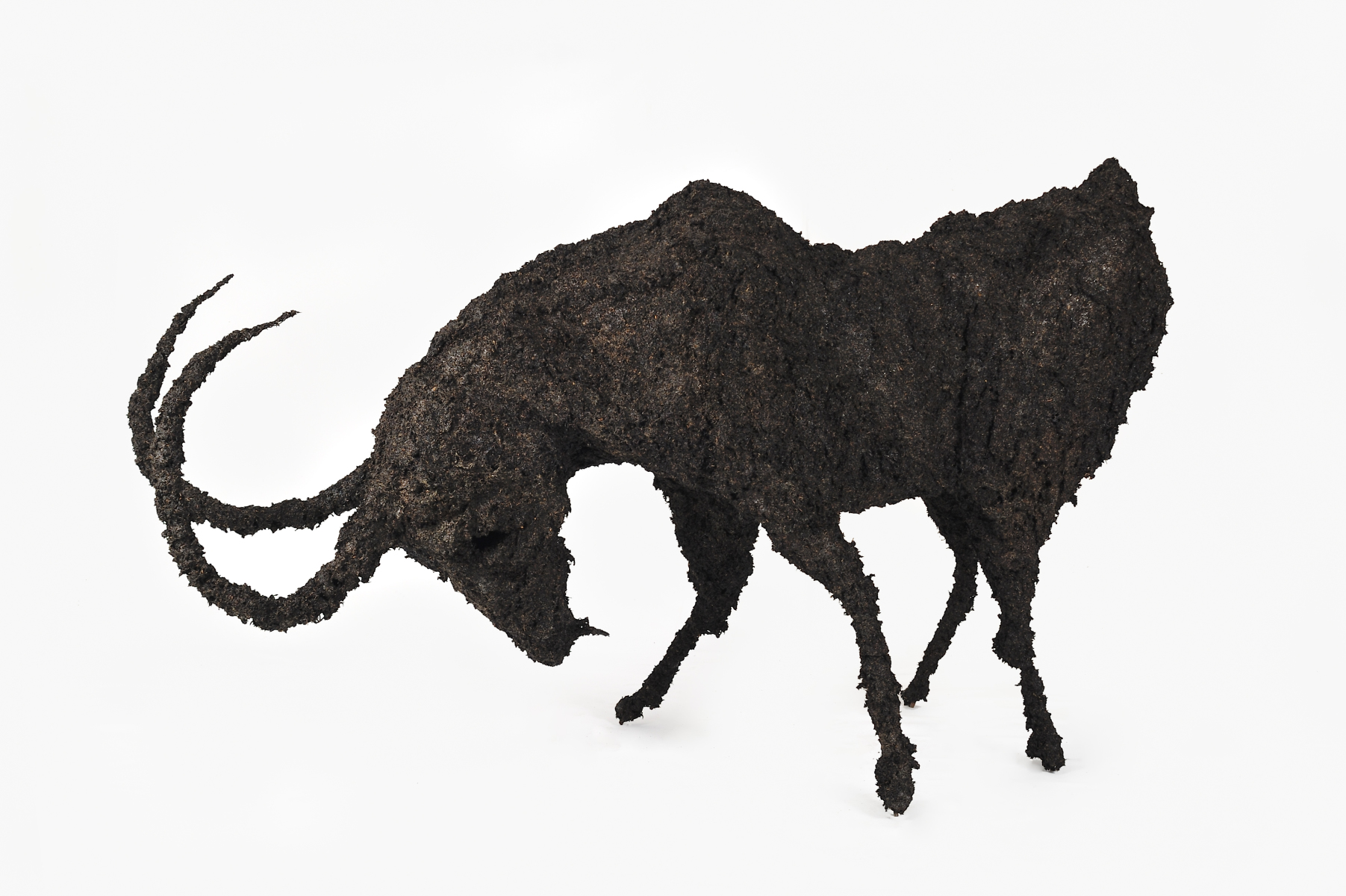 Grand bouc en thé 2
, 2014
Yunnan tea, rainwater, glue
140 x 214cm
55.12 x 84.25 in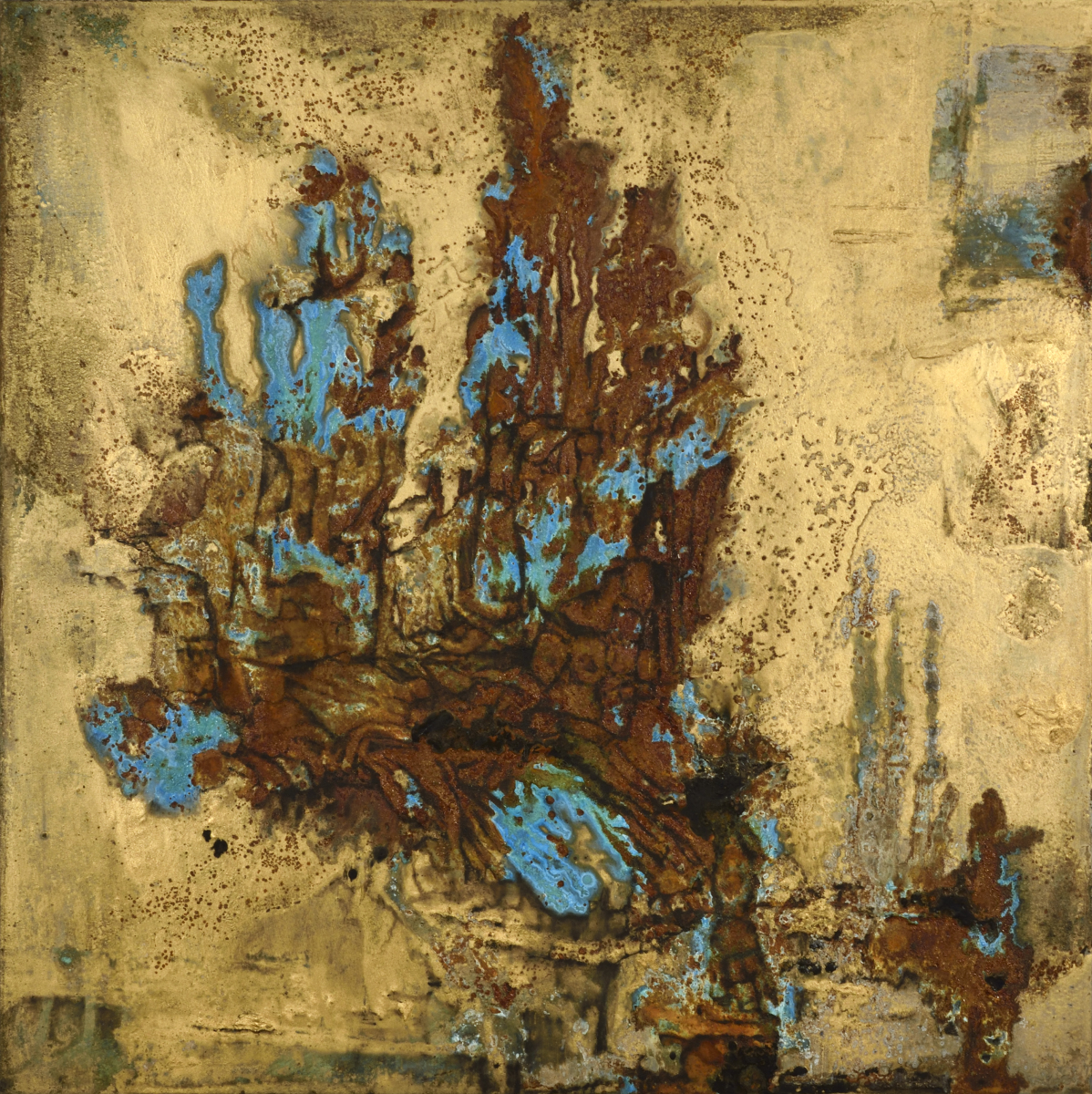 L'amical salut d'une plante
, 2019
Oxidation on metal sheet
130 x 130cm
51.18 x 51.18 in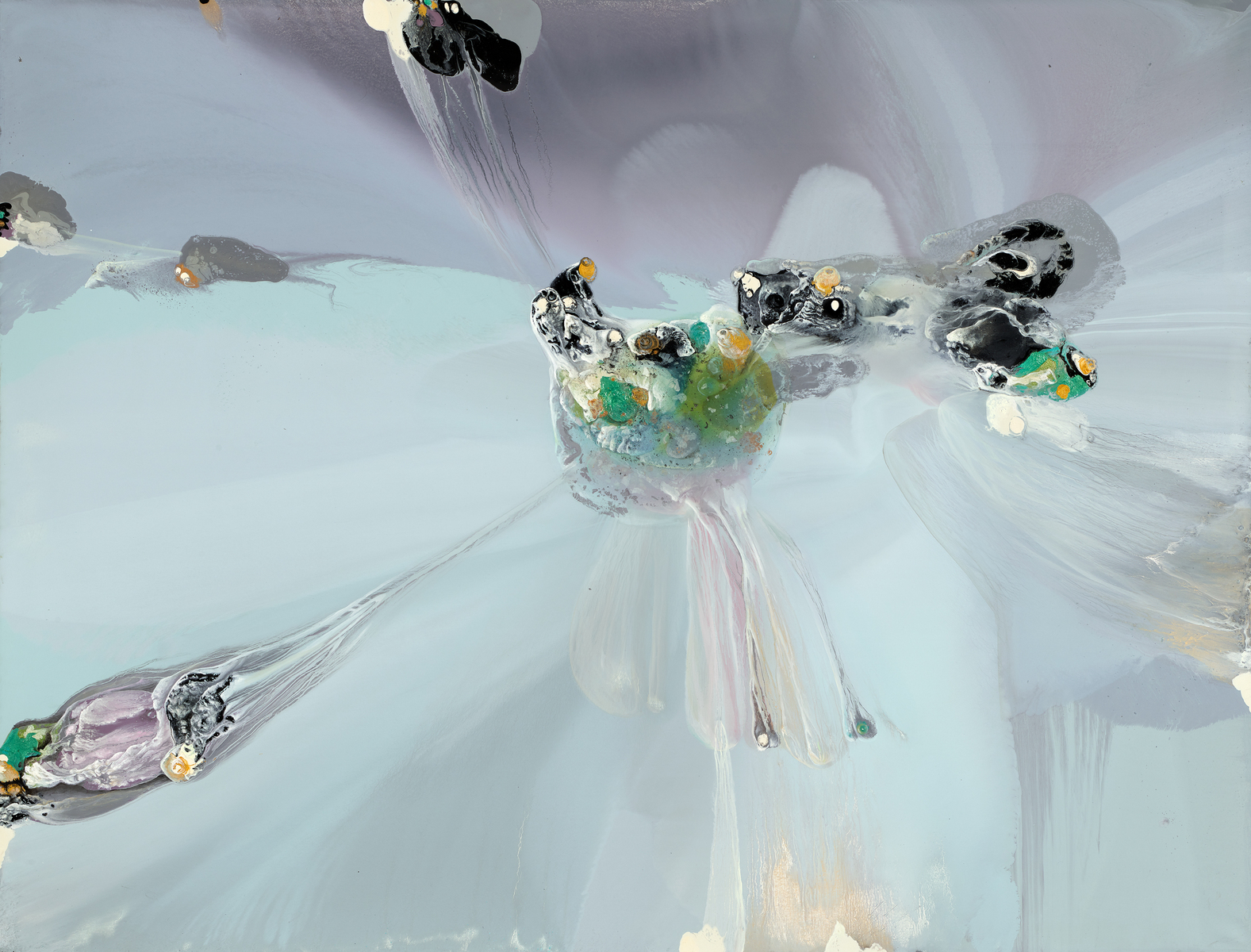 Banquise
, 2015
Oil on canvas
230 x 300cm
90.55 x 118.11 in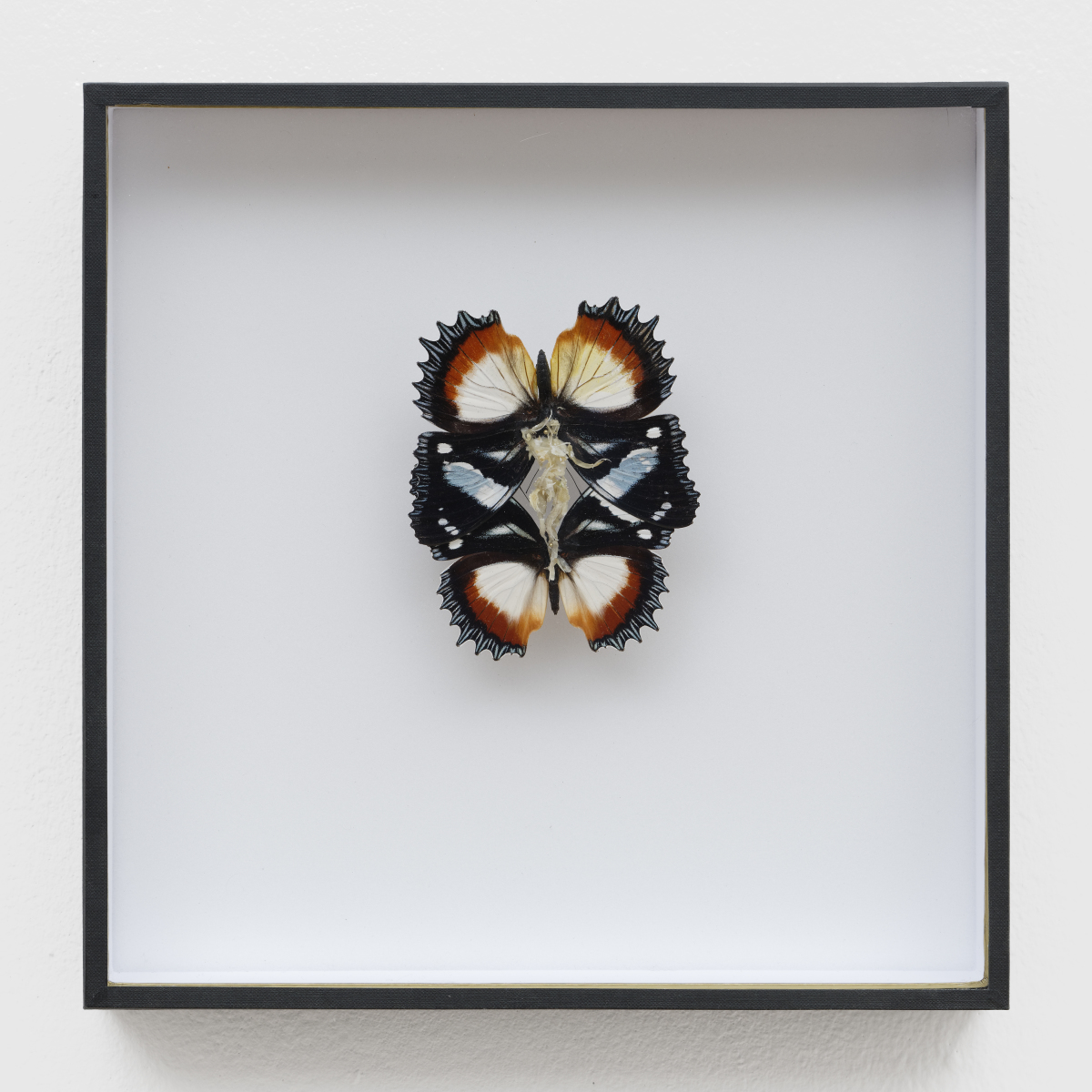 Papillon de rencontre du 11 mai 2020
, 2020
Nails, dead skin, butterflies, pin
32 x 32cm
12.60 x 12.60 in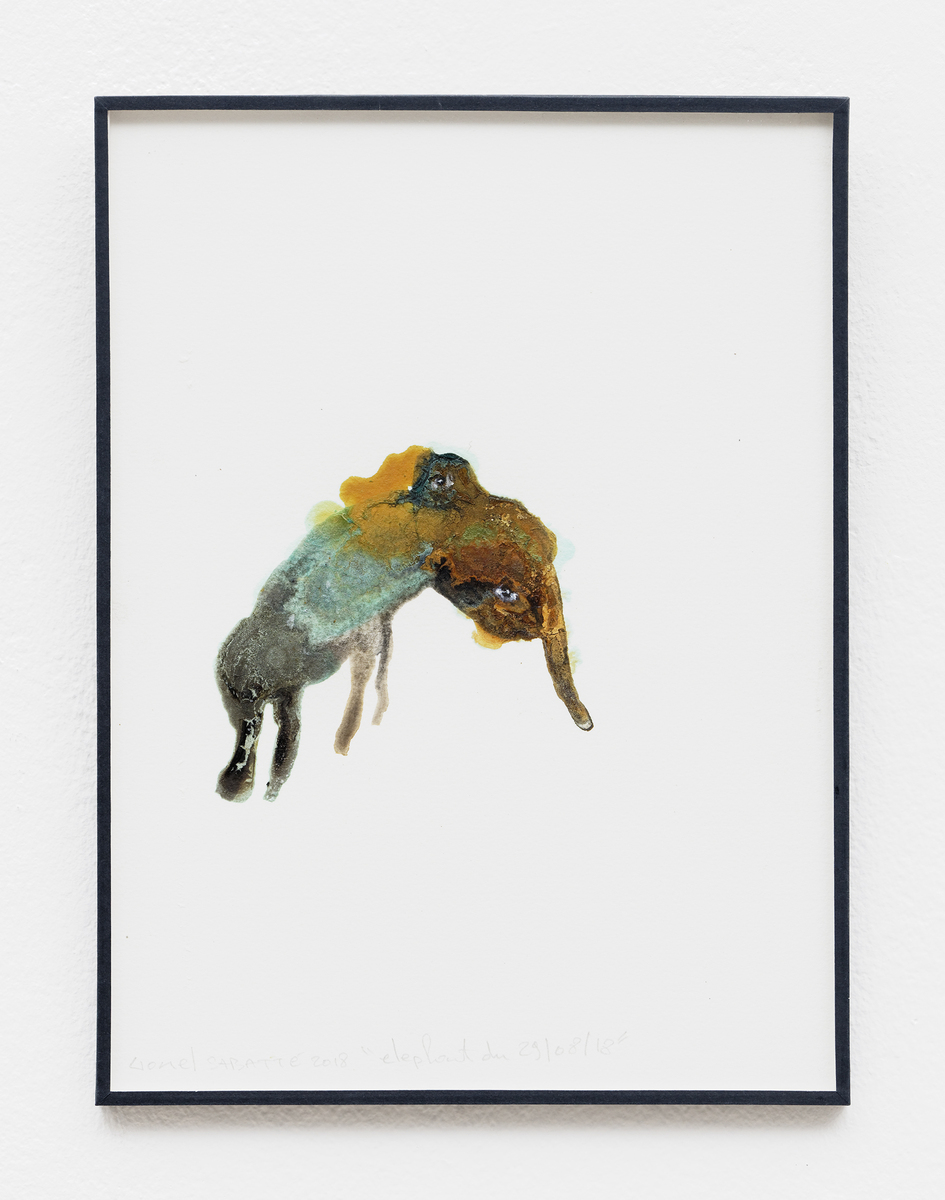 Éléphant du 29/08/18
, 2018
Oxydation and acrylic on paper
31 x 23cm
12.20 x 9.06 in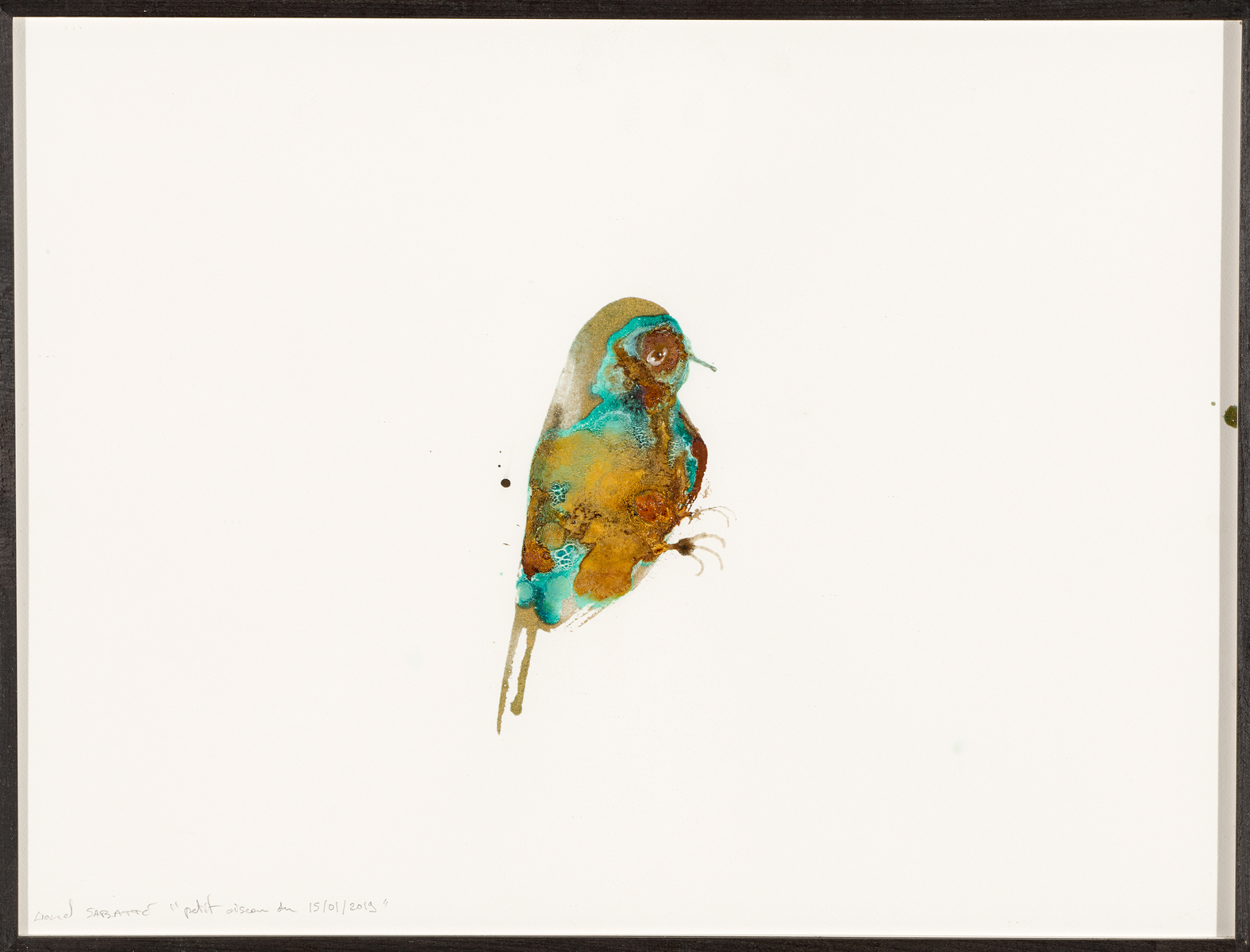 Petit oiseau du 15/01/2019
, 2019
Iron and bronze oxidized, and acrylic on paper
45.2 x 60.2cm
17.80 x 23.70 in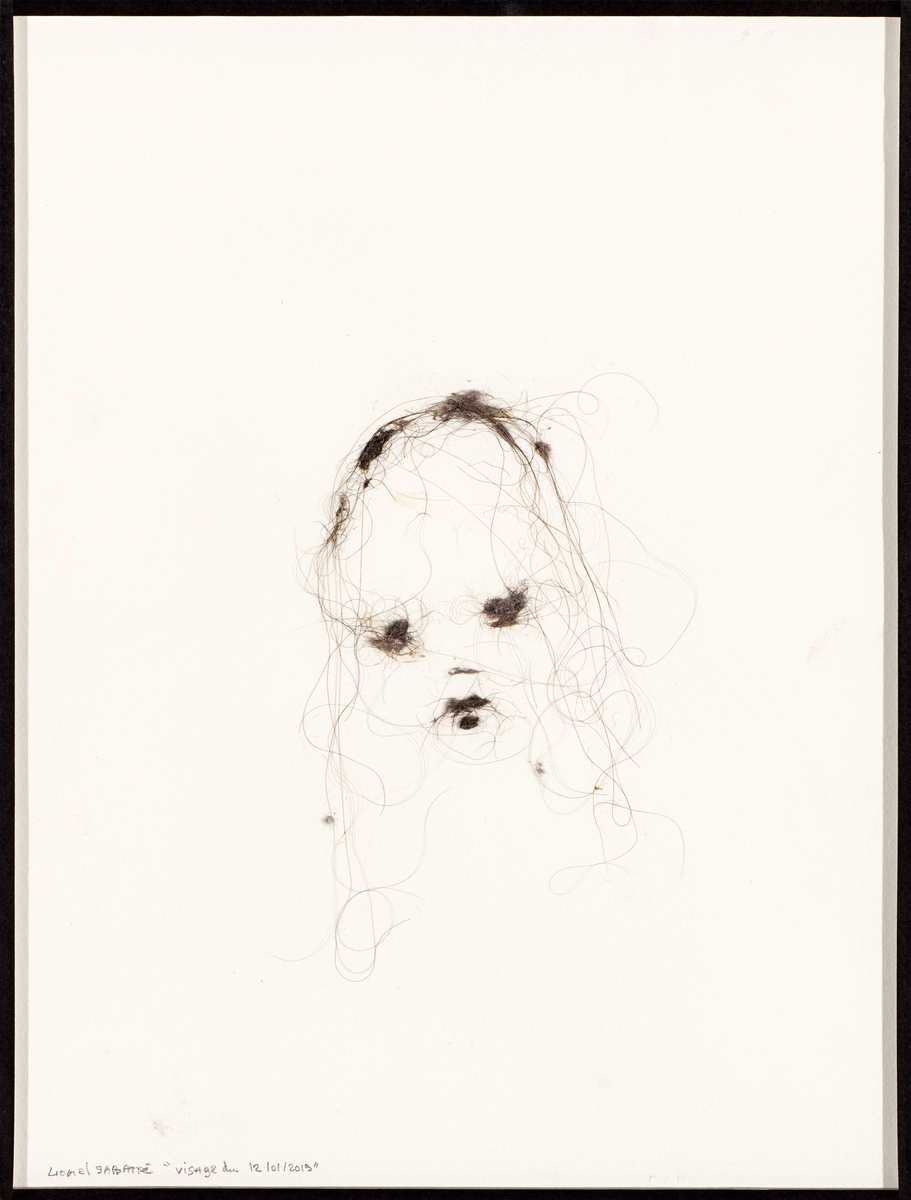 Visage du 12/01/2019
, 2019
Dust stuck on paper
40 x 30cm
15.75 x 11.81 in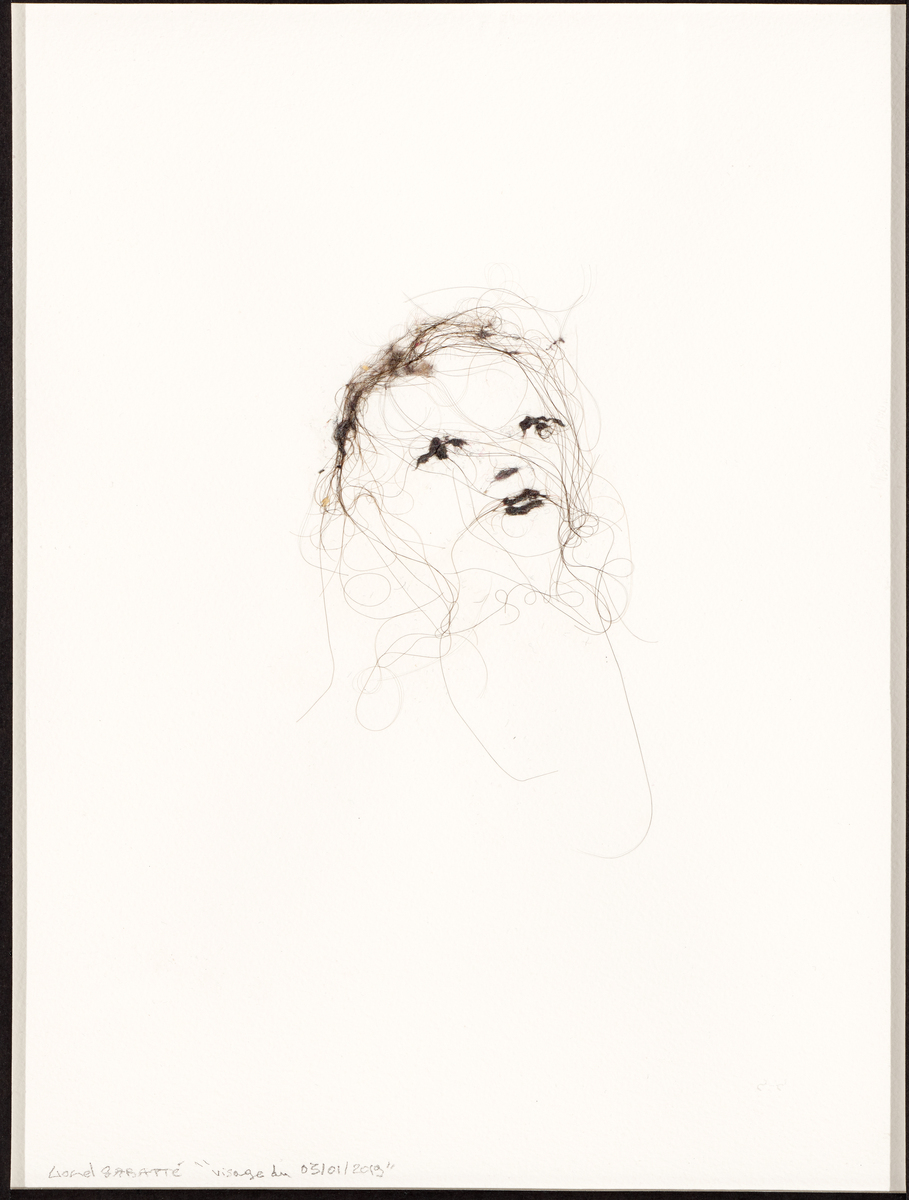 Visage du 03/01/2019
, 2019
Dust stuck on paper
40 x 30cm
15.75 x 11.81 in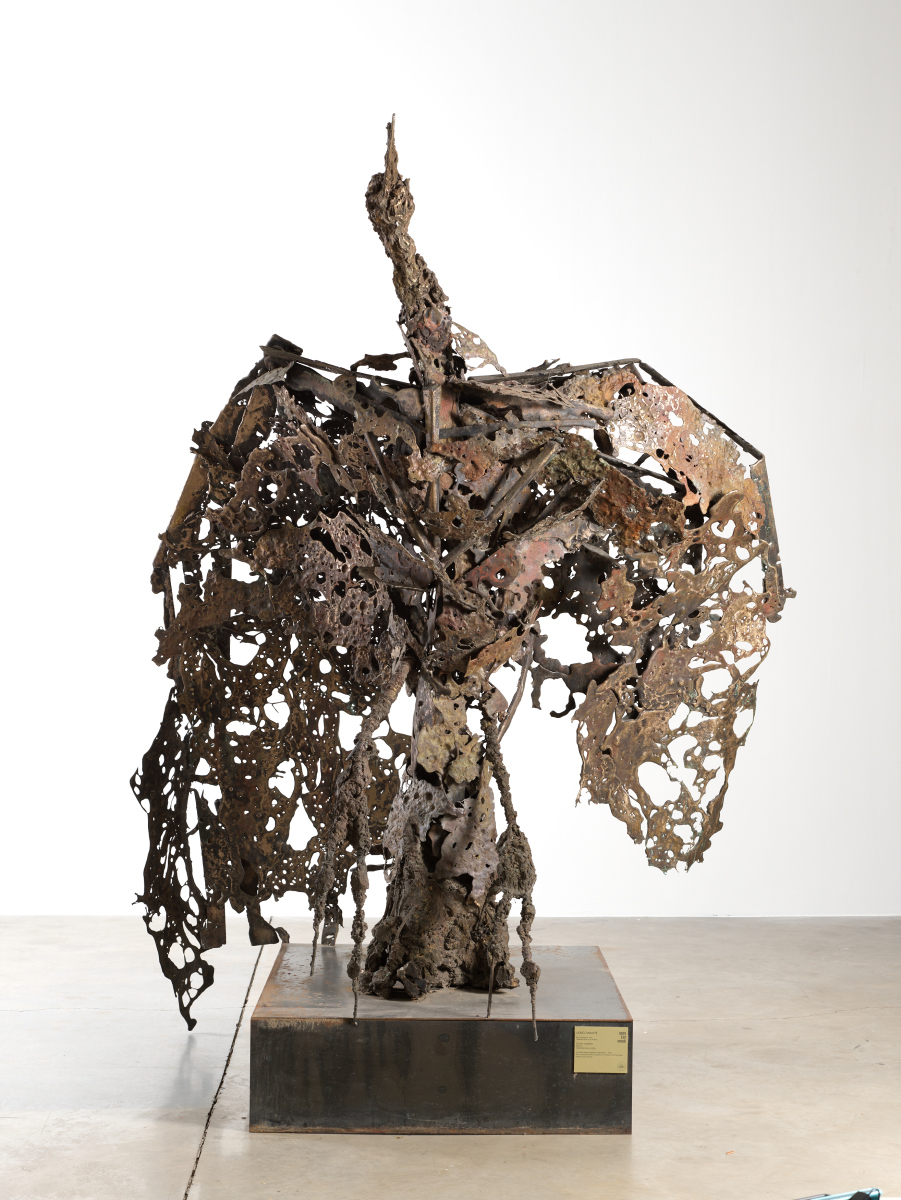 Terres Volatiles
, 2019
Bronze
260 x 215cm
102.36 x 84.65 in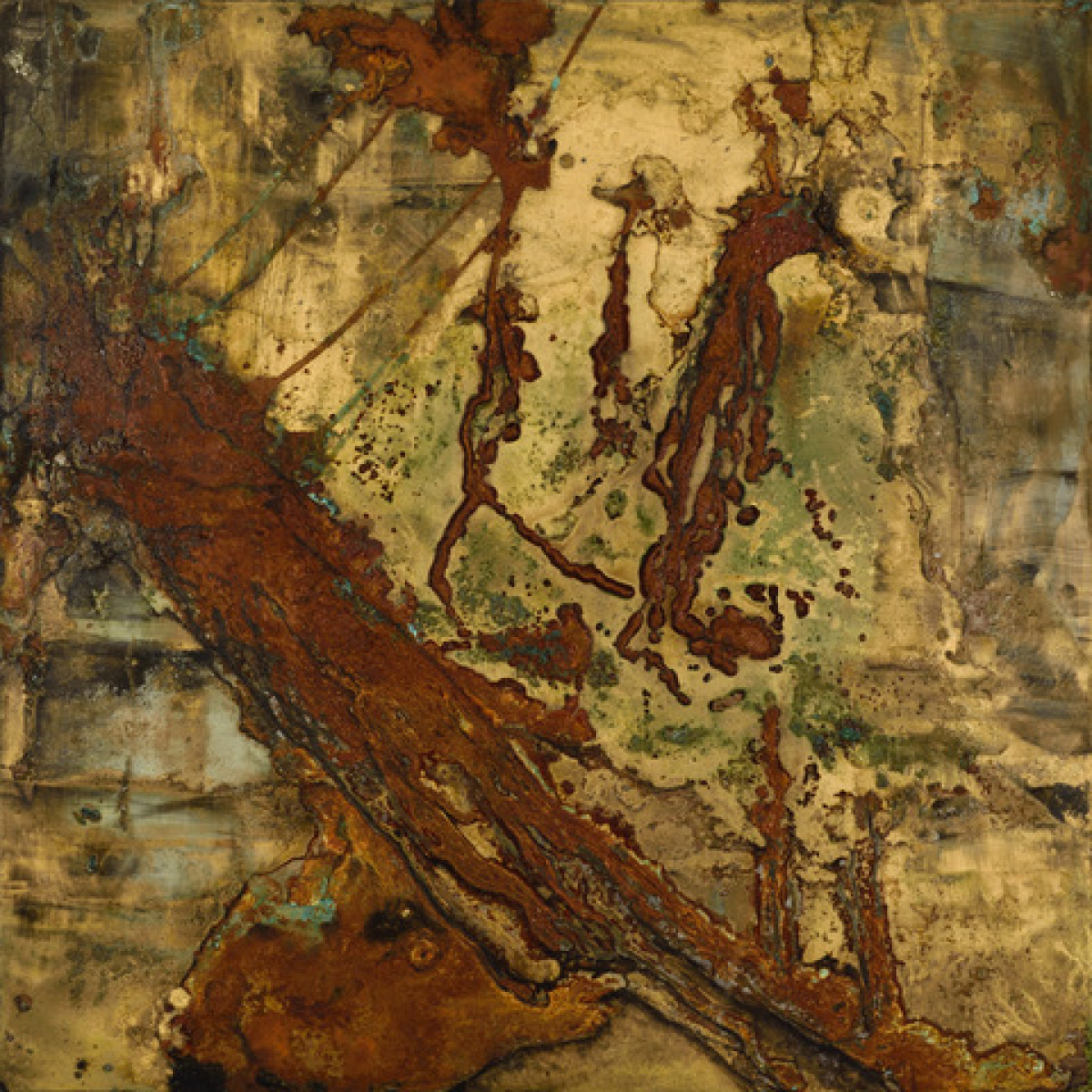 Octopus
, 2019
Oxidization on metal sheet
150 x 150cm
59.06 x 59.06 in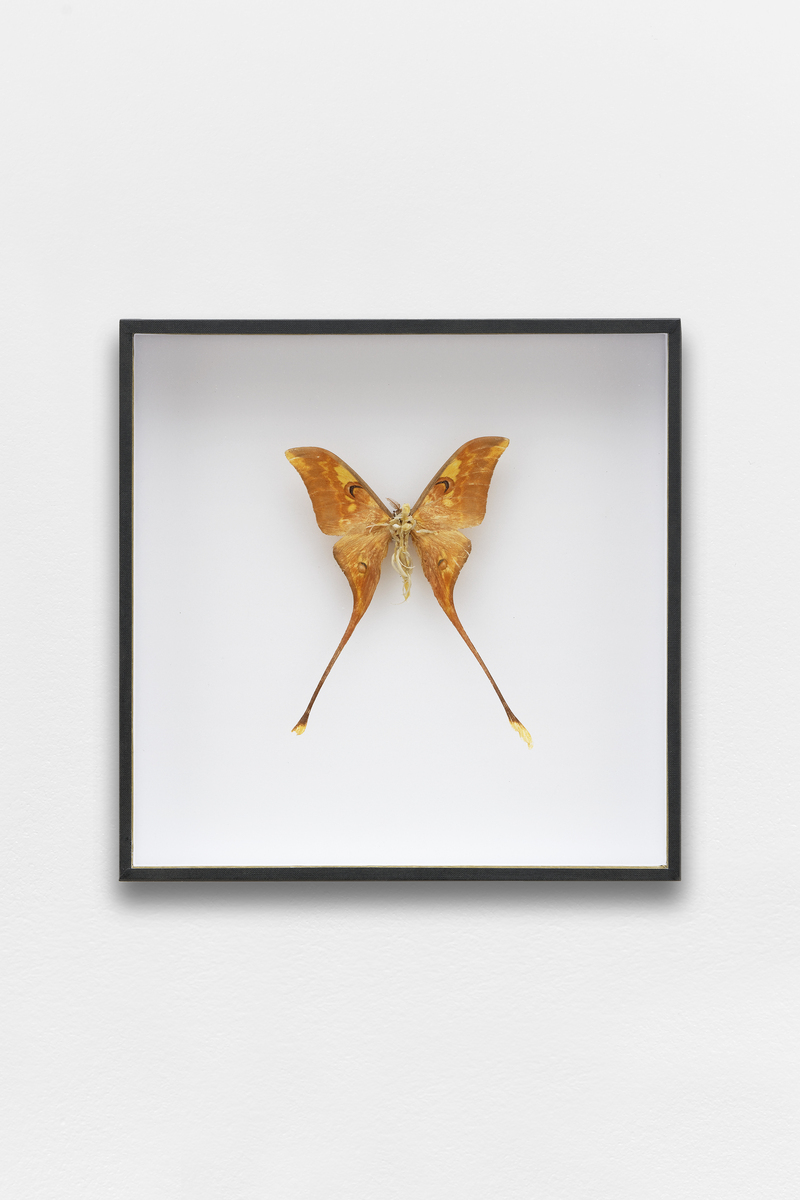 Réparation
, 2012
Nails and dead skin, pin
32 x 32cm
12.60 x 12.60 in
Born in 1975 in Toulouse, France
Lives and works in Paris, France and Los Angeles, USA
   Education
2003   Ecole Nationale Supérieure des Beaux-Arts de Paris
   Awards and grants
2020  Lauréat du Luxembourg Art Prize, Luxembourg 
2019  Winner of the award of painting from the Del Duca Foundation

2017   Winner of the 2017 patio Maison Rouge
           Winner of the 2017 Drawing Now Award.
2011   Lauréat du Prix Yishu 8, Pékin, Chine.
   Residencies
2015   Résidence Tour Saint-Ange, Colette Tornier, Seyssins, France.
2014   Résidence pARTage, Institut français de Maurice, Maurice.
2013   Résidence Vent des Forêts, Meuse, France
  Public collections
Centre national des arts plastiques, Paris, France 
From 23 February to 27 April, Lionel Sabatté's works will be hosted in the vast spaces of the Ceysson & Bénétière gallery at Wandhaff, Koerich, Luxembourg. This exhibition will focus on his painted work without, however, neglecting his drawings and sculptures. And it was the latter that during the presentation of his "pack" of wolves during the FIAC 2011 at the Muséum d'histoire naturelle, drew attention to the artist and his "novelty" of readymade works made, in part, of "fluff balls" ("moutons de poussière" or 'dust sheep', as they are called in French) collected systematically in the tunnels of the métro's Châtelet station. Their highly intrusive insertion into the demonstrative "grand setting" of the Great Gallery of evolution greatly disrupted its order and iconographic expressiveness. These unusual depictions of canids, comparable to the common grey wolves of Europe, among the seven thousand collected specimens, dramatised in their "naturalistic" poses to "illustrate the great adventure of biodiversity" offered an exotic, strange, incongruous taxonomy, overturning the devices of didactic demonstration by making them comparable to "cabinets of curiosities". By shifting the pathways of evolution from Duchamp's L'Élevage de poussières, made eternal by Man Ray's famous photograph, they recalled the perils of randomness, of catastrophe and entropy and yet their constructive propensities announced in an admirable preterition by the condemnation pronounced in Genesis (3:19). As a consequence of this condemnation, it was necessary to see figured the imperious, the inevitable and paradoxical recycling of the living derived from it, as celebrated by Pierre Larousse: "The vile debris removed from the mud is like so many chrysalids to which the science will give elegant shapes and diaphanous wings".
The "items" of the Muséum's spectacular display machine, the naturalised animals, are then transformed into works of art, parodies of themselves, dead, animal replicas of reproductions of human readymades whose model is borrowed from John De Andrea and Jeff Koons, rare exempla of Pop hyperrealism whose physiological "truth" loses all visual credibility. The dazzling techne of taxidermists thus leads to a kind of "truer than life" representation, as stated in the Muséum's site; that is to say, exceeding mimesis in a kind of death-bringing and kitsch deviation highlighted in the resolutely anthropocentric parade of La Caravane africaine (The African Caravan).
The wolves of Lionel Sabatté's pack are credible both as works of art and as "figures" of wolves. Is the artist attempting to depict the dreamed fictions of a natura naturans by composing a bestiary perpetuating a double tradition: that of the emphatic depiction sought by animal artists and that of bestiaries? It is not really possible to evade the issue if one wants to relate "this cosmogony of the non-human" to the advances of biogenetics and social anthropology the paradigms and methodologies of which individuals such as Edgar Morin and Edward Osborne Wilson, among others, strive to redefine in terms of its replacement in the history of forms by placing it in tradition. To be in tradition, stresses Boris Groys, does not mean prolonging tradition, but distancing oneself from it. The bestiary of Lionel Sabatté far from excludes man from the world and nature, even though, unlike the ancient, medieval and modern bestiaries – those of manuscripts and nautical charts – he does not propose hierarchies of the living and placing this at the top as Giovanni Pico della Mirandola fervently aspired. But his bestiary encourages us to take a retroactive view of the anthropomorphic and zoomorphic works of Germaine Richier, Giacometti and César. His Licornes (Unicorns) whose material substance of their hollowed bodies, of their malformed bodies, forever "formless", seems abused by a brutal shaping that is in no way expressionist: are they not inspired by the emaciated silhouette of Giacometti's Chien (Dog)? And how can we not compare his swans, his goats, his birds from the bestiary César "mounts" and "assembles" in the form of figures using scrap metal, rejects from mechanical processes? César, like Arman and Tinguely, focused on recycling remains, fragments of unusable parts from production processes. Similarly, a sort of formal connivance was established between the Cygnes (Swans) of Sabatté and La Chauve-souris (The Bat) by Germaine Richier whose "monstrosities", La Mante, Le Cheval à six têtes (The Mantis, The six-headed horse), etc., anticipate his own teratology. Like extracts from the collections of mirabilia in cabinets of curiosities, Richier's vegetable humanoids again suggest statuary. They illustrate and strengthen the notion of an imaginary haunted by the stories and tales of a nature that is no longer just "enchanted". But they are in no way sources, presages of the hybridisations brought to life by Lionel Sabatté by combining plant materials, wood, tea and turmeric with metal frames, one or two cent coins, or even cement. It is, on the contrary, his works that make it possible today to restore Richier's statues to new and very topical ramifications of "signified".
We must be careful, however, of making any hasty projection of meanings. We might – and it is tempting, exhilarating – interpret the addition of spices, of turmeric, tea, saffron, as being poetic and political allusions to the maritime trade of the past, which brought these luxury products whose medicinal virtues were prized from the Americas, from India, from the East to the warehouses of the North Sea ports. Of course, the aspiration to the healing liturgies of the shamans, the alchemical questions about the transformation of natural bodies, the nostalgia, perhaps, in a world forgetful of the living, but which finds some possible paths for the propagation of species in the advances of biogenesis – from nomadic elementary particles, from the animal kingdom to the plant kingdom – animates his redemptive quest for fusion or symbiosis of man and nature. But, one could, just as well, connect the forms of some of his sculptures and the strata of intrinsic meanings which they aggregate from their surroundings, to certain forms of primitive arts, to the magical "charges" of Songye statuary, the fetishes with nails from the Congo, even the "spells" of voodoo. Everything goes, as if Lionel Sabatté were trying to set us off on false trails so that none of his works be suddenly reduced to a meaning illustrated by it. The possible commentaries are, however, fewer than they seem, but far from being stated as part of a clear legibility of a general monographic or iconographic history, they can only germinate in disorder and in the complexity of evasive knowledge that is made and unmade in and with the works themselves. By fixing them in the genre of bestiary, we rapidly group them among the legends of cosmogonies whose diffusion is provided by a textual prolixity, the "flow" according to Groys, with which Lionel Sabatté plays with mastery, in like manner to contemporary artists. Wishing to link them to bio-sociology would be to venture into a kind of almost anachronistic articulation. But would not anchoring them to a kind of morphogenesis which, like the decisions made in the field of urban planning, leave cities ill-equipped in an incompleteness which nevertheless saves them from the totalitarian bitterness of ideal cities, give us the right to envisage these works in the perspective of the Anthropocene after the end of the world predicted by Timothy Morton? Why not? In the works of Sabatté, remains might accumulate in a kind of reduced-model avatar of this famous plastic continent whose surprising colours are already the obvious – almost monosemic? – evidence of a foreseen disaster.
A work like La sélection de parentèle can be interpreted through the polysemic network that I have sought to sketch out. The title is inviting. This work would thus be an allegory of the living world and its three kingdoms, concerning which it would postulate that their creatures originate from the same single molecular nucleus. But the human form, as "beings" in the human condition, remains stuck in the plant and the pigment powders. Thus unfinished, as though falling into degeneracy, emerging from a catastrophe, a disaster, it is nothing like Michelangelo's non-finito and his Neoplatonic symbolism. It is only an imperfect, deliquescent cellular agglomerate. The references to the history of art outlined above would therefore, it is true, only constitute a relative proof suggesting a referencing which, however, situates the tradition that such works undo. Plants, trees, olive trees, bonsai, frozen or calcined, are covered with dead skin from which are also made bodies of butterflies, a little owl, a fruit fly and fragments of nail which irresistibly incite one to evoke the abjection of the formless according to Bataille, the photos of slaughterhouses of Eli Lotar and those of strongly ungulate toes of Jacques-André Boiffard. We are thus witnesses "absorbed" – not in the sense of Fried, but in the sense of Plotinus rendered by André Grabar – by the sublime spectacle of a terrorising confrontation with the formless. With the absolute evil resulting from the twentieth century?
The allusions to the disenchanted visions of Documents do not exhaust the anti-theatrical meaning of these fleshless figures, cut-up and hollowed out spectres, a sort of transfixed and standing supine figures, contemporary avatars of the transfixed figures of Ligier Richier, Jacques du Broeck, anatomical plates of flayed beings from the Fabrica by Vésale or the Anatomie of Juan Valverde de Amusco. But for these beings, no consolation and forgiveness are hoped for. The figures in Lionel Sabatté's drawings and paintings are so "absorbed", tragically more than dramatically, by their state of being, alive or dead – we do not know which – that these works do not show themselves, apparently, as representations. They seem to exclude any spectator: if he stands there, face to face with them, the viewer cannot maintain the fiction of a mimetic representation. Paradoxically, he can only absorb them as "theatricalities" falling within the fictions of art. We are moving away, it is true, from Michael Fried's proposals. But it is this placement alone that can unite the onlooker – the spectator – with this absurd population before him that places him before the implacable terribilità of the immense vanity and emptiness of the world. The Sacred, Vitruvian Man, Leonardo and Jean Pic, the mornings of the world, died in the twentieth century. In the Anthropocene, after the end of the world, there may be an ars moriendi unfolding its inexhaustible series of memento mori.
*
* *
Sabatté's activist recycling is not just an ecological and environmental concern. We might venture a saving "leap". This recycling perhaps testifies to a game of solicitude for the survival of the living, of the expectation of a leap forward in the hoped-for escape from a relentless and inexorable existential condition, which can no longer be categorised in simply "humanistic" terms since the war. The collection of "fluff balls" undertaken at the Châtelet station, the gluing of the dead skins taken from the pedicures in order to join them with scrap, with wood, with cement, with dead trees, recalls the industry of the ragpickers of the past and the gleaning done by children and women in hills and mountains of garbage in Africa and Asia to find things to eat, trade, sell, in order to survive. The ragpicker evoked by Baudelaire, this "most provocative figure of human misery" according to Benjamin, is someone who picks everything: "old paper, corks, bones, cardboard trimmings, nails, broken glass, dead cats and dead thrown on the public road in violation of regulations, hair; in a word, anything that can be sold". In the piles of garbage, refuse, residues, waste, Victor Hugo detected "a meadow in bloom", green grass, life. The works of Sabatté go through all these registers and make us hear – as an echo – this comment by Benjamin, comparing the writer Sigfried Kracauer to this figure from the lumpenproletariat: "A ragpicker, in the early morning – in the dawn of the day of the revolution".
This is how we have to see this game of shuttling between nature and culture that drifts away from any reflections on this central theme of Western thought, while accepting to address them. No text founds or establishes these forms, these figures and the fables they embody and propagate. And the presence of tea or flowering bonsai with dried-up skin does not "naturally" lead to the thoughts of this elsewhere, this East that is often hoped-for as a saviour.
The life of forms as it was, since the Chauvet cave, is undone; is it, to quote Yves Bonnefoi, without hope? It fades in accordance with the laws of entropy, in the very manifestation of the resumptions dared by Sabatté. They are in the world that is his, a replica in waste, filth, dust which he organises into systemic aggregations and in configurations that are no longer assemblies but constellations of particles adaptable to all species whose biochemistry and biogenetics ensure not proliferation, but evolutions that change forever our ethical understanding of what is human, culture and nature. This is evidenced by these faces and bodies, born of dust, which we can imagine as swollen, ghostly forms delineated with a sharp line, that burn marks sometimes suggest are alive; as it was for the phoenix. But the infused tea may also be an active principle of regeneration as if salvation could be expected from the plant. It would then be a case of dispensing with the seductions of the colourings of metal plates in the thickness of which a deliberate oxidation – generating provoked readymades, weighable avatars of dust farms – diffuses a corrosive expansion producing appealing heaps of dust.
*
* *
Everything has been said. And, especially in the beautiful texts by Ada Ackerman and Julien Verhaeghe. But, as with Leonardo so in Lionel Sabatté's work it is in painting that the sometimes secret links are woven between the reigns of nature. And not only in the dirt of the walls, those surprising patches that subjugate our gaze and leading it to make formal speculations, in which the Florentine artist revelled, enriching our heritage of illusory images, but also meaningful representations. This is what André Chastel masterfully predicted.
The dry and austere manner that so seduced the artists – Tuscans as much as those of Ferrara – to the point even of affecting the positioning of the volumes by a kind of cropping that circumscribes them in the work of sculptors such as Guido Mazzoni and Niccolò dell'Arca, does not allow it. It is only a kind of demonstration of a skilful and superior craftsmanship. Even for Leonardo, in this primacy that the young Michelangelo granted to the "finished" nature of a firm and continuous line drawing. According to him, only painting had a divine character. It alone could soften the figures by this sfumato that could "animate" them in the atmosphere, the aria, of divine creation. By his mastery, the artist, the painter, could conceive, create, give birth to various species. Butterfly and bird drawings in bright, acidic colours stimulated by the corrosive action on the acrylic of solutions of oxidised iron and bronze provide appealing but disturbing paradigms. Before these drawings, one inevitably thinks of the birds of Audubon or Martinet, but for their part these illustrated the creative energy of a resolutely humanist Natura naturans.
For our part, we discover ourselves, seeing these drawings with their colours close to the iridescent, saturated and feverish like the colours favoured by Pontormo and Beccafumi and many other "Mannerist" artists, faced with an ambiguous strangeness that was both morbid and vitalist while waiting for the destiny of dice thrown to the hazards of chance. But the formal beauty of these works, like that of those faces and bodies oozing dust, coagulating in the effects of their breeding, "a trace of initially imperceptible lines", leaves a hovering hope of successful recycling in this subterranean soil in which Marcel Duchamp delved.
This is the power of painting and style. Can we say it differently? In the face of paintings that can be described as pictures or images of pictures – by which I mean at first glance that we do not know whether these images are painted or imitation paintings, illusions, trompe-l'œils or careful, finished, polished and smooth paintings, even if the granulations, viscosities, softness, liquidity of the material re-produced are almost tactile. So much so that one wonders: are we in front of paintings, photographic images, Cybachromes or Cprints, hyperrealistic painted reproductions, made from photographs taken during a scientific scrutiny of the infinitely small? That sort of back and forth between photography and painting inspired by the example of Gerhard Richter? Like Richter, Lionel Sabatté plays on several levels of register causing surprising hesitations as to the nature of the medium and its harmony congruent with the drawing that he formulates in his painting themes whose meanings he does not want either to stress or to exhaust by the affirmation of a figurative skill that is very real and remarkably mastered in his techné. That is why he might endorse these two notes written by Richter:
"As far as the surface is concerned: oil painting on linen, traditional technique. My paintings have little to do with the photo; they are entirely painting (no matter what one means by that). On the other hand, they look so strangely like the photo, that what distinguishes the photo from other images remains."
Notes, 1964-65
If I paint from a photo, conscious thought is annihilated. I do not know what I'm doing anymore. My work is closer to the informal than any other form of realism. The photo has an abstraction of its own and it is difficult to penetrate.
Notes, 1964-65
The result is this disturbing sensation of visual instability, of swaying between precise focus and "blurring" that effectively smoothes the readability of nameless shapes. The almost academic and pre-Raphaelite rendering fixes these depictions without freezing the dissolutions and mutations that their informal "forms" suggest. There is a sort of stopping of the image that seems to favour enlargement and re-pixelation that brings us closer like a terrorising target requiring our aim while waiting for its capture or destruction. The absorption – the absorbing – mentioned above for the sculptures succeeds in the paintings in a distancing of "theatre" – in the military sense of the term. This distancing suggests that the framing of what is seen and aimed at presupposes, on the one hand, one or more objects arising from the depths of age and space and, on the other hand, a conscious, identifiable and aware spectator. Hence the impression of witnessing, in real time, the development of stem cells, molecular aggregates, emerging in the flow of strange amniotic liquors. As though a revival – of who knows what, who knows where – was predicted in the formal, material effectiveness of a painting that is neither abstract nor figurative, thus confirming Gerhard Richter and the intuitions of Leonardo, torn between the contemplation of nature and the meditation on the patches leaving the possibility of unpredictable mornings on the stained walls.
Lionel Sabatté honors the springtime as a representation of degeneration, the ability of the living to constantly reconstruct itself over and over. Since 2014, the artist has worked on making trees bloom again with dead skin and human fingernails, which have become the main materials (despicable? only in appearance) for an unexpected and majestic new spawning. This is how he gives new life, through blossoming, to a White Rose (Rose Blanche 2013), elegant Bonsais (Printemps 2014), branches, Ash trees (Printemps 2015), or olive trees (Printemps 2016, for the exhibit Échafaudages d'une éclosion at the Calvairiennes Chapel, 2016).
His "elaboration of springtime" in line with his "somber repairs" of butterflies, is like living matter in constant mutation, between an energizing quest, a deficiency, and excessive growth. When, in nature, a tree will draw its sap from the earth to better lift itself towards the light, here the process is reversed, as it's the shapeless organic residue from our feet buried in the ground (Georges Bataille would say the "mud") that will blossom and thus start a revolution, and the inversion of up and down. For Depenses, an entire forest of burnt trees from the summits of the legendary Sainte-Victoire mountain is revived: the forest is spectacular and carbonized, a memory of burnt nature, which is transformed through its vitality.
In Part Maudite, didn't Bataille say: "I insist on the fact that, generally, there is no growth but only many forms of a luxurious squandering of energy! The history of life on earth is primarily the result of an absurd exuberance." Sabatté answers by releasing energy to the point of calcination, energy sacrificed by a powerful sun, which he uses for the transformation. For the artist, who remembers walking atop the fiery volcanoes of Reunion Island during his childhood, ashes are not a synonym of death, but instead of fertility: to tread upon burning embers is a rite of passage. In the same vein, he often makes references to prehistoric cave art and negative hand imprints (think of Bataille's Lascaux), considered the most authentically human traces of a passing and a living breath, which become imprints by offering themselves to these ancient walls. The burnt forest blooms again and interacts with a pictorial work, through a completely organic conversation. Indeed, painting is for him an endless "factory of depth", whether the depths of history or geography. The painting captures a vital intensity from the depths of the sea. In pictorial practice, produced on a flat surface, liquid paints and chemical reactions alike give birth to aqueous and stringy surfaces, squirting jellyfish, a concentration of toxic and stellar colors. The painting tells a tale of the original depths of life, while the forest of trees reminds us of the power of the infinite transformation of life on the Earth.
Artpress, Text by Léa Bismuth, October 2016
Solo shows at Ceysson Gallery
Lionel Sabatté , New York
November 10 - December 18, 2021
Lionel Sabatté , Wandhaff
February 23 - April 27, 2019
Lionel Sabatté, Paris
March 22 - May 19, 2018
Group shows at Ceysson Gallery
Sculpture parc, Panéry, Pouzilhac
July 09 - September 30, 2022
At Jean Prouvé, Offsite
July 26 - July 28, 2020
Spring Paris, Paris
May 18 - July 23, 2020
10 YEARS in Luxembourg, Wandhaff
June 02 - August 04, 2018
Solo Exhibitions
2022
La Ruche, Fondation d'Entreprise Hermès with Vent des Forêts, Curated by : Pascal Yonnet, Saint-Louis-lès-Bitche, France

Lisières, Antoine Laurentin gallery, Brussels, Belgium
Fragments, Nouvel Institut Franco-Chinois, Lyon, France
2021
Possible Remains of our Future, Ceysson & Bénétière, New York, USA

Eclosion, MAMC Saint Etienne Metropole, Saint-Priest-en-Jarez, France
Ecce Homo, Priory of Pont-Lou, Moret Loin and Orvanne, France
Organisms and Fantasma, curated by Bernard Chauveu Galerie 8+4, Paris, France
Scaffolding,  Espace, Jacques Villegle, Saint Gratien, France
2020
Fragments mouvants, Fondation Bullukian, Lyon, France
Elemental Beings, Cuturi Gallery, Singapore
Chimères de rouille et de poussière, La Maison des Arts, Bages, France
Sabatté / Rembrandt, Galerie Céline Moine, Lyon, France
2019
IN SITU, Patrimoine et Art contemporain 2019, Association Le Passe Muraille, commissaire d'exposition : Pascale Pique, Grotte de Bédeillac, Ariège, France
Brume dorée, cendre et poussière, Musée du Gévaudan, Mende, France Lionel Sabatté: Prix des Amis 2017, La Maison Rouge, Paris, France
Lionel Sabatté : sculptures, Centre d'art nomade, Toulouse, France
Qui sait combien de fleurs ont dû tomber, Nouvel Institut Franco-Chinois / Musée Gadagne / Fondation Bullukian, Lyon, France
2018
Demeure, Patio de la Maison Rouge, Paris, France
La morsure de l'air, Ceysson & Bénétière, Paris, France
Tanières, Atelier Estienne - centre d'Art Contemporain, Pont-Scorff, France
Éloge de la métamorphose, curated by Philippe Piguet, Christie's, Paris, France
2017
Luxembourg Art week, Ceysson & Bénétière, Paris, France
Camera, Camera, Salon de vidéos et d'Art contemporain, galerie Porte-Avion, Nice, France
Figures d'été, Galerie Henri Chartier, Lyon, France
Mirabilia, Musée Joseph Denais, Beaufort-en-Vallée, France
Chassé-croisé, Château de Champlitte, Haute-Saône, France
Zoocryptage, Crypte Sainte-Eugénie, Biarritz, France
La sélection de Parentèle, Musée de la Chasse, Paris, France
Catwalk, Please do not enter, Los Angeles, USA
Physical attraction, Galerie C, Neuchâtel, Switzerland
2016
Tectonique des mutations, Beaux-arts, Grenoble, France
Curcuma, Galerie Biesenbach, Cologne, Germany
Charbons fertiles, MAC Artuem, Chateauneuf-le-Rouge, France
La désobéissance, curated by Magali Gentet, Le Parvis, Tarbes-Pyrénées, France
Lune Grise, Sade Gallery, Los Angeles, USA
Échafaudages d'une éclosion, Chapelle des Calvairiennes, Mayenne, France
Marellomorpha, Galerie Eva Hober, Paris, France
2015
Échafaudages d'une caresse, Musée de Vernon, France
Échafaudages du quotidien, Galerie Porte Avion, Marseille, France
Échafaudages sur le ressac, Carré Amelot/ Muséum d'Histoire Naturelle, La Rochelle, France
Échafaudage d'un printemps, curated by Huang Du, Yishu 8, Beijing, China
Projet Phoenix rouge, Commande publique de l'Unesco et de l'État Mauricien, Mauritius Island
Infusion percée, Espace À vendre, Nice, France
2014
La fabrique des profondeurs, Aquarium du Trocadéro, Paris, France
Parenthesis and suspension (...), galerie Biesenbach, Cologne, Germany
La constance des alizés, Institut français de Maurice, Mauritius Island
Lionel Sabatté : Un autre monde, commissariat : Philippe Piguet, Abbaye Saint-Jean d'Orbestier, France
2013
Parenthèses et suspensions (...), galerie municipale Jean Collet, Vitry-sur-Seine, France
2012
Le crocodile en pièces, FIAC Hors les murs Jardin des Plantes, Paris, France
Marella Spendens, galerie Patricia Dorfmann, Paris, France
2011
La meute, FIAC Hors les murs, Jardin des Plantes, Paris, France
Allumettes et neiges éternelles, Yishu 8, Beijing, China
Maybe tomorow, curated by Ambra Corinti, ZAJIA LAB, Beijing, China
2010
Souffles oxydants, galerie Patricia Dorfmann, Paris, France
2006
Lionel Sabatté, galerie Anton Weller, Paris, France
Loup de poussière, galerie Frédéric Giroux, Paris, France
2005
Diaporama et tartines, galerie Frédéric Giroux, Paris, France
2004
Espace Lassi, Vienne, Austria
Expositions collectives (selection)
2020
Printemps , Galerie Ceysson & Bénétière, Paris, France
Wildness. Wolf. Forest., Museum Villa Rot, Burgrieden, Germany
Jungle, Backspace, Los Angeles, USA
L'Abeille Blanche, Topographie de l'art, curated by Pascal Pique, Centre d'art du Parvis, Ibos, France
2019
PARÉIDOLIE, Galerie C, Marseille, France
Feux Follets, Galerie Duflon Racz in collaboration with Galerie C, Berne, Switzerland
Et les chimères se dévoilent à l'ombre d'une étoile, Galerie C, Neuchâtel, Switzerland
Jardinons les possibles, Ateliers des Grandes Serres de Pantin, curated by Isabelle de Maison Rouge, Pantin, France
GALERISTES, Galerie C, Carreau du Temple, Paris, France
Éloge de la curiosité, Galerie Henri Chartier, curated by Lisa Toubas, Lyon, France
Transfigured., Diane Rosenstein Fine Art, California, USA
1, 2, 3, SOLEIL!!, Le Mur, Expression contemporaine de l'art, Prieuré de Pont-Loup, France
Art Los Angeles Contemporary, Ceysson & Bénétière, Los Angeles, USA
Drawing Now, Ceysson & Bénétière, Paris, France
Art Brussels, Ceysson & Bénétière, Bruxelles, Belgium
2018
Essence Naturelle, curated by Mathias Courtet et Jérôme Tréguier, Bains Douches de Laval, Laval, France
Physical Station, curated by: Isabelle Le Normand, 4650 West Washington Boulevard, Los Angeles, USA
Less is More, curated by Maya Sachwey, galerie du Crous, Paris, France
mind Over Matter, Mazel Galerie, Singapore
This is pipe show, The Old Arcade, Los Angeles, USA
2017
Golem ! Avatars d'une légende d'argile, Musée d'Artel d'histoire du Judaïsme, Paris France
Abstractions contemporaines, Galerie Sens Intérieur, Port-Cogolin, Var, France
Occitania Boulaga Ti !, Galerie Dupré & Dupré, Béziers, France
Drawing now - Focus Lionel Sabatté, Galerie C, Paris, France
Vies d'ordures, curated by Denis Chevalier et Yann-Philippe Tastevin, MUCEM, Marseille, France
En toute modestie : Archipel Di Rosa, commissariat : Julie Crenn, MIAM, Sète, France
Benefit art auction, Rema Hort Mann Foundation, Nicodim gallery, Los Angeles, USA
Replay #3 - Best(iaire), Galerie Porte Avion, Marseille, France
Changesfivex, Galerie Biesenbach, Cologne, Germany
2016
Sade LA Stand with standing rocks, Benefit, Sade Gallery, Los Angeles, États-Unis
Athanor - petite suite alchimique #1, CRAC Languedoc-Roussillon, France
Dépenses, commissariat : Léa Bismuth, Lab-Labanque, Béthune, France
Métamorphoses, curated by Natacha Ivanova, Pornbach contemporary, Pornbach, Germany
Human condition, curated by John Wolf, The Hospital, Los Angeles, USA
Nouveaux cycles, Salle d'exposition de Guyancourt, France  
Paréidolie, Salon international du dessin contemporain, Marseille, France
Pan, curated by Corinna Weiss, Quartier Général, La chaux-de-fonds, Switzerland
Contemporary art festival, Fernelmont, Belgium
Avec et sans s'tresses, Musée de Bourgoin-Jallieu, France
Un autre monde, Galerie Agnès B., Paris, France
Art&Design végétal, Galerie Via, Paris, France
L'arbre visionnaire, CACL, Lacoux, France
Pavillon des Sources, Triangle des Bermudes, France
Virage, Galerie De Roussan, Paris, France
L'homme-éponge, Musée Passager, Île-de-France, France
Drawingnow, Galerie C, Carreau du temple, Paris, France
Le temps de l'audace et de l'engagement, l'ADIAF, IAC Villeurbanne, France
Comme dans un jardin, Espace à vendre, Nice, France
L'éblouissement de la perte, Galerie Da-End, Paris, France
D'autres possibles, curated by Thomas Fort, Pavillon Vendôme, Clichy, France
2015
Chapelle fifteen, curated by M.Courtet Chapelle des Calvairiennes, Mayenne, France
Extrait d'une collection, Galerie des jours de lune, Metz, France
Recto/verso, Fondation Louis Vuitton, Paris, France
Child care for all, France Inde Karnataka, Piasa, Paris, France
FIAC - Parcours Invités d'honneur, Chambres à part 10, Laurence Dreyfus, Paris, France
YIA Art Fair, Galerie C, Le Carreau du temple, Paris, France
YIA Hors les murs, Musée des arts et métiers, Paris, France
Cannibalisme<>Animalisme, Galerie Anne Perré, Paris, France
Autofiction d'une collection. Ramus del Rondeaux, Galerie Polaris, Paris, France
Biennale de Sologne, Chamont-sur-Tharonne, France
Furiosités, curated by Julie Crenn, Galerie Frédéric Lacroix, Paris, France
À distance convenable, Galerie Underconstruction, Paris, France
Bonjour la France, Seongnam Arts Center, Seongnam, South Korea
Fernelmont Contemporary Art Festival 2015, Belgium
Pour mieux vous contempler demeurez au désert, Cité internationale des arts, Paris, France
Papiers dessinés, galerie Da-End, Paris, France
Another summer of paper, galerie Biesenbach, Cologne, Germany
Le manifeste de l'arbre: carte blanche à Pascal Pique, le Musée de l'invisible, Zabriskie Point, Genève, Switzerland
De mineralis, pierres de visions, curated by Pascal Pique, Institut d'Art contemporain, Villeurbanne, France
Who's afraid of picture(s) 2: le peintre et l'image, une liaison scandaleuse?, Centre d'Art contemporain : À cent mètres du centre du monde, Perpignan, France
À l'ombre d'Eros: l'amour, la mort, la vie, Monastère royal de Brou, Bourg-en-Bresse, France
Rêve Caverne, Art contemporain & préhistoire, Château-Musée de Tournon-sur-Rhône, France
Engagements: collectionner / partager, Musée Sainte-Croix, Poitiers, France
Collection Philippe Piguet, une passion pour l'art, L'Abbaye, espace d'Art contemporain, Annecy-le-Vieux, France
Exposition de lancement, Revue Rendez-vous, galerie RueVisconti, Paris, France
Miroir ô mon miroir, Pavillon Carré Baudouin, Paris, France
Rites de passage, curated by Sandrine Elberg, Plateforme, Paris, France
Cabinet Da-End 05, galerie Da-End, Paris, France
Who's afraid of picture(s)?, curated by Frederic Léglise, Beaux Arts, Grenoble, France
De l'art de se voiler la face, galerie Maubert, Paris, France
La petite collection, Acte VIII, galerie White Project, Paris, France
Post Carbone : l'art contemporain accélérateur de la transition énergétique, curated by Alice Audois et Vanessa Vancutsem, Siège du Groupe La Poste, Paris, France
Picturae // Prix Du Chassy(is!), curated by Julie Crenn, galerie Polaris, Paris
Fragile, Galerie C., Neuchâtel, Switzerland
Black out, Mazel galerie, Bruxelles, Belgium
2014
Le thé et le vin, curated by Yishu8, Jean-Paul Desroches, Galerie des Galeries, Paris, France
Chambres à part IX, curated by Laurence Dreyfus, La Réserve, Programme VIP FIAC, Paris, France
Le manifeste de l'arbre, curated by Pascal Pique, YIA Hors-les-murs, Musée des Arts et Métiers, Paris, France
Sur nos murs - 2e round, galerie Association d'idées, Marseille, France
Sans tambour ni trompette, cent ans de guerres, La Graineterie, Houilles, France
Pense-bête. Collection 1: projet curatorial de S. Aubry et S. Bourg, galerie De Roussan, Paris, France
Sur nouvelles narratives, Fernelmont Contemporary Art Festival 2014, Belgium
Où est donc passé le réel, curated by Philippe Piguet, Chapelle de la visitation, Thonon-Les-Bains, France
Le mur : œuvres de la collection Antoine de Galbert, La Maison Rouge, Paris, France
Des Lucioles  carte blanche à Vincent Bizien, Galerie Maïa Muller, Paris, France
Du temps au temps, curated by COAL, Carreau du Temple, Paris, France
Cabinet Da-End 4, Galerie Da-End, Paris, France
Il y avait une fois, curated by C. Courbon, MAC ARTEUM, Châteauneuf-le-Rouge, France
Anima, Galerie C, Neuchâtel, Switzerland
Beyond, Galerie Florent Maubert, Paris, France
Replay - Séquence 1, Galerie Porte Avion, Marseille, France
2013
Friends & Family, galerie Eva Hober, Paris, France
La Belle Peinture 2, curated by Eva Hober, Colette Pounia, Phoenix Les Halles, Mauritius
Collection 10m2, centre d'art Bang, Espace Michael Snow, Chicoutimi, Québec, Canada
Au-delà du miroir, Le PARVIS centre d'art, Château du Haras National de Tarbes, France
Tresses 13, curated by Yves Savourin, Musée des tresses et lacets, La Terrasse-sur-Dorlay, France Nuit Blanche Mayenne, France
De leur temps 4, Regards croisés de 100 collectionneurs sur la jeune création, exposition de l'ADIAF, Centre d'art Le Hangar à Bananes, Nantes, France
Le chant silencieux, curated by Pascal Yonet, Vent des Forêts, Fresnes-au-Mont, France
Spectaculaire aléatoire, + Si affinités 2013, Fiac, France
Bruissements, «Nouvelles Vagues» Palais de Tokyo, commissariat : Léa Bismuth, galerie Isabelle Gounod, Paris, France
Restons Courtois, Séoul, South Korea
La Belle Peinture 2, curated by Eva Hober & Ivan Jančár, Palais Pisztory, Bratislava, Slovakia 
2012
Les meutes, en collaboration avec Katia Bourdarel, galerie Porte Avion, Marseille, France
La belle peinture est derrière nous, curated by Eva Hober, Arnje Brene, Maribor, Slovénie 
Drawing Now Paris, galerie Patricia Dorfmann, Carrousel du Louvre, Paris, France
La belle peinture est derrière nous, curated by Eva Hober, Lieu unique, Nantes, France
Animal Paradise, Centre d'art contemporain Ouest-Provence, Istres, France
2011
J'entends un murmure insolite, galerie Patricia Dorfmann, Paris, France
Contours, curated by Khadija Hamdi, galerie Le Violon bleu, Sidi Bou Said, Tunisia
Outre-Forêt, 6b, Saint-Denis, France
La belle peinture est derrière nous, curated byEva Hober, Centre d'Art de Cankaya, Ankara, Turkey
2010
La belle peinture est derrière nous, curated by Eva Hober & Jean-Luc Maslin, Sanat Limani, Istanbul, Turkey
Nuit Blanche 2010, Vidéo Salon, Point Ephémère, Paris, France
Aliboron & Cie - Quelques figures animales, Galerie DIX29, Paris, France
Quelques secondes roses, galerie Patricia Dorfmann, Paris, France
Lignes de chance, Fondation Paul Ricard, Paris, France
2009
Arte Vidéo Night, Arte, Centre Georges Pompidou, Paris, France
Ligne à ligne,curated Michel Nuridsany galerie Nationale, Jakarta, Indonesia
I will find a title, Kuk gallery, Cologne, Germany
SxS dans R, La Générale en manufacture, Paris, France
2008
X International Call for young artist, galerie Adelantado, Valence, Spain
Vidéo salon, curated by Pierre Courtin, La Générale en manufacture, Paris, France
2007
Lionel Sabatté & Kuon Kyung Huan, One & J Galerie, Séoul, South Korea
Soif d'aujourd'hui, Musée d'Art Moderne, Saint-Étienne, France
Power tower, Busan, South Korea
Vidéo salon, Galerie 10m, Sarajevo, Bosnia
Videoïsme, Main-d'Oeuvre, Paris, France
2006
Fresh, curated by Michel Nuridsany, Macao Museum, China
Virus Virus, curated by Léonor Nuridsany, Roumania and Bulgaria
Les dessous chics, Clermont-Ferrand, France
Le petit noël du commissariat, Paris, France
2005
I Still Believe in Miracles, ARC - Musée d' Art Moderne de la ville de Paris, France
Dis & Appearence, FriArt, Fribourg, Switzerland
Collages, pressages, dommages, Centre d'art Aponia, Villiers-sur-Marne, France
Serendipity ou la productivité du hasard, Palais de Tokyo, Paris, France
2004
Bétonsalon, Paris, France
Nuit blanche, Bercy village, Paris, France
2003
De la racine à la feuille, Parc de Saint-Cloud, France
Dessins, Galerie en cours, Paris, France
Come In, Paris, France
2002
De toute manière, Ecole Nationale Supérieure des Beaux Arts de Paris, France
Premières vues, curated by Michel Nuridsany, Passage de Retz, Paris, France
Monography

Lionel Sabatté, Résidence Saint-Ange, Ed. Les Deux-Ponts, 2016.
Marellomorpha. Lionel Sabatté, Editions Galerie Eva Hober, 2016.
Lionel Sabatté : Parenthèses et suspensions (...), catalogue d'exposition, Galerie Municipale J. Collet, 2013.
Lionel Sabatté, Catalogue d'exposition de l'Abbaye Saint-Jean d'Orbestier, 2013.
Entretiens, Lionel Sabatté et Patricia Dorfmann, Paris : Patricia Dorfmann, 2010.

Exhibition catalog

Lionel Sabatté-Charbons fertiles, MAC Arteum, France, 2016.
Bonjour la France, Corée du Sud, 2015.
Who's afraid of picture(s) ? : le peintre et l'image, une liaison scandaleuse, Lyon : Fage Éd., 2015.
Vidéo/Lionel Sabatté, dessins animés, Philippe ORRICO, 2015, n°1.
Où est donc passé le réel ?, P. PIGUET, revue pour l'art contemporain, Éd. Analogues, n°367, 2014.
Il y avait une fois, catalogue d'exposition, ARTEUM, Musée d'art contemporain, 2014.
La belle peinture 2, catalogue d'exposition, Maurice : Institut Français, 2014.
Conserver la poussière? Étude de conservation-restauration de deux œuvres en poussière de Lionel Sabatté et de Paul Hazelton, Milène BOULANT, Mémoire DNSEP Art, ESAA, Avignon, 2013.
Friends & Family, catalogue d'exposition, Paris : Galerie Éva Hober, 2013.
La belle peinture 2, catalogue d'exposition, Bratislava : Institut Français, 2013.
La belle peinture est derrière nous, catalogue d'exposition, Maribor : Institut Français, 2012.
La belle peinture est derrière nous, catalogue d'exposition, Le LU, Nantes, Institut Français, 2012.
Matériaux + Art = Oeuvre : Quand les artistes contemporains font appel à des matériaux naturels ou recyclés, Tristan MANCO, Pyramyd, 2012, Thames and Hudson, 2012.
Fiac Hors les murs 2011, Paris : Jardin des plantes - Grande Galerie de l'Evolution, 2011.
Souffles oxydants, Aurélie Voltz, 2010.
Day after day, Kunsthalle Friburg, Fri-art 2003 - 2007.
Virus Virus, catalogue d'exposition, 2006.
I still believe in miracles, catalogue d'exposition, 2005.
Lassie régal, catalogue de l'espace Lassie, Vienne, Autriche, 2005.
De toute manière, catalogue d'exposition, École Nationale Supérieure des Beaux-Arts de Paris, 2002.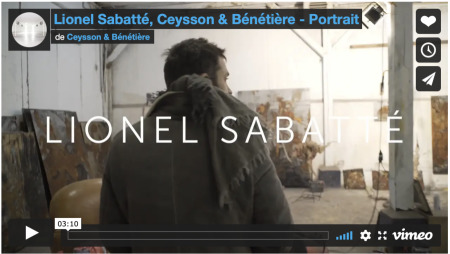 Lionel Sabatté - Portrait
February 23, 2019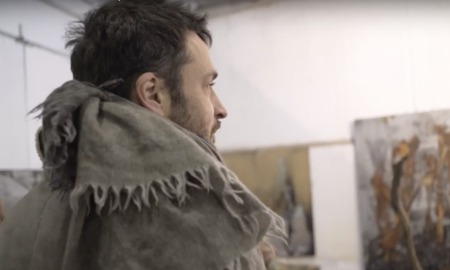 Lionel Sabatté, La morsure de l'air
April 27, 2018