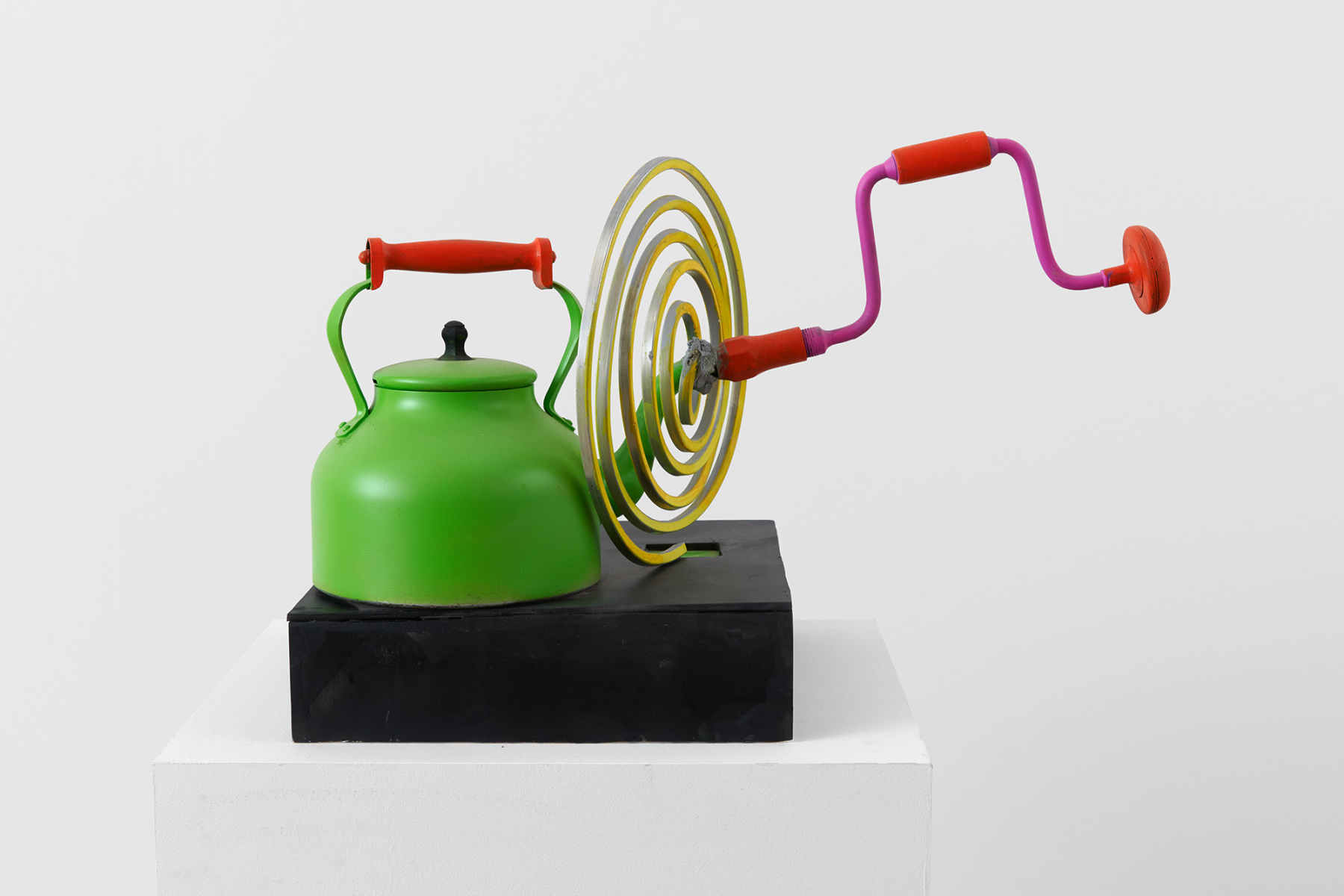 Drilling Whirling Steaming
, 2021
Paint on object
44.5 x 70cm
17.52 x 27.56 in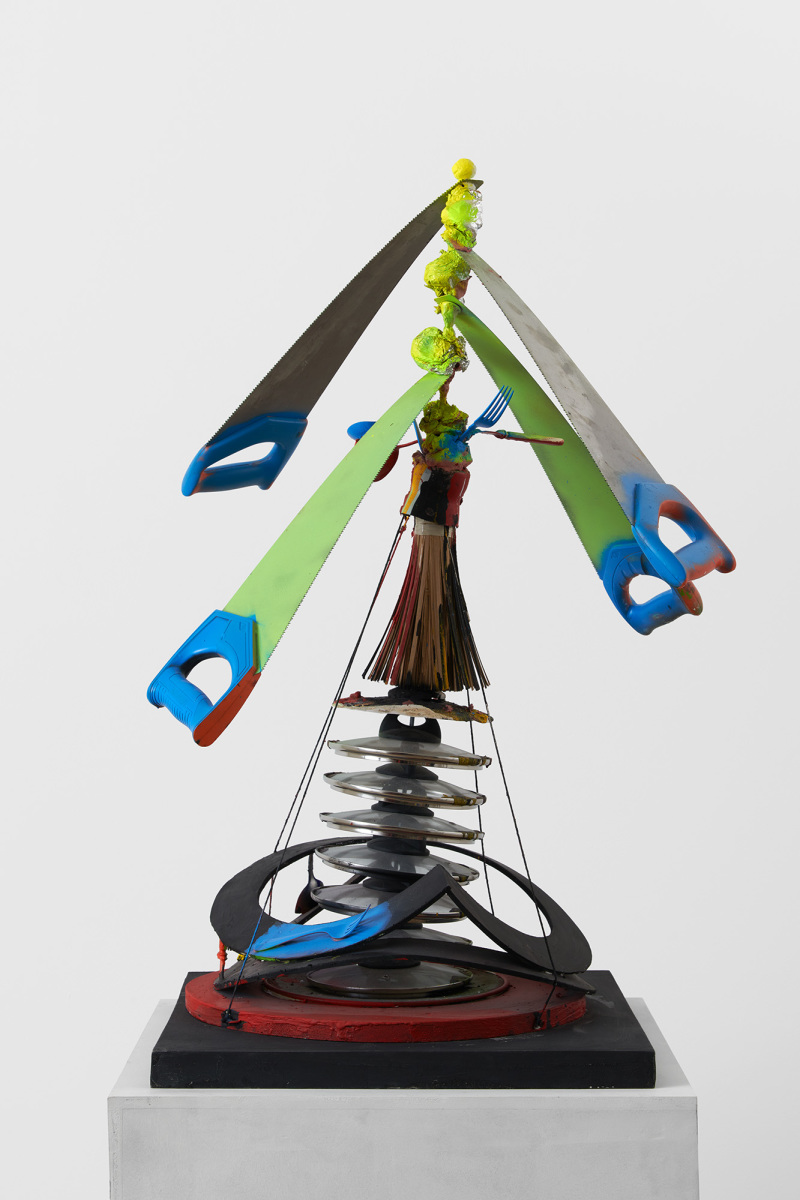 Carousel of saws
, 2021
Paint on object
110 x 70cm
43.31 x 27.56 in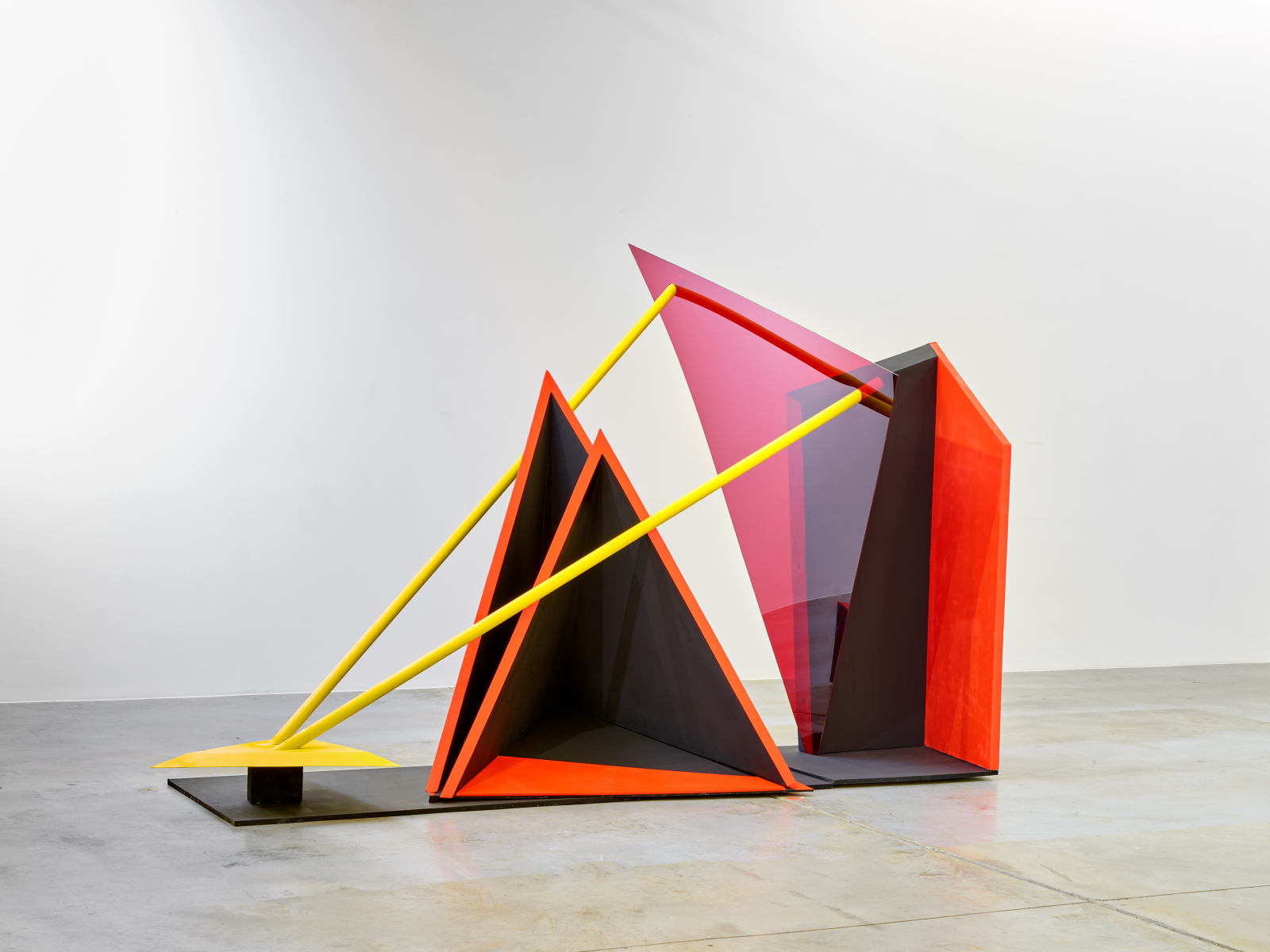 Swing Low
, 2021
MDF, paint, acrylic
226.5 x 375cm
89.17 x 147.64 in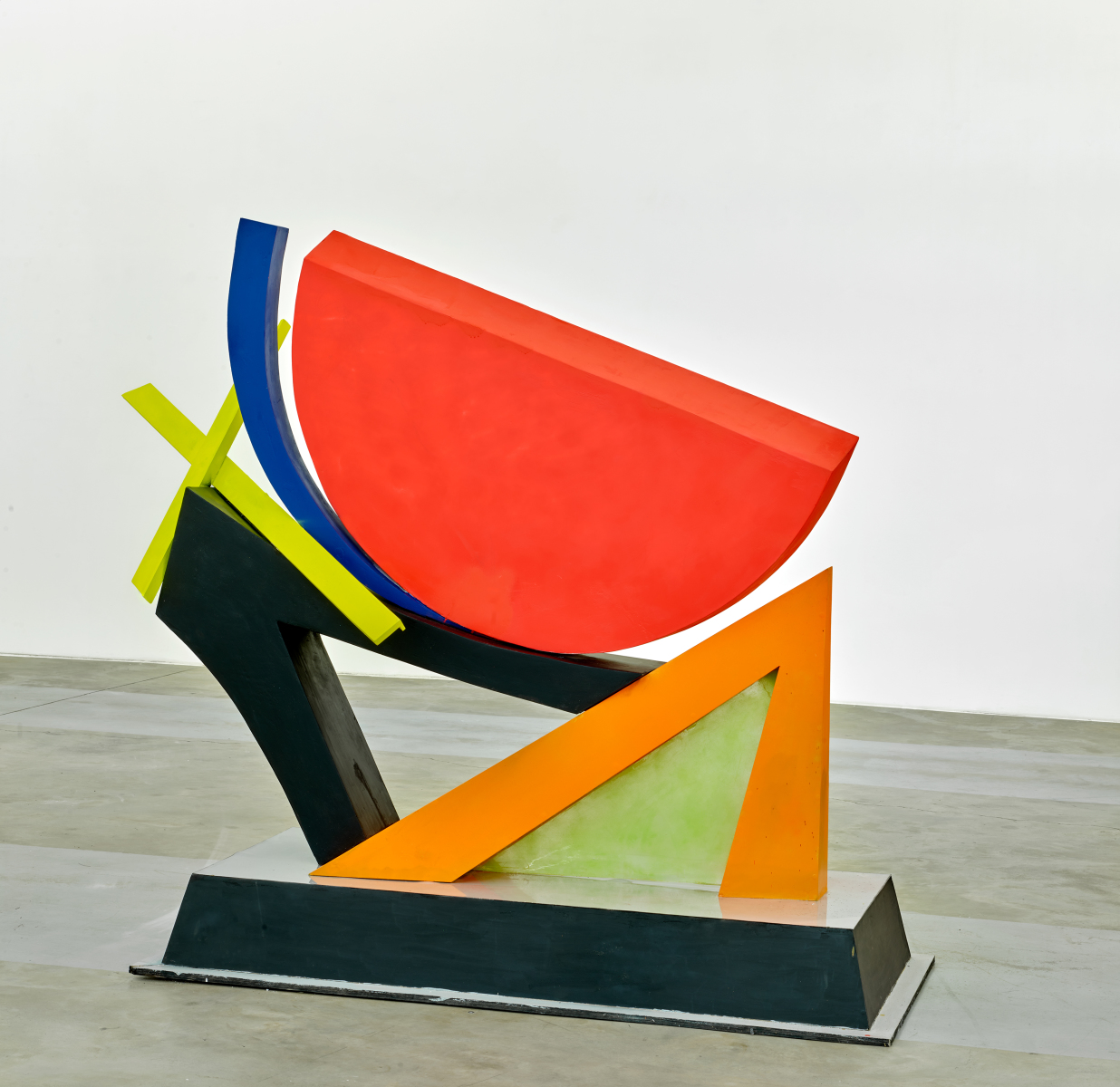 Untitled
, 2021
Paint on object
182 x 220cm
71.65 x 86.61 in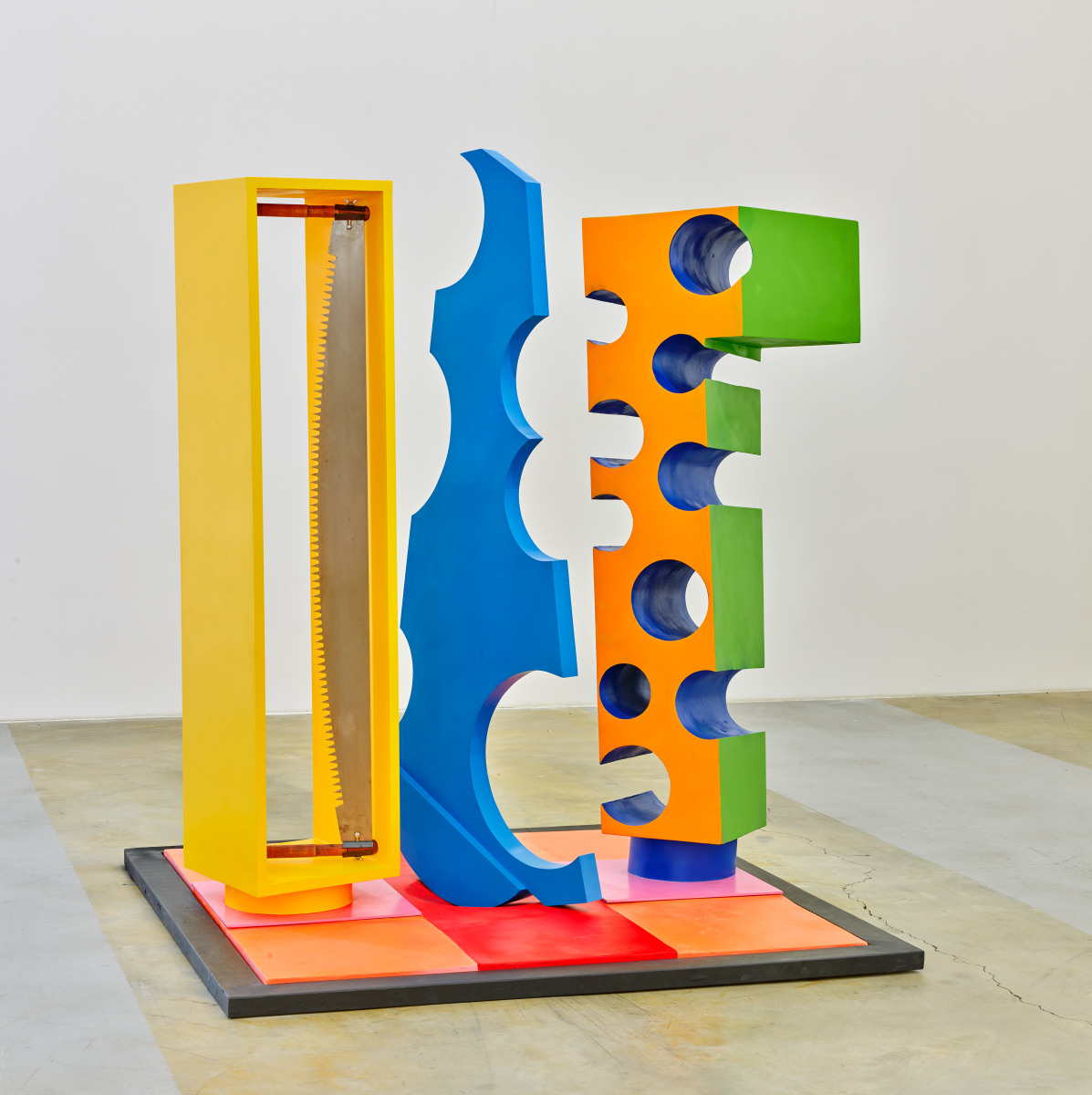 Rapanui Queen
, 2019
High density PU foam board, jesmonite, two man crosscut saw, wood, mdf, paint
192 x 167cm
75.59 x 65.75 in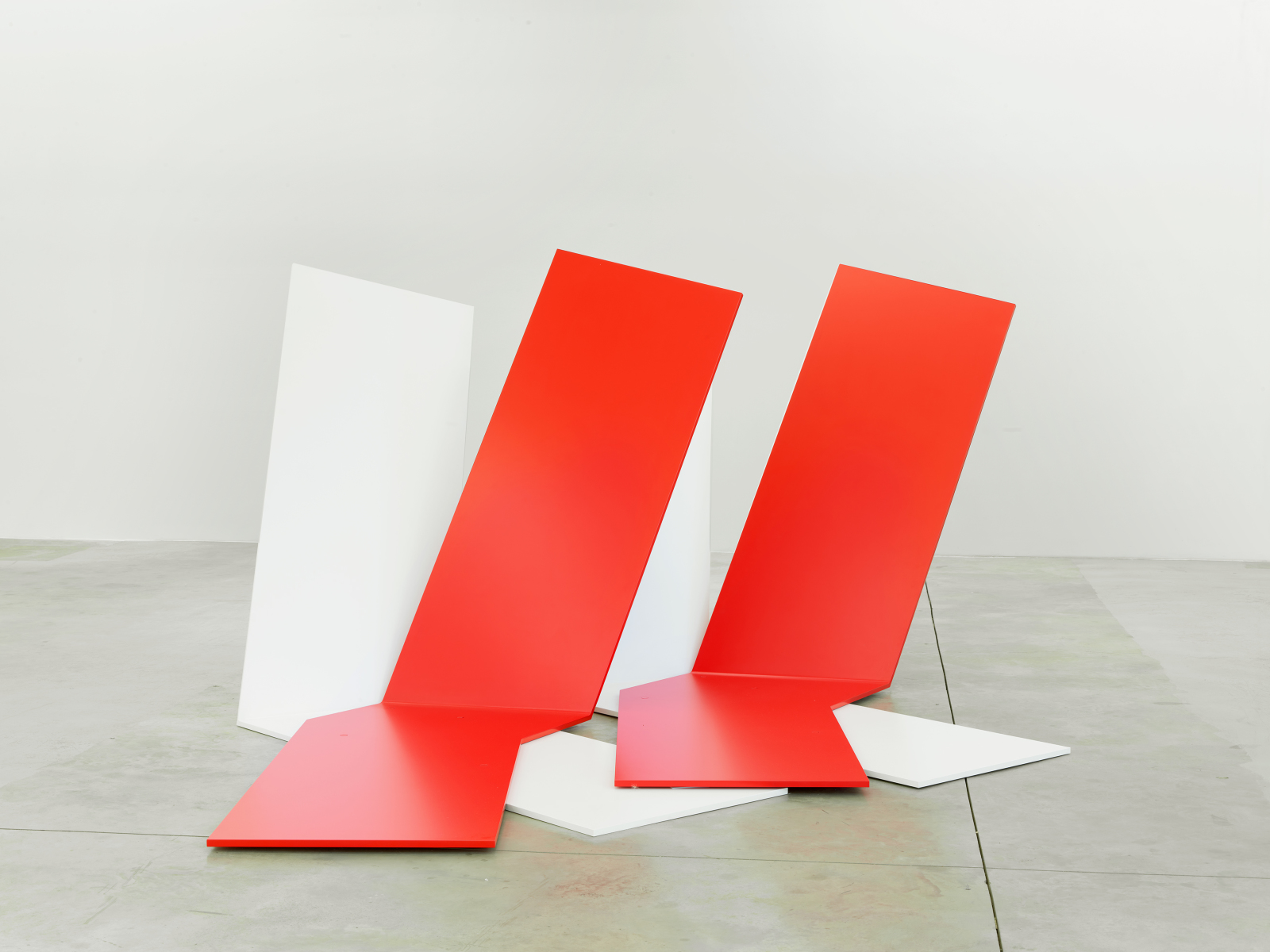 Slit - Edition 1 of 3 + 1AP -1966
, 2018
Powder coated aluminium
198 x 320cm
77.95 x 125.98 in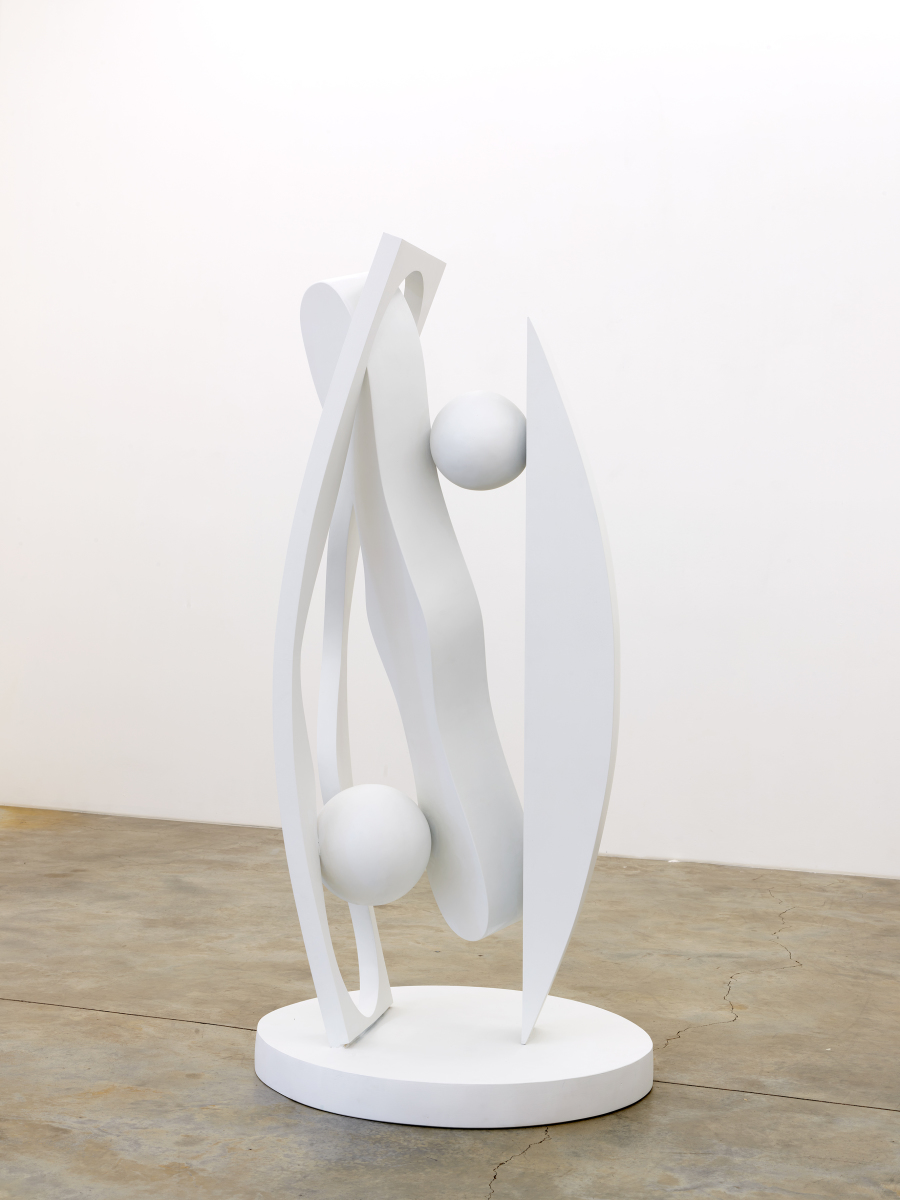 Up-Down-Hold - Edition 1 of 3 + 1AP
, 2016
Steel, bamboo, polyester resin and foam PVC
208 x 100cm
81.89 x 39.37 in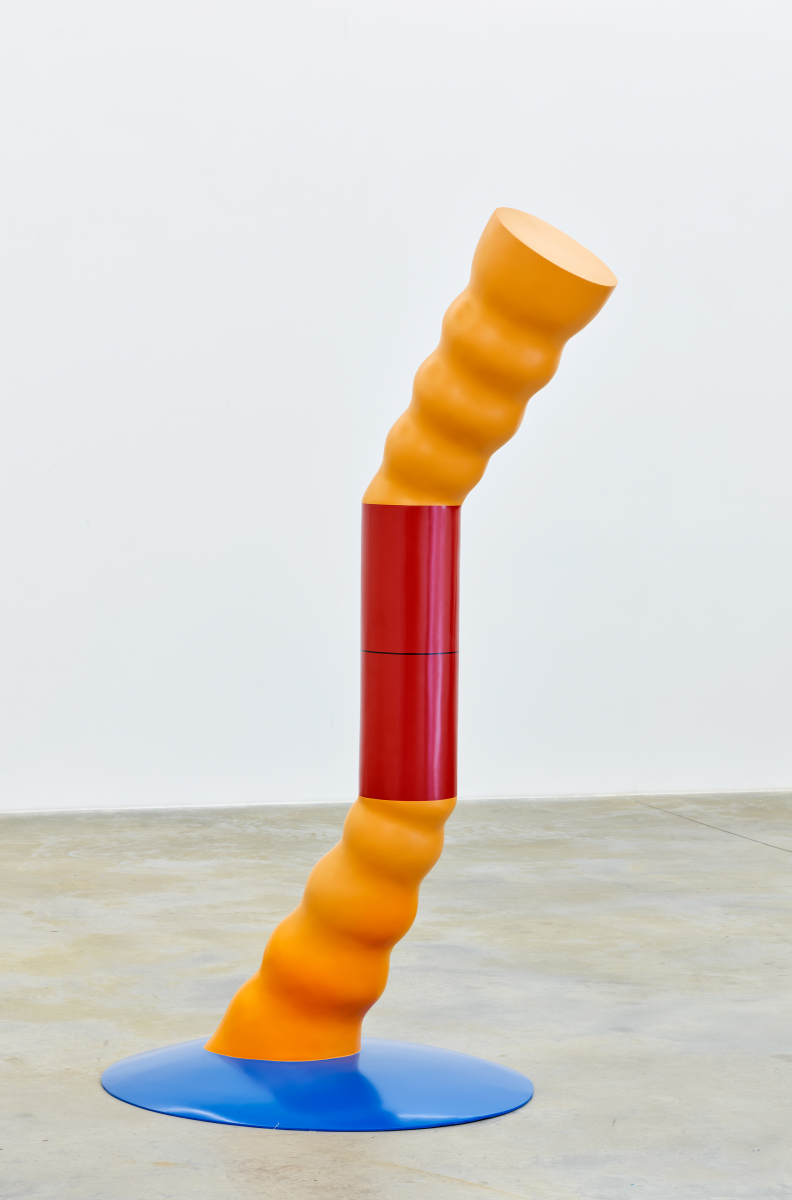 Ripple - Edition AP of 1 + 1AP - 1963
, 2015
Plastic
190.5 x 122cm
75.00 x 48.03 in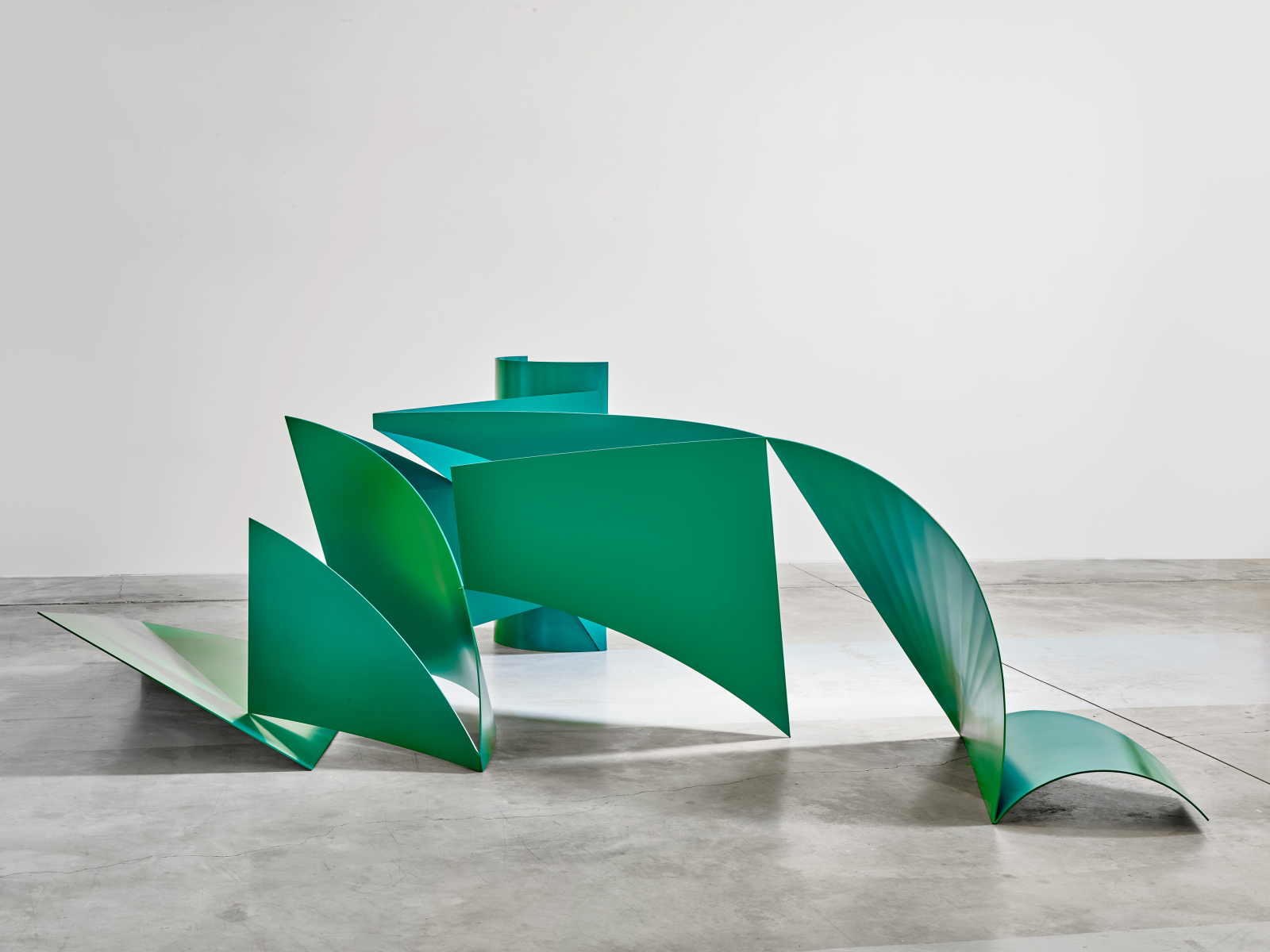 Green Streamer - AP1 from an edition of 2 + 1AP - 1970
, 2014
Steel
102 x 338cm
40.16 x 133.07 in
Born 1934, Tunis, Tunisia.
Died in 2021, in London, United-Kingdom.


Education

1954-1957
Cambridge University, Cambridge, United-Kingdom

1957-1958
Saint Martin's School of Art, London, United-Kingdom


Professorship

1999-2004
President of the Royal Academy, London, United-Kingdom

1990-1999
Professor of Sculpture, Royal Academy Schools, London, United-Kingdom

1980-1990
Professor Emeritus, Royal College of Art, London, United-Kingdom

1979-1980
Hochschule der Künste, Berlin, Germany

1959-1980
St Martin's School of Art, London, United-Kingdom

Awards

1999-2004
President of the Royal Academy, London, United-Kingdom

1977
Elected Associate of the Royal Academy of Arts, London, United-Kingdom

1967-1969
Trustee of the Tate Gallery, London, United-Kingdom


Public Collections

Art Gallery of New South Wales, Sydney, Australia
Arts Council of Great Britain, London, United-Kingdom
Bradford City Art Gallery, Bradford, United-Kingdom
British Council, London, United-Kingdom
Calouste Gulbenkian Foundation, Lisbon, Portugal
City of Rotterdam Collection, Rotherdam, Netherlands
Contemporary Arts Society, London, United-Kingdom
Cultural Centre, Adelaide, Australia
Felton Bequest, Melbourne, Australia
Government Art Collection, London, United-Kingdom
Galleria d'Arte Moderno, Turin, Italy
Government Art Collection, London, United-Kingdom
Hakone Open Air Museum, Hakone, Japan
Hiroshima Museum of Contemporary Art, Hiroshima, Japan
Kistefos Museum, Jevnaker, Norway
Leeds Museum & Galleries (City Art Gallery), Leeds, United-Kingdom
Leisure Centre, Osaka, Japan
Los Angeles County Museum, Los Angeles, USA
Louisiana Museum of Modern Art, Humlebaek, Denmark
Middleheim Open Air Museum, Antwerp, Belgium
Musée National d'Art Moderne, Centre Georges Pompidou, Paris, France
Musées Royaux des Beaux-Arts de Belgique, Brussels, Belgium
National Gallery of Australia, Canberra, Australia
National Gallery of Victoria, Melbourne, Australia
National Museum of Art, Osaka, Japan
New Museum of Contemporary Art, Hiroshima, Japan
Osaka City Public Art Collection, Japan
Public Sculpture of Leicestershire, Countesthorpe College, Leicester, United-Kingdom
Prefectural Museum of Contemporary Art, Toyama, Japan
Rijksmuseum, Amsterdam, Netherlands
Scottish National Gallery of Modern Art, Edinburgh, Scotland
State University of New York College, Purchase, New York, USA
Stuyvesant Foundation, New York, USA
San Antonio Museum of Art, San Antonio, USA
Tate Collection, London, United-Kingdom
Tel Aviv Museum, Tel Aviv, Israel
Tokyo University Art Collection, Tokyo, Japan
Ulster Museum, Belfast, Northern Ireland 
Venet Foundation Collection, Le Muy, France
Yale Centre for British Art, New Haven, USA

Philip King was born in 1934 in Khair ad-Din, not far from Carthage, in Tunisia. After the war, in 1946, his family came back to England and settled in London, a city that was deeply marked by the German strategic blitzkrieg. At the end of his education at the Mill Hill School, Philip King did his military service with the Royal Signal Corps in England and Marly-Le-Roy, in the vicinity of Paris -because he spoke French. In Paris, he often visited the Louvre Museum, where he copied classical sculptures, and met Vantongerloo. Relieved from his military duties, he went on to study Modern Languages, French and Russian, at the Christ's College, where Anthony Caro also studied. While drawing in Cambridge, he also tried his hands at sculpture. Well decided to study and practice sculpture despite his disappointing experiments, King went to St Martin-in-the-Fields, on the advice of a librarian. The first person he met there was Anthony Caro, which classes he started following, before becoming a teacher himself, and one of Henry Moore's assistants, like Anthony Caro. Thanks to a scholarship, King traveled to Greece, while Anthony Caro went to the United States where he became friends with Clement Greenberg and David Smith, who King met a bit later, at the Bennington College. Back in England, Anthony Caro invited Philip King to see his latest production, which incited him to speed up the mutation of his own work, drop clay modeling, use new materials, and work on bigger scales, a direction he was already starting to take after discovering the new American painting. As he told Samuel Gross: "The entire new generation of English artists of that time was influenced by this new painting." For him, it was urgent to operate a deep revolution in sculpture. And it seemed necessary and indispensable for many students of Anthony Caro's workshop, wishing to keep alive the incredible effervescence of sculpture throughout the 20th century in England, which had probably been far more innovative than English painting, marked by the arrival of Jacob Epstein in London- who encouraged and supported Henry Moore- as well as Henri Gaudier-Brzeska and Naum Gabo. 
While recognizing the legacy of a tradition inherited, according to him, from classical Greece, Reims's sculpture, Rodin, Moore, and Hepworth, King quickly parted from it. And he did so very differently than Anthony Caro, William Tucker, and Tim Scott. A work like Untitled I, 1961, which seems to draw from Moore's abstract and sensual biomorphic forms, is laid on the floor on an open-angle base made in ordinary wood. It is also the case of Drift, 1962, which curvy plaster element is slightly elevated and enhanced by a similar set-up. Made entirely of plaster, Window, 1962, is an even more overt, even ironical, allusion to Barbara Hepworth's hollowed-out circles and ovals, as well as to Henry Moore's holes, but the void created by the oblong, radically geometrical opening King inserted in his piece recalls some of Moore's sculptures and their clearly cut and defined plans. The mutation happened with Declaration, 1961, made in marble chips aggregated into simple geometrical forms: two circular, two square, and two X-shaped cobblestones "skewered" on a steel rod. Resolutely abstract, this work claims an autonomous existence nearing the "existential" loneliness fully expressed by Giacometti's Woman with Chariot, 1945. A fervent reader of Camus, Phillip King, in the realm of sculpture, developed a sort of phenomenological vision in the wake of Merleau-Ponty -himself walking in Cezanne's foot, and influencing Robert Morris's unexpected minimalism. Phillip King was very explicit in that regard: "These sculptures don't impose themselves [...] they simply invite us to be in their presence." Adding: "they are in the same space as us, while also being elsewhere. This separation is both physical and mental." This explains King's interest in volume, gravity, and floor placement, even more crucial for the four conical works: Rosebud, 1962 and Ghengis Khan, 1963, presented at Ceysson & Bénétière in 2016, Through, 1965, shown during the exhibition Primary Structures held at the Jewish Museum in 1966, as well as And the Birds Began to Sing, 1963, which beautiful title reveals the simple "complication" – in the horology meaning of the term- presented in this exhibition. For King, also a reader of Heidegger, the importance of the position of the sculpture on the floor went hand in hand with the notion of elevation -without necessarily piling up forms like Brancusi-, and the need for lightness, a floating impression, as Caro commented. Hence King's choice of light, flexible and unconventional materials, like thin steel slates and fiberglass sheets. As he reminded Samuel Gross: "English sculpture, maybe in comparison to American sculpture, looked to lift weight (without ignoring gravity), to elevate matter, make everything lighter, and viewers forget about gravity". The prominence given to the surface falls in line with Matisse's approach rather than obeying Greenberg's directives: it gives the work a new skin and a make-over, dematerializing it by escaping the load of material and textural constraints. However, while Phillip King remained attentive to Paolozzi's gaudy practice of sculpture, and especially to Frank Stella's colorism - the latter's addiction to baroque illusionism being however contrary to King's intentions-, he radically parted from them, the same way he did with Anthony Caro's monochromatism. Yet, both evolved in the same expanding field of sculpture, one favoring the inside, the structuring frame, and horizontality, while the other turned to elevation and surface, and developed a fondness for color and light. Both felt the need to place their sculpture in a lived and experienced environment and in nature, which joined forces with the artist. Placed in a surrounding environment, their works rejected Mondrian's industrialist orthogonality, and the limitations of a strictly frontal view, a confrontational view. King's clearly stated refusal of pasting, to the benefit of mounting and assembling, while revealing his interest for Tatline, disqualified any affinities with productivist constructivism. Far removed from any conceptualist temptations, King's work has always included a "crafty", "made in the studio" dimension, as shown in his late production, in keeping with the English tradition- still visible in the car industry today -, and going all the way back to William Morris… 
Kynaston McShine was well inspired when he told American artists not to put Anthony Caro and other young British artists who mostly came from his studio -like Phillip King, William Tucker, Tim Scott, David Annesley, and Michael Bolus, among others- under the same Minimal Art umbrella, on the occasion of Primary Structures: Younger American and British Sculptors, the founding exhibition held at the Jewish Museum of New York in 1966, which shook the international art scene. In fact, McShine might have gotten the idea for this exhibition from the discovery of these British sculptors, as their works had already been shown in the second round of The New Generation: 1965, an exhibition of paintings and sculptures held at the Whitechapel Art Gallery. Like the Beatles, this "new generation" of sculptors -Anthony Caro's school- expressed a deep evolution in behaviors and aspirations, which, in the middle of the cold war, marked the end of the post-war period and revealed that the productions of the new French realists had not really transformed the paradigms of European and international sculpture… 
We can imagine visitors' surprise upon discovering a sculpture like Tra-la-la and its Brancusi-like slenderness, resorting neither to pile-ups nor blocks. Phillip King's and Anthony Caro's works from the 60s set the new rules of sculpture. We could talk about many of them in length. Slant, Slit, and Nile… which repetition of assembled folded steel panels alter the plan of their horizontal succession while underlining their elevation and floor base. Sometimes, their alternating colors, for example white/red, guides the viewer's pace. The latter is invited to "walk along", stroll, and colorfully walk, to stop and go. Here, sculpture and nature collide. The same goes for Green Streamer, 1974, and its play on folding and unfolding, anticipating a possible horizontal extension of the assemblage… 
At the threshold of the 1970s, the main determining features of Phillip King's art seemed well established, even if he continued to call them into question and "reshuffle" the cards. The most remarkable of these main features was rooted in a dialectic specific to an English art often made by non-English artists- it was Phillip King who first noticed it about himself- who liked to emphasize their own isolation, and go back and forth between sculpture -in the sense given to painting by Clement Greenberg- and statues. But it is another story…  
Here, a little reminder might be necessary. Phillip King has always introduced unexpected developments to the main features that structured his experiments. I won't go into it in too many details, even though many series of works deserve to be considered with the utmost attention. I am thinking of very architectural and totemic aluminum sculptures like Diamond, 1973, but also of brutalist works, deliberately unsophisticated and rough, made of barely prepared, unsquared blocks of assembled wood, slates, and heavy steel panels like Within, 1978-1979. Such pieces put emphasis on the mass and weight of their materials. After that, King produced bronze sculptures, as well as somewhat surrealist figurative works evocative of Chirico and the Italian Novencencisti's juxtapositions of "metaphysical" objects. But the artist kept using steel and fiberglass. He also used resins in his models, and even polyurethane for very heavy pieces like Watching Green, 1993-1994.  
Very quickly though, King returned to color, which reintroduced a more intense and vibrant polychromatic dimension to his work, visible in the late production shown in this exhibition, such as Colour on Fire, 2017, which astonishing materiality is a mix of polyurethane and polycarbonate. In this work, two square blocks frame two perforated panels, one erected, and the other bent over one of the supporting blocks, like a piece of softening cheese. The installation of such work almost requires a closed and brightly colored space. Statuary and sculpture here collide into both serious and ironical commemorative monumentality. King's quest for monumentality is patent in most of the "models" shown in the exhibition we are holding in our Luxembourg showroom. A piece like Rapanui Queen, 2019, is remarkable in that regard. Viewed upfront, we see three shapes entangled: one, minimalist, looks like the door frame of an empty mastaba, while the other two are more abstractly anthropomorphic. In front of such a piece, we cannot but think of Max Ernst's and Henry Moore's frontal figure associations. But, here, they take on a totemic status thanks to their polychromy…  
It is worth noting that King's late works have parted with paper-folding and unfolding, in which we can sense a surprising propensity to open architecture. They could bring to mind some speculations of Francisco di Giorgio Martini, as well as ruins -beautifully renovated and restored ruins. As if waiting for the latent rebirth promised by a sculpture endlessly renewed by its "modernist" projection. Like the displays of Carthage's vestiges alluded to in Declaration, and even more so in Span. But then, we have to suggest than Span, 1967 – because it was conceived as an installation, like many of Phillip King's pieces - evoke prehistorical standing stones, and the enigmatic logic of their gatherings -in Stonehenge and Avebury, Dorset- which fascinated Paul Nash. However, Phillip King never succumbed to melancholic dereliction. He kept away from it, but these prehistorical settlements might have given him the basis of the existential presence of his sculptural statues For ever Now. 
Bernard Ceysson
Solo shows at Ceysson Gallery
Phillip King, Wandhaff
September 17 - November 19, 2022
Group shows at Ceysson Gallery
Sculptures, Matters, Materials, Textures..., Offsite
September 10 - October 16, 2016
Solo Exhibitions
2022
Galerie Ceysson & Bénétière, Wandhaff, Luxembourg
2018
Color Space Place
, Luhring Augustine Gallery, New York, USA
2017
Phillip King: Colour on Fire & Ceramics 1995-2017
, Thomas Dane Gallery, London, United-Kingdom
Galerie Lelong, Paris, France
2015
Free to Frolic
, Kistefos Museet, Norway
2014
Phillip King
, Thomas Dane Gallery, London, United-Kingdom

Phillip King
, Ranelagh Gardens, Royal Hospital Chelsea, London, United-Kingdom

Phillip King
, Duveen Galleries, Tate Britain, London, United-Kingdom
2013

Phillip King
, Le Consortium, Dijon, France
2012
Speerstra Foundation, Apples, Switzerland
2011
Flowers Cork Street, London, United-Kingdom
2009

Canary Wharf, London, United-Kingdom
2008
Bernard Jacobson Gallery, London, United-Kingdom
2007

Bernard Jacobson Gallery, London, United-Kingdom
2006
Bernard Jacobson Gallery, London, United-Kingdom
2003
Jesus College, Cambridge, United-Kingdom
2002
Place Gallery, Cavagnole, Italy
2001
Bernard Jacobson Gallery, London, United-Kingdom
Garth Clark Gallery, New York, USA
1998
Bernard Jacobson Gallery, London, United-Kingdom
1997
Forte de Belvedere, Florence, Italy
1996

Yorkshire Sculpture Park, Wakefield, United-Kingdom
1995

Galerie Waszkowiak/Walter Bischoff Galerie, Berlin, Germany
1994

Observer Studio Exhibition, London, United-Kingdom
1993

Musée des Beaux-Arts André Malraux, Le Havre, France
Galerie Waszkowiak, Berlin, Germany
Le Prieure Saint Michel, Vimoutiers, France
La Filature
, Nouvel Espace Culturel, Mulhouse, France
1992
Yorkshire Sculpture Park, Wakefield, United-Kingdom
Städtische Kunsthalle, Mannheim, Germany
Art Warehouse, London, United-Kingdom

MAAK Gallery, London, United-Kingdom
1990

Mayor Rowan Gallery, London, United-Kingdom
Grob Gallery, London, United-Kingdom
1987
Nishimura Gallery, Tokyo, Japan
1983

Juda Rowan Gallery, London, United-Kingdom
1981

Hayward Gallery, London, United-Kingdom
Fruit Market Gallery, London, United-Kingdom
1979
Rowan Gallery, London, United-Kingdom
1977
Rowan Gallery, London, United-Kingdom
1976
Oriel
, Welsh Arts Council, Cardiff, United-Kingdom
1975
Mapping Art Gallery, Sheffield, United-Kingdom
Whitehaven Museum, Cumbria, United-Kingdom
Art Gallery & Museum, Aberdeen, United-Kingdom
Third Eye Centre
, Glasgow, United-Kingdom
Hatton Gallery, Newcastle, United-Kingdom

Museum and Art gallery, Portsmouth, United-Kingdom
1973

Rowan Gallery, London, United-Kingdom
1972
Rowan Gallery, London, United-Kingdom
1970

Rowan Gallery, London, United-Kingdom
1968
Galerie Yvon Lambert, Paris, France
Whitechapel Art Gallery, London, United-Kingdom
British Pavilion, Venice Biennale, Venice, Italy
Stadt Gallery, Bochum, Germany
1966
Richard Feigen Gallery, New York, USA
Isaac Delgado Museum of Art, New Orleans, USA
1964

Rowan Gallery, London, United-Kingdom
Group Exhibitions
2022
Forthcoming: A Matter of Life and Death
, Thomas Dane Gallery, Naples, Italy
2019
Sculpture at Wisley 2019
, The Royal Horticultural Society, London, United-Kingdom
Objects of Wonder: British Sculpture 1950s-Present, from the Tate Collection
, Palais Populaire, Berlin, Germany
2018
Duologue
, Royal Society of Sculptors, London, United-Kingdom
Ken's Show: Exploringthe Unseen
, Tate Liverpool, Liverpool, United-Kingdom
2017
Kaleidoscope: Colour and Sequence in 1960s British Art
, Yorkshire Sculpture Park, Wakefield, United-Kingdom; travelled to: Djanogly Gallery, Nottingham Lakeside Arts, Nottingham, United-Kingdom; Walker Art Gallery, Liverpool, United-Kingdom
Sculpture in the Sixties
, Pangolin London, England
2016
Sculptures, Matières, Matériaux, Textures…
, Hors les murs, Galerie Bernard Ceysson, Luxembourg
2015

Summer Exhibition
, Royal Academy, London, United-Kingdom
2014

Summer Exhibition
, Royal Academy, London, United-Kingdom
2008
New Generation Revisted
, New Art Centre, Salisbury, United-Kingdom
2007

Bernard Jacobsen Gallery, London, United-Kingdom
Blickachsen 6
, Bad Homburg Kurpark, Germany
2006
How to Improve the World, 60 Years of British Art
, Hayward Gallery, London, United-Kingdom
Sculpture by the Sea
, Bondi Beach, Sydney, Australia
2005

Bernard Jacobsen gallery, London, United-Kingdom
Metamorphosis: British Arts of the Sixties
, Andros, Greece
2004
Art in the Sixties: This was Tomorrow
, Tate Britain, London, United-Kingdom
Moore to Hirst: 60 Years of British Sculpture
, National Museum of Art of Romania, Bucharest, Romania
2003

Bernard Jacobsen Gallery, London, United-Kingdom
2001

Field Day: Sculpture from Britain
, Taipei Fine Arts Museum, Taiwan
2000

Bronze: Contemporary British Sculpture
, Holland Park, London, United-Kingdom
The Concealed Space - British Sculpture, Turin, Italy
T
he Eye of the Storm
, La Mandria, Turin, Italy
1999
Coloured Sculpture: Britain in the Sixties
, Waddington Galleries, London, United-Kingdom
1996

Un Siècle de la Sculpture Anglaise
, Galerie National du Jeu de Paume, Paris, France
The Square
, Städtische Museum, Heilbronn, Germany
Flowers East
, London, United-Kingdom
1995
Flowers East
, London, United-Kingdom
1994

Galerie Waszkowiak, Berlin, Germany
1993

Summer Exhibition
, Royal Academy of Arts, London, United-Kingdom
1992
The Spirit of Modernism
, Austin/Desmond and Phipps, USA
1991
Summer Exhibition
, Royal Academy, London, United-Kingdom
Sculptor's Drawings
, William Jackson Gallery, London, United-Kingdom
1990

Contemporary British Sculptors, Studies on Paper
, Connaught Brown, London, United-Kingdom
Summer Exhibition
, Royal Academy, London, United-Kingdom
1989

Exposition de Sculpture Anglaise
, Musée de Harve, France
1988

Venice Biennale, Venice, Italy
1987

British Art in the 20th Century
, Royal Academy, London, United-Kingdom
Kerfield Symposium, Germany
1986

Contemporary British Sculpture
, Rotunda Gallery, Honk Kong, China
1985

Sculpture, Fondation Cartier
, Jouy-en-Joasas, France

25 Years: Three Decades of Contemporary Art
, Juda Rowan Gallery, London, United-Kingdom
1984

Five Sculptors
, Juda Rowan Gallery, London, United-Kingdom
Festival Sculpture
, International Garden Festival, Liverpool, United-Kingdom
1983

Sculptures by Six Artists
, Nishimura Gallery, Tokyo, Japan
1982

British Sculpture in the 20th Century, Part 2
, Whitechapel Art Gallery, London, United-Kingdom
Aspects of British Art Today
, British Council travelling show : Tokyo Metropolitan Museum, Tochigi Prefectural Museum, National Museum of Modern Art Osaka, Fukuoka Art Museum, Hokkaido Museum of Modern Art, Sapporo, Japan
Milestones in Modern British Sculpture
, Mappin Art Gallery, Sheffield, United-Kingdom
1981
Summer Exhibition
, Guildford House Gallery, Guildford, United-Kingdom
Artists in Camden
, Kenwood House, London, United-Kingdom
1980

British Art 1940-80, Arts Council Collection
, Hayward Gallery, London, United-Kingdom
Growing Up With Art, Leicestershire Collection
, Whitechapel Art Gallery, London, United-Kingdom
1979

Bernard Jacobson Gallery, London, United-Kingdom
Six Large Sculptures in the Museum Gardens
, City Museum and Art Gallery, Portsmouth, United-Kingdom
The British Art Show
, Sheffield, Newcastle, Bristol, United-Kingdom
Fine Art Treasures Exhibition
, Somerset House, London, United-Kingdom
1977

Silver Jubilee Exhibitions of Contemporary British Sculpture
, Battersea Park, London, United-Kingdom
Silver Jubilee Exhibition of Contemporary British Sculpture
, Battersea Park, London, United-Kingdom
Maquettes, Drawings and Related Material
, Redfern Gallery, London

Bienniale de Paris, une Anthologie: 1959-67, Paris, France 

British Artists of the 60s
, Tate Gallery, London, United-Kingdom
Gallery Artists
, Rowan Gallery, London, United-Kingdom
Modern British Sculpture
, DLI Museum and Arts Centre, Durham, United-Kingdom

The First Sculpture Park in the Royal Parks
, Regents Park, London, United-Kingdom
1976

Contemporary British Art
, Galleries of the Cleveland Institute of Art, USA
Arte Inglese Oggi
, Palazzo Reale, Milan, Italy

Faculty Exhibition
, Chelsea School of Art, London, United-Kingdom
1975

CAS Art Fair
, Mall Galleries, London, United-Kingdom
The Condition of Sculpture
, Hayward gallery, London, United-Kingdom
British Exhibition, Art 6 '75
, Basel, Schweizer Mustermesse, Basel, Switzerland
1973

Magic and Strong Medicine
, Walker Art Gallery, Liverpool, United-Kingdom
From Henry Moore to Gilbert and George - Modern British Art from the Tate Gallery
, Palais des Beaux Arts, Brussels, Belgium
1972

British Sculpture '72
, Royal Academy, London, United-Kingdom
1971

Summer Season
, Rijksmuseum Kröller-Müller, Otterlo, Netherlands
British Painting and Sculpture 1960-70
, National Gallery, Washington, USA
McAlpine Gift Exhibition
, Tate Gallery, London, United-Kingdom
1970
Some Recent Art in Britain
, Leeds City Art Gallery, United-Kingdom
British Sculpture Out of the Sixties
, ICA, London, United-Kingdom

La sculpture dans la Cité, Reims, France
Contemporary British Art
, National Museum of Modern Art, Tokyo, Japan
1969

Arts '69
, Art Museum Ateneum, Helsinki, Finland

Contemporary Art - Dialogue Between East and West
, National Museum of Modern Art, Tokyo, Japan
The Constructive Heritage
, Sonja Henie and Niels Onstad Foundation, Blommenholm

Tenth Biennale for Sculpture, Middelheim, Antwerp, Belgium

Post 1945 Art
, CALA Arts Centre Cambridge, United-Kingdom
Socha Piestanskych Parkov 1969, Czechoslovakia

International Sculptors
, Osaka, United-Kingdom
1968

Leicestershire Educational Authority Collection, Part I
, Leicestershire, United-Kingdom
Interim Exhibition
, Whitechapel Art Gallery, London, United-Kingdom
Documenta IV, Kassel, Germany
Young British Generation
, Academie der Küunste, Berlin, Germany
1967

Arts for the City
, Institute of Contemporary Art, Philadelphia, USA
Monuments, Tombstones and Trophies
, Museum of Contemporary Crafts, New York
Pittsburgh International
, Carnigie Institute, Pittsburgh, USA
Fifth Guggenheim International Exhibition, New York, USA
A Tribute to Robert Fraser
, Robert Fraser Gallery, London, United-Kingdom
Rowan Gallery, London, United-Kingdom
1966
Primary Structures
, Jewish Museum, New York, USA
Galleria Notizie, Turin, Italy
Galleria dell'Ariete, Milan, Italy

British Sculpture
, Galerie Freidrich Dahlem, Munich, Germany
Sculpture in the Open Air
, Battersea, London, United-Kingdom
Sonsbeek '49
, Arnhem, Netherland
Chromatic Sculptures
, Arts Council Travelling show:
New Shapes of Colour, Stedlijk Museum, Amsterdam

Kunstverein Stuttgart & Kunsthalle Bern

Young British Sculptors
, Kunsthalle Bern, Stedelijk Museum, Amsterdam & Kunstverein Düsseldorf
1965

English Eye
, Marlborough-Gerson, New York, USA
The New Generation
, Whitechapel Gallery, London, United-Kingdom
London: The New Scene
, Walker Art Center, Minneapolis and travelling USA
1964
New Realists
, The Hague and Düsseldorf, Germany
Documenta III, Kassel, Germany
1963

Third International Biennale des Jeunes Artistes, Paris, France
1961
British Sculpture
, Jewish Museum, New York, USA
British Sculpture
, Museum and Bilbao, Spain
Monographs

2017
Lemoine, Serge. Phillip King, Dans la couleur. Paris: Galerie Lelong, 2017 
 
2016
Gautherot, Franck, Michel Gauthier and Clarrie Wallis. Phillip King. Dijon: Les presses du reel, 2016
 
2010
Phillip King. A survey through 50 years. London: Flowers Gallery, 2010
 
2008
Collings, Matthew. Phillip King: Living with Colour. London: Bernard Jacobson Gallery, 2008
 
1997
Murray, Peter ed. Phillip King. Florence: Electa, 1997
 
1996
Cork, Richard. Phillip King: Ceramic Vessels. Wakefield: Yorkshire Sculpture Park, 1996
 
1992
Hilton, Timothy ed. The Sculpture of Phillip King. Leeds: Henry Moore Foundation, 1992
De Circasia, Victor and John Edwards. Phillip King: The Artist In Conversation. Wakefield: Yorkshire Sculpture Park, 1992
 
1990
Berry, Harriet ed. Phillip King. London: Mayor Rowan Gallery, 1990
 
1981
Oxenaar, Rudolf, Robert Kudielka and Lynne Cooke. Phillip King. London: Arts Council of Great Britain, 1981
 
1976
Sculptures by Phillip King: an Arts Council exhibition. London: Arts Council of Great Britain, 1976
 
1974
Phillip King: Kröller-Müller National Museum, Otterlo, Netherlands, from April 7th until June 9th. Otterlo: Kröller-Müller Museum, 1974
Phillip King: Skulpturen 1969-1974. Bern: Kunsthalle Bern, 1974
 
1968
Robertson, Bryan. Phillip King: British Pavilion, XXXIV Venice Biennale, 1968. London: British Council, 1968

Publications and Exhibition catalogues(Selection)

2018
Douroux, Xavier ed. Observation: Le Consortium 1999-2017. Dijon: Les Presses du réel, 2018
 
2017
Cornish, Sam and Natalie Rudd eds. Kaleidoscope. Colour and sequence in 1960s British Art. London: Hayward Gallery, 2017
 
2015
No vacancies: Miyoko Ito, Phillip King, Robert Morris, Lisa Williamson. New York: Marianne Boesky Gallery, 2015
 
2011
Feldman, Anita and Malcolm Woodward. Henry Moore: Plasters. London: Royal Academy of Arts, 2011
James, N P ed. Interviews-artists: patterns of experience: recordings 1988-2011. London: CV Publications, 2011
Phillip King: A Survey through 50 Years, Flowers East, 2011, London
 
2006
Modern Art Now: from Conception to Consumption. London: Strawberry Art Press, 2006, p. 50
 
2004
Stephens, Chris. Art & the 60's: this was tomorrow. London: Tate Publishing, 2004
 
2003
Cork, Richard. Breaking down the barriers: art in the 1990s. New Haven: Yale University Press, 2003
 
2002
Beelden in Rotterdam; onder redactie van Jan Van Adrichem, Jelle Bouwhuis, Mariette Dölle. Rotterdam: Centrum Beeldende Kunst, 2002
 
2000
Elliott, Anna and Angela Dyer. Bronze: contemporary British sculpture, Holland Park. London: Royal Borough of Kensington and Chelsea Libraries and Arts Service, 2000
De Cirasia, Victor. Cordero, King, Venet in the same space: exposition. Torino: Ferrero editore/Museo dell'Automobile, 2000
 
1998
Mitchinson, David ed. Celebrating Moore: Works from the collection of the Henry Moore Foundation; edited by David Mitchinson. London: Lund Humphries, 1998
 
1997
Sculpture at Goodwood: British contemporary sculpture 97-98. Goodwood: Hat Hill Sculpture Foundation, 1997
 
1996
Un Siècle de Sculpture Anglaise. Paris: Galerie Nationale du Jeu de Paume
 
1992
Wegner, Nicholas ed. Interviews with the artists. London: CV Publications, 1992
 
1986
British Sculpture 1950-1965. London: New Art Centre, 1986
 
1976
English art today, 1960-76. New York: Rizzoli, 1976
 
1971
Ohff, Heinz. Galerie der Neuen Künste: Revolution ohne Programm. Gütersloh: Bertelsmann, 1971
 
1969
Philip King, Bridget Riley: Beelden, Schilderijen en tekeningen. Rotteredam: Museum Boijmans Van Beuningen, 1969
 
1968
Bridget Riley, Phillip King. Bochum: Städtische Kunstgalerie, Bochum/British Council, 1968
British artists: 6 painters, 6 sculptors. New York: Museum of Modern Art, 1968
Read, Herbert and Bryan Robertson. New British painting and sculpture: 1968-1969. London: Whitechapel Gallery, 1968
 
1967
Hering, Karl Heinz. Acht junge britische Bildhauer. Düsseldorf: Städtische Kunsthalle Düsseldorf, 1967
 
1966
Phillip King, William Tucker. Milano: Galleria dell'Ariete, 1966
 
1965
Dunlop, Ian and Bryan Robertson. The new generation, 1965. London: Whitechapel Gallery, 1965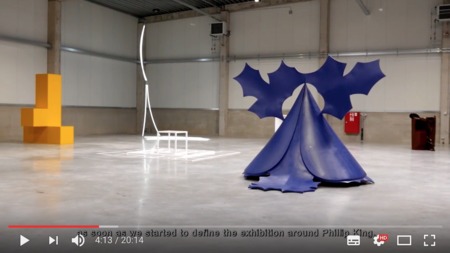 Sculptures, Matters, Materials, Textures... Foetz, Luxembourg
September 10, 2016