Alexander Nolan
In and Out of the Rabbit Hole
October 27 - December 03, 2022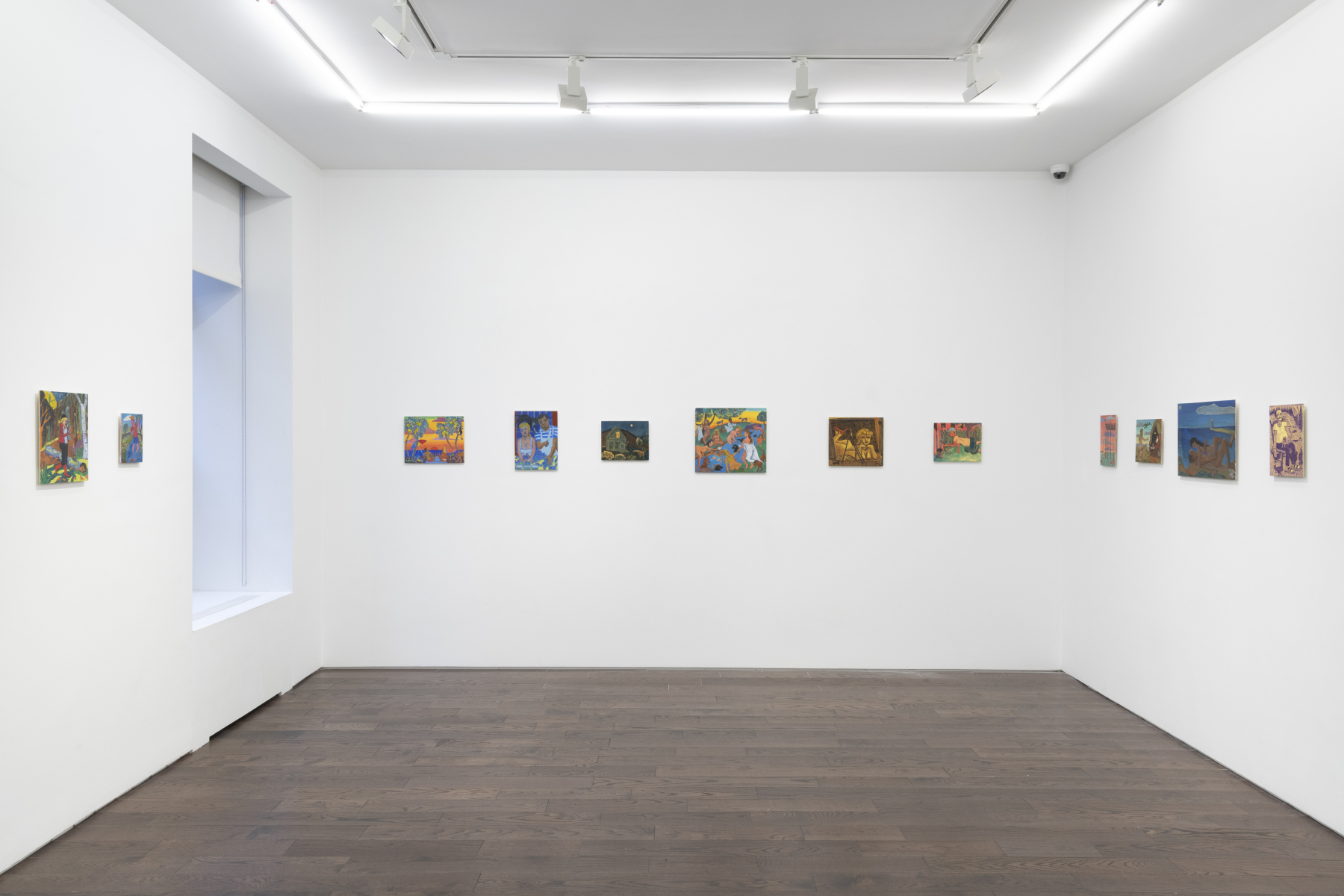 Alexander Nolan
In and Out of the Rabbit Hole
October 27 - December 03, 2022
---
Ceysson & Bénétière New York is pleased to present In and Out of the Rabbit Hole, an exhibition of recent works by Maine-based painter Alexander Nolan. Opening Thursday, October 27th, the show will be on view through December 3rd, 2022.
In this series, Nolan takes his characteristically imaginative view of the world and applies it to a new set of inspirations. After a recent move from New York City to Lubec, Maine, Nolan's mind has turned towards the natural world, eschewing the laundromats, bakeries, and alleyways of the city. Instead we see land and seascapes, homes with back yards, orchards, and forests. The characters have changed as well—with Nolan's human protagonists sharing the stage with lobsters, chickens, rabbits, and whales. The energy, humor, and sensitivity of Nolan's work remains, however; with each character taking part in or actively observing the tender and chaotic moments in each other's lives. No human, mouse, or fish is arbitrary. Each is complex, emotive, and completely individual. In framing his subjects this way, Nolan asks the viewer to enter not only into his world, but the worlds of each subject in the painting, reflecting back to us the joy, tragedy, and absurdity of our own lived experiences.  
With the move to a different state also came a move from painting inside the studio to a practice of working en plein air, resulting in smaller, more instinctual paintings on wood panel. Forgoing the large-scale canvases of his previous series has allowed Nolan to bring to life new inspiration more quickly and move on to the next. Working outdoors has also brought a new atmosphere to the paintings. Colors look different. The air feels, smells, and sounds different too. The sensory experience of being immersed in nature coupled with the freedom to bounce from one idea to the next informed this body of work regardless of whether or not a particular scene is set outside. The resulting paintings are charming and unsuppressed, trying never to be overworked or forced—a welcome break in the fast-paced rhythms of their New York audience.
Francesca Pessarelli, September 2022
Artist :
Alexander Nolan
---
Visitor Information
Ceysson & Bénétière
956 Madison Avenue
10021 New York
T: +1 646 678 3717