ORLAN
Historical striptease
February 18 - March 19, 2021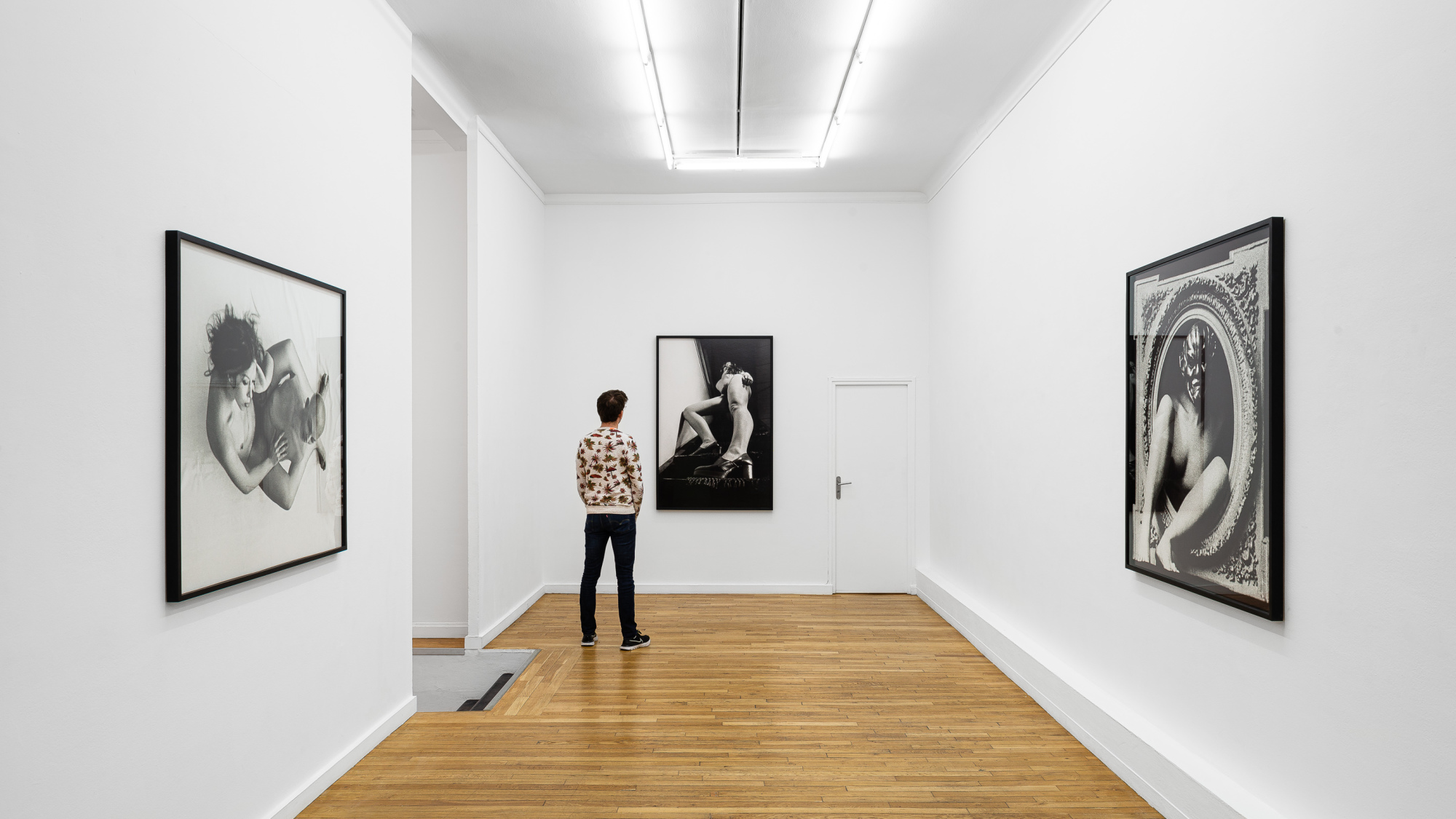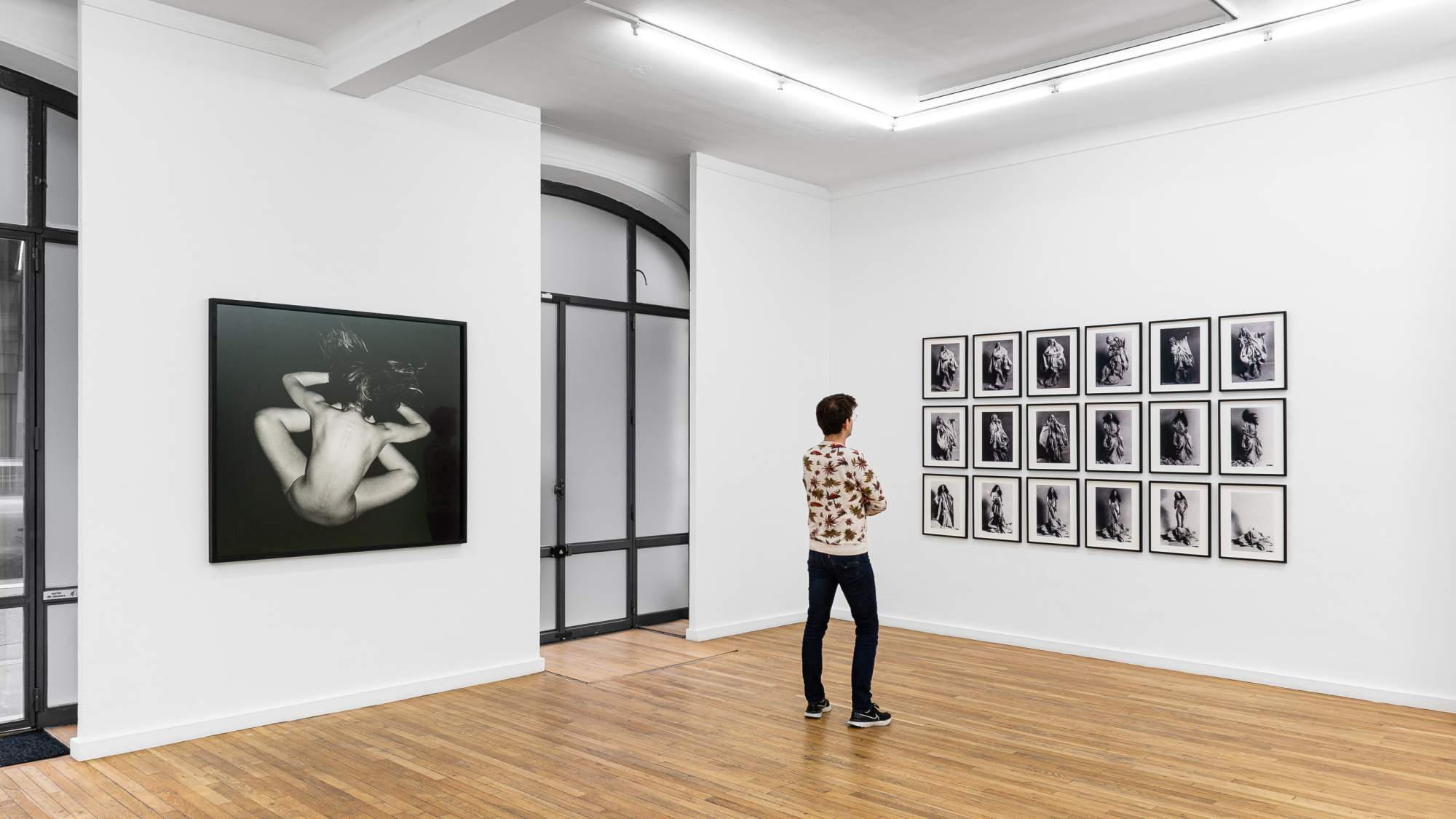 ORLAN
Historical striptease
February 18 - March 19, 2021
---
In 1964, at 17-years-old, ORLAN forged her identity by taking self-portraits on her trousseau sheet. The latter had been patiently sewed by her mother, a hobbyist seamstress married to an anarchist, Esperantist and nudist husband who worked as an electrician. In ORLAN gives birth to herself, the manifesto work that shows the young woman face-to-face with her mannequin alter ego, the artist adopts the attitudes of a bored adolescent sitting at a café. Her sulky mouth enhanced by a bright lipstick, she stares with her darkened eyes at something outside the frame in the promising horizon of Saint-Etienne. Back then, ORLAN also touched on poetry. She published a book at the age of 15, and since then, has been infusing her work with an unwavering "witz" spirit. She also explored theater, yoga, sculpture and painting. 
In a joyful mess, she wandered around and experimented with a series of postures that challenged a certain tradition of female…nude. The adolescent's pouts met the strangely symmetrical and distorted shapes of Hans Bellmer's dolls seen for the first in fascist Germany thirty years earlier. The assemblages Bellmer staged in staircases or unmade beds – described as "degenerate" during the fascist era- bear some visual affinities with the young girl's first photographs, as she witnessed the disappearance of surrealism, one of Europe's last shooting avant-gardes. Far from Parisian circles, ORLAN did not enjoy the -gender and social- privilege of belonging to groups or tribes of artists who, for the most part, embodied the most intense expression of gated masculine culture, whether it was the new realists or the surrealists who oversaw with too much gravity the birth of a new movement and its dissolution. But ORLAN didn't care! The emancipatory and insurgent writings of Simone de Beauvoir, Françoise Sagan, Colette Françoise Sagan, de Colette and Jean Genet propagated the shock waves of free will, which everyone could exercise without restrictions of race, social status, gender or sexuality: "one is not born but rather become disobedient."
ORLAN appropriated this message very early- well before the creation of the Women's Liberation Movement in 1971- by formulating a set of anarcho-feminist ideas. However, such ideas still had to be embodied to be celebrated and shared: in that context, "This is my body" took on a whole new meaning, mid-way between the whore house and the sacristy. In the footsteps of Hans Bellmer's surrealist irreverence, Pierre Molinier's or Clovis Trouille's libertarian plea, ORLAN has been nagging us confidently. Her series entitled Nude descending a staircase with platform shoes (1967) taunted the avant-gardes of the past, which rising ORLAN considered obsolete. In her work, young female bodies were no longer represented in order to fuel fantasies, whether they were decent or sadly shameful. Such bodies became post-surrealist manifestos, outgrowths of Anthonin Artaud's Theater of Cruelty, which, by their incongruousness, their enraged temperaments, their luxuriant body hair, and their strange cast shadows, brought all their weight to bear. In that context, the grotesque masks ORLAN wears in her series entitled Attempting to Escape the Frame (1965) for example, are like middle fingers raised at the religious hypocrisy dictating daddy eroticism and the injunction of motherhood.  
ORLAN quickly took another trajectory: "As an artist, I have no other option but to sell myself. I have to deal with this situation. I embrace it. I meet Mr. so and so, I offer him my body while showing him my work." Against the cynicism of the art market and the bourgeois morality of artistic institutions, ORLAN delights in adopting the political posture of the whore-artist. A posture that gave way to two major bodies of work: the series of works that revolves around her trousseau sheets stained with the sperm of her lovers (1968-1975) and The kiss of the artist (1976-77), which led her to be dismissed from her teaching position in Lyon. 
Such a statement forestalled the feminist positions of Lynda Benglis, Valie Export and Judy Chicago. A few years after ORLAN, Valie Export and Judy Chicago renamed themselves after a famous cigarette brand for the first one and her hometown for the other. For a long time, ORLAN's work was confined to the "body art" category and stripped off its conceptual dimension. Yet, her performances ORLAN Body Action: Slow-Motion Walks Down « No Entry » Routes started in 1964 were the enactment of her anarcho-feminist disobedience and claims of free will. They announced her MesuRages, procession and political performances today become iconic.
Géraldine Gourbe, January 2021.
Artist :
ORLAN
---
Visitor Information
Ceysson & Bénétière
23 rue du Renard
75004 Paris
Gallery hours:
Tuesday - Saturday
11am - 7pm
T: + 33 1 42 77 08 22