Roger Bissière
Le songe de la terre
September 03 - October 08, 2022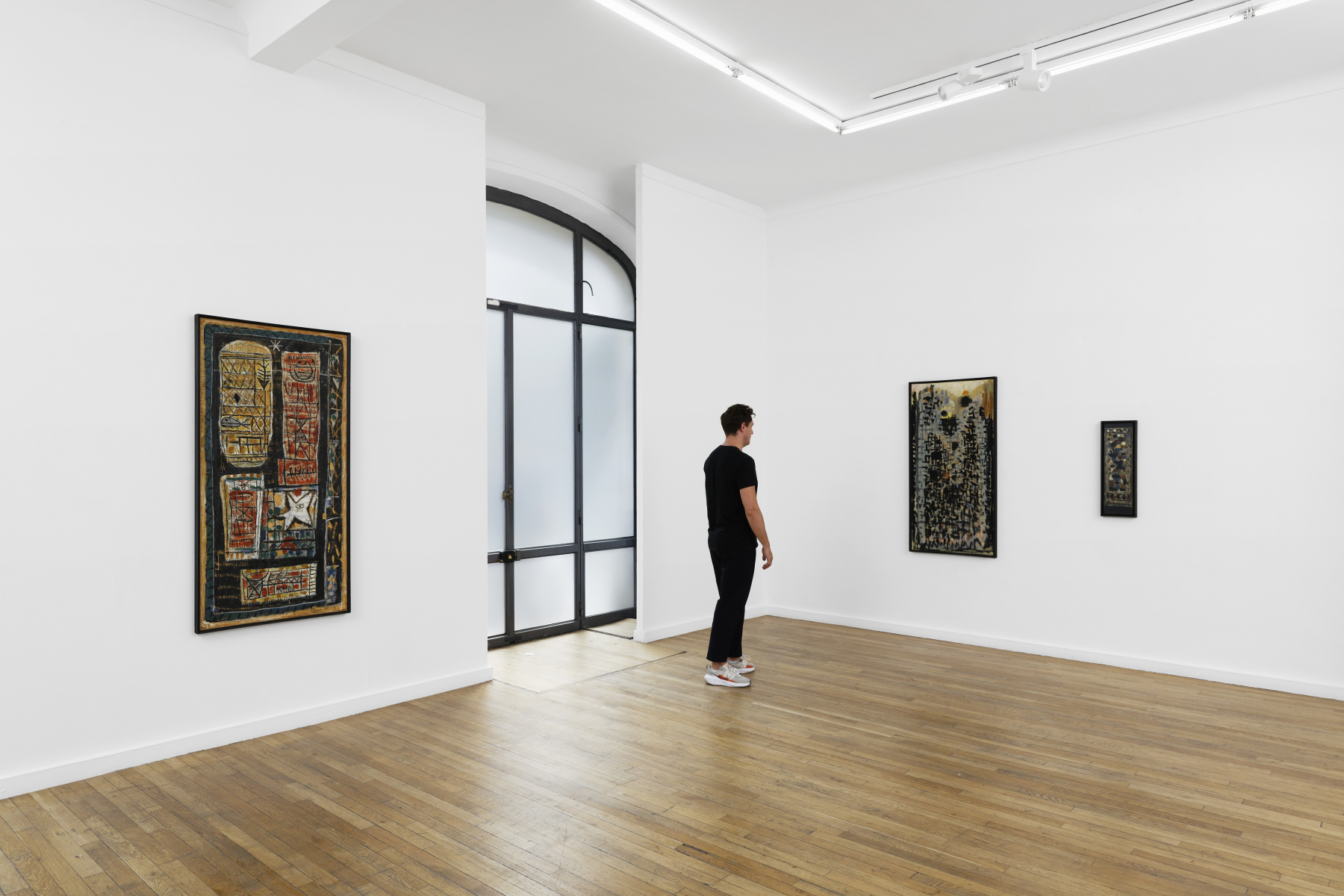 Roger Bissière
Le songe de la terre
September 03 - October 08, 2022
---
"My youth began at 60." This declaration of Roger Bissière (b. 1886) should be taken seriously. In fact, he stopped painting during the war, moved back to his native land - Lot, France - and started farming. However, when Bissière resumed his artistic practice around 1945, it was not only a return, but a reaction to painting. On the face of it, a world separates his pre-war production from the one we are exhibiting here. But what brought Bissière to this point? Trained at Beaux-Arts de Bordeaux and Paris, the painter came to the capital city in 1911, and, out of necessity, worked as a journalist and an art critic for L'Esprit Nouveau, Ozenfant and Jeanneret's magazine.  
His figurative works, mostly female figures, took on a post-cubist turn as a result of his friendship with Braque (Femme au filet, full of plans and facets, 1936). Become a teacher at the Académie Ranson (1925-1938), Bissière had a strong impact on young painters, some of whom later joined the informal group called New School of Paris, like Alfred Manessier and Vieira da Silva. 
Curiously, Bissière's practice shifted with the Crucifixions (1937) series -comprised of drawings, paintings, and even assemblages. While the subject remained perfectly identifiable, his stylized rendering of characters synthesized them in a few main lines that outlined their body. Is it random that one of his masterpieces - a later tapestry (1945-1946) that represented another tragic symbol, that of Hiroshima, was executed with the same style (Hiroshima, l'ange de l'Apocalypse)?  
In any case, it was at that time that Bissière started to create hangings with pieces of clothes, rags, curtains, and old clothing as if he needed to sidetrack to found a new artistic gesture. These works were exhibited, along with oil paintings, at Galerie Drouin (December, 1947). After that, Bissière produced egg paintings in mat tones - brown, ocher, orange - on various media, sometimes covered with glued paper, which were exhibited at Galerie Jeanne Bucher in 1952.  
Ceysson & Bénétière chose to focus on Bissière's work posterior to 1945 because of its unique nature, wonderfully defined by Pierre Decargues, who talked of a "border" artist ("Premier bilan de l'art actuel" 1953). Slowly, Bissière parted with representation, in the common sense of the word. Not that reality entirely disappeared, at least if we refer to some of his titles - Le Chat, la maison, 1951, Oiseau, 1953. But the world, although still there, escaped representation. The artist turned to suggestion, ellipsis, and hints over any attempts at literal realistic description, which blocks our view and constrains our imagination. 
His works from the late 40s to the beginning of the 50s have hints of primitivism inspired by African or Oceanic art – as shown by the two Totems (1950) and his mask of 1948. His protagonists, stylized and simplified, circled by several "frames", are like walkers-through walls in a bi-dimensional world. Here and there, we can work out a -praying?- figure placed inside a more or less dense composition (Composition 18, 1949), reminiscent of Uruguayan painter Torres-Garcia, who often inserted pre-Columbian symbols in his loosely geometrical structures, grids, and enigmatic puzzles.  
There are also small panels, in which the motifs are expanded by colors, pierced by the light, and crossed over by lines. Are such images inspired by nature, and the subtle variations of light evocative of seasonal change? Is Bissière a representative of "abstract landscape"? 
The specificity of landscape is that it contains an infinite number of hues, hence the absence of clear delimitations between the elements. The shapes shade off, merge, and the blurring of the lines makes possible the emergence of color. Without saying that landscape, a sensitive subject of mimesis, is necessarily doomed to abstraction, its characteristic fluidity makes it a particularly suitable topic for artists to emancipate from the traditional codes of representation. As the artist said himself: "I recreate, or more precisely alas, I try to recreate a world of mine, made of my emotions, that capture the smell of the forests around me, the color of the sky, the sunlight, and the love I feel for everything that lives" (1960). 
Among the works presented in this exhibition, some, poetically entitled, stand at the crossroad between reality and fiction and evoke enchanted landscapes indeed (Équinoxe d'hiver, 1957, and Végétation nocturne, 1961). While others, if they refuse to clearly reveal their motif, still seem related to the vegetal realm (Composition verte, 1964). Their patterns seem directed by two contradictory movements: one aggregates, unites, gathers, and connects; the other dissociates, breaks down, scatters, and divides. Most often though, these works nearing abstraction Bissière created at the end of his life, are stories filtered by his memory, the abstract expression of fugitive sensations, calling for daydream. Finally, two works from 1964 stand out. Made only of pictograms and hieroglyphs, they resist all understanding. Here, writing and images are mixed under the evocative title: Journal (diary). These - simple or complex - graphic abbreviations that proliferate and fill the surface, form a hardly readable pseudo-writing. Otherwise said, these are the pictograms invented by this unique artist to speak his secret language.    
Itzhak Goldberg
Artist :
Roger Bissière
---
Visitor Information
Ceysson & Bénétière
23 rue du Renard
75004 Paris
Gallery hours:
Tuesday - Saturday
11am - 7pm
T: + 33 1 42 77 08 22