---
The exhibition brings together thirteen works from Noël Dolla's latest Sniper series, created between 2020 and 2021 at the 109, a centre for contemporary art in Nice. In this new and vast...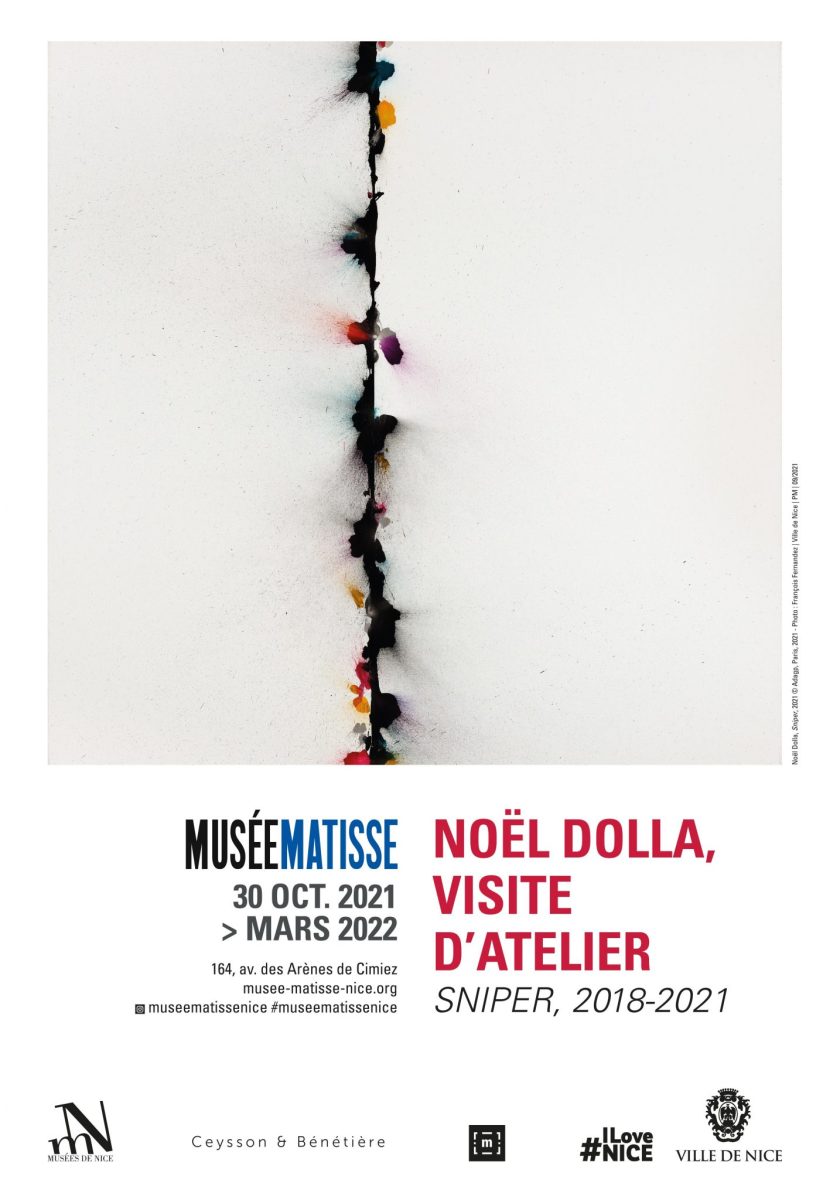 ---
Claude Viallat
Claude Viallat has been a contentious defender of modernism since 1964, when he began working with the idea repeated pattern to refuse the idea of subject. Since then he has eschewed stretchers or ...
---
ORLAN - Portrait
Emblematic of the interest that contemporary artists have taken in performance art and in the possibilities of using one's body as a creative medium, ORLAN stands out thanks to her use of multiple ...
---
Bernar Venet - Portrait
Bernar Venet is one of the few French artists to settle in the early 60's in United States of America, where he exhibited with artists such as Donald Judd, Joseph Kosuth, Sol LeWitt, Robert Smithso...
---
Noël Dolla - Musée Matisse
The exhibition brings together thirteen works from Noël Dolla's latest Sniper series, created between 2020 and 2021 at the 109, a centre for contemporary art in Nice. In this new and vast studio, Dolla inaugurated a practice that allows him to work on very large formats, including canvases that are ten metres long.
His studio – a former slaughterhouse – is equipped with girders and block and tackle pulley systems that Dolla uses to be lifted in the air on a plastic stretcher. As he lies on it, he slides over the canvas installed on the ground, wrestling with the painting without touching nor seeing it.
A bottle of black acrylic in his hand, he first squeezes the paint onto the surface and traces a black line that structures the space of the composition. Sliding over the work a second time, he then applies different colours on the canvas, his body still uncomfortably hanging in the air and moved across the studio like a camera used for a tracking shot. His last move is a destructive one as he "fires" with the trivial weapon he has made for himself – an air pressure toilet plunger – on the patches of colored paint that burst through the white surface, bringing to mind the terrible image of a body hit by a bullet.
Appealing and terrifying « Flowers of evil » bloom all along the canvas. At first sight, they are charming but quickly take on a tragic aspect when one realises that they are all about war, death and torn shreds of flesh.
This series is redolent of Matisse's large mural decoration La Danse which he designed in a former garage converted into a studio Rue Désiré Niel in Nice. He worked to scale and, like him, Dolla, engages in a hand-to-hand combat with painting. In both cases, the artist negotiates very large formats and creates "through" his performative body, carrying out a perilous exercise like a tightrope walker suspended in the air.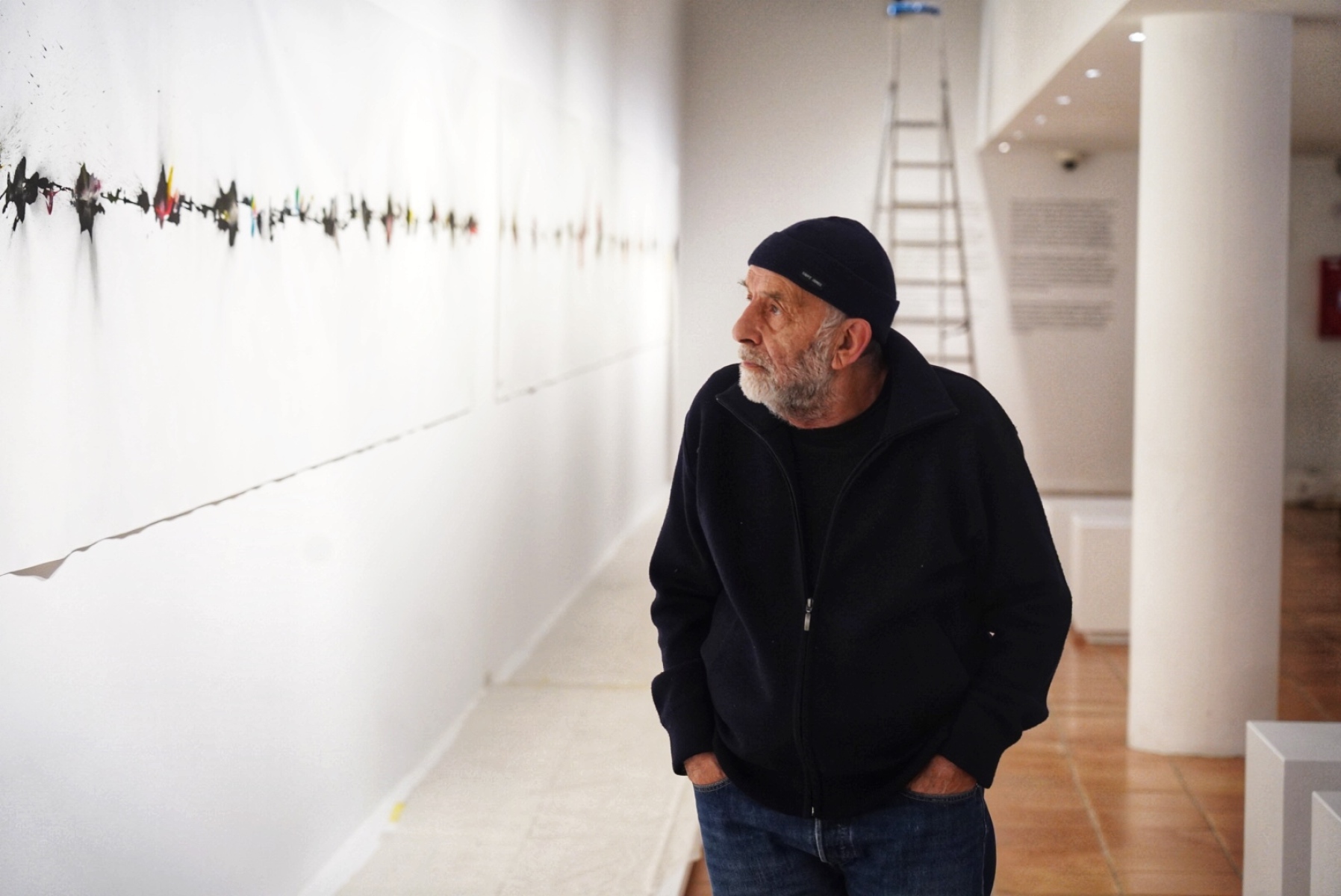 ---
Lionel Sabatté - MAMC+
In its journey, the exhibition is shaped by a cosmogony unfolds that is specific to the artist's visual universe, at once organic, vegetable and animal. The cycles of life exist side by side, bearing a perpetual resurrection of all matter. Thus, in the entrance hall, an ancient chestnut tree from Saint-Étienne, defeated by drought, observes a new bloom; while further on fields of fertile birds, like stalagmites, cohabit with the carcasses of their own kind. Between the two, the "oxidation cave" withits gilded, rusty and greenish telluric surfaces, inviting the visitor into an initiatory immersion in the subterranean depths. The journey proposed by Lionel Sabatté begins in a primeval magma and moves through several blossomings, surveying the phenomenon organic lives.
The human figure, emerging in a second chapter, struggles to impose itself in this itinerary that could be likened to the earth formation cycles. Fragmentary, dismembered, formed of assembled rubble, it seeks both to construct itself and to limit its ruin. The off-centre,precariously balanced figures form a dialogue with the immense Wall of openings. An assemblage of cement and concrete iron, the wall forms a body-like membrane that divides the space as much as it associates its various sides. In this site-specific installation, the proposed breaches give different points of view on a tangle of structures, the remnants of a stranded construction, awaiting a new destination.
At the very end of the exhibition, a large square of translucent fabric, formed of thousands of skins, resonates with the multiple faces, barely sketched on paper, made of assembled hair and dust. Suspended and left exposed to the light passing through the room, this receptacle of energy concludes an itinerary that the artist intends to be alchemical and ascending. According to Lionel Sabatté, the works gathered here are like vehicles, small vessels that allow the visitor to move through time and space, from geological strata to the present moment, on a path from earth to the sky.

---